Ohio State's Unlikely Revenge at Indiana
Andy Lyons/Getty Images
The game that changed my mind about no. 2 Indiana and made me realize that maybe the Hoosiers weren't overrated, came on February 10, when I saw them play in Columbus, Ohio. That road win was so dominant, and so clear-cut, that the critiques previously leveled against Indiana — poor perimeter defense outside Victor Oladipo, Cody Zeller's tendency to get pushed out of the lane, lack of alternate scoring options (again, outside Oladipo) — started to seem inaccurate and irrelevant. Finally, a Big Ten pecking order had been established, and when Indiana rolled into East Lansing and came away with a four-point win against Michigan State, that was the confirmation. In the country's toughest conference, we knew which team belonged at the top of the totem pole.
So, of course, Indiana went to Minnesota and lost to a free-falling Gophers team, and then failed to defend its home court against the same Ohio State team it had crushed on the road.
Welcome to college basketball in 2013.

For 10 minutes late in the second half of the Hoosiers' 67-58 loss, between two Christian Watford free throws and a Watford 3-pointer, Indiana scored just seven points. For the nation's most efficient offense, that's a baffling dry spell, even against a very good defensive team like no. 14 Ohio State. It also marked just the second time that Indiana's offensive efficiency (points scored per 100 possessions) dipped below 100 for an entire game all season. There are two conclusions you can draw from the game:
1. Total anomaly. Indiana is fine, and the Hoosiers just failed to execute during a critical stretch. As the numbers show, this is rare.
2. When the Hoosiers play really good defensive teams, they struggle to win. Here are the results when Indiana matched up against its eight best defensive opponents, with that team's adjusted defensive-efficiency ranking in parentheses:
vs. Georgetown (5th): 82-72 win in overtime, neutral venue
vs. Minnesota (31st): 88-81 win
vs. Wisconsin (3rd): 64-59 loss
vs. Michigan State (9th): 75-70 win
at Ohio State (12th): 81-68 win
at Michigan State (9th): 72-68 win
at Minnesota (31st): 77-73 loss
vs. Ohio State (12th): 67-58 loss
Aside from the game at Ohio State, which might be Indiana's best of the season, all games have been very close. The overall record is 5-3, which raises the question: Assuming the Hoosiers have to face at least four great defenses in a row in the tournament, can they really avoid a letdown?
To be dead honest, I can't decide which conclusion I find more compelling. I will say that in this Wide Open Year (wish I'd had that one trademarked in November), I'm inclined to think that teams with great defenses and a great coach — think Louisville, Michigan State, Florida — have a better chance to win a national title than teams with high-scoring offenses that are prone to occasional duds, like Indiana and Gonzaga. Where offense can vary, defense is more static.
Speaking of great defense, and shifting focus to Ohio State, Aaron Craft deserves a lot of credit for the role he played in ruining Senior Night for the Hoosiers. Not only did he nab four steals as part of the defensive perimeter that limited Indiana to just six made 3's; his offense was just as strong. He finished 7-of-10 from the field, with four rebounds and four assists, and was at his best when the pressure rose. There were three possessions late in the game — two when Indiana crept close during its dry spell, and another when the crowd threatened to get back in the game after a Zeller tip-in — when OSU milked the shot clock and got a huge, devastating bucket from Craft:
Each of those shots was a hope-killer, and the last fallaway against Oladipo effectively ended the game. That's classic Craft, and even for someone like me — who doesn't love OSU — I felt a little pang watching his latest heroics … I'm going to miss this guy.
Now, let's talk about the Big Ten race. Here's the updated Big 6 chart: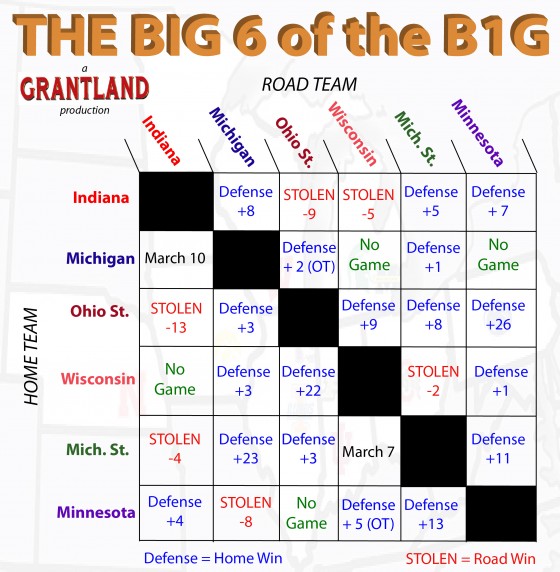 With only two games left in the rubric, we can start drawing some conclusions. First, here are the teams' respective records, with games remaining in parentheses:
Indiana: 5-3 (1)
Michigan: 3-4 (1)
Ohio State: 5-4 (0)
Wisconsin: 4-3 (1)
Michigan State: 4-5 (1)
Minnesota: 3-5 (0)
If Michigan beats Indiana at home and Michigan State beats Wisconsin at home, the top five teams will have records of either 5-4, 4-4, or 5-5. How's that for balance? (It's also a little strange that Indiana is the only team to have won two games on the road, but also lost two games at home, in what's considered the most intimidating venue in the Big Ten.)
The parity is reflected in the larger conference standings, as well. Indiana had a chance to clinch the regular season title against Ohio State, but the loss presents the crazy possibility of a four-way tie. If Michigan beats Purdue tonight and can defend its home court against Indiana this weekend, it'll be a four-team cluster between Michigan, Indiana, Ohio State, and either Michigan State or Wisconsin (assuming both win their last game), all of them at 13-5.
(In the "hmmmmmm …" department, Indiana "celebrated" the Big Ten title — which could turn into a 25 percent share of the Big Ten title — by cutting down the nets after losing to Ohio State on Tuesday night.)
The last time there was a four-team tie for the title? 1926. Back when they settled ties by pistol duels.
So will the five elite teams benefit from having played tough competition all year? Will they suffer from Big Ten fatigue and struggle in the tournament? Or will we see an achievement gap between the defense-oriented teams (Michigan State, Wisconsin, Ohio State) and the offense-oriented teams (Indiana, Michigan)?
March Madness begins in just two weeks.
Filed Under: College Basketball, Indiana, Ohio State, Shane Ryan