NFL Run & Shootaround: You Got Lucky
Andy Lyons/Getty Images
On any given Sunday (or Monday, or Thursday), your NFL Run & Shootaround crew will be gathered around multiple televisions, making inappropriate jokes and generally regressing to the mean. Catch up on all the NFL action right here.
The Sure Thing
Sunday afternoon wasn't Andrew Luck's first game-winning drive. That was in Week 2, when Luck completed two 20-yard strikes before Indianapolis kicked a go-ahead field goal to sneak past a Minnesota team that hasn't lost since. But what Luck put together against the Packers yesterday was a little more than two deep outs against coverage begging for them. Down five, with four and a half minutes left, Luck would face three third downs with at least seven yards to go, and he delivered on each.
The signature play came on the second of those third downs, just after the two-minute warning, as Indianapolis faced a third-and-12 from Green Bay's 47. With Clay Matthews wrapped around him, Luck, falling back and to his left, delivered the ball over the middle to Reggie Wayne for what seemed like his 30th catch of the day. Luck hit Wayne again on the next play, another deep "in" that took the Colts down to the 14, and after a third-down scramble got Indy a first-and-goal inside the 10, it was Wayne who finished things off.

In all, it was an imperfect day in what's been an imperfect season for the most talked-about rookie in recent memory. When Luck hit Wayne on the final drive's first third down, it was the Colts' first conversion in their last nine tries. His interception earlier in the fourth quarter showed how he can lean on Wayne a bit too much. Still, that final drive was a collection of what we'd all talked about since we started envisioning Andrew Luck as an NFL quarterback. There was a noticeable calm as the march went on, a control that not many quarterbacks in the world have, let alone ones in their first year. There was the presence, as he avoided Matthews and managed to manipulate the pocket just enough. There was the athleticism that has gone undervalued, even when he was doing this. There wasn't much doubt when it came to Andrew Luck. For years, they called him a sure thing. That doesn't mean it's any less incredible now that we are finally seeing it happen.
— Robert Mays
Me and My Cousins and You and Your Cousins!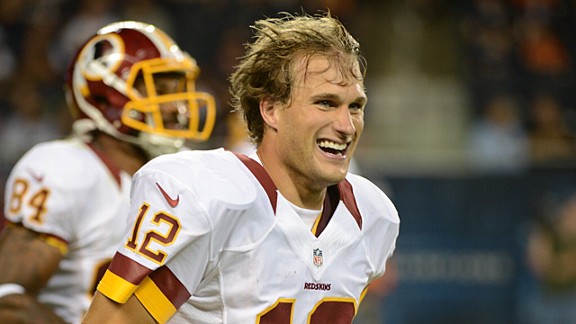 Sorry to be insufferable. You play the hand you're dealt in this life. Had Kirk Cousins led the 'Skins to victory over the Matt-ural Ice–led Falcons, I would have had something more substantial to say. Since he didn't, here's some Vampire Weekend:
Now back to your regularly scheduled programming …
— Chris Ryan
We Could Have Been a Contender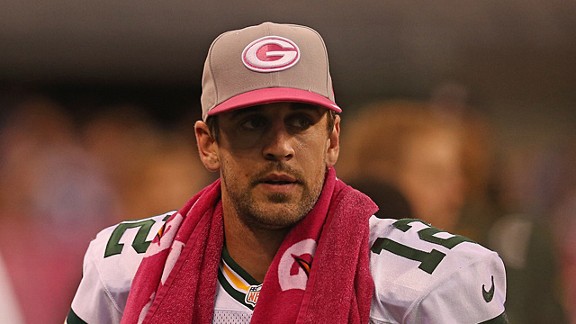 Yesterday I tweeted that the 2012 Packers season appears to have been built on top of an ancient Indian burial ground. This was after I watched the Packers blow their biggest halftime lead since 1957 — that's two years before the start of the Lombardi era, by the way — against the once (presently?) lowly Colts. The funny thing about the Packers' recent run of bad luck — the Seattle debacle, the incredible Graham Harrell goal-line fumble and terrible calls that almost cost them the Saints game, and now the disaster in Indianapolis — is that my team has quickly gone from being an object of sympathy to the handsy, PI-happy heel in the heartwarming comeback story of the "Chuckstrong" Colts. And, for the record, let me give all the kudos in the world to Andrew Luck and interim coach Bruce Arians and the rest of the Colts for showing me, in a most inspirational fashion, how truly shitty my Packers are.
While I'm convinced beyond a shadow of a doubt that the Packers are cursed right now to an almost supernatural degree, it doesn't help that (1) Jermichael Finley is terrible; (2) Charles Woodson is terrible except when the officials decide to ignore his wanton dry-humping of whoever he's covering; (3) our whole secondary is terrible; (4) Jordy Nelson is MIA; (5) Mike McCarthy coaches with a lead like Andy Reid sagely utilizes timeouts, and this has ALWAYS been a problem; (6) Aaron Rodgers can't seem to hit anybody deep this year and this seems to be getting worse as the season progresses; (7) our best offensive weapons are Randall Cobb and James Jones, which means they'll probably be injured in freak shaving accidents by Wednesday; (8) the Packers lost this game because they deserved to lose, and now they have to play the Texans and my God the Packers are going to be 2-4, aren't they? Jesus.
— Steven Hyden
Bruce Irvin Is Shark Week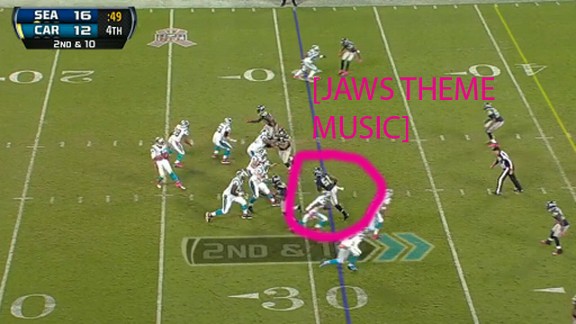 I'm not an oceanographer (at least not a licensed one), but the best part about Bruce Irvin's play, especially this game-sealing fourth-quarter sack of a dazed and confused Cam Newton, is the way he waits. The undersize Irvin doesn't just excel at rushing the passer; he excels at waiting for the moment to rush the passer. He reminds me of a shark circling its prey (again, I am just an amateur observer of the wonders of the deep). Amini Silatolu is just a 315-pound blocking dummy, a buoy out in the water for Irvin to swim past. By the time Cam sees the whites of Irvin's eyes, it's too late …
By the way, my favorite Bruce Irvin factoid: When he was drafted by Seattle, with the 15th pick, many experts pointed to some off-field concerns, suggesting Irvin was a reach at such a high selection. Irvin's response? "The Lord knew it was all BS, and he took care of it." Amen.
— Chris Ryan
What Is Going On?!
When the Atlanta Falcons were 3-0, I was happy but convinced that the season was going to have an asterisk by it as result of the rent-a-refs the league was paying in subsidized NFL RedZone subscriptions. Sure, we looked good, but it just seemed too good to be true.
And then we won our fourth game, the first with the real refs. Yes, we had come from behind, but it was against the talented-but-still-young Cam Newton. And we were in the Georgia Dome, a place in which Matt Ryan refuses to lose. I was happy, especially seeing that we were one of three undefeated teams remaining, but as I looked at the 0-4 New Orleans Saints, a team without a real coach that would usually be leading our division at this point, our record still seemed to lack a certain sense of validity.
And then we came from behind, again, and won a fifth straight game. But this time it was one the road. And again, with real referees. And the Arizona Cardinals lost, leaving just the 4-0, Monday Night Football–bound Texans as the other undefeated team. And to top it off, the Saints won a game, proving that they weren't a completely depleted franchise.
If the Houston Texans lose to the New York Jets tonight, which at this point would require Rex Ryan to use his two remaining genie wishes, the Atlanta Falcons would be the best team in football going into Week 6.
That's something I'm not comfortable saying, and even more uncomfortable actually believing. This is the best.

— Rembert Browne
Cousin Sal's "Sunday Bet I Could Strangle Myself for Not Making"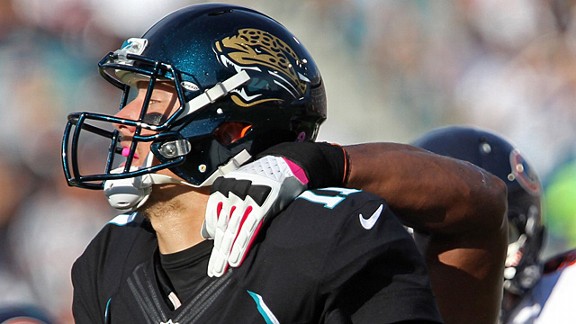 Bears -3.5 over Jags in the second half. There's a reason Chicago lit up Jacksonville 38-0 in the third and fourth quarters, and it has little to do with the fact that the Jags suck. OK — it has a lot to do with the fact that the Jags suck, but it also has something to do with their choice of wardrobe. Why would the home team choose to sport black jerseys in 90-degree Florida heat? Eventually this decision is going to wear down the best teams — let alone the lowly Jags. All I'm saying is, when you're unable to move the ball on offense or slow anyone down on defense, you shouldn't be looking for another obstacle. Wearing dark colors in sweltering conditions is not smart. It's no coincidence Darth Vader never made it as a farmer. (Note to Run & Shootaround reader: Feel free to change the Vader reference to Johnny Cash, Hasidic Jews, Will Smith, Tommy Lee Jones, or Judge Joe Brown.)
— Sal Iacono
Forget It, Jake … It's Weedentown
(All .gifs by HeyBelinda)
Once more, with feeling:
Turns of Phrase
Here are some euphemisms for "horrific offensive football." Given the way 80 percent of NFL offenses looked on Sunday, they will be in high demand in the upcoming weeks. Which is why I trademarked all of them. Hit me up, Greg Papa, Len Dawson, and Steve Tasker! We can negotiate a pretty good price for new ways to describe your team.
"Risk-Averse"
This is why your rookie quarterback doesn't throw the ball down the field, choosing instead to throw panicked, across-the-body check-downs to his running backs. Miami has already contacted me about this.
"The poise, intelligence, and humility to let his defense do its job."
Useful when your quarterback keeps chucking the ball out of bounds on third-and-5. Best part? Baltimore opened bidding at $15,500 on this line.
"Seems all right and seems to know where he is"
Used when your rookie quarterback has been knocked unconscious, is clearly not all right, and clearly does not know where he is. Redskins closed bidding a few hours ago.
"Still among the best in their division"
Particularly useful this year for teams in the NFC South, AFC East, and AFC South.
"Still might be feeling the effects of the replacement refs"
Works in all scenarios.
"You can't teach the courage to stand in there and take a hit."
Particularly useful for when your rookie quarterback gets blindsided and fumbles.
— Jay Caspian Kang
Celebration of the Week
Can't decide what's better, Brees quasi-botching the leap here:
Or Roger Goodell sticking the landing with the Twitter-trolling:
Congrats to @drewbrees & his teammates on breaking Unitas' record. Amazing accomplishment by great QB & leader. We're proud of you, Drew

— Roger Goodell (@nflcommish) October 8, 2012
— Chris Ryan
"I Was So Much Older Then (I'm Younger Than That Now)"
There's been a lot of speculation within college football (particularly after West Virginia's 70-63 win over Baylor) regarding the newfound unstoppability of no-huddle, up-tempo passing attacks. The various theories run the gamut of possibility, but most focus on the three most obvious explanations — the growing sophistication of high school football, the proliferation of offseason 7-on-7 passing leagues, and the increased specialization of prep QBs (i.e., kids who only play quarterback, all year round). There's no question that these innovations have changed the nature of NCAA football. But I'm starting to think they're also having an impact on the NFL: At this point, there's simply no reason not to start a gifted rookie quarterback from the first day he shows up at training camp. I never thought I'd believe that, but it suddenly seems undeniable.
In the past, there were always two arguments against starting a rookie on Day 1. The first was technical — the pro game was seen as too fast and complicated for any normal man to immediately comprehend. The second was psychological — if your team is destined to struggle regardless, why not let the incumbent veteran get booed off the field before tossing your virgin into the volcano? I always assumed both of those hypotheses could only be disproven by the rarest of exceptions. But now I see that the world has changed; there's no longer any benefit to waiting. No learned tutor could teach Andrew Luck more than the experience of throwing 55 passes against the Packers (he's already better than half the QBs in the league, anyway). During the preseason, I thought the Dolphins should have started Matt Moore over Ryan Tannehill, particularly since Tannehill had only 20 career starts as a collegiate QB. But what would that have served? Even if Miami was marginally better with Moore, there'd still be an inflexible ceiling to how dangerous they could become. Maybe they go 7-9 instead of 6-10. Brandon Weeden had one of the worst opening weeks in league history (his passer rating was 5.1, bordering on mathematical sarcasm), but he's averaged 292 passing yards a game since, surrounded by some of the worst talent imaginable. He might be the Browns' third-best offensive starter.
What's happening with rookie NFL quarterbacks is the same thing that's happened with freshman point guards in college basketball: The structure of the game has evolved in a way that instantly rewards the things they do well while de-emphasizing all the weaknesses inherent to inexperience. If a kid can physically make the throws, he's more than halfway home; if he can't intermittently compete right away, he'll probably never be able to compete at all.
Five franchises started rookies at quarterback this year. None of them may make the playoffs. But it was still the right move for all five clubs, and that feels new.
— Chuck Klosterman
Filed Under: Andrew Luck, Atlanta Falcons, Chris Ryan, Chuck Klosterman, Drew Brees, Green Bay Packers, Indianapolis Colts, Jay Caspian Kang, Matt Ryan, Miami Dolphins, NFL, Rembert Browne, Robert Mays, Roger Goodell, Sal Iacono, Washington Redskins