NFL Run & Shootaround: Charmed City
On any given Sunday (or Monday, or Thursday), your NFL Run & Shootaround crew will be gathered around multiple televisions, making inappropriate jokes and generally regressing to the mean. Catch up on all the NFL action right here.
Gut Check
(All GIFs by HeyBelinda)
I am exhausted. Not just because I spent 40 minutes of "real time" standing-squatting-jumping-kneeling-windmilling in my living room as the last four "game minutes" plus OT played out between the paid football players representing the Chocolate and Charm cities yesterday. (BTW, no one should be surprised that D.C. prevailed — food > manners.) But also because meaningful December football is no longer part of my constitution. Like baggy jeans and land-line telephones and paying for music, the once-vital D.C. pro football team has become less critical to my daily existence for all of the obvious and exhaustively well-documented decades' worth of reasons. Of course the 2007 run after the still-unfair and still-distressing Sean Taylor tragedy was inspired. But Todd Collins was prominently involved, which means … that Todd Collins was prominently involved. This QB and this team and this run are different. Like, once-in-a-generation different, which definitely feels like hyperbole but isn't, IMHO.

Because when you get heroic performances (and execution!) from guys named Richard Crawford and Rob Jackson and Kirk Cousins and Kai Forbath, something is going on. This morning's Washington Post has a column asking, "What were your emotions in the final two minutes of Redskins-Ravens?" and I have to say, it's a perfectly valid and necessary query. I'm not sure I can recall the last time my gut was in my lungs for that long. (That is a bold-faced lie, of course; the final three innings of Nats-Cardinals were comparable, but I'm still working very hard at erasing all of that.)
Anyhow, yesterday I can only recall one "emotion," and it was this:
"Pleasepleasepleasepleasepleasepleaseplease let his leg not be broken." And glory be, it wasn't. I'm pretty sure that mayor for life Marion Barry is responsible:
@brucehallsports Hail Mary full of grace, please keep RG3's knee in place.Thank you for the outstanding sportsmanship of the Skins!

— Marion S. Barry, Jr. (@marionbarryjr) December 9, 2012
In fact, I'm pretty sure it was the former mayor's prayers that paved the way to the W:
Dear Lord. Thy Kingdom come Thy will be done at Fed Ex Field & in Heaven.Let Thy's will be the Skins victory over the Ravens today. AMEN!

— Marion S. Barry, Jr. (@marionbarryjr) December 9, 2012
Amen. And may the prayers keep coming for another three gut-gripping weeks.
— Joe House
Excelsior
Things That Routinely Tackle Better Than the Atlanta Falcons' Professional Football Defense on Sunday Versus the Panthers
Limbless kittens
A napping Manny Pacquiao
Tyler Perry as Alex Cross as Asante Samuel
A falcon
You
— Rembert Browne
AD Goes All-Time
With three weeks left in the NFL season, three of football's most prestigious single-season records remain in sight. Two — which happen to be the two more likely to be broken — are a sign of the ever-changing football times. With sack no. 19.5 yesterday, Aldon Smith is just three sacks away from tying Michael Strahan's infamously set record for sacks in one year. With 1,546 yards after last night's loss in Green Bay, Calvin Johnson needs just 303 yards in Detroit's final three games to break Jerry Rice's mark of 1,848, set in 1995.
Considering the league today, one season removed from two different players breaking the previous record for most passing yards in a single season, neither of these pursuits comes as a surprise. With teams passing more, the opportunities for catches, yards, and sacks are more abundant than they've ever been, and it just so happens that two unique athletes have found themselves in unique circumstances. This isn't meant to take away from what both records would mean. What both Smith and Johnson have done since arriving as top-10 picks in their respective drafts deserves to be lauded like it has. But neither mark would approach the significance of the third record within reach.
Following Minnesota's win over the Bears yesterday, Adrian Peterson's rushing total on the season stood at 1,600. The facts to go along with a season like that are obviously staggering. Peterson is just the 12th player ever to record multiple 1,600-yard seasons. Over the past seven games, Peterson has more rushing yards (1,101) than Christian Ponder has passing yards (962). The question asked of Peterson following the win was about reaching 2,000 yards — a benchmark owned by only six men in NFL history. According to SI's Peter King, Peterson wasn't all that interested in talking about getting to 2,000. His concern was with a bigger number: Eric Dickerson's 2,105, which has stood for 28 years.
There are arguments to be made about volume records and their importance — Peterson's efficiency this season trumps several of those 2,000-yard seasons — but records are still records, and that Peterson has his eye on Dickerson is reason enough for it to mean something. Torn ACLs and terrible quarterback play aside, the most incredible part of breaking Dickerson's record (which would require about 168 yards per game) would be the era in which it was broken. As quarterbacks regularly drop back 45 times a game, and as teams stray further from workhorse running backs and toward situational players, the idea that a running back would dominate to this degree doesn't make much sense. Then again, not much about AD ever did.
— Robert Mays
Future Bet I'd Like to Make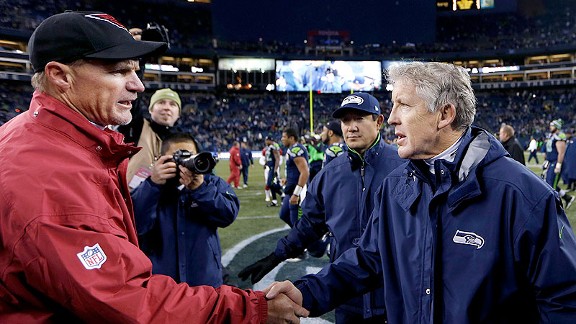 Even odds that after being relieved of his duties as Cardinals head coach three weeks from today, Ken Whisenhunt relocates his family to Seattle and immediately takes a job as kitchen manager at Pete Carroll's favorite Chipotle Mexican Grill, where he'll routinely defecate in the Seahawks coach's burrito bowl without Carroll's knowledge. Not sure if any offshore sports books would take this wager, but you could bet a response similar to this is justified after Predaceous Pete had his backup Matt Flynn passing while up 51-0 with a few minutes left in that interminable game. Bill Belichick is rolling in his cutoff hoodie as we speak.
— Cousin Sal
Domi-Nario: The Human Highlight Reel
When Danario Alexander was just a high-on-talent, low-on-polish freshman at the University of Missouri, the rumor was that during the team's testing sessions, DA's vertical came in at 46 inches. Apocryphal stories are nothing new when it comes to the athletic feats of the little-known, but they rarely start on accident. Either way, after two more scores on Sunday, low-on-polish seems a distant memory, and a full-extension windmill while wearing shoulder pads is proof enough that the talent hasn't eroded much either. The Rams must really be killing it at wide receiver.
— Mays
Flipping Out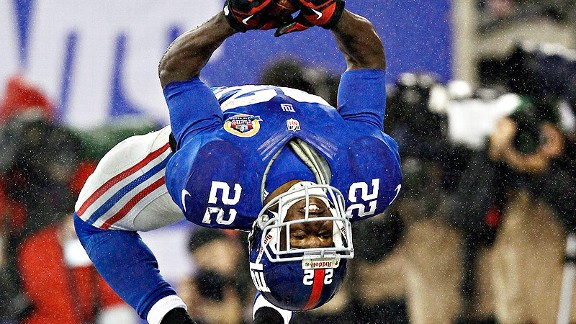 As NFL debuts go, the best thing you could say about David Wilson's is that it sure was memorable. Wilson, the New York Giants' first-round draft pick back in April, fumbled the ball for a turnover on his second NFL carry in the Giants' opening-day game against Dallas. He was benched by Tom Coughlin and was visibly devastated on the sideline (though he later denied that there had been any tears). He remained in the doghouse for weeks.
Yesterday against the Saints, though, Wilson became the top dog. First — with the inadvertent blocking help of one referee — he returned a New Orleans kickoff 97 yards to help erase the 7-0 lead the Saints had built off an early Eli pick-six. (It was the first kickoff-return TD in five years for the Giants, who have been haunted by the ghost of Jason Sehorn's knee ligaments since 1998.) In the third quarter, he lunged across the plane for a six-yard touchdown to give New York a 27-13 lead. And late in the fourth, he sealed the win with a 52-yard run into the end zone.
While Victor Cruz's salsa dance — which was even mimicked by his buddy J.R. Smith of the Knicks last week after a game-winning basket — has been the Giants' most recognizable touchdown display, Wilson upped the ante yesterday, performing his own signature move: the backflip. Wilson's father told the Star-Ledger's Steve Politi that he enrolled his son in gymnastics classes as a kid after he did a backflip off their F-10 pickup truck at age 4; he withdrew him when he realized that Wilson was the one essentially teaching the class, and not the other way around. (In one YouTube video from back in April, he pulled off 21 back handsprings in a row; in one from his days at Virginia Tech, he does eight consecutive full flips.)
Wilson's play was contagious: when the Saints (who at that point had narrowed their deficit to eight points) tried to kick shallow to avoid Wilson, his teammate Jerrel Jernigan caught the ball and returned it for a cool 60 yards; New York would score another touchdown on the ensuing drive. The kickoff return team's total 287 yards was a new Giants record, as was Wilson's 327 all-purpose yards. He also became the first NFL player to rush for 100 yards and return kicks for more than 200.
"This week, Coach [Tom Quinn] handed out assignment sheets to everyone but me," Wilson said after the game. "Coach said, 'You don't need an assignment sheet. Just run fast.' I guess I lived up to my assignment."
— Katie Baker
Filed Under: Adrian Peterson, New York Giants, NFL, Robert Griffin III, Washington Redskins