NFL Run & Shootaround: Rising Up and Rising Down
Tom Dahlin/Getty Images
On any given Sunday (or Monday, or Thursday), your NFL Run & Shootaround crew will be gathered around multiple televisions, making inappropriate jokes and generally regressing to the mean. Catch up on all the NFL action right here.
Comeback Season
The day before Christmas last year, Adrian Peterson was lying on the field in Washington and screaming in pain. His left leg had just bent in a way legs are not supposed to bend, and as he waited on the FedEx Field turf for the training staff, his right one shook, as if his brain were distracting itself. It has been said a lot in the past 10 weeks of this NFL season, but after yesterday's win, Peterson's fourth straight game with more than 120 yards, it should probably be said again — Adrian Peterson had no business playing football again by September. He has less business putting together one of the best seasons a running back has ever had.
For me, at least, that Peterson is playing at all is the most awe-inspiring thing. In catching chunks of the Vikings every week, there always seems to be at least one run that makes me shake my head and give an obligatory, "Wow, Adrian Peterson." I just didn't know how many of those runs there were, and that each week, there seems to be more of them. Peterson's season started modestly enough. In Minnesota's first six games, he broke the 100-yard mark just once while averaging about 4.4 yards per carry. In the Vikings' past four, that number has gone to 7.67, including 8.2 against the league's best rush defense. The new gear is shifting Peterson's 2012 from unbelievable to potentially historic.

If Peterson keeps up his pace (and again, he's getting better), his total figures for the year will be 312 carries for 1,805 yards. (I'm rounding up by about two feet. I think he's earned it.) That would be good for 20th all time, just behind Eric Dickerson's incredible rookie campaign in 1983 and just in front of Larry Johnson's 2006. What would stand out is Peterson's effectiveness. The 5.78 yards per carry Peterson is averaging would be good for fourth-best of any season in that top 20. Only Barry Sanders, O.J. Simpson, and Jim Brown have higher marks. Adrian Peterson didn't just come back. He came back better than he's ever been.
During Peterson's rookie season in 2007, I remember telling a friend that barring personal disaster or grave injury, Peterson would likely finish his career as one of the best to ever play. Well, six seasons in, he's simultaneously torn an ACL and MCL and seen almost his entire offensive line turn over, and he's on his way there anyway. By season's end, it's likely that Peterson will be around the 8,500-yard mark for his career. Assuming he stays healthy, that should have him over 10,000 yards early in the 2014 season. If he were to maintain some semblance of his current pace, Peterson would be around 11,000 career yards before his 29th birthday. With two more relatively productive seasons, he'd be looking to become just the eighth player to break 13,000. With three more, he'd be pushing Curtis Martin for fourth on the all-time list. If the era of time-shares and running-back-by-committee weren't enough to give that feat context, then the last 11 months should be. Few guys have ever done this like AD can.
— Robert Mays
Clark Kent, R.I.P.
(All GIFs by HeyBelinda)
I Am So Happy the Falcons Lost
It's rude to be a sore loser and have your one non-NFL Shootaround appearance be the day after your team loses. So here it goes:
This was the perfect point in the season for the Falcons to lose. I'm so happy right now. Couldn't be more thrilled.
8-0 creates a level of self-confidence where the team knows they are a legit contender (very different from 4-0 or even 5-0, which are still hot streaks, whereas eight in a row shows that winning is simply something that you do). But on the other end of the spectrum, the land of 10-0 or 11-0 instills too much confidence for a team that hasn't won a playoff game since Michael Vick was the quarterback. Yes, the loss was against the Saints, a team that should be investigated less for bounty-related actions and more for voodoo spells cast over my city's team, but that's OK. Sure, the loss took place in the Superdome, an especially evil place, which also happens to be the site of the Super Bowl, an event in which the Falcons would love to play this year, but again, that's OK too. And yes, with one loss, now tied for the best record in football with the Houston Texans, the Falcons have dipped below Chick-fil-A's Staff Retreat All-Star Team in the power rankings, but that's fine too. What matters is that we lost, but we still know that we're good, and now that the pressure to go undefeated is out of the way, we'll win the Super Bowl (which, if I have anything to do with it, will mysteriously take place in Baton Rouge) and then the world will explode. And it will be great. The end.
— Rembert Browne
13 Penalties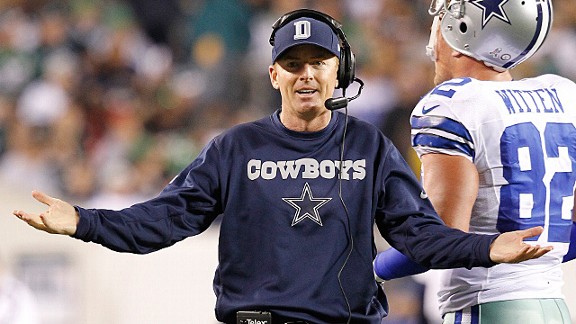 Look, the Cowboys beat the equally crappy Eagles, bringing their record to 4-5! But they committed 13 penalties in the process. Let's go through them, just to see what horrendous execution looks like:
1. On third-and-1, defensive end Jason Hatcher jumps offside. A free first for Philly, on a drive that leads to a score.
2. Ditto, except on third-and-3.
3. Doug Free, a tackle, leans back in his stance and earns the false start — his seventh of the year, we're informed. We have played just over eight games.
4. Morris Claiborne — the first-round pick we'll hear so much about — jumps offside. Strange for a cornerback. It'll get weirder.
5. Anthony Spencer jumps offside. Fourth offside of the half by Dallas.
6. That's another Morris Claiborne whistle! This time it's defensive holding, leading to this gem from Joe Buck: "It looked to me like Claiborne might have gotten Riley Cooper by the hair."
7. Proving he can always think of new ways to put Orlando Scandrick in a mismatch, Rob Ryan lines him up one-on-one with … Jeremy Maclin. Scandrick grabs him with both arms, just to be sure. First down!
8. Guess who? Morris Claiborne adds a pass interference to his collection. After the call, the network shot is of Claiborne lying prostrate on the turf, while Maclin stands over him and beats his chest. But that's gotta be it. It can't …
9. It's Morris Claiborne! Holding Riley Cooper — though not by the hair — and wiping out a nice pick by Anthony Spencer.
10. Now it's 31-17 Cowboys. The Eagles have a rookie QB in the game and 12-plus minutes to get two scores. One of the only things that can go wrong for Dallas is to commit a silly penalty. So Josh Brent thinks: I'm gonna jump offside. The Cowboys have committed this penalty five times.
11. A little flinch by John Phillips, the tight end. Because why not?
12. John Phillips will not let Morris Claiborne win this contest without a fight! Another flinch … on a punt.
13. The Eagles have the ball at the Dallas 1 and they're trying to get a play off before the two-minute warning. Flags … but 99 percent of the time, this is illegal formation/motion, right? Wait just one damn minute. It's Morris Claiborne! His fifth penalty, and we've come full circle, because he's offside again.
Reminder to fellow Cowboys fans: This is what a win feels like.
— Bryan Curtis
The Touchdown Pass That Gave All of Wisconsin Heartburn
Take Me to the Hospital
I was going to write about King Dunlap. I was going to write about penalties. I was going to write about how this possibly all goes back to the power struggle between Andy Reid and Joe Banner, which Reid won, and how it led to this stupidly constructed football team. I was going to write about how, no matter who is quarterbacking, his career is in jeopardy playing in front of the Eagles' offensive line; how maybe the wrong assistant coach got fired when Reid canned Juan Castillo, but Howard Mudd's unit seems to get worse every week. I was going to write all that. Maybe I was going to write about Nick Foles. But sometimes a looped picture says a million words.
— Chris Ryan
Cousin Sal's "Week 10 Wager I Wish I Made"
Betting against me winning my first three-team teaser of the year. Earlier in the week, Bill "Sportsish Guy" Simmons and I had this conversation:
Sportsish Guy: [In his typical Eric Cartman/Robby Benson–esque hybrid voice.] I know we're done with three-team teasers, but let me run this one by you.
Me: Pittsburgh, New England, San Francisco, all just to win their games?
Sportsish Guy: Yes. Who blows it for us out of those three?
Me: Nobody does. Let's put an unspeakable amount of money on it.
Sportsish Guy: Done.
This wager had three things working against it.
1. It was a three-team teaser. Those never win.
2. It was a three-team teaser that was backed by me. Those win even less frequently than never.
3. It was a three-team teaser backed by me and Simmons. Those officially register as a loss before the bookie even answers my call.
On the other hand, three-team teasers that go 2-1 are very very popular. So … am I telling you to put unlimited jermajesties on the Steelers money line tonight? Yes! Yes I am! You're welcome.
— Sal Iacono
Perfection
I once interviewed Larry Csonka at a farmhouse in rural Ohio. He told me epic stories about the horseplay he engaged in as a kid, and about how when he would step on a nail his dad would rub sliced tomatoes on it to draw out the wound; when he jammed a finger, his mother would hand him a piece of toast with strawberry preserves as a prescriptive. What did that do?, I asked.
"It took your mind off your fucking finger," he said.
I know it is fashionable these days to dismiss Csonka and Jim Kiick and his 1972 Dolphins teammates as bitter old cranks, even if the stories about them cracking champagne every time the last undefeated team wins a game might not be as true as we think they are. But I like thinking about that team huddled in some tavern chugging Brut every year when this happens (as it did following the Falcons' loss to New Orleans on Sunday), and I like to imagine them as bitter old cranks, even if they aren't, because it affords me at least a moment to engage in a romantic image of the way pro football used to be. We know now that football was brutal back then, maybe even bordering on inhumane, but I still enjoy our yearly dalliance with the merciless image of the '72 Dolphins, if only because it takes my mind off my fucking finger.
— Michael Weinreb
Ring My Bell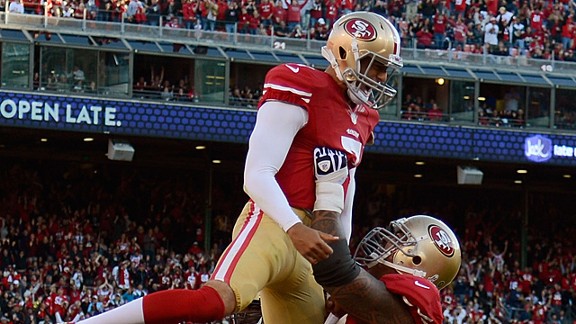 You could almost see the cartoon birds circling Alex Smith's head as he sat on the sideline, trying in vain to reboot. There had been plenty of moments over the years when Smith's face betrayed a note of confusion and maybe panic, but this was different. Rams linebacker Jo-Lonn Dunbar had double-clicked Smith's icon late in the first quarter and then, on a fourth-and-1 sneak early in the second, the Niners' hard-luck quarterback got crushed again. There was an almost goofy look on his face as he mumbled to the trainers and physicians. Colin Kaepernick, whom commentators seem ethically bound to describe as an "athlete," sprinted onto the field in his place, and I wondered if this was going to be a moment worth remembering, like that time Mo Lewis maimed a different no. 11 and became a Patriots legend.
Perhaps my favorite terrible sports cliché is the one in which you say someone is too young to know they should be scared. If I'm honest with myself, then I can admit that I was faintly excited to see Kaepernick, last year's second-round pick, out there. I wish it had been under different circumstances — a blowout win or loss, Smith having to serve jury duty, anything. But Kaepernick is, like all things in this culture, exciting precisely because he is an unknown quantity, much like Smith once was. In his first few series, he showed flashes of something, feeling the pressure and stepping up in the pocket, extending plays, scrambling, rifling passes to his array of receivers. Sometimes he dashed out of the pocket too quickly, and often he didn't make the right reads. But as he danced around the pocket and slung some risky balls downfield, I realized that what distinguished these two weren't just age and experience. Kaepernick was playing the way a lineage of Niner coaches had trained Smith not to play. After all, this was what Smith once was, too — a mobile quarterback who could throw. Only, some seven years after entering the league, this is no longer what is asked of him. When Smith feels pressure, he's encouraged to take a short loss or throw it away. Everything wild and unpredictable about quarterbacking has been drilled out of him.
Which is why it was such a strange and unfamiliar thrill to watch Kaepernick, a heroic-seeming figure capable of making things happen, given free rein to run a Niner offense that's all about careful, temperature-regulated equilibrium. A bad audible mistake here, a dropped snap there, free receivers hidden in plain sight in the end zone: Maybe this guy's not ready. But there were also moments when it seemed like the door to another future had swung open. A future that's still a few years away, sure, but a reason to keep watching during a laugher. Kaepernick wasn't skittish when he engineered an impressive drive to tie at the end of regulation, nor did he seem fazed in overtime, when he put David Akers in a position to win. The Niners were one Akers gimme away from a legitimate quarterback controversy. As far as symbolism goes, the tie sounds about right. Sometimes I can't stand symbolism.
— Hua Hsu
Filed Under: Adrian Peterson, Michael Weinreb, Minnesota Vikings, NFL, Robert Mays, Sal Iacono