NCAA Championship Shootaround
Travis Heying/Wichita Eagle/MCT via Getty Images
The national title game in riffs and GIFs.
All In
Brian Phillips: At some point during the White Hyperspace portion of the proceedings — between, say, Spike Albrecht's 19th consecutive falling-away 30-footer and the moment when Luke Hancock actually turned into a flock of doves — it hit me that life would be easier if this game weren't so much fun. If you hate the NCAA (and you do), then March Madness is always a time of intense cognitive dissonance. You love the product and despise the factory. You want to smash the whole corrupt system, but first maybe you'll just spend 90 straight couch-hours mainlining the event that makes the system possible. You're like an anti-cockfighting advocate who happened to walk past a cockfight one day and felt your brain go, "Yyyyeessssssss!"
So it's always kind of validating when the NCAA tournament ends with a clunker, or at least a game that's exciting but badly played. You get to cheer for some bumbly-heroic mid-major, and then after their floppy-haired 5-foot-11 shooting guard spends 40 minutes getting slaughtered by a basic zone defense, you get to think, "Well, it's just the NCAA." Last night, though? Last night doesn't leave you any outs. Last night was amazing, full stop, end of paragraph, fade to Northwestern Mutual commercial. Last night, watching the comebacks and the refusals to die, watching Trey Burke hurl himself around with the entire Upper Peninsula on his shoulders, watching about 900 high-pressure makes, you couldn't not wind up all-in. Which means the NCAA won again. At least the officiating sucked.

One Flying Moment
(All GIFs by @HeyBelinda)
Chris Ryan: This was when I knew Louisville was going to win. That's Peyton Siva throwing, or really redirecting a pass, to Montrezl Harrell for an emphatic slam, ending a 16-3 Louisville run at the end of the first half. At this point, the game was rampaging up and down the court, the Cardinals fans were losing it, and Rick Pitino was on the sideline screaming, "This is my happening, and it's freaking me out!" And there was Siva, seemingly getting cooler as the atmosphere inside the Georgia Dome got more and more intense. You know how when some players get the ball, your hands instinctively make a fist of tension? You know, the feeling you got every single time Russ Smith did anything? That feeling. Siva was the exact opposite. Siva was some kind of release valve. His highlights don't make you want to scream "SPARTAAAAAA" like Luke Hancock's, and he's not as athletically gifted as Gorgui Dieng or Chane Behanan. But on the surface, he seemed utterly unfazed by the moment. What kind of Universal Soldier do you have to be to think, Ah, national television, biggest game of my life, we're desperately trying to get back into this championship game, the last contest of my college career. What should I do here? OH, I know: a one-touch lob that will make Americans everywhere throw pretzel sticks all over their living rooms. Because I am Peyton Siva, and I do not feel pressure. Sure, Siva didn't have the smoothest postgame (not the safest-for-work link), but on the floor you couldn't faze him.
The Losing Coach
Bryan Curtis: John Beilein, the Michigan coach, stood next to CBS's Tracy Wolfson. Beilein looked grim. He was going to give us some answers. At least, we hoped he'd give us answers. Wolfson started by asking why Michigan couldn't commit quicker fouls in the waning minutes to get Louisville into the bonus. "We were trying to foul the right guy as quickly as we could," Beilein said. Meaning, Michigan just failed. Fair enough. Next question.
"I could see the guys in the locker room," Wolfson said. "No reason to hang their heads, just a tremendous season by this young team. What can you say about the effort they put out throughout the year?" Now, wait a sec. I know the Losing Coach Interview is problematic. It's no fun for either party, and a coach like Jim Harbaugh is liable to get pissed and bag it altogether. But this shouldn't let Beilein off the hook. He sat Trey Burke on the bench for an enormous chunk of the first half. Why? Or how about the generally horrific quality of the officiating throughout the game, which is part of the reason Burke was on the bench to begin with? What'd he think about that?
The problem isn't CBS. It's that we're too interested in a losing coach showing "class." Class, in this case, means pretending to be OK with losing the biggest game of your career. But Beilein doesn't need to be gracious; he needs to be honest and introspective. A good rule of thumb is that after the postgame interrogation, a losing coach shouldn't look like he just cut down the nets.
You Can Go Home Again
The Sacrilege of the Cardinals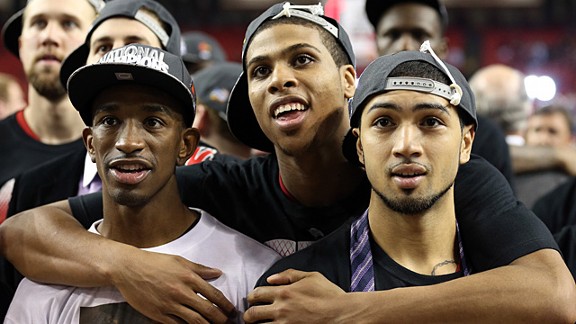 Sean Fennessey: I've studied the shot charts of Russ Smith and Peyton Siva like scripture — they're what you might expect:
(Credit: CBS Sports)
Russ Smith was #based, and Peyton Siva was blessed. Smith caught and shot and shot and shot and waded into weird spots on the court and shot yet more off-kilter long 2s. He played as if everyone else were antimatter. He played like he was quicksilver and liquid metal and sarin gas. He played like he was drunk. He played like everyone else was drunk. He was everywhere. He played like time was infinite. He played like he was dying, so why not get his? He played as if he would rise in three days. He was a pretty bitch. He was god. He missed a lot of shots. Smith is what you'd call a volume scorer or a heat check guy or a gunner, if you didn't have to call him god. His shot chart was an old testament.
(Credit: CBS Sports)
Peyton Siva is no god. Last night, he was the new model, the efficiency theory, the electric car with nitrous boosters. He was a machine, a tiny little bulldozer running into mounds of flesh in the post and tossing up what he could, when he could. He took a licking and kept on ticking, until he exploded. But he was no heathen. He preached the good word. His shot chart was a new testament.
Together, they went 9-of-31 from the field. No surprise; they're blasphemous shooters. But when Siva drove to the cup, as he did on 12 of his 15 shots, the defense collapsed on him. Sometimes quite literally on top of him. Siva missed far too many layups, but he rankled. The Wolverines struggled with foul trouble because he took those shots, missed them, and Chane Behanan acted like an angry rhinoceros on the glass. When Based Smith had the ball, he took shots away from the basket, drew few fouls, and generally defied contemporary basketball wisdom. That these undersize guards led the best team in the country to a national championship is astonishing. They are holy shit.
Trey Burke Politely Disagrees With That Call, Ref
Rick Pitino Goes BOOM!
Joe House: Rick Pitino has had a pretty good week.
He won a national championship and was elected to the Basketball Hall of Fame, his son landed the head coaching job at the University of Minnesota, and his horse (!) won the Santa Anita, which paves the way for running in the Kentucky Derby. With all this good fortune, maybe it's time to address the strong evidence that he may be a vampire.
He's also a 60-year-old man who now has to go out and get a tattoo. Considering the bonuses he's collecting, in no small part because of the hard work of his grotesquely undercompensated kids, I nominate something like this.
Spike and Trey
Robert Mays: When young kids start playing basketball, the conventional wisdom is that they should learn with a shorter rim and a miniature ball. The size-appropriate tools help facilitate proper shooting form and help to avoid certain jerks or hitches that might arise from a lack of strength. Spike Albrecht's jump shot, with its aggressive cock-back-and-launch motion, indicates that at one point, he was probably too small for whatever game of basketball he'd been flung into. You know, sort of like last night.
During halftime, John Beilein used the term story lines twice — that we know about. And he was right. It was hard not to get caught up in a shooting contest between the Guys Nobody Wanted, and when Albrecht hit his third 3 — that one from about 28 feet — I smiled what I can only assume was a ridiculous smile. When Michigan had built its 12-point lead, and Albrecht was losing 21-17 to the Cardinals, my thoughts weren't about who was going to win or lose, but who'd remember what Spike Albrecht did. That population obviously dwindled with Michigan's loss, and because his team cut down a couple of nets, Luke Hancock became the likely "free drinks for life" winner. The H-O-R-S-E game ended at halftime, though, and the players we always thought would decide this game took over.
Plenty of basketball people skewered Beilein for leaving Trey Burke on the bench for a majority of the first half, but considering his backup managed 17 points (and for the game, one less turnover than Burke in two more minutes), the choice seems, at the least, debatable. When Burke did return, he was every bit the Naismith Award winner. Shots went up from the same depths we all saw against Kansas, and he got to the rim whenever he wanted. The back-and-forth with Peyton Siva was the defining part of the second half, and when Burke elevated to block that Siva layin — which he absolutely did — it should've been a perfect moment of two players meeting each other on every level.
Hancock was the Most Outstanding Player of the Final Four, and Burke struggled against Syracuse, but he'll still be what I remember from this tournament. That shot against Kansas — that he was even willing to take it — was the dance's biggest moment, and there was no way for Michigan to go other than with Burke taking his swings. I don't know whether he or any of the other draftable Wolverines will be back, but I really hope he is. It would be fun to do this all over again.
Filed Under: Brian Phillips, Bryan Curtis, Chris Ryan, College Basketball, Louisville, Michigan, Robert Mays, Sean Fennessey