NBA Short-Attention-Span Power Rankings: Street-Fighting Men
Andrew D. Bernstein/NBAE via Getty Images
A survey of the players and teams making moves in last night's NBA action.
1. The Pacers
That's eight wins out of the last nine for Indiana, five straight, and the end of a 4-0 road trip, which included two victories in Texas (Dallas and Houston) and a big win in Los Angeles against the Clippers last night. You could say it was a moral victory for the Clippers, who came back from a 24-point deficit to get back into the game. But maybe it was moral victory and victory-victory for the Pacers, who held on in a tough situation. The Pacers got a visit from the goon squad when Matt Barnes and Ryan Hollins went into full nuisance mode in the second half. They got Hibbert out of his locked-in, first-half groove (he had 15 points in the first quarter) and into foul trouble. The Georgetown big man fouled out with about a minute and a half to go, but on his way back to the bench gave his teammates Tyler Hansbrough (seen above) and Lance Stephenson a friendly shove. Real friendly.


(All GIFs by @HeyBelinda)
Here's the thing about playing the Pacers: They're not really the squad you want to pull crazy eyes on, because David West and Lance Stephenson will give you crazy eyes. West was particularly … focused last night (do a Twitter search for "David West screamed" to see what I'm talking about). There was an intense, playoff atmosphere at Staples last night; the Clippers wanted that 50th win of the season (which would break their franchise record), and wanted to keep pace with Memphis in the playoff picture. The Pacers were getting hand-checked and hip-checked, slapped, held, elbowed, and yapped at. They were also getting rained on by Jamal Crawford (25 points). And they were able to stay afloat. Hibbert's tweet from a couple of days ago summed up the Pacers' road-warrior vibe the best:
Got a bunch of savages on this team! We on sum Vikings ish. Come 2ur city n take care of business. Move on2 the next city.

— Roy Hibbert (@Hoya2aPacer) March 31, 2013
It's worth noting that Paul George had 20 points and 10 assists for the second time in his career and, at times, was shooting like he was on mushrooms, and Hibbert is quite the beastmaster these days. He's averaging 19.8 points and 11 boards over his last five games, while shooting nearly 50 percent from the field during that stretch. I don't think anyone really believes the Pacers could beat the Heat four times out of seven. But the way they're playing right now — tough, physical, and a little crazy — means I cannot wait for that series.
2. Caron Butler
3. The Almost Matt Barnes–Lance Stephenson Fight, and Just Matt Barnes in General, and Lance Stephenson in General
Exclusive footage:
4. Vinny Face
My favorite part of last night's game was how Lance kept trying to sneak a peek at Vinny's whiteboard at the end of Clippers timeouts. He did it like three times. Here's an exclusive look at what Stephenson saw: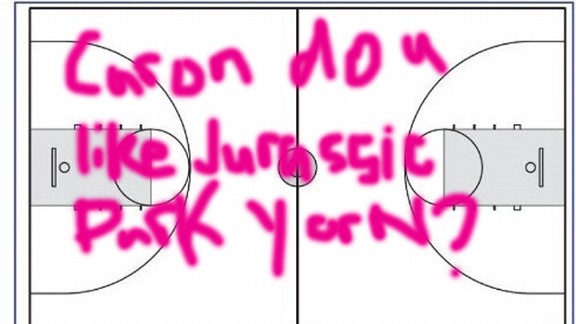 5. Jeremy Evans
This is the coolest thing Jamaal Tinsley has done since he bought A Tribe Called Quest's The Low End Theory on September 24, 1991, which was also his rookie year. Just kidding. Tinsley was actually drafted the day Earth, Wind & Fire's That's the Way of the World came out.
6. Kyle O'Quinn
Kyle O'Quinn is hilarious. He taped a picture of Nik Vucevic's girlfriend in his locker. He wants to see how long it takes Nik to notice.

—Alex Kennedy (@AlexKennedyNBA) April 1, 2013
Salute to this dude.
BONUS ASIK CONTENT
This is like the end of 2001.
Filed Under: Chris Paul, Chris Ryan, Houston Rockets, Indiana Pacers, Los Angeles Clippers, NBA, Orlando Magic, Paul George, Roy Hibbert