NBA Short-Attention-Span Power Rankings: Ricky Don't Lose That Number
David Sherman/NBAE via Getty Images
A survey of the players and teams making moves in last night's NBA action.
1. Ricky Rubio
Chris Ryan: This is not the most wonderful time of the year. And it shows. Most of the NBA stories you're going to be reading during the last few weeks of the season will concern knee drains, tanking, tightening up defense, shortening the rotation, getting into a postseason mind-set … you know, "finding out who we really are" kind of stuff. It gets a little LOL-free around here. So when you see something like Ricky Rubio's performance against the Spurs last night, you have to savor the flavor because you know that tomorrow night (or the next night, or the next night), it's going to be you, Frank Vogel, and the harsh realities of this world.
(All GIFs by HeyBelinda)

Rubio had 21 points, 12 assists, and 13 rebounds. What's not in the stats is how he is pretty much saving Derrick Williams's professional career, and how a lot of those assists are for wide-open shots that he creates because he goes on a defense-collapsing run before firing the ball out at some impossible angle. Can we figure out a metric for how open you make a guy before you pass to him? Do we just call it a Rubio?
He pulled off plays like the double-behind-the-back concerto above and generally brought a boundless energy to a game where San Antonio was legging out the second of a back-to-back. Noted comedy historian and Spurs wingman Stephen Jackson chimed in after the game: "He alright … You know, I mean, I'm into winning championships. I'm not into guys playing alright, averaging 30 and 20 on sorry teams. I'm into winning championships. He got some upside, I'll say that. But it's all about winning to me. It's not about what you do on your personal stats."
Very cool. Look, I get it: The teams with nothing to lose can afford to enjoy themselves. And it's not like there aren't some comedians on the Spurs.
But when you see a guy playing on a surgically repaired left knee who brings that much joy to an early-March regular-season game, with his team out of it and the opposing team getting ready for the playoffs, you can't help but smile. Rubio certainly can't.
2. Manu Ginobili
See? I told you the Spurs were funny.
3. Dwight Howard
Ryan: So all Mitch Kupchak has to do is let Dwight Howard go in free agency and then pull off a blockbuster trade to bring him back to Los Angeles, sign him to a one-year deal, and do the same thing the next season, until Dwight only plays against teams whose fan bases hate him. Doable. Great stat from Elias that should make Lakers fans and Steve Nash's hair stylist giddy: "Dwight Howard averaged 1.25 points per possession as the screener on pick-and-roll plays Tuesday night. He was in that role nearly twice as frequently as he had been entering the game. That play type helped Howard (7-of-10 from the field) get all but three of his shots from inside 5 feet." I think that calls for a Maino embed.
4. Charlotte Bobcats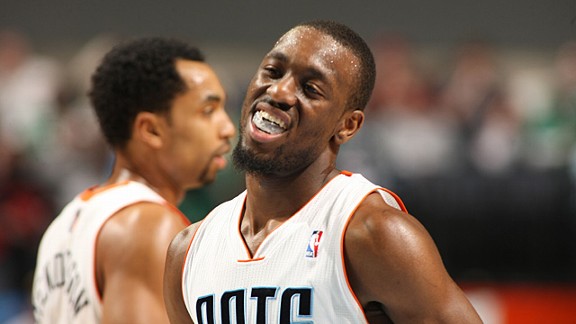 Danny Chau: Let's hear it for the triumphant Charlotte Bobcats, who have now doubled their win total from last season AND snapped a 10-game losing streak. There is a surplus of Duke hate 'round these parts, but let's give credit where it's due: Dukies Gerald Henderson (who finished with 35 points on 11-19 shooting) and Josh McRoberts (who might have had the best alley-oop of the night) were the guiding lights in a blowout against the Celtics.
Players like Hendo and McBob are, more or less, what make the Bobcats unwatchable on most nights. If teams are going to suck, we want them to suck fabulously. We want a circus act complete with "Yakety Sax." We want five JaVale McGees on the court at once. Henderson and McRoberts aren't JaVale McGee. They might actually be the opposite — hardly anything they do is egregious. But every once in a while they break the monotony and something amazing happens. Last night was something amazing.
5. Fratricide
In the comments, let's start talking about the best bench-reaction teams in the league. Right now, I think it's Denver, the Clippers, and then everyone else, but I'd like to hear yours. This Brooklyn one was fine, but, personally, if I saw a reenactment of Cain vs. Abel on a basketball court, I'd want a little more towel-waving and holding dudes back.
Filed Under: Charlotte Bobcats, Chris Ryan, Danny Chau, Dwight Howard, Los Angeles Lakers, Minnesota Timberwolves, NBA