NBA Short-Attention-Span Power Rankings: Live Together, Die Alone
Layne Murdoch/NBAE via Getty Images
A survey of the players and teams making moves in last night's NBA action.
1. The Thunder's Body Language
If you have Insider, you should check out David Thorpe's piece on the chemistry of the Oklahoma City Thunder. There's a lot of speculation in the article, a lot based on the very shaky science of body language, most of it suggesting that this is a more selfish Thunder team than ones we've seen in the past. The piece serves as a reminder that if it's spring, it must be time to judge every time Kevin Durant shakes his hands in the air to demand the ball, every time Russell Westbrook ignores him, and every time Serge Ibaka stares into space. Last night? They looked fine to me.

2. Kawhi Leonard
3. Corey Brewer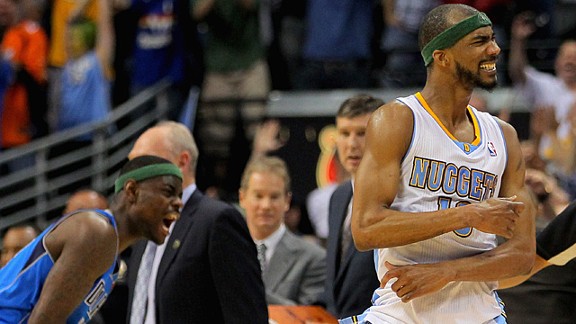 Above is Corey Brewer celebrating while Anthony Morrow has an extreme case of STRUGGLE FACE. This moment happened after Brewer blocked Morrow's would-be-game-winning shot at the end of the Mavs-Nuggets game. Brewer is my favorite player to watch on the fast break, and one of my favorite NBA players, period. He's going to become very important over the next six weeks, now that Danilo Gallinari is likely out for the season with an ACL injury. You figure Brewer's going to see his minutes go up in the Rooster's absence. On the surface, it's a pretty significant downgrade, in terms of 3-point shooting, but it's going to be exciting to see Brewer on the floor more.
4. Andray Blatche
You are now about to witness the power of Blatche, fool. Look at Andray totally disrespect the Nets fan going for the high five there. Legend.
5. William H. Macy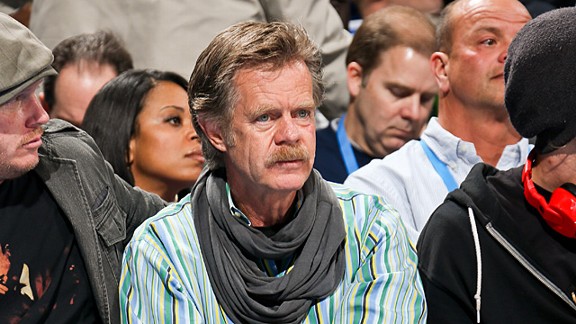 This is a picture of William H. Macy sitting courtside at the Thunder-Spurs game in Oklahoma. It's a testament to how great of an actor he is that he can wear that scarf in public in 2013. He's also drinking what appears to be a lager … WITH A LIME.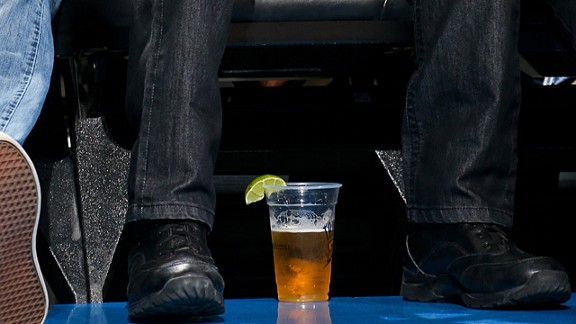 There's something incredibly appropriate, market-wise, about the (co)star of such classics as Air Force One, A Civil Action, Jurassic Park III, and Seabiscuit sitting courtside in Oklahoma City. I actually think the Thunder could get a competitive advantage out of his presence. If you're an opposing player, and you see Jack Nicholson at a Lakers game, you think to yourself, 'Cool, that's Jack Nicholson.' But if you see William H. Macy, you probably think, 'I know that guy from something.' All of a sudden, your mind isn't on the game; it's busy trying to remember whether that's the guy from A Few Good Men or Independence Day or Con Air. Where have you seen him before? Is he even somebody? Are your eyes playing tricks on you? You're totally out of the moment and on the IMDB in your mind.
SO! Here's what the Thunder should do: populate all their courtside seats with character actors. Can you imagine playing against OKC and looking around the floor and seeing David Strathairn, William Sadler, William Fichtner, Ted Levine, and James Rebhorn all sitting right in front of you? You'd be completely taken out of the flow of your game! You would barely be able to run a play, you'd be so busy trying to put names to faces and faces to film credits. Thank me later, Scott Brooks.
Filed Under: Brooklyn Nets, Denver Nuggets, Kevin Durant, NBA, Oklahoma City Thunder, San Antonio Spurs