NBA Short-Attention-Span Power Rankings: It's a Young Man's Game
Layne Murdoch/NBAE via Getty Images
A survey of the players and teams making moves in last night's NBA action.
1. Reggie Jackson
Robert Mays: Because Russell Westbrook was playing in a basketball game last night, the broadcast team was contractually obligated to engage in the Most Athletic Point Guard Ever discussion at some point in the telecast. Usually, Westbrook's now unopposed run to that title is just the most depressing thing in the world, but last night, we found out it was just disingenuous. When Reggie Jackson finished two second-half blow-bys by nearly putting his head in the rim, Kevin Harlan casually dropped that Jackson had the highest vertical of any member of the Thunder. This was the last piece of evidence I needed to know that Westbrook's anointment is a conspiracy that reaches all corners of the basketball world. Open your eyes, people. He's not even the most athletic point guard on his team. It's time for us to rise up against this. (Please come back, Derrick.)
2. Russell Westbrook and Kobe Bryant
Chris Ryan: I know Kobe was having some serious funny-bone issues last night, but there were a couple of plays — the above being a good example — where I seriously thought Kobe was going to reenact the Rob Riggle heart attack (deleted) scene from Step Brothers.


Still, it's hard to mock Kobe when he responds to the game with a tweet like this …
"Rule number 76. No excuses. Play like a champion" Vince Vaughn. Wedding Crashers.

— Kobe Bryant (@kobebryant) March 6, 2013
He is still the greatest.
3. Courtney Lee and Avery Bradley
Ryan: Lots of throwing salt on the wound from the Celtics last night. On the court, Avery Bradley was doing stuff like this, showing off how committed Philly was to getting on the defensive glass.
But at least he didn't tweet-gloat about it.
Eye is coo! Not sure how it want a and1 but oh well!Highlight of the night, JRU came to me and @avery_bradley and ask us to cool the Defense

— Courtney Lee (@CourtneyLee2211) March 6, 2013
Come on Courtney, you really think Jrue Holiday wanted the whole world to know he was begging for mercy!?
4. Richard Hamilton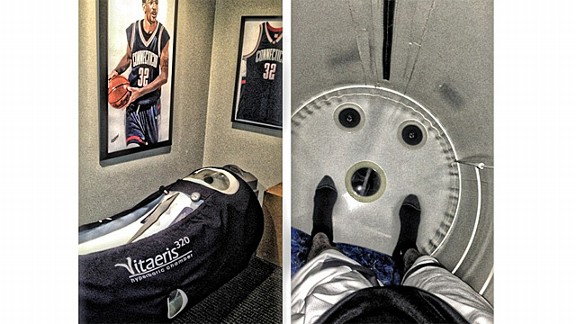 Ryan: This is Richard Hamilton's hyperbaric oxygen chamber, taken from his Instagram, which he sleeps in, beneath a painting of young Richard Hamilton. If this was a screenplay and I was the producer, I probably would have fired the screenwriter for being too heavy-handed with the imagery.
5. Deron Williams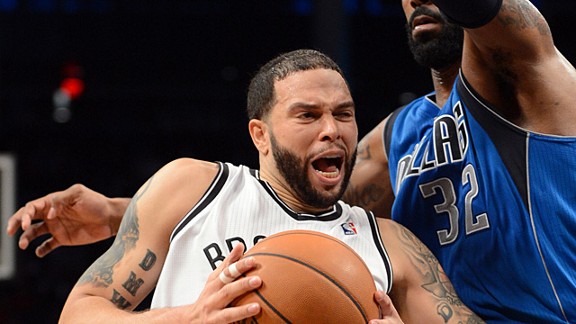 Ryan: Deron Williams wasn't involved in last night's action, but that didn't stop him from being the absolute worst. Here's a nugget from the New York Daily News:
The Nets stink in the third quarter and nobody really has an explanation. They are 28th in the league in 3rd-quarter scoring margin, losing an average of two points in those 12 minutes. They've been outscored by as many as 30-5 in that quarter (who can forget that stretch in San Antonio).

Deron Williams said he talked to long-winded PJ Carlesimo about shortening halftime speeches "so we'd have a little more time to get warmed up."

"It didn't really work," Williams said.
Yeah, man. That's probably the problem. Halftime speeches. Good diagnosis.
Filed Under: Boston Celtics, Brooklyn Nets, Chris Ryan, Kobe Bryant, Los Angeles Lakers, NBA, Robert Mays, Russell Westbrook