NBA Shootaround: Watch the Throne
Noah Graham/NBAE via Getty Images
So much amazing is happening, and the Shootaround crew is here to help you keep track of it all. You'll find takes on moments you might've missed from the previous night, along with ones you will remember forever.
Milestones
So, LeBron reached a milestone yesterday in amassing 20,000 points (along with tallying 5k assists) — the youngest player to ever do so since, well, since forever. So while the importance of that accomplishment and his performance in general is all fine and dandy to talk about, what I want to focus on is something more subtle. Look at what he said at the halftime interview:
"While I'm accomplishing it, we're also winning at halftime, so that's a good thing."
Which got me thinking … How many NBA players have reached significant statistical markers that were overshadowed by a poor performance from their team or from themselves? Here are a few quick ones (read: Los Angeles-heavy ones) that I thought of/that Google search yielded:

1. Kobe Bryant, 30,000 points — Kobe hits a 3-foot jumper with 1:16 left before halftime in a Dec. 6, 2012, game at New Orleans to give him 30,001 career points. The Lakers trail 42-45 after his shot but rebound and win the game, 103-87. So all in all, good for Kobe, and good for the Lakers (who were 8-10 going into that game). I give it 7/10 since it wasn't an epic shot.
2. Steve Nash, 10,000 assists — In the closing seconds of the second quarter against the Rockets (Jan. 8), Nash locates Antawn Jamison on a pick-and-roll play to become only the fifth player to reach the 10k assist mark (others are John Stockton, Jason Kidd, Mark Jackson, and Magic Johnson). The Lakers enter halftime up 62-59 but end up falling on the road to Houston, 125-112. So I guess that'd be a half-win — 6/10 with that extra point swing to highlight how big of a deal Nash's feat was.
3. Hakeem Olajuwon, 10,000 rebounds — This one's a classic. On Feb. 19, 1995, Olajuwon reaches the 10,000-rebound mark at Madison Square Garden — a feat made greater by the fact that he was playing on an empty stomach. I repeat: an empty stomach. The game occurred during Ramadan, and Olajuwon hadn't eaten anything since before sunrise and was "sapped." Still, he scored 27 points and grabbed nine boards. The Rockets ended up losing to the Knicks, 122-117, and I'm not sure what the circumstances were when he grabbed the rebound, so overall … 7/10. Two points for him overcoming adversity and managing to not faint on the court because I know I sure would've.
4. Kevin Garnett, 10,000 defensive rebounds — I hate Boston, but even a Lakers fan can appreciate Kevin Garnett. He notched his 10,000th defensive rebound in the second quarter of a Feb. 3, 2012, game against the Knicks. KG became only the third NBA player to reach this milestone (joining Robert Parish and Karl Malone), a feat made all the sweeter with a 91-89 win over the Knicks at the Garden. Entering halftime, though, I can only imagine KG wasn't too happy with his team, who went into the locker room down 55-49. Overall, I give it a 9/10 because while he must've been dour during that halftime interview, eking out a win over your biggest rivals and joining two Hall of Famers is always +5 points.
— Patricia Lee
You May Not Like It, But You Got to Respect It
You know what? Salute to Alonzo Gee for having the good sense to make a face that screams, "Man, I just got destroyed in real life by J.J. Hickson!" A lot of times when guys get their innocence revoked on one of these dunks, they stalk around and pretend like nothing happened (hi, Kendrick). Well, something happened. You got dunked on, and now it's on YouTube and it'll be there till the machines rise up against us. So you might as well shake your head and have a laugh about it.
— Chris Ryan
#FreeJeffTeague
Entering this season, it seemed like the Hawks were destined to be one of the most exciting teams in the league. With uber-athletic point guard Jeff Teague flanked by combo guards and the undersized, but athletic frontcourt pairing of Josh Smith and Al Horford, it wasn't hard to envision the team being the East Coast version of the :07 Seconds or Less–era Suns.
Instead, head coach Larry Drew went in the exact opposite direction with his offensive philosophy. Atlanta ranks just 19th in pace. But with Josh Smith suspended by the team last night, fans were given a glimpse of what the Hawks — and most importantly, Teague — were capable of doing when unleashed in an up-tempo game.
Teague Euro-steps in transition could've been a constant staple of this year's Hawks squad. But more often than not, Drew has asked his point guard to sacrifice his attacking mentality to play the role of caretaker, getting the team into sets, spotting up in the corner, and deferring to Smith in the half court. It's such a waste of a guard whose speed and finishing ability make him a great fit for the role of attacking lead guard, which Teague was allowed to play last night.
It's hard to argue with the results, as the Hawks are 22-16 playing this type of grind-it-out basketball, but as their game against Brooklyn showed, this team could perhaps be just as successful — and infinitely more exciting — if they just let Teague loose.
— Brett Koremenos
Al Horford Gets Left Out
Want to Have a Catch, Dad?
(All .GIFs by HeyBelinda)
While deeper teams can experiment with endless lineup permutations, the quickest way to improvement is simply to replace a lousy player with a quality one. It's a brain-meltingly obvious move, but most teams with a glaring hole lack an alternative widget that isn't already being used. This happened in New York when Jeremy Lin stepped into the void at point guard for the Knicks. And until the Timberwolves' season turned into an endless trip to triage, they were benefiting from an offseason that ushered in useful gentlemen like Andrei Kirilenko and Chase Budinger, while shoveling out toxic minute-eaters like Darko Milicic and Michael Beasley. For those who want to see this rarity occurring in real-time, look no further than the New Orleans Hornets.
Since Eric Gordon's return, the Hornets have won six of the eight games he's played, with quality wins coming at the expense of the Spurs and Rockets. It's not that he's been majestic — he's shooting 38 percent from the floor and 20 percent from 3-point range — but he's a solid NBA player. The man he replaced, Austin Rivers, hasn't been. Thanks to his visibility at Duke and family pedigree, the rookie lottery pick's struggles have been documented with an unsavory amount of zeal. Still, his awfulness is a powerful force, and as impossible to ignore as a reeking homeless dude on a crowded subway. Thus far, Rivers has shot 33 percent from the field and notched a meager two rebounds and two assists per game. He can't finish around the rim, he's inept going left, and bricks half his free throws.
With Rivers's minutes drastically reduced, and Eric Gordon hiding his "I WISH I WAS IN PHOENIX WITH MARCIN GORTAT" torso tattoo, the Hornets have toughened up. Robin Lopez seems pleased to be out of Arizona — and he's yet another guy proving underused players can duplicate their numbers when given serious tick (per 36 minutes, his points, rebounds, and blocks have remained almost identical). Greivis Vasquez, the oversize point guard with the lush Serpico beard, is third in the league in assists; stretch forward Ryan Anderson leads the NBA in made 3's. And, of course, there's Anthony Davis, surely a star-in-the-making.
Here's more good news: Gordon didn't even play last night, and the Hornets still trounced the Celtics by 12. Rivers went 3-6, and made a field goal for the first time since January 5! All he has to do is play against his dad's team every night!
— Ben Detrick
Wiggle Room
"Still Looking for That Ohio License Plate!"
The Cleveland Cavaliers are terrible again. Despite three top-5 draft picks in the last two years, they still have the third-worst record in the league. But Tristan Thompson is improving this season, throttling dudes on the low-block as he begins to realize his future is less Malone and more Mahorn. On Monday, this year's pick, Dion Waiters, went hammer in a loss to the Kings. He scored 33 points and shot 67 percent from the field, looking every bit the kick-out sharpshooter option for basket-attacking, point-guard superstar. Waiters gets a weird look in his eyes when he's hot, like he knows something is both wrong and right. Kevin McAllister Syndrome. I've been calling this "DION WAITERS TIME!" since the beginning of the season — it's a glorious moment. I love him, though I can see that he has too much remorseless gunner; one part J.R. Smith, two parts Michael Redd, I hope. It's probably the inverse.
Last night, the Cavs actually won a game, their tenth of the year, though Waiters was absolutely abysmal. (He shot 1-9 and scored 5 points. This is also an appropriate moment to scream "DION WAITERS TIME," which is why screaming it is fun: versatility.) Not abysmal last night: that superstar point guard, Kyrie Irving. He's improved this year, playing more minutes, shouldering more of the scoring burden, dominating the ball, barking at teammates. His supporting cast, particularly without the injured Anderson Varejao, is like that pack of meerkats from The Life of Pi: They're scared of everything, except what they think feels good. (In the case of the Cavs players, inefficient shots feel good, apparently.) But Kyrie is Kyrie. You can see last night's best moment in the above video. Irving drives to the left side of the basket, jabs right, ball-fakes left, ball-fakes right, and then spins left for a soft kiss. He embarrassed Trail Blazers rookie Damian Lillard, who's essentially trying to be the new Kyrie Irving. Not incidentally, Lillard had one of his worst games of the season last night. Go get your shinebox, Damian.
— Sean Fennessey
Head Case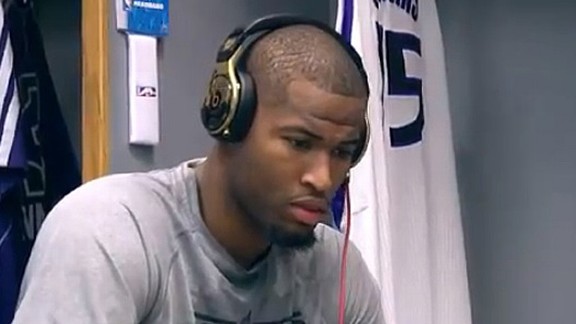 I went in to last night's Kings-Wizards clash with the intent of watching DeMarcus Cousins, figuring I'd see a player who matched Crash Davis's assessment of Nuke LaLoosh in Bull Durham: million-dollar arm, 5-cent head. This is actually not the case with Cousins. He's clearly a very thoughtful person. Perhaps too much so. During what was a mind-boggling 21-point, 16-board, five-assist, six-turnover, five-foul night, I watched an incredibly talented and occasionally dominating player get lost in the corn maze of his own thoughts. This is a guy who, in one moment, can steal an inbound pass, turn on a dime, and throw a 35-foot strike to a streaking Tyreke Evans for a layup, then, moments later, allow the Wizards an easy bucket because he was too busy sulking to get back on defense. What was most clear last night was just how much Cousins needs a change of scenery and a new set of voices to listen to. During timeouts, Kings bench players were sulking in their seats, rather than standing around in a huddle as the starters got their instructions from Keith Smart. When Isaiah Thomas was mid-air hip-checked to the ground by Nenê, only John Salmons ventured over to help him up off the ground. Jason Thompson seems miserable. It's just not a good situation in Sactown, regardless of the win last night. And you can tell Cousins sees, hears, and thinks about all of it. On the other side of the country, the Hornets were racking up a road win, in Boston, without arguably their best player (Eric Gordon). I couldn't help but wonder if that's exactly the kind of bad-team-good-situation Cousins needs to be in.
— Ryan
A Thing of Almost-Beauty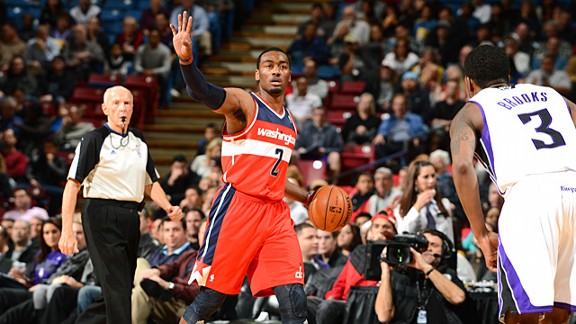 It's sort of a "duh" thing, but the Wizards for the rest of the season will serve as a useful reminder that having good NBA players is sort of important. The Wiz have been a disaster offensively this season, spending almost the entirety of it ranked dead last in points per possession, with a mark rivaling Charlotte's historically bad figure from last year's messy lockout season. Their shot selection profile has been dreadful; the Wiz rank last in shots per game at the rim and "first" in long 2-point attempts.
But Washington's offense hasn't looked that bad, aesthetically, with the exception of some horrific crunch-time disorganization (shot clock violations, Jordan Crawford recklessness) here and there. They've moved the ball, assisting on a higher-than-average share of their baskets, and they've made an effort to run some almost artful NBA sets. Even Crawford, perhaps the league's premier ball-hog, upped his assist rate to a career-best level while spending significant time running the offense in John Wall's absence.
The team just had bad or untested NBA players, at almost every position. Things changed when Nenê returned and started playing more minutes; the Wiz have actually outscored opponents by about 5 points per 100 possessions with Nenê on the floor, a mark that would rank 6th overall — pretty remarkable for a 7-29 team. It's amazing how much better those semi-artful sets work with a big guy who can actually shoot, pass, and cut in smart ways — and how many more sets become possible for Randy Wittman to actually use.
Now Wall is back, too, and though the returns haven't been quite as robust, you can already see the Wall/Bradley Beal duo bearing fruit. Beal is 12-of-22 from the floor in his very limited minutes with Wall, and his 26-point explosion against Sacramento last night showed Beal has already learned one very important Wall-related lesson: Run to the corners when Wall pushes the ball, and spot-up for wide-open 3's. We even saw Washington run a Wall/Beal pick-and-roll, with Beal screening and fading to the left wing for open 3's.
Here's a prediction: I'll bet the Wizards end up outscoring the opposition for the season when both Wall and Nenê are on the court.
— Zach Lowe
Filed Under: Ben Detrick, Brett Koremenos, Chris Ryan, John Wall, LeBron James, Miami Heat, NBA, New Orleans Hornets, Patricia Lee, Washington Wizards, Zach Lowe