NBA Shootaround: Things That Go Bump in the Night
Steve Babineau/NBAE via Getty Images
So much amazing is happening, and the Shootaround crew is here to help you keep track of it all. You'll find takes on moments you might've missed from the previous night, along with ones you will remember forever.
Sleeping With the Lights On
netw3rk: The Boston Celtics exist in the minds of Eastern Conference playoff teams as something akin to the bogeyman. Even the Miami Heat — who certainly don't fear the Celtics — reach a pitch of intensity in their play against Boston, and a level of exaltation in their victories over them, that betrays a depth of hatred for the leprechauns unmatched by that for any other team.
When you put the bogeyman on his back, you stand over him and you do a dance. Every Eastern Conference team has a litany of Celtics grievances just waiting to be uncorked: the moving screens, the trash talk, the suffocating and gratingly physical defense that dared refs to blow the whistle every 10 seconds. And, yes, the winning. Because the KG-era Celtics didn't just win; they stormed your arena, tore your relics out of their holy places, and gleefully salted your fields. That's why, despite no longer being a truly elite team, the Celtics still have a sort of cultural hegemony over the Eastern Conference. The hatred they engender is the ultimate sign of respect.

The term "searching for an identity" is thrown around a lot in relation to the Nets; I like to imagine Brook Lopez intoning om mani padme um and swinging a brass pot of incense from a long chain while wandering around a Himalayan ashram. "Searching for an identity" can actually be considered the meta-quest of the Brooklyn Nets; they are, for all intents and purposes, a brand new team. In fact, their success is pretty impressive when you think about how much upheaval they've dealt with all year: new arena, new city, new state, new uniforms, new players; key players who haven't all been healthy at the same time; key players who can't all play well at the same time; key players completely losing their confidence like a cigarette lighter; a coach firing; that scare-the-children mascot; and finally, their cultural Svengali/ownership figurehead, Jay-Z, cashing out his stake in the team for reportedly less than the price of your average Park Slope studio apartment.
So many different players have carried the water for the Nets this year. Reggie Evans, always a dynamo on the boards, has now ascended to Shiva, God of Rebounding levels: During the Nets' last 20 games, Evans is averaging 16 rebounds per game, and about one-third of all available caroms fall into his many-armed embrace. But, if there's a Nets identity out there to be discovered, it must come from Deron Williams, hampered most of the season by a bad ankle. A combination of fruit juice–induced weight loss, platelet-rich injections, and the magic of cortisone have Williams finally resembling the player of past basketball-nerd debates: 25 points and eight assists on 55 percent shooting — and a long-awaited dunk — over his last five games, and 29 points and 12 assists on 9-of-18 shooting last night against the Celtics. Kevin Garnett gave glimpses of the old dark arts, diving on Kris Humphries for a loose ball and throwing some trademark plausible-deniability elbows, but the seams on the grim reaper hood are starting to show. The Celtics are 10-11 since March, giving up 107.4 points per 100 possessions in those 11 losses. And while no Eastern Conference team should ever doubt the bogeyman can put a scare into you, perhaps those teams aren't sleeping with the lights on anymore.
Sleight of Hand
Is It Time to "Manu" Paul Pierce?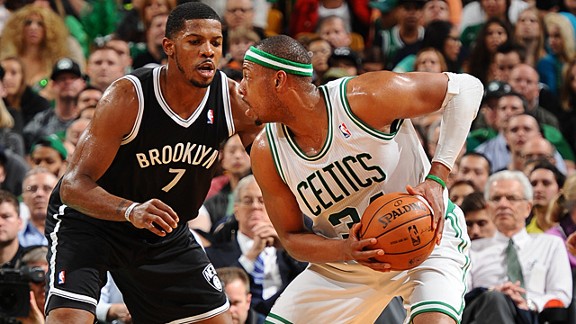 Brett Koremenos: For the past few years, the Boston Celtics have been constantly searching for offense. Though they've made marginal improvements in the absence of injured point guard Rajon Rondo, the team still has to scratch and claw to put the ball in the basket. Against the Nets last night, the team trotted out a handful of lineups that left you wondering if they had anyone capable of breaking down a defense and creating a good shot.
Seeing a trio of Jordan Crawford, Jason Terry, and Terrence Williams make up the backcourt contingent can't exactly be confidence inspiring to most Celtics fans. The creation of problem lineups like those seems to stem from the Celtics "big" starting lineup that features Jeff Green and Paul Pierce as their starting wings.
Now it's impossible to fault head coach Doc Rivers for giving this pairing a try. After all, the reasoning behind its creation isn't all that hard to figure out. Courtney Lee has been brutal offensively for the last few weeks. Jordan Crawford is Jordan Crawford. And Terry's game has eroded to the point where if he's not making contested 3s — because that's about all he can create — it's hard to justify even playing him.
But with their two best offensive players both on the same rotation schedule, it's hard to balance out all their bench lineups, even for a staff that has been fantastic with how they continually tweak minutes in an attempt to create optimal combinations. The solution, to avoid heading into the playoffs with a number of "dead" lineups, might be one that seems counterintuitive at first glance — moving Pierce to the bench.
By moving the cagey vet to the second unit, Rivers has a better chance of creating lineups all game long that contain at least one of the C's two best scorers. A swap of Pierce for Williams as the normal starter at the 2-guard gives the starting lineup a solid defender and a player that can be more of a driver in a lineup full of jump shooters. Boston's star forward can then come into the game when Green and/or Garnett come off, stabilizing a number of reserve units along the way.
The C's are a flawed team, so this may all be an attempt to put lipstick on a pig. But it could be worth a shot to turn Pierce into the team's new, old supersub.
Nobody Does Public Undermining Like George Karl
On Tim Duncan's renaissance: "He must be going to the same guy as Kobe Bryant in Germany. It's the fountain of youth."
Block Party
The Replacements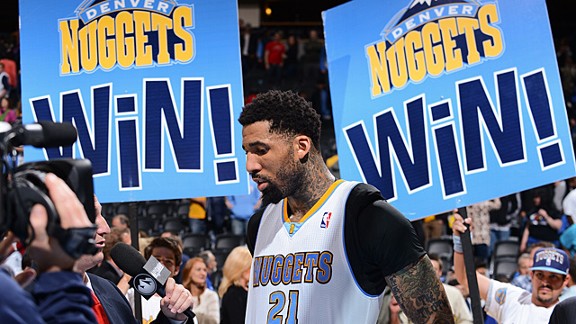 Robert Mays: When Danilo Gallinari was lost for the rest of this season, the response was not mixed. Anyone with a basketball heart has saved at least a small corner of it for this Nuggets team, with its torrid style, pervasive dunking, and general awesomeness. So when the news broke that Gallinari was done, I don't think anyone outside of a Western Conference locker room could be anything other than disappointed.
There were two main points posited about what the Gallo injury meant to Denver: (a) It was the only the second-most important health question for this team; Ty Lawson is the least replaceable of the two, and (b) if Gallinari's production could be matched, it would be on Corey Brewer and Wilson Chandler to make it happen. I'd say last night was a decent step in that direction.
Chandler's 29 and Brewer's 28 were a big part of why Denver managed to cruise to its 21st straight home win. As Zach Lowe pointed out on the B.S. Report earlier this week, neither Brewer nor Chandler can provide all the ins and outs Gallinari gave to Denver. His 3-point shooting prowess tends to be overstated, but it's significantly better than the combined efforts of his replacements. And the options that come from a Lawson-Gallinari pick-and-roll just aren't available without him.
What Chandler and Brewer can provide is more proof that this Nuggets squad is about as well-constructed as a team can be. As Gallinari goes down, two long, athletic bodies step up; and although the main questions about the Nuggets will be about their ability to score in the half court come playoff time (an area where Gallinari would be immensely important), that players like Chandler and Brewer are the alternative is a testament to Denver's personnel. For those of us whose hearts sank a bit last week, last night was enough to brighten the mood.
Pay John Wall
Coming Attractions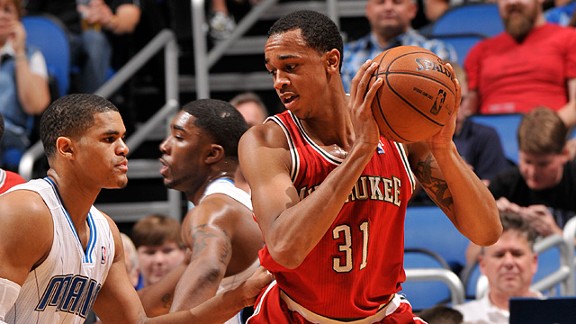 Danny Chau: John Henson was sucking wind by the start of the fourth quarter. At the end of the third, he had already logged 28 minutes — he never got past 27 in any other game this season. He played 41 minutes against the Orlando Magic, only one minute shy of the combined total in his last five games. Henson made the most of his time, logging 17 points, 25 rebounds, and seven blocks off the bench, showing the full spectrum of his strengths and weaknesses. He's tall and long (seriously, his limbs are like didgeridoos), but frail. He's not yet built for heavy minutes in the league, and it all caught up to him by the end. He missed his last six shots, but he kept fighting. It's what a rookie is supposed to do. Even if he doesn't log another minute in the next four regular-season games or playoffs, he'll always have this game.
April marks the end of the regular season, and normal people are likely to put an emphasis on games that determine playoff seeding. I'd rather go rookie watching. I find myself naturally gravitating toward the inconsequential games, because for most teams, their fate is sealed. I'd rather appreciate what little they have to offer now than miss out completely once they're gone. This is the time when things get interesting; when coaches sigh, devour their competitive spirit, and let the kids loose. Watching Andre Drummond score 29 points off of dunks and free throws, or watching John Jenkins do his best Klay Thompson impersonation for the Hawks, is gazing into an exciting, unknowable future. There's no telling whether their bloated performances are merely flashes in a pan or a sign of what's to come. It's all so fickle and in no way an accurate depiction of reality. That's the allure.
Duhon, Meeks, and SACRE
A Plea to Commissioner Stern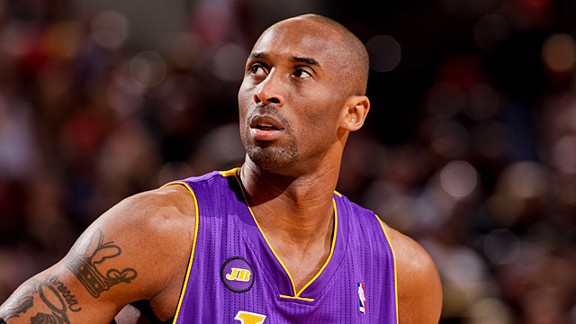 Jay Caspian Kang: I know they're the Lakers, I know they have the massive payroll and the superstars, but having watched the Lakers over the past couple weeks, I've felt the faint flicker of what I felt when I moved to San Francisco in the spring of '07, just in time for the We Believe Warriors. Believe me, Warriors fans, I have done pretty much everything short of punching myself in the face for even entertaining such sacrilege (and I do acknowledge that I should punch myself in the face). But if we are talking about a potential 8-seed catching fire at just the right time and beating a 1-seed, has there ever been a more compelling case than these Los Angeles Lakers, led by Kobe Bryant, the NBA's own Doctor Faustus (seriously, at this point, all epic poets and occult investigative journalists should start looking into the deal Kobe struck with the devil), who I'm conservatively projecting for a 50/6/8 line in the first round, and Pau Gasol, who will be the first player to ever play an entire series with two middle fingers pointed at his head coach?
David Stern, please make this happen. We need Kobe in the first round.
Warm Embrace
The Conquering Hero
Patricia Lee: First things first, an anecdote that explains (*coughDEFENDScough*) why I didn't watch the entire Lakers game. Or if you really want, skip down to the TL;DR, where I actually start talking about last night's game.
Last night was my dad's birthday, so we went out to eat at a Japanese restaurant down the street. The reservation was for 7 p.m., which is, well, the exact time the Lakers were set to tip off. So I purposefully seated myself in front of the television, ready for the night's decisive game (which Chris Ryan told me the purple and gold would lose).
Except … they were playing the Clippers game.
WHY?
I don't know the real answer, but I'm assuming it's because the restaurant doesn't get Time Warner Cable SportsNet. Last year, they bought the regional TV rights for the Lakers for the next 20 years, and the games are no longer shown on the local CBS affiliate, KCAL 9. (There are benefits to this, of course, like being able to watch the game online through your cable account and watching without delay, but still. I hate it.) Anyway, because of this, I sat at dinner watching a flashy Chris Paul run up and down the court while listening to my cousin talk about how Vatican City came about and checking ScoreCenter for game updates.
TL;DR I ate a lovely dinner and hate Time Warner Cable SportsNet.
I got home just in time to watch the end of the Lakers game. At that point, they had just gone on an 8-0 run, and from what I was reading on Twitter, Kobe Bryant was having a monster game. I watched the Lakers put on the finishing touches in Portland (more Kobe! Pau to Dwight!), then was temporarily stunned when I heard MVP chants coming from the crowd.
You see, it's not every athlete that enters another city and listens to a chorus of "M-V-P, M-V-P" in the waning minutes of a pretty hotly contested game. It's also not every fan base that will do this (either out of respect for an opposing team's player or out of spite for their own team).
I couldn't wrap my head around it — Portland fans cheering for Kobe Bryant, whose Lakers held that eighth playoff spot that at one point in the season the Trail Blazers were vying for? It felt surreal that this, this chanting, was happening in the Rose Garden. The Rose Garden! I mean it isn't TD Garden, but it definitely ranks among the hardest places the Lakers have to play during the season.
The Black Mamba ended with quite the impressive stat line — 47 points, eight rebounds, five assists, and four blocks. So what's the lesson here? Respect the vino, respect the fans, and always, always count on Kobe.
Especially with three games left in the season.
Filed Under: Brett Koremenos, Chris Paul, Danny Chau, Denver Nuggets, Jay Caspian Kang, John Wall, Kevin Garnett, Kobe Bryant, Los Angeles Lakers, NBA, Patricia Lee, Pau Gasol, Paul Pierce, Robert Mays