The Z-Bo Issue: The Grizzlies Are a Threat to Emerge From the West, But Only If Zach Randolph Gets Right
Joe Murphy/NBAE/Getty Images
As others have noted recently, there's been a lot of hand-wringing over Oklahoma City's alleged vulnerability as we finally, mercifully approach the playoffs. The Thunder have lost three of their last four games against their brethren in the West's top five, and four of their last five against 50-win teams once you toss in Sunday's exciting Knicks win in OKC. That string of losses is either a random blip or an indication of some deep fatal flaw, and it has dropped the Thunder to a middling 7-7 against the quartet of Denver, San Antonio, Memphis, and the Clippers. Each loss brings screaming reminders that the Thunder dealt away their third-best player before the season, and have since watched that third option morph (predictably) into one of the league's 10 or 12 best players.
Here's a newsflash: Elite teams in the regular-season slog, with all its scheduling quirks, tend to drop some games to other elite teams. Among the five top-shelf Western Conference teams, only Denver has a collective winning record — 10-5 after last night's home win over the scuffling Spurs — against the other four; the Spurs are now a ho-hum .500 against that group, and the Grizzlies and Clippers both sport losing records and concerning negative overall scoring margins. Here's another way to read Oklahoma City's blah 7-7 mark against those teams: The Thunder, despite the .500 record, are a whopping +45 in those games, by far the best scoring margin in this little five-team interplay. Denver is somehow just +9 despite their strong 10-5 record.
Basically, the Thunder have a lot of emphatic blowout wins against these teams and several toss-up close losses, including recent road defeats on buzzer-beaters in both Denver (Ty Lawson's go-ahead jumper) and Memphis (Marc Gasol's artful tip-in). That's an encouraging portfolio on balance; several studies have found blowouts more predictive of postseason success than close wins. The margin for error gets very narrow in the late rounds of the playoffs, and the Thunder will miss Harden's off-the-bounce creativity and dynamite passing on possessions when Kevin Durant is on the bench, Serge Ibaka's third-option ambitions are going haywire, and/or Russell Westbrook is taking pull-up 3s in transition with 20 seconds left on the shot clock. But the Harden hole will really be isolated to those instances; the team has been fine without him in the big picture, on both ends, mostly because of incremental improvements among all of its core players (but not Derek Fisher).
The Thunder are better on both sides of the ball than they were last year. They're neck-and-neck with Miami for the no. 1 spot in points per possession, and they're a very strong no. 4 in points allowed per possession — ahead of Eastern Conference stalwarts Boston, Chicago, and Miami. They have the best point differential in the league, and they're now in possession of the Western Conference's no. 1 seed going into the season's final few games.
In the West, which team should the Thunder fear? Sure, they're 1-3 against Denver, but Danilo Gallinari is sadly gone, and even George Karl admits the Nuggets have no clue what condition Ty Lawson will be in upon his return from plantar fasciitis issues. The Thunder have waxed the Clippers head-to-head, and the Clips' defense has trended downward since a nice start. Two of San Antonio's three best players are out with lingering injuries, and even though the Spurs and Thunder have split four games this season, the Thunder halfway through last season's conference finals figured out how to defend San Antonio effectively. And though Harden hit a monster late-game 3 in the series-swinging Game 5, he was a distant third behind Kevin Durant and Russell Westbrook in deciding the overall outcome. Any of these teams could push Oklahoma City — the Spurs certainly did last season — but I'm comfortable taking the Thunder over any of them without hesitation. Harden is gone, but this team is still the clear favorite to come out of the West.
Except I keep coming back to one team: Memphis. The Grizzlies fear no one, they might have the league's best overall defense (only Indiana can make an argument), and they always play Oklahoma City tough. Memphis is an even 9-9 against Oklahoma City over the last three seasons, including their seven-game playoff thriller in 2011, and Gasol's acrobatic (for the big fella) tip-in clinched this season's head-to-head series, 2-1. Memphis is not as good as Oklahoma City, and their offense is shaky enough that they could easily — easily — lose to the Clippers in the first round for the second straight year. But a lot of people around the league view the Grizz as the Western Conference team with the best shot at upsetting Oklahoma City, even if those same people don't really think Memphis is a title contender on the same level as San Antonio. The NBA's weird that way.
And that offense, Memphis's alleged weak link, has been demonstrably better since the Rudy Gay trade. Before the trade, Memphis ranked 22nd in points per 100 possessions. They're up to 14th since, and if you exclude the first three post-trade games — one without Tayshaun Prince, and two getting-out-the-kinks losses — that ranking shoots up a couple of spots. Very little has changed here structurally. Memphis is still slow, they still walk the ball up the court, and they still can't space the floor in the modern NBA sense — especially when Tony Allen, perhaps the best perimeter defender in the league, is on the court. (As an aside, an engaged LeBron James might be the best perimeter defender in the league, but LeBron isn't really a "perimeter defender" anymore. He's capable of playing anywhere, anytime, of guarding any position, and of suddenly appearing on one side of the floor after having been 30 feet away a second or two earlier. I recall the original Nintendo version of The Legend of Zelda had an evil creature whose movements were so fast, it almost amounted to teleportation across small swathes of space; I believe it was the more advanced version of the wand-carrying hooded wizards. LeBron is like one of those. [Editor's note: Zach has just compared LeBron James to a Wizzrobe, though we think Ganon is more accurate.])
Very little has changed about the possibilities for Memphis. The Grizzlies have simply redistributed Gay's shots and touches to other players working through actions that were already a core part of Memphis's offense. There are a few more pick-and-rolls involving Mike Conley and either Gasol or Zach Randolph, and the usual actions surrounding those pick-and-rolls — post-ups by the other big man, some cutting action, etc. Gasol has taken on a larger role facilitating from the elbows, Prince will get the call either on the block or in a pick-and-roll now and then, and the Grizz have added occasional elements mostly associated with Rick Carlisle's "flow" offense in Dallas.
It's nothing fancy. The words that come to mind are purposeful and precise. Every action — every pass, cut, and screen — has a clear purpose, and one action flows smoothly into the next. The ball and the players don't stop moving until they should, and everyone is generally passing and cutting at precisely the right moment — a necessary precision, given that Memphis works within tighter spaces than most functional NBA offenses. Hold the ball for an extra beat, or linger in the wrong space, and a hole that was open will close. No one forces anything until and unless the shot clock requires it. This is a team comfortable in its own skin, and one that understands how it wishes to go about every grind of a possession.
Conley, Gasol, Randolph, and Jerryd Bayless have all upped their usage rates since the Gay trade, and Conley especially has been playing the best ball of his life. He's shooting with confidence all over the floor, he's emerged as an improbable go-to force in crunch-time, and he's cracked 20 points in 10 of Memphis's last 13 games. The results show up in a number of ways:
• Memphis is getting to the line more often. Pre-trade, they ranked 24th in free throws per field goal attempt, a shockingly low number for a behemoth; they've ranked 11th since the deal.
• They've increased their shooting percentage within the restricted area from 53.4 percent before the trade to about 59 percent since.
• They're committing nearly two fewer turnovers per game, a crucial bit of improvement for a team that needs to maximize every trip.
• They've slowed their pace a tad and sliced away one above-the-break 3-pointer while attempting more profitable corner 3s at the same rate.
In sum, the team is just grinding, without interruption and with fewer errors. Gay can be a dynamic offensive player on the right night, and sussing out cause and effect in a 30-game sample size is usually a fool's errand; the Grizz might regress at any moment, especially against top postseason defenses. But Gay was shooting a low percentage and hijacking possessions in a way that cut short that pass-and-screen-and-cut-and-pass grinding precision; even his supporters admit he has a maddening habit of keeping the ball after snagging a defensive rebound, dribbling up court, and launching a jumper without a single pass. Those shots weren't working this season, and the Grizzlies can't afford such low-percentage trips.
The jury's still out on whether Gay will work out in Toronto. He has finally picked up his 3-point shooting again, and the Raptors clearly need a proper training camp and more time to integrate Gay, DeMar DeRozan, Kyle Lowry, and Jonas Valanciunas. But there is zero evidence these Grizzlies miss Rudy Gay.
The Gay trade also changed the way Lionel Hollins used Bayless, who has emerged as a key off-the-bench force. Before the Rudy trade, only 179 of Bayless's 873 minutes came alongside Conley, per NBA.com. Since the trade, a whopping 419 of Bayless's 765 minutes have come in a backcourt pairing with Conley — an arrangement that has freed Conley to work off the ball more and relieved Bayless, a so-so passer with occasional turnover issues, from working as the team's sole point guard. The team has scored 114.6 points per 100 possessions since the Gay deal with these two on the floor together, a number that would lead the league by a mile. The defense hasn't suffered much, and Hollins is still only scratching the surface of how Memphis might play with the Conley-Bayless-Tony Allen trio or that same group with Quincy Pondexter, a key generator of corner 3s, in Allen's spot as the nominal small forward. Memphis has been blitzing opponents with both trios on the court in limited minutes, and both Allen and Pondexter should be able to guard Matt Barnes and Caron Butler in a potential first-round matchup with the Clippers. Kevin Durant's a different story, though Allen, especially, has spent a ton of time chasing Durant in the past.
And yet there's one fairly large lingering bit of pessimism here: Zach Randolph is struggling after returning from an ankle sprain. Randolph is shooting just 59-of-148 (39.8 percent) over his last 12 games, and he's been unable to work effectively as a stand-alone post hub. He's not drawing double-teams, he's not hitting his step-back jumper, and he's missing an unusually high percentage of shots he creates for himself. Take away putbacks and assisted buckets, and Randolph's shooting percentage over that stretch — and for the season in general — is lower than we'd expect. Below are Randolph's shooting percentages once you remove assisted baskets. These numbers look low, but they'd look this way for just about anyone, considering these numbers slice away only made baskets and still include all a player's misses. But still:
2010-11: 304-of-894 (34 percent)
2011-12: 77-of-230 (33.4 percent)
2012-13: 227-of-749 (30.3 percent)
Since March 1: 50-of-176 (28.4 percent)
Last 12 games: 27-of-116 (23. 2 percent)
Randolph is shooting just 41 percent on post-up tries for the season, per Synergy Sports, down from 44.3 and 44.2 percent, respectively, in 2010-11 and his abbreviated campaign last season. That number is at 36.4 percent since the end of February and an ugly 30.6 percent in his last 12 games. Randolph is generally drawing fewer shooting fouls out of the post and turning the ball over more, too.
I mean, Chuck Hayes, perhaps even more ground-bound than Randolph, should not be doing this to the Grizz big man on a crunch-time possession after brazenly yielding the baseline:
This is a rather spectacular play by the Chuckwagon, but it fits within what's been happening to Randolph of late. Watch all his post-ups over the last month or so, and you'll see Randolph unable to create enough space to get his shot off. Randolph has never been a leaper, and he's always gotten his shot blocked at a high rate for an All-Star player. But the degree of difficulty on his shots has ticked up a notch over the last month. He hasn't been able to get around or through opposing big men consistently, leaving him to fling up chest-to-chest shots over long-armed defenders — low-percentage shots that look like this upon release: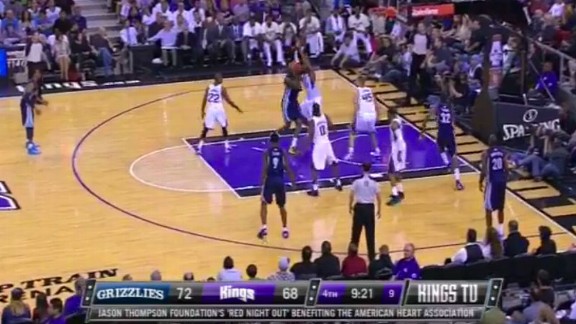 Randolph doesn't appear to have the same lift from the ground as usual, and though he has never gotten far off the ground, a couple of inches can make a huge difference.
The Grizz are concerned about Randolph's recent play, but they also know this might be a random run of misses coming at the end of a long season from a veteran guy who just wants the damn playoffs to start. We'll see. The Grizz have been playing better since the Gay deal, and they pose a real threat to any postseason opponent. But they're also vulnerable to those same opponents, and they'll need to play at something close to their peak level in order to have any chance of pushing the powerful Thunder.
Filed Under: Kevin Durant, Marc Gasol, Memphis Grizzlies, NBA, Oklahoma City Thunder, Zach Lowe, Zach Randolph