NBA Shootaround: Setting the Pace
Ron Hoskins/NBAE via Getty Images
So much amazing is happening, and the Shootaround crew is back to help you keep track of it all. You'll find takes on moments you might've missed from the previous night, along with ones you will remember forever.
The Undefeated
Kirk Goldsberry: Bulls-Pacers games are always slow and plodding affairs, but that doesn't mean they aren't good; they always are. Both teams feature great coaches and balanced rosters. And both are trying to unseat Miami as the best team in the Eastern Conference. But last night the game wasn't close and there's a pretty obvious reason why. Like most of the league right now, the Bulls had no answer for Roy Hibbert, a.k.a. the Sheriff of the Restricted Area. Hibbert was plus-31 last night; his All-Star counterpart, Joakim Noah, was minus-30. WOWZERS.
Now the Pacers are 5-0 and look like a legitimate threat to go further than they did last year. They have a strong cohesive defensive identity led by Hibbert, who is the best defensive big man in the league right now — and it's not close. Not only does he lead the league in blocks by a wide margin, but his rim protection numbers using the newfangled player tracking data are downright scary. When Marc Gasol won Defensive Player of the Year, few people raised a stink, but more should have. I'm not saying Gasol is bad — I'm saying he is nowhere near as dominant as Hibbert, whose mere presence on the defensive side of the court changes the way opponents play offense. Just ask Noah.
"Kirk Goldsberry" Is the Pen Name of Roy Hibbert
People act like I can't have individual goals. I didn't talk about it in the past. Well now I am. I WANT DPoY. That's gonna help my team win

— Roy Hibbert (@Hoya2aPacer) November 7, 2013
LAAAAAAAAAANCE
Chris Ryan: If I were on my deathbed, and you asked me what my wish in life was, it would be to see Lance Stephenson dunk on someone and then do the Gary Oldman/EVERYONNNNE shout from The Professional.
Orlando Won the Dwight Howard Trade
Brett Koremenos: After all the dust settled from last summer's Dwight Howard mega-trade, three of the teams — the Lakers, Sixers, and Nuggets — were lauded for their savvy maneuvering. In Andrew Bynum, Philadelphia had supposedly landed the low-block scoring punch needed to push it into the top tier of the Eastern Conference. Andre Iguodala was to be a key cog in the frenetic Nuggets attack for years to come. And Howard, of course, was supposed to be the next great center in the long line of distinguished L.A. big men. But Orlando's haul was met with several appraisals along the lines of "Is that all?"
The names — Arron Afflalo, Nikola Vucevic, Moe Harkless — were hardly inspiring, and they came attached to several seemingly inconsequential draft picks. It seemed the team had traded its franchise player without netting anything of substance in return.
After Orlando's surprising win against the Clippers, it has become clear that judgment was a little hasty. The 23-year-old Vucevic demolished L.A.'s vaunted front line last night, ending his dominating performance with 30 points and 21 rebounds. Despite relatively quiet evenings in the box score, Afflalo brought his usual steady presence to the backcourt while Harkless (who is just 20 himself) remains an emerging, athletic force on the wing. And all that losing the team did last season while Vucevic and Harkless cut their teeth also netted it the chance to select promising guard Victor Oladipo (11 points on 4-of-6 shooting last night). To top it off, the first-round pick acquired from Denver — which can be either Denver's own or New York's — is unprotected. Given the Nuggets' 0-3 start and the Knicks' early struggles, that pick has some serious potential to be in the lottery.
The Lakers, meanwhile, watched Howard leave for Houston this summer, and in his stead are a bunch of D-Leaguers playing entertaining but ultimately unproductive basketball. The Nuggets are, well, they're doing something, but no one knows exactly what and it's without Iguodala around to help out. As for the Sixers, they got off to a fast start without Bynum, but have suffered two straight blowouts and can count on plenty more losses in the future even if they land a franchise building block in next year's lottery.
So, yeah. Looking at it now, I'd say Orlando did quite well with that Howard trade after all.
Orlandipo!!!
Land of the Tanking Suns
Ben Detrick: For loyalty-free basketball fans sent sailing off the careening Sixers bandwagon, your next temporary ride is already churning up gravel in Phoenix. See, the Suns were another young team supposedly bound for a dismal calendar year — the preseason trade of starting center Marcin Gortat was seen as a symptom of feverish tanking — but who are bizarrely looking like a fringe playoff candidate. They've beaten Portland, Utah, and New Orleans, played Oklahoma City tight, and last night gave San Antonio all they could stomach for 47.5 minutes.
By the bookkeeping, Phoenix has been a snarling defensive operation (top five in eFG% allowed) that attacks the offensive boards and generates some variance by hoisting up a gang of 3-pointers. But it's the wild collection of characters in the desert that make this Western pulpy enough for a Yul Brynner cameo.
The sheriff is Eric Bledsoe, a breakout star freed from deputy duty behind Chris Paul. Bledsoe now drops 20 points and eight assists an evening, and his athleticism and fury on defense gave last night's matchup with Tony Parker the energy of a knife fight between wolverines. Neglected Dukie Miles Plumlee, who played only 55 minutes all last season in Indiana, is averaging a double-double and torched Tim Duncan with bank shots pilfered from the Big Fundamental's handbook.
But there's more! Did you know dunking-alien Gerald Green is flinging up nine 3-point attempts per 36 minutes? How about a heartwarming comeback story in Channing Frye? Would you like a pair of identical twins on the same team? Can you get behind dudes with names like Ish Smith and Viacheslav Kravtsov? By the way, if you're still enamored with the tanking narrative, the Suns potentially have four first-round picks in next year's draft. All aboard!
Richard Jefferson's Magic Hour
Danny Chau: If the lack of brazen tanking so far has got you down, find solace in the Utah Jazz, the first team brave enough to be the beacon of putridity the NBA needs. On a night that saw the Pacers remain the league's only undefeated team, the Jazz, too, held firm and stayed winless against the terrible Celtics. The Magic, Sixers, and Suns have been pleasant surprises (too pleasant) because they've run young and hungry players whose spirits haven't yet been eroded by disappointment. The Jazz have also unleashed their young core in earnest — even brandishing a previously concealed weapon in Alec Burks off the bench — but unlike those other squads playing with their head in the clouds, the Jazz have a reliable anchor to drag them down, down, down, and keep them there.
His name is Richard Jefferson. Give him some freedom to take nine shots a game and watch what happens.
Halfway through the third quarter, Jefferson was Utah's second-leading scorer with 13, behind Gordon Hayward's 14. There was a disturbing amount of him in the game, yet he terrorized the proceedings subtly. He was the willing recipient of an extra pass to the corner and missed it; he moseyed into the lane and got whistled for a charge. His numbers from last night don't suggest a horrendous outing, but his actual production is inconsequential. He is playing 25 minutes a game as a starter for an NBA team. That's the punch line. That's the concession of defeat.
The Jazz trailed by as many as 25. They made a late push in the fourth quarter and got the lead down to single digits. Jefferson didn't play a minute of it.
The Anthony Bennett Field Goal Boycott Is Over
Patricia Lee: This happened last night, and that was cool. Let's all go on with our lives now (or start a Gorgui Dieng Watch or Jeff Withey Watch).
John Wooden Would Not Approve
IGUODUNKA
Jared Dubin: Early this summer, I wrote a whole lot of words on this site about Andre Iguodala. I discussed his free agency, his place in the league, the salary he could expect to fetch, and a bunch of possible landing spots in what I thought was the thoroughest manner possible. I didn't once mention the Golden State Warriors, because I didn't think it was possible they could sign him.
Man, am I happy I was wrong.
In case you haven't yet noticed, Warriors Iggy is the best version of Iggy. He's not a woefully miscast first option (like in Philadelphia). He's not just one cog in a machine of equal parts (like in Denver). Nope. Now he's the ultimate fill-in-the-blanks guy and destroyer of worlds he was always meant to be. It's manifest destiny.
Iguodala was meant to make ridiculous behind-the-back passes on the fast break. He was meant to run funky handoffs with David Lee. He was meant to guard three positions, to only take the open-est of wide-open 3s, and to play backup point guard — all at the same time.
He's playing like some crazy mash-up of Phoenix-era Joe Johnson and Phoenix-era Shawn Marion, on steroids. He's appointment television. He's absolutely absurd, and I love it. I can't stop, won't stop watching Warriors games, and I don't want to either.
Klay Thompson Can See Around Corners
Ryan: Thompson obviously lacks the folk hero quality of his backcourt mate, but I'm starting to actually wonder whether he might be an even better shooter. When you watch him in real time, you feel like you're watching highlights; that's how certain his shots look to go in.
SCORRRERRR'S TAAABBBBBBLE!
netw3rk: Pelicans at Grizzlies, a game that should have been a matchup between one of the league's rising young frontcourt talents and two concrete mixers filled with meat, was scuttled by a little thing called "The Miracle of Human Birth." Zach Randolph exited the game after only eight minutes to attend his son's once-in-a-lifetime transit of the birth canal, leaving his partner in beefiness, Marc Gasol, alone to grapple with the emerging multi-beast that is Anthony Davis.
Coming into this game, Davis was averaging four blocks per game, with a block percentage of 10. When you dig deeper, the numbers only get more absurd. According to SportVU, before last night's game, opposing players only attempt five shots a game at the rim against Davis, converting only 20 percent of those attempts. In other words, dudes aren't even trying Davis at the rim, and when they do, four out of five times it doesn't work. Telescoping arms plus freak athletic mobility plus positioning equals brow domination. Davis finished with 18 points, nine rebounds, three steals, three blocks, and two assists, the Grizzlies lost big, and Gasol was E. Honda–in–Street Fighter rage-smashing the scorer's table. (I: – o)
Super Barea Bros.
Steve McPherson: Kevin Love might have won the dubious honor of being named the "player who makes the most of limited natural ability" in the NBA's annual GM survey, but it should have been J.J. Barea. Not only because of his height (generously listed at a flat six feet) but because of his deceptively thorough understanding of who he is on the court.
Not even a mismatch like being put on Klay Thompson — at least seven inches, and more like nine inches, taller than Barea — was going to stop Barea from Barea-ing. He's always going full bore, playing pestering defense and bouncing all over the court like he can't be stopped. At first it bothered me, but he has won me over simply because there's no other way he can play, and he knows it in his bones.
It's such absolute abandon, such manic chaos, that I said:
I dare you to imagine the Super Mario Bros. invincibility music while Barea is driving to the rim and ever not hear it from then on.

— Steve McPherson (@steventurous) November 7, 2013
Fortunately, Anthony Bain was paying attention and put together this impromptu YouTube tribute:
Half-Man, Half-in-the-Rearview-Mirror
The OTHER Return
Andrew Sharp: We missed him so much. Everyone's favorite Ninja Turtle. Basketball Bodie Broadus. The Kamikaze Point Guard. The man who will burn down your whole house and stand in the flames screaming into the night sky.
RUSSSSSSSSSSSSSSSSSSSSSSS.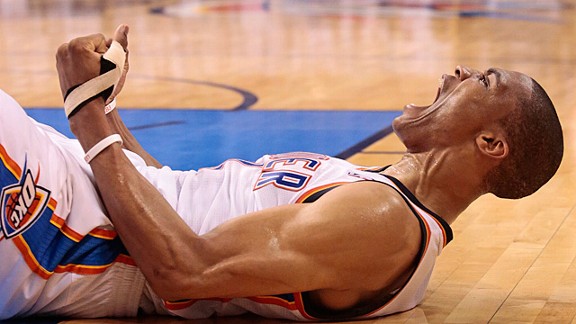 It was a rough time for the Thunder last week. Kevin Durant was on his own, the Thunder barely beat the Jazz on opening night before getting blown out by the T'Wolves, and everybody started talking about the James Harden trade again. Everyone started saying the OKC owners were cheap and KD should think about leaving in two years. And again, this was after two ugly games. Russell Westbrook was going to miss the first six weeks, probably more. Everything was gonna get so much worse.
But then, on Sunday: "R. Westbrook has passed all medical/physical benchmarks in rehab. Russ, his reps, physicians & medical team agree. He will play tonight."
OUR HERO HAS RETURNED. THE ZEBRA PRINT GIVES HIM STRENGTH.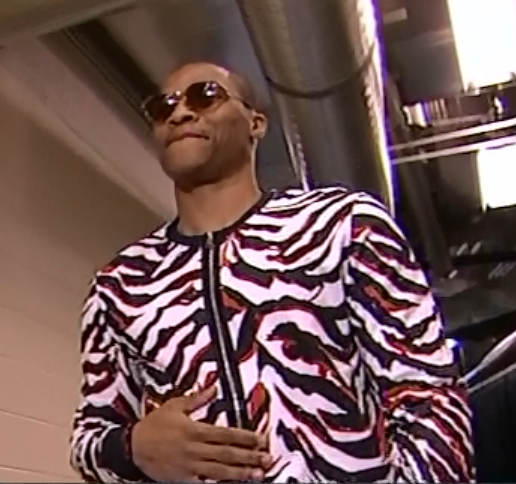 It's so good to have Westbrook back in our lives. Because you don't realize what you've got till it's gone, or you don't realize how crappy KD's teammates are until Russ gets hurt. Either one. Both. Now that Westbrook's back, OKC's not the most depressing team in the NBA anymore, and nobody will ever again wonder whether KD might be better off playing without Westbrook and taking 40 shots a night. So that's good.
But just as important, we get to enjoy the avalanche of destruction that Westbrook brings every night. He throws himself all over the court, and usually right to the rim. There are hundreds of guys who can dunk, but Westrbrook DUNKS. Every Russ dunk comes with an implied "Motherfucker!" on the end.
He had 22 points on 10-of-20 shooting last night — including two dunks that removed all doubt as to whether he was full strength — and the Thunder looked like one of the best teams in the West again. Business as usual. Like Russ never left. Except he did, and while he was gone it was miserable. There were no kamikaze missions to the rim or full-court sprints into a midrange jumper or any other sort of basketball pyrotechnics. Now that he's back, it's all even better than before.
And Now Some Words on the Thunder, From Kanye West
Kanye West: My analysis is art.
I'm looking at this OKC box score and all I see are fables. LIKE, WHERE IS ALL THE INFORMATION? Yo, this is just boxed-in coding to confined negativity. Can you even comprehend what I'm sayin' from your office chair? I DON'T OWN OFFICE CHAIRS. I OWN DINOSAUR EGGS.
TRIBAL // METHOD
What is self? Like, someone points to a Russell Westbrook fast break, right, and they say he's highly efficient? Yo, why not say he's highly demonic?? I'm calling Russ the only worthy adversary of a GOD. WHEN HE'S IN TRANSITION … IS HE NOT?! Who's disrespecting who in this circus reality? Tell me … what is "true shooting percentage" and what makes it so "true"? I'LL WAIT — NO, I WON'T, BECAUSE I'M PERFECT. Social media creates pessimism and pessimism creates faulty perceptions within our minds that results in limited movement. So if we tell Westbrook, "You're a point guard," then we've established a reality that he lives in. Then the next time he's on a fast break, he'll pass and say "I'm a point guard." AND THAT'S PLAYING TOY STORY RIGHT THERE, RIGHT. LISTEN … RUSS IS NOT A POINT GUARD. RUSS IS POSTMODERN. THAT'S HIS FUCKING POSITION.
PASSION // LOUIS V // GARGOYLE
Can I not speak on this? Have we been conditioned to think I'm $tupid because I spelled "stupid" with a dollar sign instead of an "s"? Does that not make me qualified to talk on Steven Adams???? Let me tell you something … I AM STEVEN ADAMS, BITCH. How am I not?! People run when analysis gets real, right? Like would it make you more comfortable if I used words like "spacing" and "footwork?" OK … STEVEN ADAMS HAS THE SPACING AND FOOTWORK OF A GOD.
That's my analysis. If you believe in it, you can do ANYTHING.
— ME
(Kanye West interpretation by Jason Gallagher)
Filed Under: Andrew Sharp, Ben Detrick, Brett Koremenos, Chris Ryan, Danny Chau, Kirk Goldsberry, NBA, Roy Hibbert, Russell Westbrook