NBA Shootaround: I LIKE MY MEATBALLS SPICY
Scott Strazzante/Chicago Bulls/MCT via Getty Images
So much amazing is happening, and the Shootaround crew is here to help you keep track of it all. You'll find takes on moments you might've missed from the previous night, along with ones you will remember forever.
Italian Ice
There's really no way around it anymore — Marco Belinelli has become the most clutch player in the NBA. It started in Boston less than a week ago. With the Bulls and Celtics tied in overtime, Belinelli put up a twisting, fall-away, physics-defying shot with 3.1 seconds left to secure the win. If it had ended there, I can understand how it might be considered an aberration. But it didn't. Last night, with the game again tied, Marco dropped in a game-sealing, acrobatic lay-in with only a second left to down the Pistons:

Now, I know there are some people who might say it was Joakim Noah's crazy save off a Belinelli miss that saved the game for the Bulls. I'm not trying to take anything away from Noah, but let's be real — it doesn't take the steady hand and steely nerve of a basketball surgeon to throw a ball back inbounds. Jo's effort should be commended, but we know who the hero is here.
(All GIFs by @HeyBelinda)
Other doubters will point to the Bulls' OT win in Toronto this past weekend, when it seemed as if Marco was trying to throw away the game on about 10 different occasions. You know who else threw away a bunch of games late? Michael Jordan. Marco Belinelli has failed over and over again in his life, and that is why he succeeds.
Before last night, I would've said the argument over who I'd want taking my last shot comes down to two guys: Marco and Kevin Durant. That was until Durant missed his last five shots and a free throw down the stretch against Golden State. There is no longer a conversation. There's Marco, and then there's everybody else.
— Robert Mays
Is This Seat on the Bandwagon Taken?
Hi, my name is Chris. I enjoy fedoras, Skrillex, leather wrist cuffs, the films of Ryan Reynolds, and the basketball stylings of the Toronto Raptors. I know everyone started liking Dwane Casey's clique, like, last week. But as you can see, I like to take my time getting around to things. The Raptors, though! Especially some combo of Amir Johnson, DeMar DeRozan, Ed Davis, Kyle Lowry, Alan Anderson, and Terrence Ross, who, as you can see above, is playing the role of Ghost Rider, requesting a fly-by on Dwyane Wade's soul. Sure, T-Dot lost in OT to the Heat. But after last night they became must-see TV.
— Chris Ryan
Three Real-Life Parallels to Javale McGee's Self-Alley-Oop
1. Bringing a squash casserole to a potluck, asking the room who made the incredible squash casserole, and then yelling "OH YEAH, ME" while doing this:
2. Writing a tweet, tweeting it, copying that tweet, and then replying to that tweet with the original message included with "LOL," all while sitting in on your couch, eating Doritos and doing this:
3. Raising the curve in AP Biology, and then sending out an e-mail apologizing to the class for raising the curve in AP Biology, all while sitting in the front row of AP Biology, using Snapchat and doing this:
— Rembert Browne
Fratricide
Allllllllmost
Back in November, Harrison Barnes did this:
The Golden State bench — being the sentient, hemoglobin-producing humans that they are — reacted like this: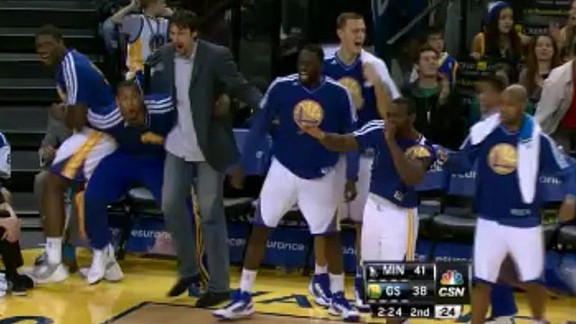 And then, last night against the Thunder, Barnes almost did it again. A couple of minutes into the first quarter Harrison collected the ball, dove to the basket, and then took to the skies, ready to cram one down the throat of posterization, uh, poster boy Kendrick Perkins. Once again, like with the Pekovic dunk, the Golden State bench was perfectly framed in the shot to gauge reaction in the fleeting moments Barnes was airborne. It looked something like this: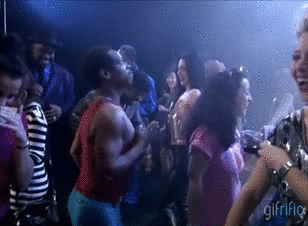 I can't tell you what it actually looked like, though, because I can't find the video. Because Barnes missed, and the bench deflated. When he came back to earth, he threw down, unfortunately, off the back of the rim; the ball caromed back into play, and right out of YouTube history. It's not in any of the highlights from last night. In the official log, all we have to know it by is "Harrison Barnes misses a slam dunk shot from 2 feet out."
On Twitter, the thirst for actualization was palpable: "Harrison Barnes almost took Perkins soul," "Harrison Barnes almost ate Kendrick Perkins ALIVE oh my goodness," "Harrison Barnes tried to dunk on Kendrick Perkins everybody tryin to dunk on him I guess he a dunk dummy," etc.
But that's it. It's over. When that ball bounced off that rim, all hope for remembrance of Barnes v. Perkins in posterity withered and died. A powerful reminder of the sliver-thin margin between life and death? Or a middling explanation as to why I spent 35 minutes trying to find video of a missed dunk?
— Amos Barshad
ESP IS REAL
Play of the Night
Though everyone from coaches to fans alike loves the ingenuity and aesthetic appeal of an elaborate, perfectly executed set, sometimes the best plays in basketball are rather dull and utterly predictable. They do, however, follow the most basic coaching axiom: Get your players the right shot, at the right spot, at the right time. Portland's "4-Down" set for LaMarcus Aldridge does exactly that.
The play has the simplest of designs. Blazers point guard Damian Lillard will walk the ball up the left-hand side of the floor while Aldridge hangs out above the free throw line, and a Portland wing — either Wes Matthews or Nic Batum — start near the left block. As Lillard gets near the left wing, Matthews or Batum will set a diagonal back-screen or "rip" screen on whoever is defending Aldridge. The Blazers' big man then cuts toward the left block and receives a pass from Lillard in a spot where Aldridge is incredibly effective.
Even though the play seems rather easy to defend, upon closer inspection, it's quite stressful for the opposition. Matthews and Batum are both outstanding perimeter shooters, so when they set the "rip" screen (which Matthews normally does much better than the above clip), their defenders can't hang out too long trying to jam the cut by Aldridge. If they do, the Portland wings will cut to the top of the key and be left wide open for clean look at a 3. This little nuance means that Aldridge doesn't have to muscle or fight his way toward prime real estate on the left block.
What's even crazier about this is that the set is effective despite the fact that nearly every single Portland opponent will actually call out the play beforehand. So while it's easy to fall in love with clever misdirection sets from teams like the Celtics, sometimes the best plays are the ones even the other team knows are coming. Because even if a team knows "4 down" is coming, they still have to stop it.
— Brett Koremenos
Fire D'Antoni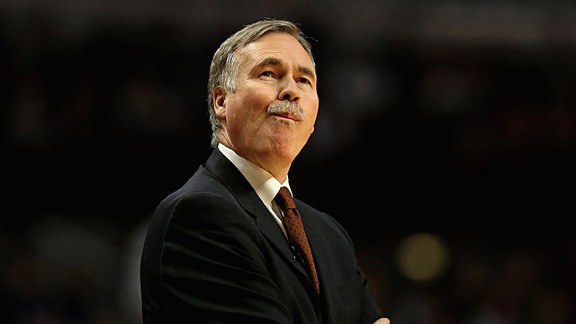 Last night was pure sports misery, and it left me convinced of two things: (1) Sports suck, (2) I am a masochist.
First, I watched Duke get their butts handed to them in a never-even-close, over-the-top humiliating, absolutely insufferable game against Miami. I'm convinced that somehow without any of us knowing, Ray Lewis visited his alma mater and gave another one of those inspiring speeches that pushed the Hurricanes toward the finish line.
About halfway through that disappointing, frustrating experience, I started watching the Lakers game on my computer and was happy (and surprised) to see them take an early lead. But as we all know in Lakerland, all good things must soon come to an end, and it did. The rest of that game was frustrating, as well, though on a different level. I saw the players entirely out of sync with each other, and that's an understatement. It would be much more appropriate to say I didn't even see the players communicating, as if they didn't get along or something. And the whole time, watching that team, all I could think about was "D'Antoni's system … D'Antoni's system" and how much of a fail it all was. The whole debacle that is the Lakers right now reminded me of D'Antoni's last season with the Knicks, where he was unable to manage egos and unable to run a system that was tailored toward his players rather than his style. I thought things might be different here. I thought he would have learned from his experience, and I thought he would have realized that this team — while it may have Nash — is decidedly not the Suns team he coached way back when. And for the record, that team never won a championship. And neither has D'Antoni.
I stood behind the hire when it first came out as much as any Lakers fan could stand behind the hire. He sure isn't Phil Jackson, but he's a much better option than Mike Brown. But after months of "rebuilding" and "this game is the one where we turn it around" and "oh, we're still riddled with injuries, but we're figuring it out" and "players just aren't getting along, but they will," I'm done with excuses. I know us Lakers fans can be fickle in what we want ("fire Mike Brown!" "trade Pau Gasol!"), but I think it's time we call it quits on this whole D'Antoni operation. I'm past the point of hate-watching the Lakers and past the point of grumbling about every loss. The Lakers have a starting lineup of potential All-Stars, and that they can't win against (basically) anyone is absurd. That's it. I'm off the passive D'Antoni acceptance bandwagon and am asking for his head.
— Patricia Lee
A Visual Recap of Grizz-Lakers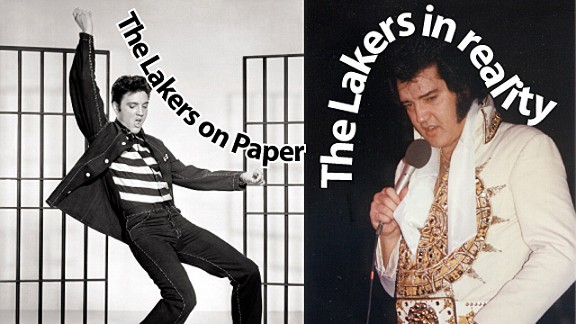 — Kirk Goldsberry
Fire the Lakers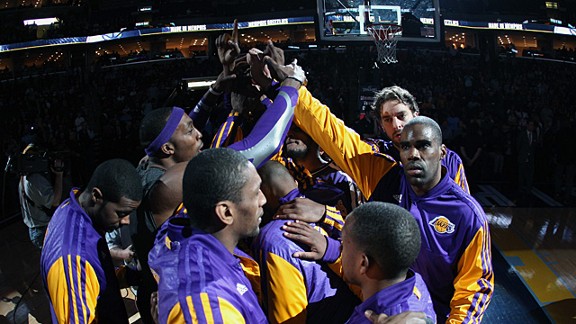 Despite a session of confrontation therapy and yet another proclaimed reboot, the Lakers' death spiral into historical ignobility continued last night, with a 106-93 gut-punching administered by the Grizzlies in Memphis. The man taking much of the blame is coach Mike D'Antoni, a magician whose ability to attract revulsion in America's two major markets makes him an amalgam of Frank McCourt, Mel Gibson, cannibal cop, and a mustachioed Casey Anthony. Whatever the comparison, those coastal media elites hate him.
With a 12-20 record since arriving in Los Angeles, D'Antoni has been excoriated for crimes like turning Pau Gasol into a mushy bench pumpkin, not giving Dwight Howard enough touches, failing to rein in Kobe Bryant, refusing to bend his offensive philosophy to the team's personnel, and generally "losing the team." And he surely hasn't been great. But blaming the coach is a lazy game, and the Lakers' problems are more physical than philosophical.
In truth, with four starters whose average age is 34 and a Dhalsim-thin bench, the Lakers were never built for regular-season success. A slew of injuries — not only to stars, but also to role players Steve Blake and Jordan Hill — along with D'Antoni's on-the-fly tinkering and placement in a rugged Western Conference, have exposed those vulnerabilities in ghastly fashion. Gasol, widely seen as the victim of his coach's maniacal adherence to a spread-floor system, simply hasn't been as good as Earl Clark, the youngster who replaced him as a starter (lost in the glory of Pau's brilliance in the Olympics is that his performance on the offensive end plummeted last season). And useful contributors like Matt Barnes and Ramon Sessions, both of whom were on last year's team, aren't walking through that door.
Whether under D'Antoni or deposed defensive guru Mike Brown, the Lakers' issues have been remarkably consistent: poor perimeter defense, an inability to create turnovers, and a propensity for coughing up the ball themselves. By Basketball-Reference's stat-based Expected Win/Loss metric, the Lakers should be 13th this season. Last year? 13th, too.
What now? Kobe has been outstanding this season, but relishes this role as a foul-mouthed real-talking elder and an alienating arbiter of justice who oscillates between accepting all responsibility and calling out his teammates. He's earned this position. But can the Lakers endure two more seasons of it? When the risk of losing Howard to free agency is combined with the $58 million Kobe is owed through 2014, the unthinkable use of the amnesty clause might be the only ejection seat on this flaming aircraft. But in the meantime, start a FIRE D'ANTONI chant if it makes you feel better.
— Ben Detrick
To Go Big, or Not to Go Big, That Is Scott Brooks's Question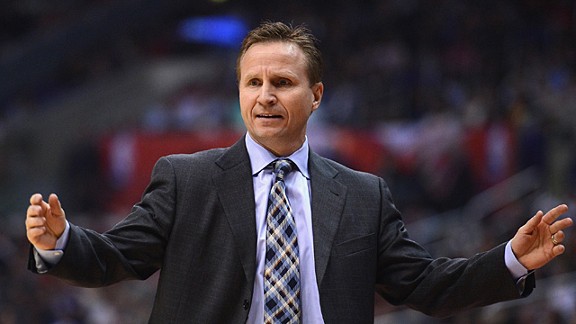 It has been popular, in this space and across the NBA Internet, to criticize Scott Brooks for his occasional reluctance to use small lineups with Kevin Durant at power forward. The Thunder's starting lineup has been offensively inconsistent over the years (though it's doing quite nicely this season, we all should note), and the Heat famously torched "big" Oklahoma City lineups in the Finals by going small and spreading the floor with shooters around LeBron.
Brooks used Durant at power forward more often in last year's playoffs than in the regular season, and he's leaned on them a bit more so far this regular season than in the 2011-12 campaign. But they're still a relatively small part of what OKC does, and the Thunder would benefit in the long run if Brooks used them more.
But last night's loss in Golden State was a good example of how we have to factor game-by-game context into parsing Brooks's lineup decisions. In the middle of the fourth quarter, Brooks rolled with two different small lineups, and Golden State outscored those groups by five points combined in about 3:30 of play. The Warriors stayed "big," with both David Lee and Carl Landry, and on defense they had Lee hide out on Thabo Sefolosha. But he really didn't "hide" there; instead, he simply ignored Sefolosha to double-team Durant, who had easy one-on-one matchups against Klay Thompson (size disadvantage) and Harrison Barnes (rookie disadvantage). Durant likes to catch the ball on the perimeter. Sefolosha hangs out on the perimeter, either in the corner or the wing. That made it easy for Lee to abandon Sefolosha without fatally compromising Golden State's defense — and specifically without leaving anyone open near the rim. Even worse: Durant was supposed to be guarding Lee when Golden State had the ball, but since a different Warriors player was serving as Durant's primary defender, the Thunder sometimes had trouble getting their matchups straight while transitioning from offense to defense. The Warriors got a few open looks, including a key Landry dunk, out of this confusion.
Brooks countered down the stretch by reinserting the Serge Ibaka–Kendrick Perkins duo, and removing Sefolosha — by going big again. And suddenly, it was much harder for Golden State to double Durant. Ibaka is fine hanging out near the rim, much farther from where Durant likes to operate in crunch-time one-on-one situations. Lee had much farther to travel if he wanted to help on Durant, and doing so would've meant leaving someone open in a very dangerous area. The Warriors could've sent a perimeter player at Durant, but that would've meant leaving either Russell Westbrook or Kevin Martin open. The Thunder's big lineup, in one specific and crucial stretch, was probably the better move for Brooks.
— Zach Lowe
Filed Under: Amos Barshad, Ben Detrick, Brett Koremenos, Chicago Bulls, Chris Ryan, Denver Nuggets, Golden State Warriors, Javale Mcgee, Kevin Durant, Los Angeles Lakers, Michael Jordan, NBA, Oklahoma City Thunder, Patricia Lee, Rembert Browne, Robert Mays, Russell Westbrook, Zach Lowe