NBA Shootaround: Cleveland, Even Now I Can Remember
David Liam Kyle/NBAE via Getty Images
So much amazing is happening, and the Shootaround crew is here to help you keep track of it all. You'll find takes on moments you might've missed from the previous night, along with ones you will remember forever.
Crime Scene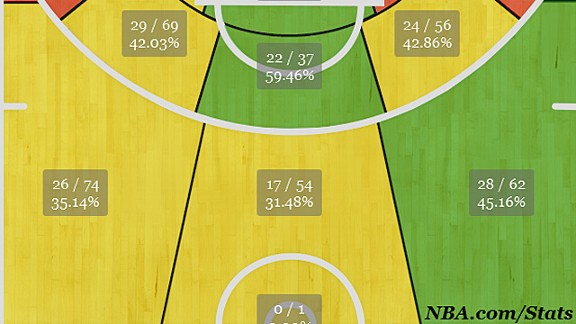 Chris Ryan: This is LeBron James's shot chart for this season, specifically his behind-the-arc shot chart. You see the area in the left-center, where James is 26-of-74? Isn't it weird that area isn't littered with skeletons and burned-out Cutlass Supremes and tattered American flags and crashed F-15s? I think it's weird, too. Because that's where LeBron is ending entire worlds, on a nightly basis. Statistically, it might not be his most effective shooting zone, but emotionally, narratively, this is where he likes to take opposing teams by the heart and squeeze the life out of them. It's the dramatic weight with which these shots go down that make them noticeable. There was the dagger in the Celtics the other night, and then, last night, in his homecoming game in Cleveland, he did this:


My favorite part about this streak is the mini-narratives and details that come out of it. Like, if they actually pull this off, we'll talk about that insane double-overtime Kings game when Marcus Thornton went bananas, or how the Heat staved off a career game from Jeff Green, or the time it started raining inside of Quicken Loans Arena in Cleveland. And there should be a whole chapter about how that zone, the left-center, behind the arc, is where LeBron took teams out behind the barn and put them out of their misery.
Toying With Your Emotions
(All GIFs by HeyBelinda)
Jazz Is Dead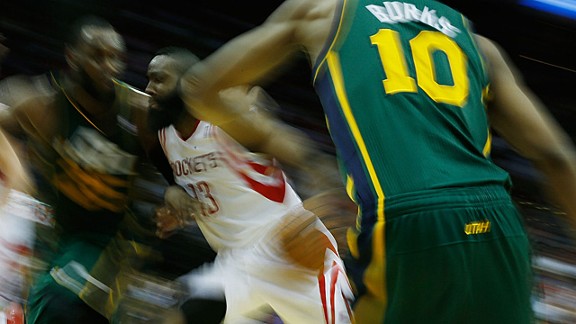 Ben Detrick: With Denver unspooling 13 consecutive wins and moving into a tie for the third seed in the West, there has been lots of chatter about the ceiling of a "star-less team." But such rumination ignores that Andre Iguodala was an Olympian/All-Star and that Ty Lawson is averaging better than 20 points and seven assists during the last two months. To see the reality of a constellation-free franchise, crane your Giant Magellan Telescope toward Utah.
For the Jazz, last night's critical loss against the Rockets may have been a death rattle. They've slid a game and a half behind the Lakers for the eighth playoff slot and are now three back of Houston. It's been an ugly descent, too, with seven losses in their last 10 games (including a humiliating defeat at the hands of Xavier McDaniel, Rolando Blackman, and the '90s Knicks). Not that anyone's complaining: Like in Ghostbusters II, when the collective vitriol of New York City turned into an underground river of pink slime, it's as if overwhelming public disinterest in seeing the Jazz in the postseason has yanked them into the gutter.
If the Jazz hope to swoop out of their current nosedive, Al Jefferson can't be their "star." He's surely not one. The low post's version of Rudy Gay, he's a guy who passes the eye test and little else. Despite a shiny toolbox of moves on the block, Big Al is below average with a 51 percent true shooting percentage and unremarkable at everything else. And yet Jefferson takes far more shots than anyone on the Jazz, including superior offensive weapons Paul Millsap, sneaky-good Gordon Hayward, and criminally underused Enes Kanter. Just as Memphis has benefited from jettisoning Gay, Utah will be better off without Jefferson, his $15 million annual salary, and his minute-eating presence. And some foolish franchise (hello, Sixers!) is going to gnaw its own arm off by signing him this summer as a free agent.
Short Magic
Danny Chau: The award for "Team Least Likely to be Featured in a 'BIG' Ad Spot" goes to … the Orlando Magic. Orlando had a starting lineup of Jameer Nelson, Arron Afflalo, E'Twaun Moore, Tobias Harris, and Maurice Harkless — with an average height of 6-foot-5 — against the Knicks last night. Oddly enough, it wasn't the first time this group played together — this specific combination of players had a few seconds in a game against the Hornets on March 4. It was a lineup made somewhat out of necessity (starting center Nikola Vucevic didn't play because of illness), but was best viewed as a mockery of the Knicks' depleted front line. Still, the Magic lost by 12 and only looked competent when Orlando's more traditional big men entered the game. The (failed) experiment was a terrible ambassador for the league's ongoing positional revolution, but it's exactly the kind of novelty that makes bad teams worth watching.
Flight in Action
The New York City Shuffleboard Association Applauds
Does Manu Still Have It?
Brett Koremenos: After watching San Antonio cruise to a comfortable win last night, a game that improved the team's record to 6-2 without Tony Parker, I couldn't shake the notion that something just didn't seem right with Manu Ginobili. Against the Warriors, the Argentine guard didn't have the look of the player the team's relied on to make them championship contenders for more than a decade.
While still a skilled passer out of pick-and-rolls and a major pest on the defensive end of the floor, less and less of Ginobili's crazy, creative forays to the rim seem to end with success. Ditto for his patented step-back 3s. As much as I hoped they didn't, the stats have backed this up. Since February 24, the 35-year-old has shot just 38.4 percent from the field and 31.1 percent from 3-point territory, numbers that sadly suggest — along with his general dips in those categories over the entire season — Ginobili just can't score like he used to.
Though this poor stretch from the veteran guard makes it even more impressive that the Spurs keep winning in the absence of Parker, it could be a major issue for the team come playoff time. Assuming Parker is back healthy, it's safe to say he will still be the driving force while Tim Duncan will be his usual, steady self when the postseaon rolls around. But if Ginobili isn't able to put up points beside them like he used to, can the Spurs' incredible system produce opportunities for others — particularly Kawhi Leonard and Tiago Splitter — to consistently step up as a third option and help guide the team through a stacked Western Conference?
Sweet Dreams
Jay Caspian Kang: Are we headed toward one of the best Western Conference playoffs in league history? Here's how the playoffs would match up if they started today, along with the story lines for each matchup.
no. 1 San Antonio Spurs vs. no. 8 Los Angeles Lakers
Duncan's finest hour, Kobe tweeting after every game, Dwight Howard trying to suppress his inner clown, Tony Parker scoring 50 in Game 3, Metta World Peace punching Danny Green in the throat, Kobe guarding Parker for long stretches of Game 4 after Steve Nash waves the white flag, and EARL CLARK GAME-WINNER.
no. 2 Oklahoma City Thunder vs. no. 7 Houston Rockets
James Harden versus his old team, Jeremy Lin in the playoffs, Russell Westbrook punking Lin, Kendrick Perkins's desperate quest to get inside Omer Asik's head, and, oh, about 250 total points scored in each game. Anyone who likes basketball watches every minute of this series.
no. 3 Memphis Grizzlies vs. no. 6 Golden State Warriors
Staggering that Memphis vs. Golden State would somehow be the worst matchup out of the entire Western Conference playoffs. You've got the crowd in Oakland fired up for their first postseason game since the We Believe Warriors, Z-Bo's playoff face, Steph Curry finally ready to play again in a knockout tournament, and probably five or six "chippy" moments per game.
no. 4 Los Angeles Clippers vs. no. 5 Denver Nuggets
Oh my god. OH MY GOD.
Filed Under: Ben Detrick, Brett Koremenos, Chris Ryan, Cleveland Cavaliers, Danny Chau, Jay Caspian Kang, LeBron James, Memphis Grizzlies, Miami Heat, NBA, New York Knicks, Orlando Magic, San Antonio Spurs, Utah Jazz