NBA Playoffs Shootaround: Thunder Go Boom
So much amazing is happening, and the Shootaround crew is here to help you keep track of it all. You'll find takes on moments you might've missed from the previous night, along with ones you will remember forever.
When You Were Young
One of the narratives that's emerged in the Western Conference finals is that the Thunder are "growing up." Really, the question of the Thunder growing up — whether it's happening, when it will happen, what it might mean for Russell Westbrook's glasses — has been part of just about every conversation OKC has figured in since the Lakers series two years ago, maybe even before. And that's only natural; in a lot of ways, our modes of interpreting the NBA are still dominated by the '80s and early '90s, when, the story goes, the Pistons had to grow up to get past the Celtics and the Lakers and then the Bulls had to grow up to get past the Pistons. Watching young teams mature, toughen up, and dethrone the older teams that once kept them down is part of the expected order of the NBA. And the Thunder — a very young, very talented squad whose potential path to the Finals happens to run through the three franchises that won the West every year from 1999 to 2012 — are just the latest chapter in the story.
The only problem with this version of events? Through Game 5, it's not really happening. OKC has now beaten the Spurs three straight times, but the wins haven't fit the mold of NBA maturation — everyone knowing their roles, the superstars reliably taking over during important stretches, the team collectively showing mental toughness and taking care of all the little things. Instead, the Thunder have been winning in the most insane ways possible. They've totally changed identities, going from the team with the lowest assist total in the NBA to one that routinely dishes out 20-plus assists per game. (Westbrook had 12 on Monday night, despite playing the fourth quarter like he hadn't ever met Durant.) Apart from Durant's sublime fourth quarter in Game 4, the superstars have been erratic. Durant, Harden, and Westbrook were 18-for-42 in Game 3. Westbrook and Harden were 6-for-23 in Game 4. All three of them had ruthless-genius moments in Game 5 — the Westbrook Destroys the Universe dunk, the late Harden 3, Durant's little shiv of a got-his-own-rebound putback — but they also made inexplicable mistakes, missed big shots, turned over the ball, and passed to the wrong teammates. (Guys, meet Kevin. He's here to help!)
The Thunder have been winning these weird, frenetic games partly because they've been doing a few extremely big things right (the underrated "hit a dramatic 3 right when it seems like the Spurs are about to tie it" strategy), but also because they've been getting preposterously great contributions from unexpected sources — Kendick Perkins's offensive explosion in Game 4, Serge Ibaka's 11-for-11, Daequan Cook's eight points in four minutes Monday night. Instead of playing like a grown-up team, in other words, they're winning by harnessing some kind of childlike chaos. They're harrying the Spurs on defense and getting steals (fun!) instead of crashing the boards and getting rebounds (boring!). They're coming up huge in all the big moments their own maddening mistakes have created for them. They're doing what you're not supposed to be able to do in this league of playoff fouls, mental toughness, and murderous competitiveness. They're winning like kids.
— Brian Phillips

The Dagger
The cool thing about the playoffs vs. the regular season is the way you start to develop a relationship with the players. It's very similar to the difference between a film character and a television character. In a movie, unless it's a sequel like Transformers: Revenge of the Fallen (which I know is unfair, because it's the best sequel ever made), you only spend two hours with characters, so your feelings for them are based on shorthand. But with television, with great television, you spend hours and hours with characters, you start to notice their mannerisms and their quirks, and you start to truly understand what any given watershed moment might mean to them. That's what's happening right now with a lot of people and the Thunder. We've watched them every other night for the last couple of weeks. Watched them beat Dirk, watched them slay Kobe and scream YOLO in Andrew Bynum's disinterested face, and now they're outplaying the Spurs. When James Harden drained this 3, I wasn't really all that surprised that he did it. As soon as Manu Ginobili backed off and retreated back to Thabo Sefolosha, I kind of had a feeling it was drained. I was surprised by how deeply happy I felt for Daequan Cook, Nick Collison, Cole Aldrich (?!), and Mo Cheeks. You get to know these people — the stars, the crew, the supporting actors — and you find yourself living and dying with them. Hell, I'm even starting to like Derek Fisher. It's amazing what a run of episodes will do.
— Chris Ryan
Frost/Nixon Sager/Popovich
From the director of Oh My God This Is Awkward and the studio that brought you Is He Going to Kill Him Using His Mind?, comes one of the greatest love stories that was ever taken out outside the AT&T Center and put out its misery.
We're Going to Need to Talk About Popovich a Little More Here
I'm not done yet. Here's what I love about this Popovich press conference. One, I think he has a press conference shirt? I'm going to have to consult with Wesley Morris about this, but I'm pretty sure Pop wears a number of more recently procured button-ups, with the top collar undone, that he wears during games with a blazer. For instance, there's the one with stripes and then there's the one with … stripes. But, and I could totally be imagining this (I just don't want to ruin the illusion), doesn't he wear the same shirt to every press conference? This billowy, off-white, messianic frock? And what message is he bringing? I will tell you: be champions. It's not that he hates press conferences. He hates stupid questions. Notice not only the Sisters of the Poor joke in there, but how he points out that the journalists should declare where they're from and who they work for. Gregg Popovich, Guardian of the Hallowed Ways of Press Conference Etiquette!
— Ryan
Iguodunka of the Night: Russell Westbrook
Prometheus has landed.
— Ryan
'To Tell You the Truth, I Don't Even Remember'
That's what Manu says about the Spurs' 11-0 fourth-quarter run and the Thunder's response at the end of the game. And that is not surprising because Manu blacked out in this game. Thirty-four points, seven assists, and six rebounds. And he played like his remaining hair was on fire, throwing himself into the lane with abandon, draining 3s (5-for-10), trapping like a hunter, and doing all sorts of Manu stuff like stopping his dribble and leaving his hip out to get Serge Ibaka in foul trouble (which is such an Italian soccer player move I can't even believe it). He and Stephen Jackson almost pushed the Spurs over the top. When Pop complains about San Antonio not being competitive, he's definitely not talking about them.
— Ryan
Postgame Interview of the Night: Russell Westbrook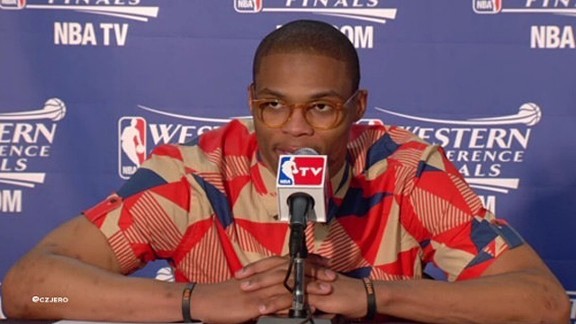 If you told me he bought that shirt at Chico's, I would probably believe you. — Ryan
Socks, Socks, Socks, Socks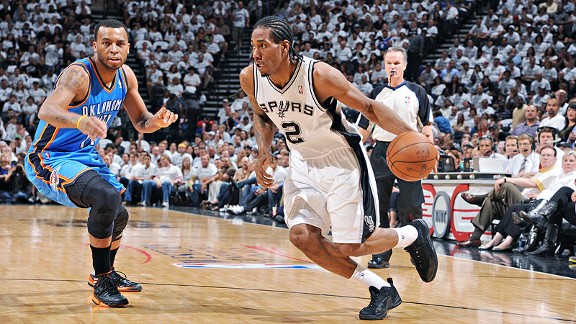 I know only a few things, but one of those is what your sock length says about you with regard to athletic competition.
There's the half-length black, falling right at the base of the calf, which means you're a hooper. There's the white tube, which screams "I have something to prove" and/or "I have no skin on my legs." And of course there's the anklet (all colors), which is just the cutest thing in the world.
Watching Monday night's Spurs-Thunder game, however, I was reminded of another extremely telling type of sock.
The quarter-crew white sock, worn by your favorite rookie's favorite rookie, Kawhi Leonard of the Spurs. The sock, brave enough to show itself outside of a high-top but still reserved enough to not take up much space on the leg, is the perennial sock length of the hustle player. The "all guts, no glory" player. The quiet double-double guy. It's no wonder that this is Kawhi's sock length of choice, because he has been doing just that these playoffs, really coming into his own as someone you want on the floor in pressure situations. When he got that questionable late-game inbounds strip, I looked down, saw his sock length, and screamed, "CLASSIC QUARTER CREW PLAY." Because that's exactly what it was.
— Rembert Browne
The Quiet Man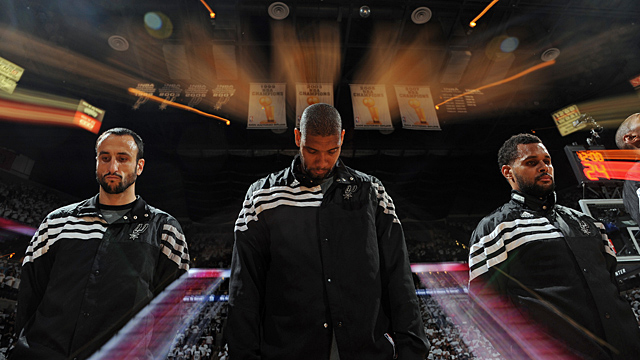 There's only one way to describe how Tim Duncan looked as he sat on the Spurs bench late in last night's fourth quarter. Leaning back in his chair, hands folded on the back of his head, opening his eyes wide as they could go, he was tired. He looked 36 years old, and after a third straight game of dealing with a roster full of 22-year-old cyborgs, he, like the rest of the Spurs, looked a bit overwhelmed.
A week ago, the conversations were about just how good this Spurs team was — not compared to the Thunder or the Heat, but to the Bulls, the Celtics. Those Bulls and Celtics. Now, they're one game from elimination and heading back to a building where the young Thunder feed off a crowd that seems just as hungry as they now look. The question that remains is: How? And that seemed to be the question Duncan was asking himself as he leaned back in his seat Monday night.
In a conversation with an NBA-savvy friend a few months back, we were talking about how to build a team, how important stars were. "Here's the thing," he said. "It's nice to have a team full of really good players … until you play a team who has a couple guys who are really, really good." It was his facetious way of saying that in the end, superstars win titles. During the first two and a half rounds, the Spurs were the best team in recent memory. They'd squeezed every drop out of the roster Gregg Popovich had, and the result was beautiful basketball, more beautiful than most of us had seen in a long time.
In the end, though, the Thunder proved that all that teamwork and togetherness only go so far in the face of transcendent talent. It was on Oklahoma City to dedicate itself defensively after two games in which it failed miserably to do so, and to the credit of coach Scott Brooks (and especially Russell Westbrook), it did. There was a play Monday night where Durant poked the ball away from Tony Parker, and James Harden corralled it near the free throw line. After a pass up to Durant and just a couple dribbles, Westbrook was hammering down an alley-oop, and the Thunder were back on defense.
Credit goes to the Spurs for sticking around Monday. When the Thunder started settling for Kendrick Perkins jumpers in the fourth, Stephen Jackson and others hit shots when they needed to. When it was over, it wasn't enough. And as Duncan sat there Monday with the same look of bewilderment that those watching this series have felt, it looks like it won't be. The Spurs are tired, and who could blame them? It looks like a pain in the ass chasing those kids around.
—Robert Mays
Filed Under: Brian Phillips, Chris Ryan, Gregg Popovich, James Harden, Kevin Durant, Manu Ginobili, NBA, NBA Playoffs, Oklahoma City Thunder, Rembert Browne, Robert Mays, Russell Westbrook, San Antonio Spurs, Tim Duncan