NBA Playoffs Shootaround: Three Times Dope
Jesse D. Garrabant/NBAE via Getty Images
So much amazing is happening, and the Shootaround crew is here to help you keep track of it all. You'll find takes on moments you might've missed from the previous night, along with ones you will remember forever.
Letting All the Air Out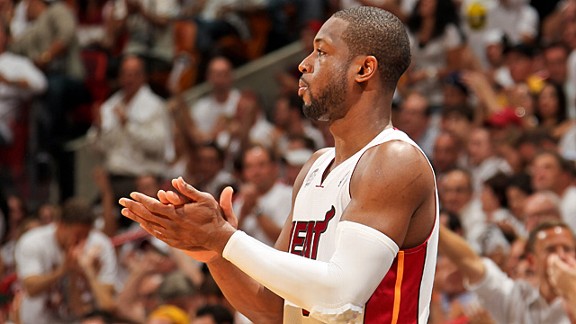 Jay Caspian Kang: Let's call them the Great Deflaters. That's what the Heat have done throughout the last two rounds of these playoffs — Chicago and Indiana both came out of the gate with energy and confidence, and in both cases, Miami found a way to slowly, methodically choke the life out of its opponent. At their best, the Heat play with negative dynamics — they take away everything the other team does and wait for the inevitable implosion. I can see why this style can be irritating to watch, especially with the Heat's rampant flopping, which sometimes makes them look like extras in Kung Fu Hustle. Greatness is easier to quantify when it involves something that can be easily quantified — points scored, blocked shots, steals, rebounds, or whatever. It's harder to appreciate a team that takes away because it almost feels like it is cheating somehow. Instead of negating Paul George and Roy Hibbert, the typical fan would rather see the Heat offensively supercede the Pacers. Kobe is an offensive superceder. The Heat are deflaters.
Dwyane Wade is one of the best deflaters of all time. This quality can be called "toughness" or "championship experience" or a host of other things, but what it describes is Wade's ability to control the pace of the game through brute force. It's another side of "clutch" — when Wade is grabbing offensive rebounds, scoring in the post, and dominating the ball in a good way, you can see the opponent shrink up in frustration and ultimately slink away. Wade has done this throughout his career: He (and arguably the refs) did it in the 2006 Finals against Dallas. He did it in the 2011 Eastern Conference semifinals against the Celtics. And he did it again last night.

The Prince of Darkness
Andrew Sharp: Dwyane Wade's done a nice job of turning himself into a villain in these playoffs, and his postgame interview after Game 6 just added to the myth. While Chris Bosh took full responsibility for his failures after he and Wade had another dreadful game, Wade told the media, "We've got to do a good job of making sure me and Chris have our opportunities to succeed throughout the game. That's something we're going to have to look at as a team." You can debate whether this was a direct shot at LeBron and his "Cleveland days" comment. Either way, it wasn't what anyone wanted to hear from the superstar shooting guard who'd suddenly turned 800 years old over the past week. You can be awful on the court, but don't then blame everyone else for not getting you involved.
It was the perfect example of New Dwyane Wade. The one who's driving us all insane.
But here's the thing: He was kind of right.
Brian Windhorst made this point on the B.S. Report on Monday, but if you look at the Pacers series, Wade and Bosh's combined shots dropped after the first three games, and as that happened, the Heat offense wasn't such a juggernaut anymore. Likewise, as much fun as we have watching LeBron go Incredible Hulk on everyone, throughout his career LeBron's had the most success when he's getting everyone else involved. Just look at last year's Finals. So maybe indignant, insufferable Dwyane Wade had a point.
Or maybe he was so terrible the past week that "keeping him involved" for more than 11 shots made no sense. Either way, it all changed Monday. LeBron got him going early, and when he wasn't chipping in with scoring, Wade was crashing the boards and making plays for everyone else. He finished with nine rebounds, six of them offensive, and attacked the rim (seven free throws) more than he had all series. It's not a coincidence that the game in which Wade started attacking the teeth of the Pacers D and hustling off the ball was the first game all series in which everyone else on the Heat started getting easy shots, too.
Maybe LeBron and Wade were both right. If Miami's going to be successful in the Finals, it needs Wade and/or Bosh to be involved in the half-court offense. But they also need Wade's energy to keep him relevant in other ways, making plays on D and hitting the boards. Both those things happened Monday, and the game was over by halftime. Big picture: Wade has driven us all crazy, looking ancient and overmatched; then, during a big game, he silenced everyone, and Miami looked like the best team on earth.
This cycle feels familiar, doesn't it?
Meanwhile, Sitting Courtside …
(GIFs by @HeyBelinda and Brian Phillips)
The Shape of Things
Chris Ryan: Check out this cyborg …
These two passes occurred in the same Heat possession, with about 10 minutes left in the second quarter, when the score was tied at 23. Ray Allen's 25-footer gave Miami the lead, and the Heat never gave it up. We heard a lot about verticality over the last week or so in reference to Roy Hibbert's game-changing interior defense. It was probably the key word of the series (other than "LANNCCCCEE!!!"). So if we call what Hibbert does "verticality," what do we call what LeBron is doing here? Horizontality?
The Defender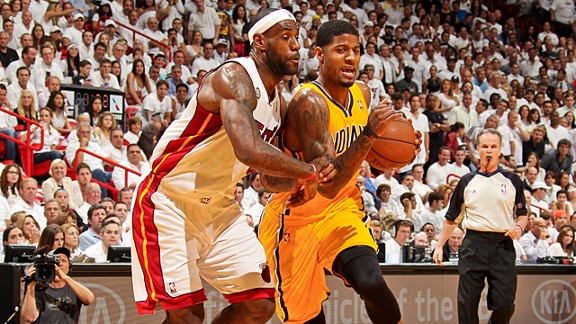 Robert Mays: In a lot of ways, last night was just the latest in LeBron James's incredible run of Game 7 showings. His 32 points actually lowered his career scoring average in such games (to 33.75, still the best ever for anyone who's played in at least two). But point totals are far from indicative of a great LeBron performance. These days, James is just as dangerous facilitating offense for others — whether it's as a passer either on the block or as his team's primary ball handler. And on defense, he's developed into the sort of multipositional weapon that no one has been since Scottie Pippen.
Whether it was out of a desire to conserve energy or the product of a preference in matchups, James saw plenty of time on Lance Stephenson in the first six games, but last night, he was tasked with guarding Paul George from what seemed like the tip. Steve Kerr noted it early in the first half, but what we saw from Miami early on was a return to an attacking defensive mind-set that had defined the Heat for much of the regular season. They trapped hard and without hesitation, and they looked to get their hands on passes and lazy ballhandling all game. Like most things with the Heat, that seemed to start with James.
Whatever chance James was given to attack George on that end of the floor, he took, and Miami's constant, turned-up effort across its defense ended up being just too much. George finished with seven points on 2-of-9 shooting. For most, an increased defensive role against an opposing team's best player might mean a drop-off in offense. That — and a few dozen other things — is what sets James apart. Over an entire playoffs, or an entire series, the offense may suffer, but for one four-quarter stretch, James has the ability to turn into a machine that has only one setting — all the way up, on each end of the floor. Jordan never would've been asked to take on James's defensive role because, honestly, he never could've. Michael was the second-best perimeter defender on his own team. LeBron is the best one in the league.
Into the Wild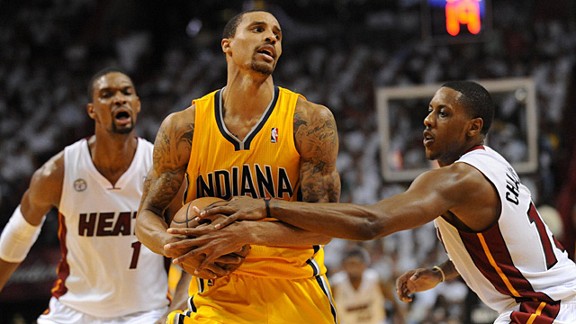 Brett Koremenos: I'm a sucker for most nature-themed shows, and recently the Discovery Channel's North America miniseries has grabbed my attention (even though each weekly episode opens with Bon Jovi's "Army of One"). The Heat's defense last night made me think I was rewatching the segment of the show in which a one-eyed bobcat ambushed unsuspecting pigeons milling around on the nearby shoreline. Like the clever and tenacious feline stalking her prey from a nearby thicket, Miami defenders concealed themselves behind Pacers screeners on every pick-and-roll before leaping out in the blink of an eye to harass overmatched Indiana ball handlers into countless turnovers. Off the ball, Dwyane Wade returned to his customary habit of relentlessly stalking passing lanes while LeBron James made Paul George disappear in his clutches. It was by far the best defensive performance we've seen from the Heat during a series in which a pedestrian Pacers offense looked downright unstoppable at times.
CourtVision: Ray Allen
You Forgot About Ray
Patricia Lee: Going into this game, you figured if LeBron kicked it up a notch, as he has in the last few games of this series, the Heat would win. Few people expected much from Ray Allen. Entering last night's game, he was averaging a meager 34.8 percent from 3-point range in the playoffs and posting an average eight field goal attempts per game. He had been forced to the line much less often than usual, not even hitting three attempts a game.
In his nine previous Game 7s, Allen shot just 39 percent from the field, but last night, his 10th Game 7, was different. He lit up AmericanAirlines Arena just as people had started counting him out, entering the game with one minute left in the first quarter and proceeding to make three treys within seven minutes in the second quarter. His first shot, at the 10:15 mark, gave Miami its biggest lead of the game at that point, and the second gave the Heat a crucial break that pulled the team back up by four. By the time his final three of the second quarter came around at the 3:21 mark, Miami had pulled away by 10, and the game was in the bag.
For a brief moment, everyone was reminded of what it meant to have Ray Allen on your team, to see vintage Ray Allen making it rain and delivering the big shots when they mattered most. Though we were witness to only a quick flash of his brilliance (he finished 3-for-6), we were reminded of Ray Allen the future Hall of Famer, Ray Allen the 3-point shooting machine, Ray Allen the tough and seasoned veteran.
If anything, what we remembered is that while LeBron may be the best player on this year's Miami team, when Ray Allen is on, nobody can stop the Heat.
Twitter
Brian Phillips: Here are some rad tweets from last night.
So First Jarron Collins Noticed That Ray Allen Was Having a Good First Half
Jesus Shuttlesworth is on fire! Gotta find him in transition

— jarron collins (@jarronctwin) June 4, 2013
Then This Idiot Decided to Use That as a Springboard for Insulting Jarron's Twin Brother, Jason Collins, Who, as You May Have Heard, Recently Came Out
@jarronctwin your brother is gay!

— Samm Hayes (@sammy_rozzay) June 4, 2013
Then Jarron Collins Won
"@sammy_rozzay: @jarronctwin your brother is gay!" Yes, clearly you are a master of stating the obvious

— jarron collins (@jarronctwin) June 4, 2013
A Partial List of Other Places Flo Rida's Manager Has Been Kicked Out Of
Amos Barshad: • The Chuck E. Cheese in Boynton Beach, Florida. Claimed the sensors on the Pop-A-Shot rims weren't working, and that his ticket score was being vastly underreported. Demanded, as he was being escorted off the premises, that he be appropriately rewarded his earned share of dollar-sign medallions, Crayola pencil cases, and temporary Garfield tattoos.
• The 2008 Teen Choice Awards. Got so shrieky and excited when Step Up 2: The Streets won "Best Movie: Drama," he had to be escorted off the premises.
• The 2009 Grammys. Kept talking through the broadcast, to the point that RIAA officials had to escort him off the premises. His main conversational focus? General shock and disbelief over the fact that Flo Rida had been nominated for a Grammy.
• A dinner party hosted by the Terrified Lady With The White Hair Sitting Next To Flo Rida. He didn't care for the lobster bisque. He let his opinion be heard. Mr. Terrified Lady With The White Hair Sitting Next To Flo Rida had to escort him off the premises.
• The Claire's at the Panama City mall, while shopping for a gift for his girlfriend. The problem was the only One Direction stuff it had left was a five-pack of Zayn socks. Understandably, this time, he became so enraged he had to be escorted off the premises.
Stackin' Paper to the Ceiling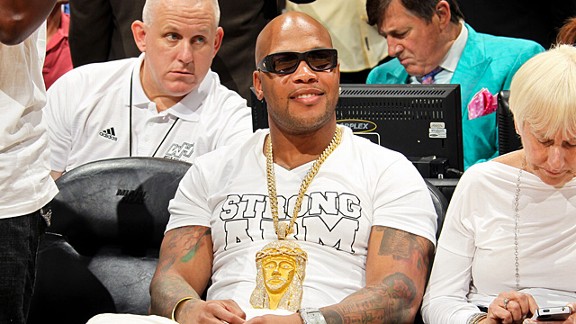 Sharp:
Barkley: "Hey, hey. Can you put Flo-Rida up there again?"
Barkley: "Man, I'd knock the hell out of him if I saw him in an alley. That's a million dollars right there!"
[Ernie Johnson expresses skepticism.]
Barkley: "Ernie, you just mad because I be stackin' paper to the ceiling."
Ernie: "And ridin' on 24s!"
[Cut to commercial.]
The last episode of Inside the NBA is always the best episode of Inside the NBA. We'll miss you, Chuck. We'll miss you, Ernie. We'll miss you, Flo Rida. God bless everyone.
The Fan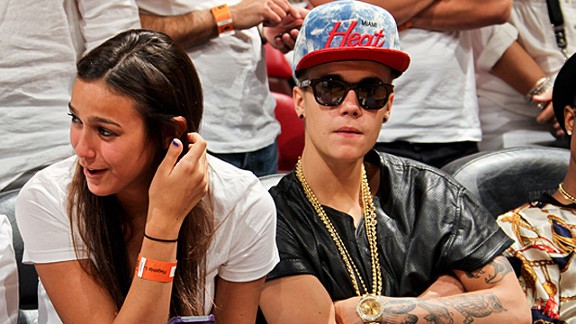 Rembert Browne: It's easy to be distracted by the flashy Kanye West starter-kit exterior, but if you will for a moment, look into his eyes.
There, you'll find the real Justin.
[Cue the track.]
[Verse 1]
I used to think
I had the answers to everything,
But now I know
Life doesn't always go my way, yeah …
Feels like I'm caught in the middle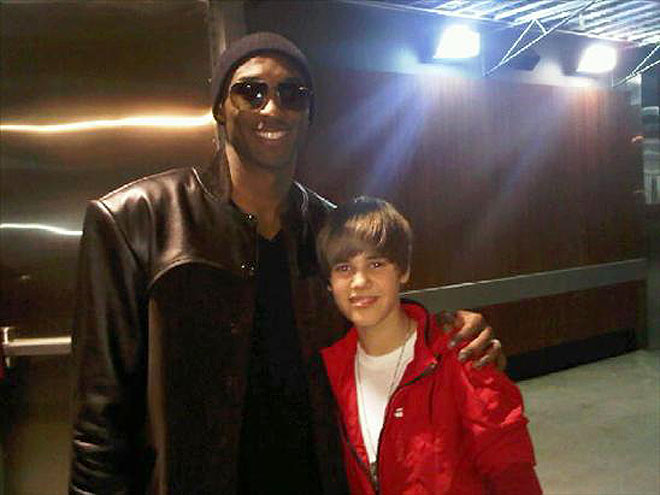 That's when I realize …
[Chorus:]
I'm not a boy,
Not yet a Bieber.
All I need is time,
A moment that is mine,
While I'm in between.
[Verse 2]
I'm not a boy,
There is no need to protect me.
It's time that I
Learn to face up to this on my own.
I've seen so much more than you know now,
So don't tell me to shut my eyes.
[Chorus:]
I'm not a boy,
Not yet a Bieber.
All I need is time,
A moment that is mine,
While I'm in between.
I'm not a boy,
But if you look at me closely,
You will see it in my eyes.
This boy will always find
His way.
I'm not a boy
(I'm not a boy don't tell me what to believe.)
Not yet a Bieber
(I'm just trying to find the Bieber in me, yeah.)
All I need is time (All I need),
A moment that is mine (That is mine),
While I'm in between.
I'm not a boy
Not yet a Bieber
All I need is time (All I need),
A moment that is mine,
While I'm in between.
I'm not a boy
Not yet a Bieber.
The Secret
Danny Chau: In the press conference after Game 2, after Paul George and LeBron James pulled off the most iconic sequence of this year's playoffs, James was asked about George and a familiar situation. George is an ascending talent, but what does he need to do to become elite? LeBron could've rattled off a few banalities to appease the reporters, but he gave them something more gripping — nothing: "I know the answer to that … I'll answer it after the series."
Of course, that was five games ago, and these press conferences are all about now. Especially on a night when George struggled, there wasn't much use in following up on the 10-day-old question. It's a shame that we didn't get to hear LeBron give his answer, but we've watched the course of LeBron's ascension; we've obsessed over it and we've dissected it to pieces. We know his answer, more or less.
In 2006, his third year, LeBron finally made it to the playoffs, where the Cavaliers would eventually go on to face the Detroit Pistons, the team with the best record in the league. They would surprise many in the process, taking the series to seven games before losing in a blowout on the road. LeBron knows how it feels. Still, despite the loss, Paul George and the Pacers are at a place where they're allowed to celebrate their accomplishments. Like James in '06, George is still enjoying the honeymoon stage of his potential, a serene period when the demands and inevitable backlash of fan expectations are held back in favor of optimism. But that window of time shuts quickly, as LeBron knows. Sooner rather than later, the next phase will begin: Keep up with the narrative, or watch the narrative change for the worse, and, at its worst, change you.
In a way, James has already equipped George with the tools to fight back. LeBron took the challenge of guarding George, who had averaged 27.5 points in Games 5 and 6, and proceeded to shut him down. In the most important game of his young career, George was rendered useless. It's a scarring moment, but maybe James was just paying it forward. Last night he reiterated the impact the 2011 Finals loss to the Dallas Mavericks had on his career. It forced him into isolation, but by the end of the offseason, he emerged steely and less visibly affected by the noise around him. By stymieing George, LeBron put a human face on the challenges that lie ahead for the young swingman. Paul George will have all summer to figure out ways to prevent himself, and his team, from seeing the same fate again next year. What he ends up finding might be LeBron's answer.
Filed Under: Amos Barshad, Andrew Sharp, Brett Koremenos, Brian Phillips, Chris Ryan, Danny Chau, Dwyane Wade, Indiana Pacers, Jay Caspian Kang, Kirk Goldsberry, LeBron James, Miami Heat, NBA, NBA Playoffs, Patricia Lee, Paul George, Ray Allen, Rembert Browne, Robert Mays, Roy Hibbert