NBA Playoffs Shootaround: The Oklahoma Kid
Ronald Martinez/Getty Images
So much amazing is happening, and the Shootaround crew is here to help you keep track of it all. You'll find takes on moments you might've missed from the previous weekend, along with ones you will remember forever.
Speed Kills
Chris Ryan: Like everyone else, I was wondering how the Thunder, and specifically Kevin Durant, would cope without Russell Westbrook. I hadn't considered the possibility that Durant might compensate for his running buddy's absence by playing like him.

What I've been noticing since Westbrook's injury in Game 1 of the Houston series is Durant, more and more, acting as the Thunder's pacesetter. Despite the gaudy numbers, I thought Durant cut a kind of frustrated figure in the Houston series, letting the likes of Francisco Garcia give him headaches. One of the images that jumped out the most in those first few Westbrook-less games was the sight of Durant, standing just before half court, clapping for the ball from a rebounding big man, demanding the pace be picked up. Reggie Jackson is fast as hell, but just because you're fast doesn't mean you're playing with pace. That's what Durant was looking for: tempo. That's what Westbrook, outside of finger-gun celebrations and a rep as the strongest finisher in the game, brought to the Thunder.
In the fourth quarter of Sunday's Memphis game, tired of waiting for Jackson or Derek Fisher or anyone else to push the ball in the way that he wanted, Durant took matters into his own hands. He scored 12 points in the final 7:30. How? By playing like Westbrook — fearlessly driving toward the basket, putting defenders on their heels because neither him pulling up or taking off from just inside the foul line was a particularly attractive option. When he dishes to Kevin Martin in the above play, he has three Grizz players converging on him. Durant is pretty devastating in the half court. We know that. Durant in transition? Making defenses choose between a bunch of unpleasant outcomes? Getting his teammates wide-open 3 looks? Hell … Russell who?
CourtVision: The Closer
Remember the Name
Patricia Lee: It's easy to forget that Derek Fisher is still in the league (especially when it isn't lockout time). He's bounced around since being traded from the Lakers in 2012, staying in Houston for a few days before going to Oklahoma City … Dallas … and then returning to OKC. He's 38 and has played professionally for 17 seasons. He has five championship rings and too many clutch 3-pointers to count. But over the past few years, he's been relatively forgotten, an unnamed baller sporting a no. 6 jersey. Well, except for his notorious flopping.
But in Sunday's game against Memphis, Fisher made yet another crucial impact in a playoff game (I'll never forget this fine play). With 17 seconds remaining, the Thunder were down by two points and the Grizzlies had possession. You probably know what happened next — Kevin Durant made a huge 19-footer to give Oklahoma a one-point lead, Reggie Jackson's pair of free throws put them up by three, and a really ugly Quincy Pondexter free throw gave OKC the win and stole Memphis's thunder (that was a Patricia Lee original by the way).
But let's rewind to right before that Durant shot. Mike Conley had the ball … then bam DEREK FISHER with the steal! The well-timed steal didn't go completely unnoticed, as several game recaps mentioned Fisher coming through in the clutch (though many omitted his name from both the headline and the opening paragraphs).
Ah, nothing like the calm resurgence of Derek Fisher — the NBA veteran who reminds us from time to time that he isn't quite so forgettable.
"12, 13 [looks to see if anyone is watching], 20!"
(All .GIFs by @HeyBelinda)
His Hair Was Perfect
Glory Days
netw3rk: I remember exactly where I was the last time the Knicks won a playoff series before their first-round victory over the Celtics on Friday: in the living room of the two-bedroom apartment/band-rehearsal space/hangout pad that my friend Mike shared with three to five other people in Santa Cruz, California. May 2000. First time I met my best friend Dave, he was renting the hallway closet for, like, 80 bucks a month. Eighty dollars bought him just enough space for a sleeping bag, his bass guitar, and five clothes hangers worth of clothes. Mike's room doubled as the band rehearsal space, and he'd sleep on wadded-up blankets surrounded by drums and amplifiers, breathing a cloud of musician-ass funk. The other bedroom was shared by a brother and sister, the borders of their respective territories marked by a bedsheet hanging by a rope that divided the room more or less in half. I lived across town, renting a room on the west side, working the 4:45 a.m. shift at a bakery, living off day-old bear claws. The standard operating procedure for affording food with protein in it was to hit this Mexican spot called Jalapenos that sold burritos the size of The Rock's forearm for about $4.75. Boom, lunch and dinner.
Those '90s Knicks are thought of as a disappointment. Never got past MJ; on the receiving end of some of the most memorable playoff losses in NBA history (eight points, nine seconds; 25 points in the fourth; the Charles Smith Sisyphus Adventure); John Starks going colder than liquid nitrogen; the post-Heat brawl suspensions in 1997; on and on. Drinking in every expression of pain emanating from the tanned, leathery visage of Pat Riley, I had no way of knowing the Knicks wouldn't win another playoff round in basically the same amount of time it takes a human egg to be fertilized, born, and start listening to Skrillex. Now when I think about those teams, the ones that lost to Reggie, that couldn't make a finger roll, that couldn't make a layup, I think: Man, that was fun.
I see Dave all the time. Dude owns a house, has a kid, two cars; the whole "I Like Ike" American existence that seems pretty remote when you're locking a half of a burrito in a toolbox so your housemates can't eat it. I can pay my rent without slinging a garbage bag full of pastries over my shoulder. And when we get together now, all we talk about is how much fun we had back then.
Watch Your Step There, Terrence Malick
Hua Hsu: Shortly thereafter, Melo arrived in the Knicks' locker room only to catch the punch line to a hilarious new inside joke. "You had to be there" is all James White could say before crumbling to the ground in hysterics. Everyone was still repeating that punch line — something about seasonal tasting menus, Melo thought he heard someone say — a few minutes later, as he sat in a stall yelling for someone to help out and bring him a roll of toilet paper. Melo was still rubbing his breast and muttering to himself an hour later when he got to the Garden parking lot and found Mark Sanchez sitting on the hood of his car and signing autographs. Melo shooed them away. As he sat in traffic, he noticed faint swirls of Sharpie remained on his windshield. He turned on his radio, but the valet had changed all his presets.
Lance of Nature
Ryan: This was the first image most of the nation saw of the Pacers-Knicks game. The national television audience was being ferried from the Grizzlies-Thunder game, through a local news bumper, and then BOOM. LANCE. It's a testament to how far Lance Stephenson has come in his career that lots of people on Twitter, myself included, thought the sheer force of Stephenson's dunk CHANGED THE CHANNEL.
Next Best Thing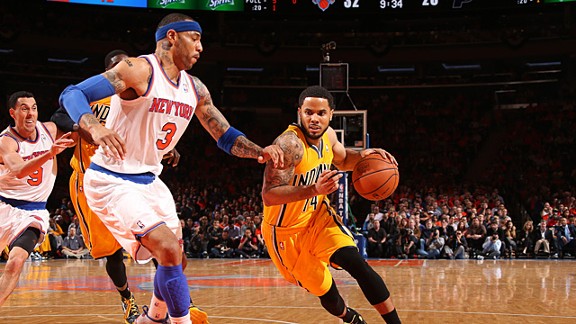 Danny Chau: D.J. Augustin torched the Knicks yesterday with 16 points in less than 13 minutes. It was easily the best and most relevant game of his NBA career, which I suppose is faint praise considering his first four seasons were spent with the Bobcats. Augustin surprised in front of a national audience, but in the annals of the Knicks-Pacers rivalry, even Augustin's unlikely performance has a precedent. Watching Augustin catch fire against the Knicks in Game 1 was eerily similar to watching Travis Best dismantle the Knicks in Game 5 of the 2000 Eastern Conference finals. Best, a diminutive guard who was almost exactly the same size as Augustin, scored 24 points that game — 15 of which came in the fourth quarter.
Take a look at their shot charts from those games (Best on top, Augustin on bottom):
If you squint hard enough, you'll notice how similar they are. If you eliminate all of Best's long-range 2s and transpose his two close-range shots on the right side of the floor over to the right-corner 3, Best and Augustin would have identical shot charts. You're rolling your eyes right now, but I'm asking you to squint harder.
Yeah, it's a stretch, but I think that's the point. This series is imbued with memories of the rivalry years between 1993 and 2000, when the teams met in the playoffs six times. Even though the tension has been dormant for 13 years, the rekindling story line is too irresistible. The rivalry is expected to maintain continuity as though it were a blood feud, even if the mid-to-late '90s era means little to some of the current players. (Paul George's third birthday was on the same day as Game 2 of the 1993 first-round series that started it all.) So we'll keep on making connections. On the off chance that history repeats itself, we want to be able to say we connected the dots.
One of the small pleasures of this year's playoffs has come during breaks, when Lt. Daniels appears on the screen as a committed light-bulb salesman. I enjoy the commercials, but I feel conflicted about the message. We watch the playoffs for the raised stakes, for the great moments that become great memories. So it's a little disconcerting when we're cut away from the action only to hear him inform us that "Nostalgia is dumb." Reggie Miller will be calling Game 2 tomorrow night on the 18-year anniversary of his Game 1 stunner in 1995. He'll offer a retrospective, and we'll be watching the eight-points-in-8.9-seconds footage all night. Nostalgia might be dumb, but it gives this series a link to history. Nostalgia raises the stakes further. It's practically the 11th man on the court.
The High Hat
Shane Ryan: Watching the Knicks over the past two weeks, and Carmelo Anthony's face specifically, I've been getting an odd tingle of recognition. He looks like someone. It eluded me for the longest, but yesterday the synapses clicked: As Melo gets older, balder, and rounder, he looks more and more like Johnny Caspar from the Coen brothers film Miller's Crossing. And I thought it was important for you to know. Behold:
You see it, right, guys? RIGHT?! I'm not crazy??? I'm pretty sure I'm not crazy. I might be crazy.
In either case, LeBron better watch out if they meet in the conference finals. From what I hear, Melo's sick of the high hat.
Remember Who You Are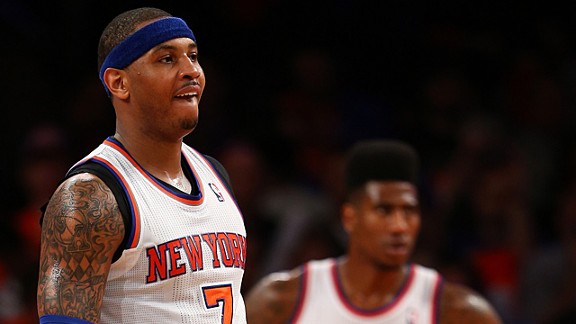 Ben Detrick: Despite Mike Woodson's undertaker glower, Kenyon Martin's pointy elbows, and the collective delusion of New York fans, the Knicks' regular-season success was rarely the result of brutish, grind-it-out basketball. They were a mediocre defensive team that feasted on the offensive end, taking and making more 3-pointers than anyone else. But through seven playoff games — six against Boston and one against Indiana — that highly efficient machine has looked like a unicycle churning through wet cement. The Knicks are currently averaging about 89 points a game, the lowest of any remaining team and more than 11 points behind their regular-season pace.
In yesterday's 102-95 victory over the Knicks, the Pacers made it clear that the strategy used by the Celtics is still in effect: Smother Tyson Chandler in the pick-and-roll with an elite defensive big man, close out aggressively on 3-point shooters, and clog the lane whenever Carmelo Anthony and J.R. Smith try to score in isolation (not that they need too much encouragement in that direction, anyway). For the most part, the Knicks' offense has devolved into a depressing collection of bricks fired up from 15 feet away, with the Anthony-Smith combo-pack hoisting up about 42 field goal attempts per game at a putrid 37 percent. And they took only 19 3-pointers yesterday, almost 10 beneath their league-leading regular-season average. It's ugly.
After one afternoon of seeing Anthony pulverized in the paint by David West, the Knicks are contemplating the wisdom of moving him back to the small forward position and bringing in Amar'e Stoudemire for increased rotational heft. Steve Novak, the team's best 3-ball shooter, has missed the last two games with back spasms, and Jason Kidd has utterly disappeared. And, in the postseason, Iman Shumpert and Martin are eating up a collective 50 minutes a game. This simply isn't the New York team that cruised through the season by blitzing opponents with perimeter snipers. Now, to survive against Indiana, the Knicks have to remember their identity — or create a new one as the rugged pit-fighters their fans have always pretended they were.
What Could Have Been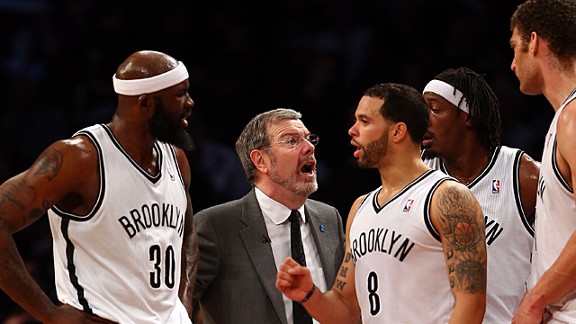 Brett Koremenos: If you watched the Brooklyn Nets this season, their Game 7 home loss to Chicago came as no surprise. Over the course of the year, through two coaches, a series of injuries, and several starting lineups, the team was brilliant at times, but just as often frustrating and disjointed, particularly on the defensive end of the floor. Brooklyn was probably always doomed to a quick postseason exit, but whether it was due to poor roster construction and poor coaching, or if they ultimately underachieved, is the question.
If I had to pick one I'd lean toward the latter. This team wasn't ever going to rival the 2009 Celtics on defense, but they had lineups — or perhaps more aptly put, an identity — that could have made them much more intriguing.
Both Avery Johnson and his midseason replacement, P.J. Carlesimo, tried in vain to field a traditional frontcourt by pairing Brook Lopez with a revolving door of middling talent. They eventually settled on Reggie Evans, in part because his insertion into the starting lineup happened to coincide with the resurgence of star point guard Deron Williams. Either way, it sealed Brooklyn's fate as a two-big lineup.
Perhaps the team should have tinkered with small ball, putting Gerald Wallace in the role of the undersized four. In his stead, Carlesimo would have chosen from two of his veteran wings — Jerry Stackhouse or Keith Bogans, who fits in very nicely as a "3-and-D" guy with the starting unit — and created a mini-Miami in Brooklyn.
That is where the true disappointment arises, for me at least, from this season's Nets squad. A Williams-Bogans/Stackhouse–Joe Johnson–Wallace-Lopez quintet would have made a very intriguing matchup for the Heat, a team they could have been facing tonight in Round 2. That lineup would have been solid defensively where Miami creates offense — think Bogans/Stackhouse locking horns with Dwyane Wade and Wallace hounding LeBron James — while allowing their primary scorers, Lopez and Williams, to be free to focus primarily on piling up points.
I'm not saying that Nets lineup could have beaten the best team in basketball in a seven-game series, but it certainly would have been interesting and provided the team with a much better picture of their current collection of talent. Instead Brooklyn's front office, like the rest of us, will be left to ponder not only the state of team, but what could have been.
Handle With Care
Robert Mays: What people remember about the night the Bulls drafted Joakim Noah is the getup: the suit, the bow tie, the clown hair. It'd be a couple days before I saw any of that. That summer, I was working maintenance at the local Little League diamonds, and my draft coverage was limited to a portable radio hooked up in a shed. It didn't matter. I didn't need the visual to know how bad a mistake it was. Noah's name had barely finished crackling through the speakers before I was out of my chair, turning the radio off, and heading back out to the mosquitoes.
The reaction had nothing to do with basketball; it had everything to do with how much I hated Joakim Noah. I've never carried animosity for a college player like I did for Noah in his final season at Florida, and the idea of having to wish him success was unacceptable. The next five years of Bulls games would require cheering through gritted teeth.
Watching the Bulls on Saturday night was the latest reminder of just how wrong I was. After Noah got to town, it wasn't long before I realized what comes with one of those guys becoming one of your guys. All that matters is whether he plays the way you want someone to play. It's made rooting for Joakim Noah easy. It's made rooting for all these Bulls easy.
Considering where the Bulls were at the beginning of last April, the past year has been mostly awful. The Derrick Rose saga has been so poorly managed by both sides that I worry the damage done might be permanent. Cheapness disguised as shrewdness led to the loss of two impact players (Omer Asik and Kyle Korver) with barely anything in return. Listing the injuries is worth no one's time (But for real, Nazr Mohammed, Marquis Teague, and Daequan Cook were on the floor in a Game 7 — at the same time). For most teams, it would've, and should've, been a lost year. Part of me thinks there were those around the team who thought it would be. That's surprising. I figured it wouldn't be, and it's because I've seen Tom Thibodeau and Noah on TV.
Everyone knows how little business the Bulls had winning Saturday night. Everyone knows the Bulls were the only ones who didn't know. Words like "heart" were used in proper doses, which is rare. I wasn't struck by any of that. With this team, it wasn't new. What was new, for me at least, was the chance to forget about who wasn't on the floor, or who was waiting in the next round. It's been easy this season to lament the Bulls that could've been, but watching Noah in the fourth quarter, any feeling was limited to the Bulls that are. As fans, we silently worry that the players we root for don't care as much as we do. With these Bulls, I know they don't. They care much, much more.
Filed Under: Ben Detrick, Brett Koremenos, Brooklyn Nets, Chicago Bulls, Chris Ryan, Danny Chau, Houston Rockets, NBA, Oklahoma City Thunder, Robert Mays