NBA Playoffs Shootaround: The Monocle and the Falcon
Garrett W. Ellwood/NBAE via Getty Images
So much amazing is happening, and the Shootaround crew is here to help you keep track of it all. You'll find takes on moments you might've missed from the previous weekend, along with ones you will remember forever.
The Black Falcon Has Landed
Jay Caspian Kang: Last spring, when the Golden State Warriors were redefining the acceptable parameters of tanking and Harrison Barnes was redefining the boundaries of how badly I could troll a player on my beloved Carolina Tar Heels, I wrote a series of columns stating the Warriors were doing the NBA a disservice and that Barnes was a bust. Around that time, I recall a friend joking that the best possible outcome would be if the Warriors tanked their way into the middle of the lottery and picked up Barnes. That way, my two beloved hatreds could be intertwined forever. If Barnes ended up being an NBA bust, the specious logic of sports predictions and the Internet record would vindicate me forever.

So here's my apology. I still stand by my assertion that what the Warriors did to get the seventh pick in the draft was beyond reproach. Sitting all your good players with fake injuries and then starting five rookies in the last game of the season (which, by the way, was Fan Night at Oracle) was a new nadir for competitive integrity in the NBA. And I do not think the fact that Barnes now seems well on his way to becoming a very good NBA player somehow validates the Warriors' behavior. But man, was I wrong about Barnes, who, at the age of 20, could become the third piece in what now looks like a Warriors offensive juggernaut. The questions surrounding Barnes have never been about his talents; they've been about his head. At North Carolina, he showed a frustrating reluctance to take over games by creating his own shot. Through the eye test alone, he was one of the best shooters ever to suit up in Chapel Hill, but the stats rarely backed up the flashes of brilliant talent. He would sometimes crash into traffic and pull down jaw-dropping rebounds, but then would go invisible for the rest of the game. It seemed like he could do pretty much anything he wanted on the basketball court, but he simply couldn't figure out how to do everything.
(All GIFs by @HeyBelinda)
As both teams were shutting down and collapsing in overtime of last night's game, Barnes looked like the only guy out there who wasn't afraid of the moment. These things are hard to gauge and certainly subjective, but Barnes did what we North Carolina fans had always wanted him to do. He asserted himself and took big shot after big shot. With 4:20 left in overtime, he took the ball hard to the basket, got fouled, and calmly sank both free throws. A minute later, he took the ball strong to the hoop again, this time missing. After a minute and a half of unspeakably sloppy play, Barnes put the Warriors up by six with a step-back jumper. His aggressiveness during the first half of overtime was one of the main reasons why the Warriors held off the Spurs and tied the series at 2-2.
I don't particularly believe in the idea that a player's mind-set can be permanently changed from one great performance in the playoffs. But even I, Harrison Barnes's no. 1 troll, can admit he helped bury those bad Carolina memories.
"Someone Pick Up Manu"
Amos Barshad: If you're a white dude with patchy facial hair playing pickup basketball on an NYC court, there's a pretty decent chance that someone will refer to you as Pau or Gallinari or whatever patchy-facial-haired European is in vogue that week. That's never a commentary on your actual abilities, unfortunately; it's a completely neutral shorthand identifier, as helpful to shout in transition D situations as "I got the guy with the dumb yellow sneakers" or "Someone guard this Tony Shalhoub–looking motherfucker."
Anyway: Yesterday, Manu Ginobili broke Harrison Barnes's ankles in the most streetball-appropriate way possible — at the end of regulation, with a chance to win, he made Barnes take a goddamn seat … but he bricked the 3.
That got me thinking: A few years down the line, when he's gained a few more pounds and lost a little more hair, Manu will look less like Manu and more like "a guy who kind of looks like Manu." Which means it's not inconceivable that — after he's all done playing for money, and if he, you know, felt like it, for some inexplicable reason — Ginobili could start popping up on NYC pickup courts like a real-life Uncle Drew: a plodding old guy, making dudes take seats. Someone will shout out "Who got Manu?" and Manu — while breaking ankles, exposing ageism fallacies, blowing minds — will smirk quietly to himself.
Tactics Talk
Chris Ryan: Not for nothing, but thank god Steph wasn't guarding Manu on the above play. He would probably look like Cricket from It's Always Sunny in Philadelphia right now:
The Monocle Game
netw3rk: After Roy Hibbert finished dominating the New York Knicks to the tune of 24 points, 12 rebounds (eight offensive), and a plus/minus of plus-20, after he was done breaking Tyson Chandler down to Chandler's constituent molecules and erasing him from existence — finally, someone was able to stop him. "I was advised by Paul George and David Benner not to set a trend by wearing a monocle, so I'm not putting on the monocle," said Hibbert, who brought a freaking monocle to the game like he was delegate to the Treaty of Versailles, and was only kept from wearing it because of a vigorous double-team.
Playoff podium fashion has been an increasingly important part of the NBA experience since the implementation of the NBA's "please don't dress like rappers" dress code in 2005; a dress code whose primary function was to keep the post-Malice viewing public from dwelling too deeply on the fact that many NBA players are black. Evolving from the staid, business-casual look of the immediate post–dress code years, the current state of NBA fashion is being defined by some of the league's most creative players as something we could fairly label as blipster: There's Rajon Rondo's Max Headroom jacket, Nick Young's sun-print dashiki, and, most important, Russell Westbrook's cavalcade of Gordon Gartrelle–meets–Urkel sartorial choices, none more talked about than his adoption of the über-hipster trope of glassless eyeglass frames. What's been missing from all that creative trendsetting, though, is a certain self-aware wit. Which I get; no one decides they're going to wear something that's normally thought of as being symbolic of a physical handicap unless they think Dude, this looks awesome. I mean, what's next, fake hearing aids?
Which is why we really missed out on something with Hibbert's monocle.
So listen, Paul George and Mr. Whoever Pacers PR guy, next time Roy Hibbert decides to commemorate a big game by wearing a set of dental headgear, or an eye patch, or whatever he decides to do, just realize that people who actually make money by being funny think Roy is funny, so don't oc-block him again. Especially when he's avenging a betrayal.
Is Marc Gasol the Best Point Guard Left in the Playoffs?
Ryan: There's this …
Which is gorgeous and psychic, and still it only comes in second to this absolute NUTMEG of DeAndre Jordan, which I somehow missed the first time around:
Wonder where he got that from?
Keep Your Hands Where My Eyes Can See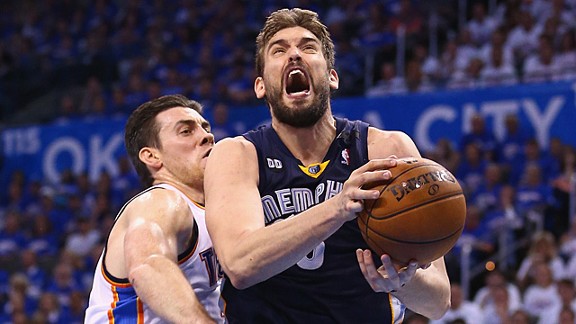 Brett Koremenos: While undeniably productive, Russell Westbrook's maddening tendency to hijack possessions at the expense of Kevin Durant caused some to assume the volatile guard's absence could be a blessing in disguise. With a little more solidarity and a lot more Durant, there was the possibility the team and its star forward could reach the same lofty heights most expected of them pre-injury.
With the possible exception of Steph Curry, Durant has been the best player in the playoffs. But while the forward has been spectacular in the absence of Westbrook, his teammates have been far from it. Aside from some occasional spurts of brilliance engineered by Kevin Martin and Derek Fisher, the Thunder supporting cast has floundered under the weight of increased expectations, with Serge Ibaka's brutal offensive performance in Game 3 highlighting their struggles.
Durant's most consistent ally in the team's fight against Memphis has probably been plus/minus darling Nick Collison. The reserve big man is plus-46 in 141 playoff minutes, a number that makes him the only Oklahoma City big man with a positive scoring margin. But Collison hasn't allowed himself to be a major factor in this series because of persistent foul trouble, a problem that's dogged him his entire career.
Because of his style of play, Collison will always be prone to racking up fouls at a startling rate. Most of them come as a natural result of his all-out effort and physical play, but the veteran big man will also pick up at least one irresponsible foul per game. During the regular season, the handful of minutes Collison is forced to stay on the bench because of those silly fouls are relatively meaningless. But in this series, every minute the former Kansas Jayhawk doesn't play gives Scott Brooks a reason to go back to Kendrick Perkins or Hasheem Thabeet, something that doesn't end well for anyone but Memphis fans.
By being available 25 or more minutes a game the rest of this series, Collison could provide a huge boost for a frontcourt that's turned into a flaming train wreck in the blink of an eye (granted, Brooks actually playing him if he's not in foul trouble is another story entirely). Durant could sure use the help.
The Monstars Got to Ibaka
Andrew Sharp: Why is there a clip from Space Jam here? For two reasons.
1. Because there's never a bad time to include a clip from Space Jam in an NBA article, especially if it raises awareness of Barry White and Chris Rock's version of "Basketball Jones."
2. Because Serge Ibaka.
Poor Oklahoma City. Life without Russ has been depressing for a lot of reasons. Eight-hundred-year-old Derek Fisher has become OKC's second-best player; everyone's realized Scott Brooks runs the most basic offense in the league; Kevin Martin is definitely not James Harden; Kevin Durant is playing the best basketball of anyone in the playoffs and it probably won't matter; and so on. But nobody's struggling with this new reality more than Ibaka and/or Ibaka's reputation. It's like his talent's been stolen by the Monstars.
As OKC has needed Ibaka to step up on offense, he's taken a few steps back instead. His defense against Z-Bo has been solid, yes. Sure. But in three games against Memphis, he's 12-of-39 from the field for a team that badly needs his offense to take pressure and attention off Durant, and somehow it keeps getting worse. Saturday in Game 3, GOOD LORD. It was hard to watch. He missed dunks and chip shots at the rim; he hesitated on open jumpers and clanked the ones he took. He looks like an overmatched rookie right now, not the budding star who's one of three rock-solid pieces of OKC's future. And yes, if you're keeping track, this is the second year in a row the Thunder have had a key member of their nucleus completely self-destruct in the playoffs, to the point where it seriously looks like the Monstars stole his talent.
Good News 1: Ibaka can't possibly be that hopeless again. (Right?)
Good News 2: Ibaka's struggles gave us an excuse to include a Space Jam clip.
Good News 3: The last NBA Monstars victim was Harden in last year's Finals, and he seems to have recovered OK. So Ibaka should eventually bounce back from whatever's happening here.
Bad News: Thinking about Harden's success is not consoling ANYONE in Oklahoma City right now. I think we just twisted the knife deeper, actually. Poor Oklahoma City.
A New Hope
Robert Mays: Like they do for most good people, Ellis Redding's bits of wisdom often serve as my map for our complicated moral landscape. Friday night, though, as I watched LeBron James close out the Bulls' Game 3 loss, and likely their season, one particular nugget of Red's played a little louder in my head: "Hope," he tells a Mozart-hogging Andy Dufresne, "is a dangerous thing."
Most of this Bulls season has been an exercise in slowing our collective roll. Whether it was an outside shot at the 2-seed or early-March thoughts of a Rose-led challenge to Miami, it seemed that fits of success were always leading Bulls fans to get ahead of themselves. The truth was never that hopeful. This season wasn't supposed to matter. It was Year 1 of a multi-year plan filled with minimum contracts and financial flexibility, all of which pointed to a post–Carlos Boozer existence. Sure, the Bulls were a proud group led by a proud coach, and they were bound to win a few more regular-season games than their occasionally apathetic opponents. The first-round win over the Nets was an extension of this, mostly because for Brooklyn, there seemed to be no difference between basketball in mid-April and basketball in mid-December. Anything beyond Brooklyn would be played with house money.
Then Game 1 happened.
I'll admit that last Monday is the first time I actually believed the Bulls could beat Miami, but as soon as I did, I believed it wholeheartedly. When Miami had its 37-point romp in Game 2, I pointed to the same thing LeBron did — with the series tied 1-1 going back to Chicago, the Bulls had done their job. It was when Nazr Mohammed put James on the floor that I knew the Kool-Aid had gone straight to my head.
I chided James for his acting job, muttered something about the way basketball used to be, and noted that, "Oh shit, we really need Nazr." What I should have said was, "Oh shit. We really need Nazr?"
But I didn't. Instead, I bought further in to what Tom Thibodeau's been selling. It really was us against everybody else. I called Chris Bosh some names when his flop on a Joakim Noah offensive rebound effectively sealed things up. I pounded the table when Norris Cole got away with a push-off on a late inbounds play. I chewed my nails and pulled my hair and generally made a scene throughout.
When it finally did end, I wasn't too concerned with moral victories, or heart, or fight, or any of that. I was wondering how we could get Nate and Marco back next year, because I'd like another shot. (Seriously.) Financial flexibility and long-term plans and tempered expectations are all great — until that first moment when you think you've got a chance. That's when reason turns into a winged Nate Robinson and flies out the window. I'll likely spend today and the early parts of tomorrow using phrases like "two years away" and "market value," but then the game will tip tomorrow, and I will lose my mind. Hope is a dangerous thing.
Filed Under: Amos Barshad, Andrew Sharp, Brett Koremenos, Chicago Bulls, Chris Ryan, Golden State Warriors, Jay Caspian Kang, Kevin Durant, LeBron James, Memphis Grizzlies, Miami Heat, NBA, NBA Playoffs, Oklahoma City Thunder, Robert Mays, Roy Hibbert, Stephen Curry