NBA Playoffs Shootaround: JaVale McGee Rises
So much amazing is happening, and the Shootaround crew is here to help you keep track of it all. You'll find takes on moments you might've missed from the previous night, along with ones you will remember forever.
That Joke Isn't Funny Anymore
About 15 minutes after JaVale McGee's thorough handling of Andrew Bynum was complete, members of the media began to file into the relatively small postgame press room in the bowels of the Staples Center. They were informed that first to the podium would be victorious Nuggets coach George Karl, whose team had just staved off elimination with 102-99 win over the Lakers. The player from Denver, it was announced, would be McGee. Even after the best game of his career — 21 points and 14 rebounds — in the biggest game of his career, there were laughs.

There was no laughter when Lakers coach Mike Brown took the podium. The entirety of his opening statement (and most of his answers afterward) focused on McGee's performance and the lack of impact from his guys in the paint. He shied from calling out Bynum by name, but the message was clear: The league's biggest punchline had used an All-Star center as his punching bag.
The impact began early, with six rebounds in his first eight minutes. McGee consistently made it difficult for Bynum to get the ball deep in the paint. With McGee in the game, the big man wouldn't score in the Lakers' half-court offense until the fourth quarter.
There were plenty of highlights, but one play in particular stood out. Up 13, Corey Brewer was short on a shot from the right wing. The ball careered off the front of the iron back toward the free throw line, where McGee used his right hand to reach over Bynum and tap it back to himself. After controlling the handle just to the right of the paint, McGee took two dribbles before throwing it down.
That was the scene throughout — McGee simply outworking Bynum for each ball that either had an equal chance to haul in. The former Washington Wizard would say afterward that his effort was a product of being somewhere he's never been — "Usually, I'm nowhere near the playoffs" — an answer that confirms a contention often raised by those who have believed in his talent but feared his situation. The JaVale McGee jokes came because he has ability that's impossible to ignore, no matter how misused it was. Tuesday night was a glimpse of what that talent could be on a team that matters. — Robert Mays
Sartorial Decision of the Night: Rajon Rondo
First we had Nick Young's shirt. Now there's this from Rajon Rondo. Commissioner Stern would have never banned the throwback jerseys if he knew this would be the result. — Jonathan Abrams
I just think Rondo's mad because he couldn't get tickets to go see Teddy Riley and Guy at the Borgata. — Chris Ryan
The People's Movement for Danilo Gallinari to Grow a Mustache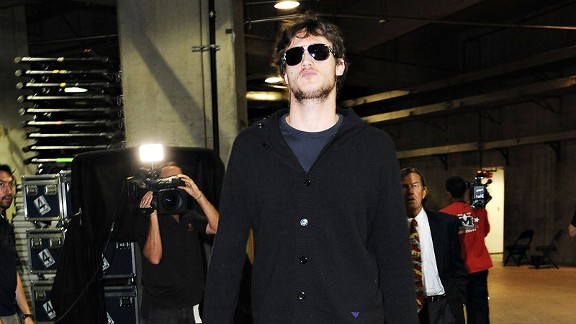 Kobe's 3-point barrage fell just short Tuesday night, meaning the Nuggets get to live another day — and so does Danilo Gallinari's playoff neckbeard. What happened to the clean-shaven Armani Exchange aficionado that entered the league just a few seasons ago? Have the hippies out in Denver corrupted young Gallo? Is he currently wearing Patagonia on off days? Listen, that thing is atrocious, but there's an easy fix. Ready? Mustache only. He'll look suave and mature and debonair and also maybe all the follicles that are no longer needed below the chin will make their way to his upper-lip area. (I should probably mention here that I am no hair scientist.) The People's Movement for a Danilo Gallinari Mustache starts right here, right now. — Amos Barshad
The final 10.9 of Game 5 Hawks-Celtics
Thirty heart attacks were had. More on this and an evening in the Highlight Factory later in the day. — Rembert Browne
Speak, Memory
Check out all these awesome Sixers-Bulls highlights …
There are no Sixers-Bulls highlights. Tuesday night, after the game, Philadelphia coach Doug Collins said that the Sixers couldn't really hang with the Bulls if they were going to have to play "smash-mouth" basketball. I didn't even know "smash-mouth" basketball was a thing. Now I know. Smash-mouth basketball is 26 first-half points scored by the visiting team. It is long, lingering shots of Taj Gibson trying to stretch his ankle after brutally rolling it. ("He's trying to stay loose!") You think Joakim Noah is celebrating here?
No. Joakim Noah is just happy that game is almost over so he can do whatever is necessary to forget it. I'll have whatever he's having. — Ryan
Air Paul
Paul Pierce has the kind of relationship with the elbow jumper — intimate, dramatic, mutually beneficial — that I someday hope to have with my future wife. So when he pulled up from 18 feet Tuesday night, with the Celtics down one and 20 seconds to go, and hit nothing, it was like an extremely mild version of seeing your dad cry for the first time. Certainly being hobbled by that sprained left knee didn't help, and quite possibly resetting the offense and getting Pierce in rhythm for that would-be game-winner could have meant he'd at least hit rim. But when he looked up after the air ball, in confusion and shame, he kind of had the Marty McFly my-hand-is-disappearing face going. Is that why, when Rondo made that rad steal on the Hawks' last possession, Pierce didn't come to the ball — as he would have 99 times out of 100 in that situation — to demand the last shot? Is that why Boston's now looking at an Atlanta team that thinks the sudden return of Al Horford gets it back in the series, and not at a long weekend off while Philly and Chicago duke it out? Paul Pierce. Elbow jumper. Air ball. What the hell is going on? — Barshad
For Their Next Trick …
With the Pacers' 105-87 win in Indy on Tuesday, it would appear that the Stan Van Gundy Era in Orlando might be at its end. It's unfair, though, that the trials of its (possibly) final season — which included some of the best narcissism and Diet Pepsi drinking in recent history — will likely be its most memorable. This year's results are probably best attributed to Dwight Howard's act as saboteur, but Orlando's botched run at being an annual contender began right after its trip to the Finals in 2009.
What Orlando rode that season en route to a meeting with the Lakers was an unorthodox lineup that created matchup nightmares for every team the Magic came across. To go with Howard, Van Gundy rolled out two wings of at least 6-foot-5 (Mickael Pietrus and Courtney Lee), and two more of at least 6-foot-10 (Hedo Turkoglu and Rashard Lewis). The result was a convincing Eastern Conference Finals win over an in-the-freaking-zone LeBron and a chance to play for a title. When that chance didn't pan out, Magic GM Otis Smith did the next logical thing: Blow it up for a chance to get Vince Carter.
Shockingly, losing Lee and allowing Turkoglu to walk forced Orlando to forfeit what had been its biggest advantage. This would all seem more acceptable if they didn't end up trading Carter to Phoenix a year later to get Turkoglu back while also having to throw Marcin Gortat in the deal. So while Howard should take his share of the blame for the 2012 disaster, it should be remembered that Orlando's biggest lost opportunity came when it decided it wanted to look and play like everyone else. — Mays
Filed Under: Amos Barshad, Boston Celtics, Chris Ryan, Dwight Howard, Javale Mcgee, Jonathan Abrams, Kobe Bryant, Los Angeles Lakers, NBA, NBA Playoffs, Paul Pierce, Robert Mays, Shootaround