NBA Finals Shootaround: The Once and Future King
So much amazing is happening, and the Shootaround crew is here to help you keep track of it all. You'll find takes on moments you might've missed from the previous night, along with ones you will remember forever.
The Gift
There's a natural inclination to view sports in relation to culture around these parts. And, don't get me wrong, I stand by my never-published Gmail manifesto about Mario Chalmers being Mouth from Goonies. But watching Miami win the NBA championship Thursday night, something that seemed both inevitable and impossible at various times over the course of the season, I kept coming back to the books on my shelf, the songs in my iTunes, and the movies on my screen.
And this isn't because I was looking to compare LeBron James to something. It was because I was looking to compare the experience of LeBron James to something. I've watched — we've watched — pretty much every minute of these playoffs, and every minute LeBron James spent on the floor. But Thursday night, I got the same feeling watching LeBron as I did finishing Denis Johnson's Tree of Smoke, or the first time I saw the Copacabana scene in Goodfellas.


It doesn't matter. You can substitute whatever you want, whatever means the most to you. Lionel Messi, Sam Cooke, Pulp Fiction. I knew it from the opening seconds.
But really, I've known since the Pacers series; definitely since the end of the Boston series. This is the best player in the world. The best player of his generation. His lack of rings meant about as much as the number of Oscars sitting on Martin Scorsese's mantel when he made Goodfellas. Zero. I knew right then: I'm watching something special. It makes one Thursday night different than all the rest. It makes watching every minute worth every second.
— Chris Ryan
Iguodunka of the Night: Dwyane Wade
When is a layup eligible for Iguodunka of the Night? Um, when a layup looks like that.
— Chris Ryan
Iguodunka of the Night (Runner-up): Kevin Durant
This was Udonis Haslem's near-death experience.
— Chris Ryan
Honor Role
It's always the other guys. The only players who absorbed even the faintest hint of acrimony comparable to LeBron James during this postseason were the other guys playing with LeBron James this postseason. Not Dwyane Wade, already be-ringed and implacable. And not Chris Bosh, noble and effective despite his recent recovery from an abdominal strain. Not them. I mean Mario Chalmers and Shane Battier and Mike Miller and Norris Cole and Udonis Haslem. A weary, unsettled, ramshackle bunch, open to criticism always, mocked with vigor, LOLed at by the Internet, and ignored by their superstar peers. Dismissed for being too old and overpaid and salary cap-stifling and inexperienced and annoying in that peevish little-brother way. I wanna play, too, Chalmers's big doe eyes seemed to squeal at every possession. I can still defend with the honor of a Round Table knight, Battier's suffocating nerdcore D implied. I'm not dead yet, Miller's aching back cried into the hot, damp Miami night. LeBron James's back-monkey has been removed, but he detached it with the help of a bunch of guys no one has taken seriously all season long. As usual, Haslem was a galumphing menace and Cole had the best haircut of the series. But this was about "Motherf_____ing" Chalmers (devilishly, maddeningly effective in Game 4), Battier (a constant presence in the vicinity of Kevin Durant's ribcage and a Duke-hater-baiting 61 percent from 3-point range in the series), and Old Man Miller (an astounding 23 points on 7-for-8 shooting from 3 in Thursday night's deciding game, all while sporting the countenance of a bedraggled interview subject from Dogtown and Z-Boys). Plainly: They were marvelous. Were they Paxson, Horace, and Cartwright? Were they Kenny the Jet, Big Shot Rob, and Vernon Maxwell? Or bruising Ben Wallace? Or, hell, were they even J.J. Barea? No. But they were redeemed.
— Sean Fennessey
What Might Have Been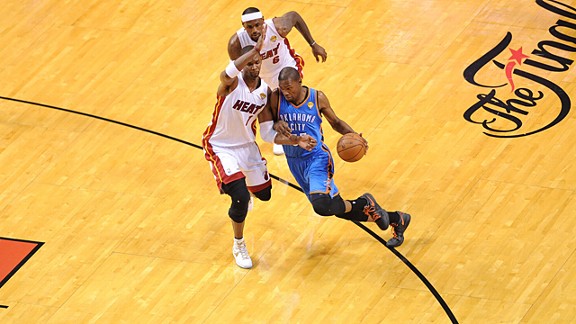 Oklahoma City went into the second half trailing by 10 — a surmountable lead, to be sure, but one that could quickly get away from a young team playing for survival on the road. Considering the stakes at hand and the personnel involved, if those cuddly Thunder rug rats were to do something, they had to do it right then and there. And so when Kevin Durant strolled out and oh-so-calmly hit a bomb of a 3-pointer, one that would go in the book as a 26-footer, you could see one possible iteration of the rest of this game unfolding. Sparked by that perfect eff-you hero-ball moment — itself surely sparked by Coach Brooks's most Coach Taylor-esque moment of the whole season; I'm picturing Scotty not uttering a word until 30 seconds are left in halftime, and then walking over to Durant, plopping a ball in his lap, and saying something like, "Son, you know what you need to do" — Oklahoma City finds its inner scrap-metal-recycling-yard employee and claws its way into a heart-stopping win. And then the Thunder would be rewarded with a home game, which would have probably meant a Game 7? And we all know anything can happen in a Game 7. It didn't go that way. A Mario Chalmers 3, a Shane Battier 3, and all manner of other not-backbreaking-as-much-as-back-crushing moments made sure of it. For a split second there, though, with that perfectly timed Durant bomb, you could see how it might have played out.
— Amos Barshad
Postgame Interview of the Night
The look at the end of this interview. We see you, Bostrich.
— Chris Ryan
Runner-up: Kevin Durant and Russell Westbrook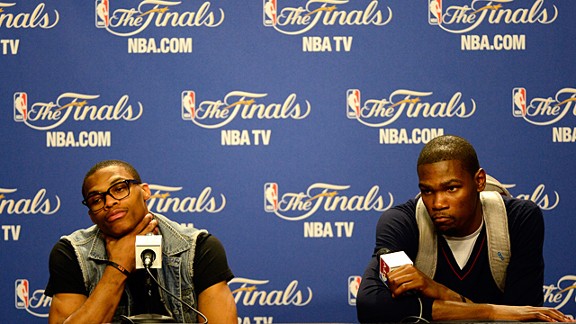 Summer vacation plans: Russell is starting a Replacements cover band and Kevin Durant is going to audit a course on Geographic Information Systems. (Even though he's always been curious about French lit, but who wants to weigh themselves down like that? Especially with intramural badminton starting in earnest.)
— Chris Ryan
Kendrick Perkins, This Is Your Life
Is This Love Real?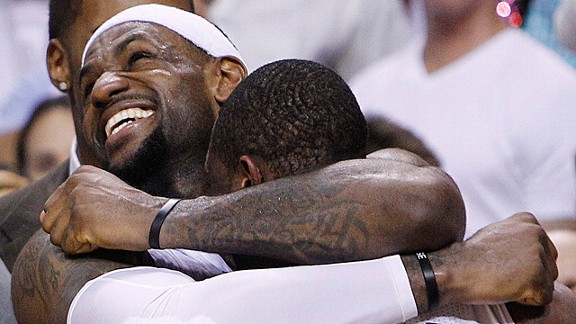 Here's the story about LeBron James that I believe: He was a fun-loving kid with Cleveland, back when he was just a prodigious bright spot in a grateful town. He goofed around with his teammates, and he tread lightly on the NBA. Nobody wins titles that way, but still it was a blast, a near revolution. When the youth of it all was fading, he made one right decision by leaving a town where he could never thrive, and one wrong decision to announce it on television in a way that hurt his fans. He was still a good person, but he was entering the real world of expectations, and it reflected negatively on him that he couldn't see the pain he was about to cause. He was punished severely in the court of public opinion, and hatred followed him to Miami. As he admitted Thursday night, he returned that hatred in kind, and karma caught up with him against Dallas. He couldn't find a way to reconcile the love he had for the game with the high stakes and tension of the real NBA. He paid. And then this year, starting with Indiana, he discovered the path. The steps were clear — the Heat beat the Pacers, he became a legend in Game 6 against Boston, and he exorcised the remaining ghosts against Oklahoma City. He played the game on his terms, with love, and he won beautifully.
Maybe this is the story you believe, too, and it's definitely the story LeBron believes. I started coming around against Indiana, and I started loving the narrative after that stunning Game 6. But the question I can't quite answer, no matter how hard I try, is whether it's actually true. Is it just me, wanting to believe that all winners are deserving? I remember rooting so adamantly against LeBron last year, feeling in my bones that it would be wrong for him to triumph without struggle.
I wonder if I'm projecting qualities onto LeBron that aren't really there. Maybe he hasn't changed, and all this narrative wish fulfillment is just my need to reconcile the title with the fact that he made a hurtful move two years ago. Something must have happened in the interval if the man behind that insensitivity was now holding the Larry O'Brien Trophy, right? Otherwise, where's the justice?
It's not a debate that can be won or lost. I leave open the possibility that I'm mistaken — that I wrongly associate winning with more intrinsic qualities — yet I reserve my right to believe. I think I saw it in LeBron, that coming of age that someone like me is bound to crave. But all we know for sure is that sports exceeds the rest of life in one critical way: The outcomes are indisputable. You cannot bullshit your way to the top. Only LeBron James knows what's inside his head, but there's nobody on earth who can fake a championship.
— Shane Ryan
Jose 3030's GIF of the Night
Jose3030, the GIF whisperer, says this is LeBron James opening champagne bottles or telling the Miami crowd to get revved up. It's either that, or he's showing us a sneak preview of how he was about to choke the life out of the Oklahoma City Thunder. Either way, it's pretty cool.
— Chris Ryan
Jose3030's GIF of the Night (Runner-up)
It took LeBron nine seasons to get a championship. Mario Chalmers can wait a few more minutes.
— Chris Ryan
Although Maybe This Says It All …
He's dancing to Kanye West's "Power." Because of course he is.
— Chris Ryan
See You Next Season
With a towel draped over his head, Kevin Durant was the first one from the Thunder bench as the game ended Thursday night. As he walked toward half court, LeBron James barreled into him with open arms. Durant moved slowly backward throughout their embrace, more than once patting James on the back as if he was trying to pull away. James held on, likely letting Durant in on the importance of moments like these. Durant pulled his head back, met James's eyes, and nodded.
Durant finished these Finals much like he started them. He ended Game 5 with 32 points on 13-of-24 shooting. Even with the game out of reach, his effort never wavered. For the series, he averaged more than 30 a game while shooting over 55 percent from the field. At times, like he does, Durant made it look easier than anyone can. He spent these playoffs proving that aside from James, he is the best basketball player alive, and now, like James, he knows just what the most bitter of losses tastes like.
James told Doris Burke that that feeling made this year different. Coming so close and falling short was enough to make him want to be better than he already was. What we saw was everything we'd wanted from LeBron for so long — the post game, the unselfishness, the willingness to meet the biggest moments. As much as the Finals are a way to understand what a player is, they're a way to understand what he is not, and Durant's greatness was just as much a way to see where his own flaws lie. Often, he was easily forced to catch the ball where he didn't want it. Defensively, he lacked consistency. His rebounding numbers were awful.
During the fourth quarter, Mike Breen mentioned something Durant has said about his early days with the Thunder franchise. "We weren't losing," Breen said, quoting Durant, "we were learning how to win." Looking to the future, Oklahoma City's concerns are not about Kevin Durant. There's only so much money, and as Serge Ibaka and James Harden look for their own paydays, decisions will have to be made. Still, as Durant walked back to the locker room Thursday night and hugged his mom, it felt like for the future of the franchise, this was a pivotal moment. James said after the game that it was embracing the pain of last year's Finals that brought him to where he was Thursday night, that he didn't ignore how it felt to fail. When Durant pulled away from his mom, tears in his eyes, it was clear that he wasn't, either.
— Robert Mays
Did you miss any of Grantland's previous Shootaround coverage? Don't worry! You can find it all here.
Filed Under: Chris Ryan, Dwyane Wade, Kevin Durant, LeBron James, Miami Heat, NBA, NBA Playoffs, Oklahoma City Thunder, Robert Mays, Russell Westbrook, Shane Ryan