NBA Finals Shootaround: Miami Bass
Nathaniel S. Butler/Getty Images
So much amazing is happening, and the Shootaround crew is here to help you keep track of it all. You'll find takes on moments you might've missed from the previous night, along with ones you will remember forever.
Wrath of the Titan
Andrew Sharp: Thoughts during the first three quarters last night:
• LeBron's gotta come out killing everyone. This is going to be awesome.
• Wait, why isn't LeBron killing everyone?
• Wow, maybe the Spurs defense is just that good.
• Put him in the post, put him in the post.
• Is Danny Green really outplaying LeBron right now?
• [LeBron barely hits rim on fast-break layup.]
• What the hell is happening? Is this 2011?
• He's got a wrap on his knee now. Is he hurt?
• He looks sluggish. Is he tired?
• Is he just psyched out by the Spurs? Were the COLUMNISTS right?
• Oh god. Everyone's going to spend the next 48 hours arguing about what's wrong with LeBron, half the sports world calling him a coward who can't measure up to the Spurs, the other half defending him and wondering why everyone's making such a big deal about the best player in the world suddenly crashing back to earth. Both sides will be equally insufferable and this is so awful. I want to move to Antarctica.
Then the fourth quarter started, and LeBron happened. It started with a jumper falling, then he found Mike Miller for 3 with an outrageous pass, got himself a layup, hit Birdman with another outrageous no-look, nearly destroyed the earth with that Splitter block, and turned the two possessions after that into a Ray Allen 3 and a middle-finger fast-break dunk for himself. All part of a 33-5 run, and then the game was over. LeBron happened.
It's probably unfair to watch basketball like this, obsessing over one player on both sides of the court. But when he explodes like that, you see why we do it.

Afterward, Magic Johnson said it was one of the most impressive games he's ever seen from LeBron. I don't know about all that. It may have been the best game we've ever seen from Based God Chalmers, but LeBron was pretty mediocre for three quarters. The impressive part, then: In the past that mediocrity might have swallowed him entirely and psyched him out of the game or even the series. Not anymore. He can bounce back now, feed off his teammates, and then get going. And after two games and seven quarters where the Spurs defense drove him nuts, it seemed like LeBron figured things out at the end.
So maybe he was tired, maybe he tweaked his knee somehow, maybe the Spurs' D had psyched him out, or maybe it was a little bit of all three. Whatever it was, in that last quarter he unleashed fury — on the Spurs and anyone who was doubting him. I don't know if it's a turning point in the series and how he plays from here, but it felt like a reminder: This isn't 2011, and if teams want to beat the Heat, they'll eventually have to beat the real, unstoppable, fire-breathing LeBron James. Are we sure that's even possible?
Block Party Soundtrack
Jay Caspian Kang: Six songs to accompany LeBron's block for the 500 times we will see it again in NBA Finals promo packages:
Slayer, "Raining Blood"
Etta James, "Stop the Wedding"
Tha Alkaholiks, "Aww Shit!"
Canibus, "100 Bars"
Cam'ron, "Killa Cam"
And …
Confidence Man
netw3rk: Last night, while you were DVRing Game of Thrones, Tiago Splitter was straight feeling himself. We're talking the type of world-beater confidence usually reserved for religious cult members and people on PCP. Splitter slipped a screen, caught a Tony Parker pocket pass just inside the free throw line, pivoted toward the rim, powered up to dunk over LeBron James, and then we got the world's shortest rendition of "I Believe I Can Fly."
Quoth the King after the game: "Basically, I told myself, 'You're going to end up on SportsCenter one way or another.'" Well, let's not get crazy, LeBron, it was always going to be the one way. It's not that Splitter is a scrub — he's a skilled big in the Spurs big-man platoon machine — he's just not known as some sort of explosive leaper. Like, at all, by anyone other than the portion of Splitter's brain that handles impulse control.
In other words, if I told you to close your eyes and imagine what would happen if Tiago Splitter tried to dunk on LeBron James, that's what happened. LeBron met Splitter at what for Splitter was the mountaintop, but for LeBron was something like the second shelf from the top in his cereal cupboard, and sent that thing away with the businesslike disdain of a Foxconn employee taking a scratched iPhone screen off the assembly line and tossing it into a trash bin.
The block led to a Ray Allen corner 3 off a LeBron look-away dart, and a LeBron dunk off a Spurs turnover — the finishing death strokes of a 33-5 Heat coup de grâce that resulted in Tracy McGrady making his first NBA Finals appearance in the role of human defeat cigar.
And still the question remains: Tiago, dude, what were you thinking? "I tried to do a good play. I went to dunk the ball and he did even better. He blocked the shot," Splitter said. Yes, Tiago. Yes he did.
"And Then He Was like … And I Was like …"
"It's a Trap!"
Zach Lowe: Danny Green, up there on the left wing, has just run a pick-and-roll with Tiago Splitter; you can see Splitter's man, Chris Andersen, has trapped Green, and is now sprinting back toward the paint after Green managed to slip a pass between four Miami arms to Splitter on the roll.
(An aside: This was one of the stories of the first 34 minutes of the game, a time before The Block, a time when the Spurs looked poised to steal another road game. Gregg Popovich in this game perhaps more than any other high-stakes contest entrusted Green and Kawhi Leonard to make plays. Both of them ran pick-and-rolls, sometimes just run-of-the-mill ones, and sometimes out of flex actions. And they did good stuff out of those plays! Green hit a 3-pointer over a switch on one, and on another he juked poor Dwyane Wade out of his Li-Ning shoes so badly Wade almost fell, as Green drew the defense and tossed a cross-court pass that eventually led to a Leonard triple. Both drove hard at Tim Duncan on the block when the Heat fronted Timmy, penetration that warped Miami's defense until it broke. Leonard's defense was sensational, his work on the boards even better, including two putbacks on which he simply outhustled and outsmarted Wade and James. These two were THE STORY of the game. And then stuff happened.)
Splitter is 6-foot-11 and spry. Mike Miller is 6-foot-8 and as fragile as a Fabergé egg. Mario Chalmers is 6-foot-1 and gets yelled at a lot. (Not tonight, baby! Tonight Rio gets some peace and quiet!) There is just no way this freeze-frame should turn into a Miami score five seconds later. Chalmers and Miller have each left their assignments (Tony Parker in the corner, Gary Neal on the right wing) to swarm Splitter, two-man aggression that borders on suicidal. Most teams would normally want one of those guys to bump Splitter while the other hovers between the two shooters on the sideline. Even Miami plays this "normally" sometimes, and Splitter has been able to catch and score in this exact situation when only one smaller man rotates onto him. But when the Heat are rolling, they just do crazy shit until you make them pay:
You Can't Swat the President
Sharp: Complain about shameless corporate tie-ins all you want, but if it involves heavily armed paramilitary invaders, Channing Tatum, President Jamie Foxx, and an exploding Capitol building, then we should all get onboard.
From the Lawrence Frank and Vinny Del Negro School of Benchside Manner
Chris Ryan: There is no rule against trying to distract a shooter from the sideline, and everything is fair in love, war, and the NBA Finals. But come on, David Fizdale. You don't have to yell in Danny Green's face while he's letting off a corner 3. Somewhere, Vinny Del Negro just barked at a poster of Quentin Richardson in solidarity.
Is the Newly Old Wade Really the New Old Manu?
Brett Koremenos: There have been times this postseason when Dwyane Wade has looked like a liability for Miami.
Wade's primary calling card has always been his ability to create high-value shots at the rim, something he typically accomplished with a relentless scoring mind-set and top-notch athleticism. In Game 1 against San Antonio, Wade's limited physical state was combined with that score-first mind-set to produce a string of middling shots — mid-to-long-range contested 2s. Though it doesn't always stand out as egregious play, those types of performances from Wade subtly hinder Miami's potent offense, even if the box score shows otherwise. By taking a number of suboptimal shots for himself, Wade is taking away opportunities for LeBron James, a teammate, or even just simple ball movement to create a much more desirable attempt at the rim or outside the arc.
The good news for Wade, however, is that inspiration to improve in this area is quite literally staring him in the face. Even though he's four years older, Manu Ginobili is at a similar stage in his illustrious career. The crafty Argentine can no longer score like he used to, but Ginobili has figured out that he can still create great shots for teammates with his flamboyant, yet effective, passing. If last night's game was any indication, Wade is perhaps starting to take note. By using aggressive drives to set up great shots for teammates — like the drop-off pass to Chris Bosh for a dunk or the kick out to Mario Chalmers for a 3-pointer — Wade can still keep Miami humming at an elite level when his body won't let Wade do Wade things.
Merry, Aragorn, Pippin
Brian Phillips: I don't know if a Pau Gasol photo has any place in a Finals Shootaround, but this clearly deserves to live forever.
My Goons Got Goons
Remember the Alamo … or Don't
Robert Mays: Of all the Popisms that have been handed down, I think my favorite came three years ago, when the Spurs went down 0-2 to Phoenix in the second round of the playoffs. It was a situation San Antonio had seen before — two years earlier against New Orleans. One reporter was astute enough to point this out and asked Popovich whether he'd remind his team that this was a hole from which they'd escaped at least once.
"These guys are grown men," Popovich said. "They don't need me to say 'Remember the Hornets, fellas. We got to really pull it together for Game 3.' Maybe I'll talk about the Gipper if I'm going to talk about the Hornets. They're grown — they know what they have to do. They know they're down 2-0 and they'll come back and try their best in Game 3 and they'll win or they'll lose."
Well, these Spurs are no less grown, and if there's one team least prone to holding on to a drubbing like last night's, it's probably the one led by the guy who talks like that. The Spurs know what they have to do; they'll come back and try their best in Game 3, and they'll win or they'll lose.
Text Messages to Pop From a Spurs Fan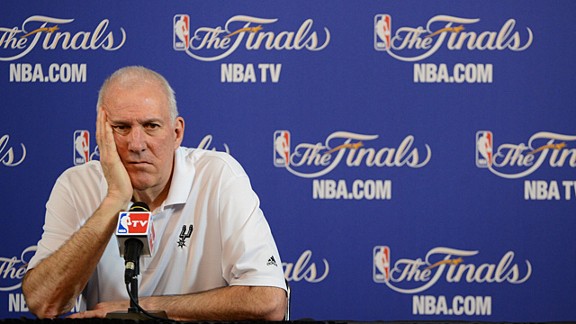 Shea Serrano: I sent text messages to Gregg Popovich last night during the game.
---
Me: Yo, homie. Good luck tonight.
Pop: thx
Me: How do you think the game's gonna go?
Pop: They're gonna try and put the ball in the basket and we'll try and stop them. We'll try and put the ball in the basket and they'll try and stop us. Whichever team gets the ball in the basket more times is going to win.
Me: … dick.
---
Me: Hey, sister.
Pop: sup?
Me: Good first quarter.
Pop: dude, i know. i'm at the game.
Me: i think your screeners might be floating out just maybe a step too far on the high pick and roll.
Pop: ???
Me: the high pick and roll. with tony. when he has it at the top of the key and the screener comes up.
Pop: oh. okay. great. thank you. hey, can you do me a favor?
Me: yeah, of course. anything. what's up?
Pop: do you have, like, a hammer or a mallet or something comparable nearby?
Me: Um, i think so. hold tight. I'll grab one …
Pop: k
Me: got it. what's up?
Pop: Okay, cool. which one did you find?
Me: hammer
Pop: perfect. now take it …
Me: uh-huh
Pop: and smash yourself in the face with it
Pop: I KNOW WHAT A HIGH PICK AND ROLL IS
---
Me: What's wrong with Timmy tonight?
Pop: don't call him timmy
Me: jesus. Okay, what's wrong with Tim tonight?
Pop: knock, knock
Me: huh?
Pop: knock, knock
Me: who's there?
Pop: i hope you die in a plane crash.
Me: I'm not a robot, man. I have feelings.
Pop: <3
---
Me: hey, make sure tiago gets some counseling.
[No response.]
---
Me: dude, you gotta knock Mario Chalmers down or something. This shit is ridiculous.
Pop: I'm sorry, what was that? I couldn't hear you. All of my championship rings were talking to me at once.
Me: Remember when you gave Rasho Nesterovic $42M?
Pop: point taken
---
Me: hey, yo. Have you seen Human Centipede 2?
Pop: no.
Me: oh. Well but have you seen this third quarter? Because it's basically the same.
Pop: >:(
---
Me: you're just gonna sit all your best players with seven minutes left then, huh? Dope.
[No response.]
---
Me: Avery Johnson would have never stood for this shit.
[No response.]
Now You See Me
Lowe: The bogus no-look pass is a scourge on the league, a black mark against all that is holy and Magical about basketball. You know this type of pass — the one where a player, chasing a highlight, looks directly at his target, throws his pass, and looks away after he releases the ball. The point of a no-look pass is to fool the defense; looking away a beat or two after throwing the pass fools only the gullible.
But this series features two of the league's most creative passers, Manu Ginobili and LeBron James, scrambling to find gaps against two very smart (and very different) defenses that don't yield many. A real no-look pass can create a gap, or make that gap bigger, and this Finals will bring at least a temporary renaissance of the legit no-look.
Bless you, Manu, for this dish midway through the first quarter:
Ginobili here acts as a perimeter release valve for Tony Parker. A pick-and-roll ideally leads to a pass or drive deep into the paint, but the Heat's frantic traps are so dangerous that the Spurs have to present Parker options like this in order to keep the play moving. The system only works if Ginobili can do that effectively, and if you watch this Manu-to-Duncan diagonal pass carefully, you'll see Ginobili throws it while looking at a spot someplace between Norris Cole in the left corner and Boris Diaw on the left block. The mark here is Dwyane Wade, and he takes the bait by drifting back toward Cole — a small misstep that leaves Diaw free for the dish from Duncan, the last pass in this delightful tic-tac-toe sequence. Classic Spurs, and you can watch another functional Manu no-looker here.
LeBron has been a serial offender in the Bogus No-Look Game — not the worst one, but a foot soldier in this damaging counterculture. But this pass, the laser that capped one of the greatest all-around sequences of his career, is the real deal:
You can see the lineage of the Fake No-Look in how LeBron first spots Ray Allen in the right corner and then turns his gaze toward Chris Bosh on the left side. But even that is enough to sucker Danny Green, guarding Allen, into one false lurch toward the paint:
The Heat gained a lot of traction in Game 2 by using James as the screener in pick-and-rolls, mostly with Super Nintendo Chalmers. They've done that a lot for two seasons now, but rarely as often as they did Sunday night. That's a tribute to how difficult Kawhi Leonard and the rest of the Spurs behind him have made it for LeBron to drive deep into the paint with space to work. Having LeBron screen is a way of allowing him to penetrate via the pass instead of the dribble.
In any case, welcome to the 2013 Finals, where the no-look pass rises again.
Filed Under: Andrew Sharp, Brett Koremenos, Chris Ryan, Dwyane Wade, LeBron James, Manu Ginobili, Miami Heat, NBA, NBA Finals, NBA Playoffs, Robert Mays, San Antonio Spurs, Tony Parker, Zach Lowe