NBA Finals Shootaround: Just Like Heaven
Jesse D. Garrabant/NBAE via Getty Images
So much amazing is happening, and the Shootaround crew is here to help you keep track of it all. You'll find takes on moments you might've missed from the previous night, along with ones you will remember forever.
10 Thoughts Written Less Than a Minute Afterward
Brian Phillips:
1. I don't know. I don't. I do. Not. Know.
2. That was. What do you even. How would you.
3. I want to see Kawhi Leonard's Blood Meridian of a dunk on Mike Miller depicted in the most fevered Cormac McCarthy prose you could possibly imagine. "And then rising from the hard planks like a pheasant startled by shot the cornrowed elongated youth swung down his arm and it was as if fire fell with his swing and truth fell with it and something fell too that was neither fire nor truth but that could perhaps have been called beauty and that was more terrible than fire or truth by far."

(All basketball GIFs by @HeyBelinda)
4. I want to see Mike Miller's shoe given its own display case in the Hall of Fame.
5. I want John Donne to motherfucking come back from the grave and rewrite "Death Be Not Proud" about Tim Duncan, who is older than sand and who played most of that game like he just cold forgot it. Fate, chance, kings, and desperate men, and that's only the first half.
6. Tony Parker's penultimate minute of the fourth quarter. There are no verbs. He killed all the verbs. You've just got: Tony Parker. Ball. Trajectory. Ninety-nine nervous breakdowns. Net.
7. I want to see Ray Allen's 3 at the end of regulation given its own display case in the Hall of Fame. And I want the placard text to be about Danny Green. And I want the rest of the Hall of Fame closed forever.
8. There's going to be a Game 7 in the series. Just sit with that for a second.
9. How can you even. I mean. Where do you find the.
10. Basketball is a drug.

Nothing Like It
Jay Caspian Kang: I'm still curled up in a ball and quaking from the end of that game, so it might be a little bit early — at least emotionally — for me to definitively say that Game 6 of the 2013 NBA Finals was the best basketball game I've watched in my life, but it sure as hell felt like it from the moment LeBron threw off his headband and brought the Heat roaring back. I've been told that the best way to make these sorts of assessments — especially when one's mind has been blown and can no longer be trusted to make rational decisions — is to make a list.
So here are the things that made me think on at least 10 occasions last night that I was watching one of the best games of basketball ever played.
Fallible, great LeBron
In boxing, a fighter can book big-money fights by being "vulnerable." This means that when he gets hit, there's a decent chance that he's going down. Now, a fighter cannot be terrible and vulnerable, but it's true that a wildly aggressive fighter who doesn't quite have elite skills might get more looks from promoters if his weak chin ups the chances the fight will end in a knockout. There will be a lot made of what LeBron did at key moments in last night's game, but I would argue that all these mistakes are what make him the most compulsively watchable athlete alive. There are several acts of every LeBron James closeout game, and last night we got everything. We got the newly looming questions about his "clutchness." We got the baring of the head of the hero and the entire Internet (at least those of us fortunate enough to have watched Dragon Ball Z) exploding into one chant of "SUPER SAIYAN!" We got the shaky end, the 3, the missed 3, and one of the most dogged defensive efforts in NBA history.
I don't know how anyone can watch LeBron play and not feel intense emotional investment in his multiple rises and falls. A player's ability to address and overcome his fallibility is what turns great players into legends. After the Olympics, it was roundly assumed that LeBron had perfected his game and that we would never see what we saw for much of these Finals again. For those of us who care a bit too much about basketball, he came through by not coming through, and then coming through again.
Old guys bringing it
When we talk about the careers of Tim Duncan and Ray Allen, Game 6 will come up as one of the great performances for two Hall of Famers who are a combined 74 years old.
Future TV promo spots you were happy to see in person

One shoe, no headband, Allen from the corner, Chris Bosh's blocks at the end of the game, that lady who kept screaming at Dwyane Wade, Tony Parker's step-back …
Insane effort
I grew up watching ACC basketball, and one of the things we always said on Tobacco Road was that the college game was better because the players always left it out on the court. I've never once seen college kids run and hustle like the Spurs and Heat did for the entirety of last night's game. There was something manic and glorious in the air in Game 6.
OK, back to curling up and wishing there could be a Game 8 and 9 and 10.
How Was It For You?
"By far the best game I've ever been a part of." —LeBron

— Pablo S. Torre (@PabloTorre) June 19, 2013
Rooting for LeBron
Andrew Sharp: I'm sure there will be plenty of hot LeBron takes out there today, just like there are every other day, so we'll try to keep this brief. Last night was the game where I realized I'm openly rooting for LeBron James to be awesome. I've probably been in this mode for a while, but there was just nothing to crystallize it quite like Game 6.
It's still surreal, don't get me wrong. When LeBron fell apart in 2011 and the Heat crumbled on national TV, it was one of the most enjoyable sports disasters of my lifetime. The Game 2 collapse? Fucking incredible.
The whole rest of the series followed that pattern, and it was amazing.
But then when it started happening in these Finals, and specifically when it was happening in the first three quarters last night, there was no fun. Nothing was cathartic about watching LeBron wobble around awkwardly and slowly disappear against the Spurs. It sucked. And I was just bummed. Because there's so much stupid noise constantly surrounding LeBron, and by extension the NBA, and it's all redundant, and basketball is so much better when LeBron renders all the bullshit irrelevant.
At the same time … before Game 6, a lot of people said we shouldn't judge LeBron or his legacy on what happened last night. That was bullshit, too. He's one of the most stupidly talented players we've ever seen, and this was one of the biggest games of his career. Of course we should've judged LeBron on what happened last night, and that's why it was so depressing when it looked like he was cratering all over again.
Then the headband came off, LeBron turned into a superhero, and a double-digit deficit turned into a Heat win. He wasn't totally perfect even during that stretch, and the game was insane for roughly 10,000 other reasons, but the raw power of LeBron down the stretch was unforgettable. He's a monster. I have no idea what happens from here, but it was all a good reminder. In 2013, instead of slogging through more debates about LeBron failures, it's a lot more fun to gawk at the success.
That Game 6 comeback? Fucking incredible.
STEVE BOSH!
Stop Making Sense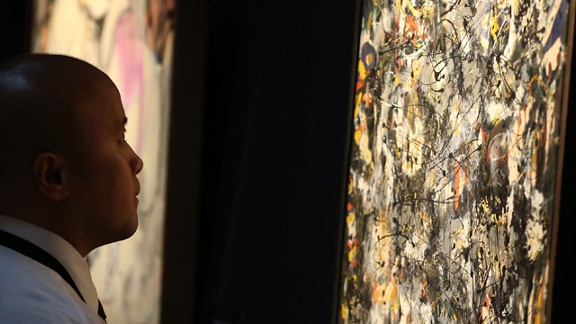 netw3rk: I'm just glad that I'm not the tactics and strategy guy at Grantland. Because whatever that game was about, it was not about plays. I mean, it contained plays — screens, motion, all that stuff — but it wasn't defined by them, it transcended them. It's the kind of game that hard-core NBA heads wait all regular season and playoffs for, and, even then, might not see it. That game shouldn't be analyzed, it should be celebrated.
In these write-ups, I always try to avoid the ages-old, sportswriter-y quien-mas-macho tropes about will and desire and passion. But how to describe LeBron diving into a thicket of black-and-silver-clad arms, not because it was necessarily the "right" play, but because that's where the basket is and he needed to get there right-freaking-now? Or Tim Duncan spending an entire half of an NBA Finals game jumping into a Looper-esque temporal shift with his 2003 self? Or Chris Bosh, very simply, shrugging off every joke GIF and tweeted eye roll and jumping as high and reaching as far as he could to block a Danny Green corner 3? It wasn't about any on-a-string rotation, nor choreographed switching scheme, just: Run at him hard, jump as high as you can, block the shot.
You hear the phrase "failure is not an option" get bandied about a lot in situations like these, when entire seasons hinge on minuscule individual events that are barely perceptible even in HD slow-motion replay. Games where our entire perception of a player's worth can shift if he jumps just a half-inch higher (or doesn't), is just a tenth of a second faster (or slower). "They won because [Player X] refused to lose," someone is bound to say. Thing is, that saying is utter and complete bullshit. The best games don't occur when players refuse to accept failure as an option. Failure is always a possible outcome. That's like flipping a coin and saying "heads is not an option." No, the best performances, the best games, happen when players refuse to care that failure is an option.
YES
Pat Riley should take his shirt off and read Shakespeare

— Metta World Peace (@MettaWorldPeace) June 19, 2013
YES!!!
F**k it!!!!! I'm never wearing my headband again either!!!!!!

— Ty Lawson (@TyLawson3) June 19, 2013
Brave, New, Headbandless World
Patricia Lee: It must seem like an overused joke by now — Mike Miller's shoe came off, LeBron James's headband came off, and the Spurs were undressing the Miami Heat. Well, except for the fact that Miller made a trick-shot 3 I'm sure they don't teach at skills camp, and LeBron's hairline became exposed during an explosive dunk.
859 A.W.M. (After Wardrobe Malfunction, of course) seemed to mark a new beginning, a world where headbandless LeBron dominated both ends of the court and Chris Bosh became the Bosh we all thought he'd never be again. We saw dancing before our eyes fun and silly Oz-like story lines. Follow the yellow brick road! (In the restricted zone … to the net.) You didn't have to leave Cleveland for Miami, Dorothbron James. Just take off your headband and repeat after me …
But did the Wiz's words work?
LeBron notched 10 points A.W.M. on 50 percent shooting and basically single-handedly brought his team back into the game. He also recorded three turnovers/bad passes at very untimely moments. He saw his numbers diminish even more in overtime, though it was in a five-minute span as opposed to the previous nine-minute span. He put up two points on 1-for-3 shooting, and had two assists, two defensive rebounds, and one turnover. These numbers sound much better in context, though, as he was one of three Miami players to score in OT, and his 2-pointer to lift the Heat to 101-100 was the game clincher. He may have gotten his crew attacked by winged monkeys, but in the end, the Tin Man got a heart, the Scarecrow got a brain, and the Lion got courage.
And we, sports fans everywhere, got a Game 7 in this A.W.M. world.
This Machine Kills Fascists
(h/t @CJZero)
We, the Heat
Rembert Browne: Let's just skip to the end of the fourth quarter.
There are 28 seconds left, and in the past minute, the Heat have gone from likely victors in a Game 6 elimination game to the hosts of a Spurs trophy ceremony. And it all happened so quickly.
There was the unconscious "I have no care or concern for LeBron James" Tony Parker step-back 3 to tie the game, the Mario Chalmers circus sideshow of Washington Generals turnovers, the zero-time league MVP Kawhi Leonard steal from the four-time league MVP, and two made free throws by Manu Ginobili.
And like that, in one minute, the Heat went from up three to down five.
Some of my neighbors in AmericanAirlines Arena were devastated. I'm talking real emotions. Shock, anger (at Chris Bosh), sadness, fury (at Chris Bosh), confusion, pure hatred (toward Chris Bosh). It was all there.
But, like all die-hard fans do, they weren't going anywhere. Because the game wasn't over.
As for everyone else:
As the kids say, "DEUCES."
You'd think they were conducting a fire drill by the way droves were unenthusiastically filing out. It was a sight to see, a sight I knew disgusted true sports fans like few other things. But, oddly enough, I wasn't that mad.
Granted, I carry zero allegiances to this team, and as a member of the less-flashy, equally blasé fan base of the Atlanta Hawks, it was a slight relief to know this level of disrespect existed elsewhere. But even for me, it was startling to #witness all the horrible things said about Heat fans actually coming true.
In their minds, there were more important things to do. Like beat the traffic. Or make it home for Kimmel. Or not be Heat fans anymore.
Of the six other people originally in my row, only two remained.
In the early stages of the game, I could tell these two knew I wasn't a true fan, because I refused to wear my complimentary Heat white tee, was doing a lot of Instagramming, and kept shouting "KAWHI" every time Leonard did something that championed hard work, dedication, and the human spirit.
In the third quarter, however, I threw the shirt on, because why not? The Heat were down, so why not get involved, over-cheer, dance to Pitbull, and do my part to help get them back in this game?
Going back to the 28-second mark, Heat down by five, and the arena looking like a half-completed game of Minesweeper, LeBron James hits a 3 to bring it within two. Those of us remaining screamed in shock, hugged, and nervously entertained the idea that the Heat could pull it out.
But we hadn't given up hope. We.
And just like that, in all the bad that had been exhibited, I had an amazing reason to love Heat fans. Even with the knowledge that I wasn't a fan, they let me pretend and were thrilled to welcome me into their broken family.
We made fun of those who left, mocking that reached its peak when those people, in their bedazzled tunic glory, all decided to return. We showed each other tweets of people upset they weren't being let in, and did we ever laugh. We all temporarily blacked out as Ray Allen saved the game and the season and LeBron's narrative with a Bosh-assisted 3. And, most importantly, as the fourth quarter became overtime, which became a Heat win, we finally began successfully completing high fives.
Suddenly, there was more to attending a Heat game than simply getting to miss out on Jesse Williams's Samsung ads. There was joy and acceptance to be had, and to the worst of the Heat fans, which most of you are, I thank you for this opportunity.
Never to Be Seen Again
Robert Mays: I guess it doesn't matter now, because Kawhi Leonard missed a free throw and Ray Allen hit a 3, but Tim Duncan had 30 points last night. Twenty-five of them came in the first half. Maybe it should matter that none of them came in the game's final 16 minutes, that as LeBron James dragged the Heat back into it, the Duncan from the first half was gone. It doesn't to me.
Tomorrow night, all the legacies that were at stake last night will be in play again, and all the conversations about who stands to gain what will be the same as they were today. Normally, those conversations are some of my favorite ones, but with Duncan, mine is over. A 37-year-old Tim Duncan carried his team to a 50-point half and a six-point halftime lead on the road with the other team facing elimination. He abused any and every defender the Heat threw at him for those first two quarters, and Chris Bosh should be thrilled he managed that rebound and those blocks, because with Bosh on his back, Duncan did everything he wanted.
Tim Duncan: 9-for-9 against Chris Bosh in the 1st half. He's shooting 63% against Bosh in the series, 42% against other defenders.

— ESPN Stats & Info (@ESPNStatsInfo) June 19, 2013
I would say there's a chance we'll never see another Tim Duncan performance like that, but that's not true. It's a certainty. Even if the next 48 minutes aren't Tim Duncan's last 48 minutes, there will never be another chance for Duncan to play like that on a stage like this. He was everything he used to be on the offensive end of the floor, and I'll remember what he did in that first half as much as anything else that happened in the second. I sincerely hope we'll get something similar tomorrow night, but I know we won't, and that's what made it all the better.
CourtVision: The Unlikely, the Likely, and the Inevitable
Kirk Goldsberry: Last night's game was an NBA masterpiece. The last few minutes alone featured so many holy-moly moments that it's hard to remember them all, but I think I'll remember this game in part for three magnificent shots made by three Hall of Fame players.
First, there was the Tony Parker shot. Down by three with about 90 seconds remaining, Parker made a huge game-tying 3-pointer. It was an incredible shot by any measure, but it was especially crazy because Tony Parker never shoots there. In fact he shot only three times from the top of the arc during the entire regular season, and he attempted only 18 3-pointers anywhere "above the break" all year. Regardless, Parker rose up, nailed that shot, and changed the entire climate in the arena.
The next big shot came from LeBron James. Down by five with 23 seconds remaining, James missed a 3 that was rebounded by Mike Miller, who quickly returned the ball to James in the same spot. Unfazed, LeBron rose up again and knocked down his biggest shot of the season. LeBron worked so hard on his 3-point shooting during the offseason, and that work paid huge dividends last night.
And last but not least, we have Ray Allen's latest masterwork. The man with the golden jumper has shown us time and again just how smooth and deadly he can be. Although historically Ray loves the left corner more than the right one, as soon as he caught the ball and elevated, there was no doubt about the destination of that shot.
With five seconds left, down by three points, in an elimination game of the NBA Finals, the best shooter in NBA history made arguably the biggest shot of his career. We were all lucky to watch that game last night.
Behind Kawhi's Eyes
Danny Chau: I thought I had caught a frown, or a tell in his eyes that expressed panic, frustration, anything. I rewound the tape a few times — nope. Kawhi Leonard had just made consecutive blunders — failing to secure the defensive rebound after LeBron's first hurried 3-point attempt with 23 seconds remaining, and then missing the first of two free throws that would've given the Spurs a four-point lead and most likely the championship — but there was still no outburst. There was only his typical blank, drooping stare, which didn't convey disappointment (though I'm sure he felt it) as much as it did fatigue. No Spur has logged more minutes over the course of these playoffs than Leonard, and only LeBron played more minutes last night. He was one free throw away from being the hero. Instead, the Spurs are up against history, hoping to win on the road in a Game 7, which hasn't been done in 35 years.
The guilt would've destroyed most players. Hell, after numerous turnovers and bad judgment calls, Manu Ginobili was visibly shaken by his performance, and in a moment of true candor, said, "I have no clue how we're going to be reenergized. I'm devastated." But that's just not what you get from Leonard. In a postgame media scrum, reporters tried to wring any kind of personal lamentation over the last few plays of regulation. Instead, they got a detached "We just needed two more rebounds."
Leonard is painted as the spiritual successor to Tim Duncan, but even Duncan's reserved nature stretches only so far. Kawhi's stoicism is seemingly a permanent state of being, like he's already achieved nirvana. Though, Leonard being an Enlightened One explains a whole lot about how he's been able to succeed with the learning curve he's had. Think about it: How many players can say they've started in 34 playoff games and played in the Finals before turning 22? How many players can say they cut their teeth defending the two best players in the league in the Western Conference finals and NBA Finals in consecutive years? That's what can be accomplished when absolutely nothing fazes you.
Game 6 was one of the best I've ever seen. There were more than a few moments when I felt queasy just trying to process it all. That almost sick level of engagement was validated when guys like Ginobili and James came out to their press interviews, looking respectively distraught and decompressed, with demeanors adequately reflecting what we'd just witnessed. And then there's Leonard, seemingly immune to it all, even as San Antonio's lead crumbled before him.
Life through Kawhi Leonard's eyes is something I'd pay to experience.
Popovich and the Imperfect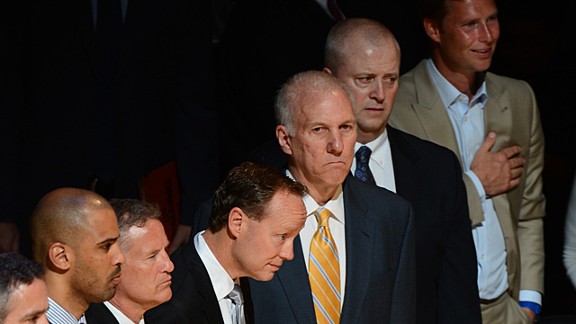 Brett Koremenos: When people ask me what I do for a living, I usually respond, "I'm a coach," because, well, I am. I've coached and trained players mostly at the high school level, so even though I'm closing in on 30, I still allow for some daydreams about a life where maybe I'm coaching one of the teams everyone is watching on TV in the middle of June. Last night, however, was one of those days when you couldn't pay me enough to be a coach.
During Game 6, Gregg Popovich, an icon for young(ish) coaches like myself, dealt with the cruel demands of the profession. Pop is operating on a stage where when things go wrong, they get picked at and pulled apart for years, maybe even decades. I could write thousands of words on his decisions at the end of Game 6 — not fouling when up three, pulling Tim Duncan, leaving Tony Parker out of the game — and it'd just be a bunch of technical jargon and coachspeak that lead to the same conclusion: There was no clear-cut right answer one way or the other for any of those choices.
For every one of Pop's perceived blunders there's a smart, rational, and perhaps even statistically correct reason behind it (seriously, there is, even if you don't see it). There are reasons Pop and the other smart NBA head coaches make the choices they do. And though the results of such plays are often examined in a black-and-white world, the reality is they were made in the gray area that's hard for a lot of us to understand. That's the world a coach at that level lives in. You make impossible strategic choices, in the middle of intense, emotional affairs, with no definitive data directing you down a path marked for success while a ravenous group of talking heads and dudes on Twitter (like me!) are poised to pounce on your misfortune.
If Pop's Duncan-less, switching lineup had produced a steal or simply prevented a shot, there would be roughly 14,000 columns praising him for making the "right" call down the stretch. That's just the fickle nature of coaching (along with many other professions in life, I'm sure). Sometimes you think you've put your team in the best possible position to win, only to watch helplessly as it all falls apart.
Text Messages From Pop to a Spurs Fan

Shea Serrano: I sent text messages to Gregg Popovich last night during the game.
---
Me: yo.
Pop: yo.
Me: how are you all looking? Ready for tonight?
Pop: how are you all looking? Ready for tonight?
Me: uh
Pop: uh
Me: dude come on
Pop: dude come on
Me: jesus christ, man. Aren't you, like, 200 years old?
[No response.]
---
Me: alright first half. Danny and kawhi look weird.
Pop: it's his braids. i keep telling kawhi it's not 2001 anymore. He doesn't care. He says he's a really big fan of allen Iverson and also early ludacris
Me: … that's not what I meant
Pop: what's "early ludacris"
Me: he's this rapper from Atlanta
Pop: hahaha. I know. my wife and I danced our first dance to "what's your fantasy"
Me: wtf is happening right now?
---
Me: GREAT third quarter. almost there. i spent the whole thing with my socks on my hands because I thought it was helping. I also changed all of my passwords. i think it's working
Pop: Probably not. Probably something to do with Tim.
Me: every little bit helps, pop
Pop: not hand socks, jackass
Me: you do what you do and I'll do what I do
Pop: okay. I'll be an nba coach and you be a jackass sitting on your living room floor with socks on your hands. I hope you have a heart attack and die right there with your socks on your hands and then the paramedics find you and nobody knows what to make of your sock hand death oh shit I have to go it's time for the fourth
---
Me: so manu?
Pop: he's fine
Me: he has 7,000 turnovers this game
[No response.]
---
Me: WEREN'T WE JUST UP BY 10? WHAT JUST HAPPENED? DID LEBRON GO NUTS? IT'S HARD TO SEE ON ACCOUNT OF ALL OF THE TEARS.
[No response.]
---
Me: oh god lebron just hit a three did he really just hit a three???
[No response.]
---
Pop: PUT YOUR SOCKS BACK ON YOUR HANDS RIGHT NOW PUT YOUR SOCKS BACK ON YOUR HANDS RIGHT NOW PUT YOUR SOCKS BACK ON YOUR HANDS RIGHT NOW PUT YOUR SOCKS BACK ON YOUR HANDS RIGHT NOW
Me: opmn iuty
Pop: ???
Me: meant "on it." sry. hard to text with socks on my hands. Putting back on again now.
---
Me: NO NOT RAY WTF NO NO NO
[No response.]
Me: remember the part in that movie 2012 when everything starts to turn to shit?
Pop: no
Me: well there's a part in that movie 2012 when everything starts to turn to shit
Pop: jesus christ
Me: that's this
---
Me: did we really just lose that game?
Pop: yes
Me: okay. Nice knowing you. I'm going to go see if I can pay a biker to beat me to death with a tire iron
Pop: peace
The Other Side
Amos Barshad: Being a Boston fan means having spent at least some of the season casually rooting for Judas Ray Allen to fail. But last night, when he squared up for the corner 3, I found that there is still some minor goodness left somewhere in my cold, dark heart: I wanted him to sink it. Partially, that was because the prospect of a Game 7 seemed too damn fine to pass up; more so, it was that it was too damn pretty to deny. I'd seen him do it a bunch of times, that quick-release season-saving. (They reviewed to see if he had his feet on the line but I mean come on: Of course Ray Allen knew exactly where to drag his feet). And it was actually kind of sentimentally heartwarming to see it again.
After the game, LeBron voiced the opinion from the opposite angle. "I've been on the other end of seeing him get them feet down, putting them stupid two fingers after he makes the shot," he said. "Not so stupid anymore now that he's my teammate." And, just by the way he came down hard on stupid, you could tell that, after years of perfectly cashed 3s, he really did have some hatred for Ray still percolating in his veins. Important question, though: isn't Ray putting down three fingers? Like, to indicate a 3-pointer? Wait a minute: Does this mean we're eventually going to find out LeBron James is this good at basketball despite having a rare eye condition where he can't properly see fingers?
Tim Duncan, Shopping at the Outlet Mall
Chris Ryan: It seems stupid, after everything that happened during Game 6, that I am thinking about Tim Duncan outlet passes, but I am thinking about Tim Duncan outlet passes. Tim Duncan outlet passes are magisterial.
I Am Not My Headband
Wesley Morris: LeBron James is losing his hair. Pretending that the opposite is true, that he's Norris Cole or Mike Miller, does no one any favors. But the gradual loss of his hair compounded the surprise of James losing his headband in the fourth quarter last night. He leapt up for a dunk and came down without it. It was like seeing Charlie Chaplin's mustache fall into a bowl of soup or finding out that Andre Agassi was wearing a wig the whole time. It was like seeing someone snatch out somebody's weave. That's all on the one hand. On the other, it was Clark Kent being mad that somebody ripped off his glasses. It was some girl named Breana taking out her earrings before participating in one of those fights that starts in a schoolyard and ends on a subway platform.
The headband was never a toupee. It was never a hat. Nor was it ever an affectation. He wasn't Tony Manero, John Rambo, or Olivia Newton-John. He didn't wear it in quotation marks. He wore it because it did what headbands do. It absorbed his sweat. We reacted as though we'd never seen him without it, even though we're always seeing him without it. He shot an entire smartphone commercial seated in a barbershop. It's simply that James had played basketball in it for so long that it became a silent staple. It was a necktie at a board meeting.
When the headband came off, you were thrown. To us, he seemed exposed, caught, naked, revealed, embarrassed, humiliated. He seemed pantsed. Surely, someone would bring him a replacement. But what was he hiding? What did he have to be embarrassed about? It was a headband, not a fig leaf. James played on without it, and, to the awe of the whole wide world, playing with his hairline visible and his forehead exposed seemed to empower him, to make him scarier, stronger, bolder, and more determined.
Something else happened last night that might be more astounding. James made an elegant split-second style decision. Before you walk out the door, advised Coco Chanel, look in the mirror and take one thing off. James didn't take off the one thing. Basketball did. But James went with it, we got a glimpse of a possible future, and it is handsome. James played in what must have been an hours-old haircut. It was so fresh you could still smell the tonic and feel the sting of its being dabbed across your head. His hairline had been expertly shaped up. We were looking at a different, more mature-looking person.
There's a way in which the headband, while a purposeful, productive accessory, risks trivializing the man wearing it. It can be cool. It can be fun. James could have spent the rest of his career playing in it and no one would have questioned his seriousness or professionalism as a result — no more than they'd been. But without it, a great athlete had been transformed and perhaps with him a corner of the sport and the apparel industry. This wasn't Jason Collins telling the world he's gay. But it felt momentous in a different way. A grown man had come out as an adult. Let's hope he stays there.
How Do the Spurs Come Back After That?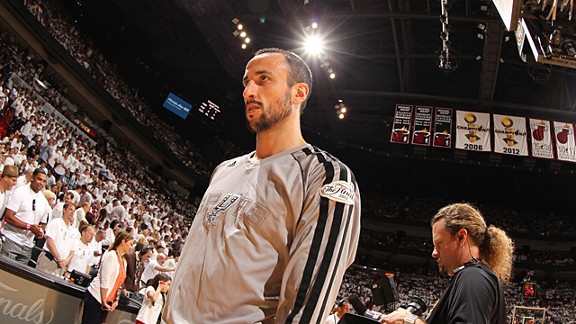 Bill Barnwell: Man, were there some grim quotes from the Spurs after this game. Manu Ginobili's was the toughest: "I have no clue how we're going to be reenergized. I'm devastated." How often do you hear a press conference quote that makes you want to offer a consoling hug of support? Poor guy.
In any case, if it hasn't already, the story line surrounding the Spurs heading into Game 7 is going to be that they're emotionally exhausted and won't be able to overcome their collapse. Maybe that's true. Maybe they'll get blown out. But these Spurs? Really? The team that's held up as the almost-comic example of stoic professionalism? A Gregg Popovich team is going to suddenly be too emo to show up in what might be the last big game together for their Big Three? I don't doubt for a moment that Ginobili was genuinely distraught after the loss, but the Spurs have 40-plus hours to recover before Game 7. If any team can do it, it's San Antonio.
You're going to hear some comparisons to the most famous Game 6 collapse of the past 30 years, the Bill Buckner game between the Mets and the Red Sox in 1986. History has suggested that the Red Sox weren't able to emotionally recover from that loss and move on for Game 7. It's a pretty flimsy case. The Red Sox did get the benefit of a rainout, which turned what would have been a game the night after the collapse into one with nearly two full days between pitches, and they led 3-0 heading into the bottom of the sixth inning, at which point their pitching collapsed. And even after blowing that lead, they came back from 6-3 down to make it 6-5 before giving up two insurance runs in the bottom of the eighth to finish themselves off.
Another Red Sox series is an even better example of how a deflated team can come back and win after a disastrous Game 6. In 1975, the Reds blew a 3-2 series lead and a three-run lead in the eighth inning before eventually losing the game in the 12th on that famous home run Carlton Fisk waved fair. The following night, the Red Sox again got out to an early 3-0 lead, but this time as the team who was supposed to all have the momentum. You would have forgiven the Reds for collapsing, but instead, they slowly worked their way back into the game. They scored two in the sixth and added another in the seventh to tie it up before Joe Morgan knocked in the series-winning run in the ninth. If the Spurs lose on Thursday night, it won't be because they left their hearts on the court on Tuesday.
Filed Under: Amos Barshad, Ben Detrick, Bill Barnwell, Brett Koremenos, Brian Phillips, Dwyane Wade, LeBron James, Miami Heat, NBA, NBA Finals, NBA Playoffs, Ray Allen, Robert Mays, San Antonio Spurs, Tim Duncan