NBA Finals Shootaround: It's the Heat, Stupid
So much amazing is happening, and the Shootaround crew is here to help you keep track of it all. You'll find takes on moments you might've missed from the previous night, along with ones you will remember forever.
Flash of Greatness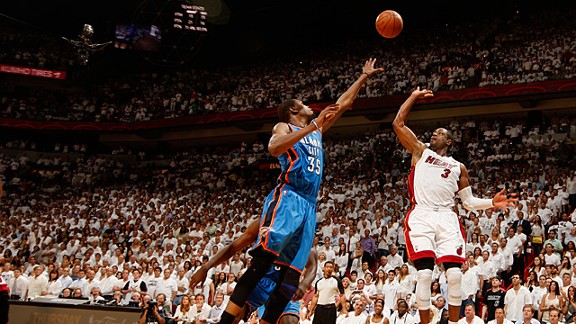 There's something really "Evil Genius" about Dwyane Wade. But up until Tuesday night, I only thought about the "evil" part. He (allegedly/rumor has it/come on, he totally) puppet-mastered Chris Bosh and LeBron James's free-agent moves from a condo in Beijing, his knee was drained during this season's playoffs, and I'm pretty sure he participates in nightly Dothraki horse-heart-eating to get himself into fighting shape. He threw Mike Bibby's shoe during the Heat-Knicks series. Every story needs a villain, and when you see Wade it's "Say Hi to the Bad Guy" time. Just look at his facial hair.
But after Tuesday night's game, I recognize the genius part, too. With about four minutes left in Game 4, Oklahoma City was on an 11-2 run when Mario Chalmers, somewhat regressing to the mean(io), threw a pass behind Shane Battier, out of bounds.
Miami needed one of their superstars to step on the brakes, to stop OKC's momentum. And that's when Dwyane Wade, a player known for his flash-bulb-popping feats of athleticism, put on his "not f'ing around crew" face and went to work.

On the next play, he faced off with Russell Westbrook and the OKC guard dribbled the ball off his foot and out of bounds. Wade brought the ball up the floor and did what he does best — maybe better than anyone — he discovered space. Sometimes he does it with his body, but he was playing with his head in these closing minutes, and he showed it, perfectly threading a bounce pass between Serge Ibaka and Westbrook for a Bosh layup.
Next possession, with three and a half remaining, he guarded Kevin Durant when he came off his favored low-block screen, denied him, pushed him way out of his hot zone, and then grabbed the rebound off of Westbrook's missed jumper. A minute later, after LeBron's top of key dagger, Wade ripped the ball from Durant as he went up for a jumper (no call, but still), went down the other end, and put the Heat up five, 99-94, with a layup.
It kept going. A subtle but brilliant stretch that culminated with a slick pass to a cutting Bosh (who got fouled) and a hand on Thabo Sefolosha's corner 3 attempt. Every trip down the court, with LeBron struggling with cramps, with his own back no doubt stinging …
… and with, I'm sure, a lot on his mind, Wade made not only the right play, but the smartest play.
— Chris Ryan
Here's the Thing About Russell Westbrook
Here's the thing about Russell Westbrook …
(Thinking.)
I need more words. Come back later for my column.
— Bill Simmons
Iguodunka of the Night: Russell Westbrook
This is one of the most death-from-above dunks in Westbrook's whole Air Cavalry catalog. Good lord, guard your grill here.
— Chris Ryan
Norris Cole Has a New Haircut
Last week, Stereogum wrote up a mixtape by the rapper Joey Bada$$, a 17-year-old kid making Tribe Called Quest–esque hip-hop even though he wasn't even around for that stuff the first time, saying, "when his entire Pro Era crew shows up on the tape-closing 12-minute posse cut 'Suspect,' it sure sounds like there are a ton of kids doing the exact same thing as him." And then I went outside to get an iced coffee and it felt like half of young local Brooklyn was rocking shit that would make Will Smith tear up in nostalgia for his television glory days. When exactly did early '90s hip-hop revivalism become so hip? I have no idea (note: iced coffee). I do know that everyone looks pretty awesome (good job, everyone), and that now includes Miami backup point guard Norris Cole. If you were watching closely Tuesday night, you would have noticed (along with all the real basketball stuff that happened, of course) the young fellow's glorious high-top fade. As the Miami New Times points out, Cole had already been rocking the look in college; just as they so politely requested, he returned to it for Game 4. Yes, the Evil Big Three are one game away from a title — but with Cole so consciously on trend, how can you be mad?
— Amos Barshad
He Also Looks Like Waldo From Family Matters
For years now, few things have made me smile like typing "Zach Randolph Eddie Winslow" into Google Images. While the comparison is uncanny, know that I'm not alone in this feeling. It's kind-of a thing.
I bring this up, because I assumed this would always be the ultimate NBA/Family Matters look-a-like. I thought this, until Internet hero of the looping 5-second video, Jose3030, tweeted out a side-by-side photo that threatened to unseat the reigning champion.
Norris Cole and WALDO FALDO.
I saw this, found a chair, sat in it, and immediately fell out of it. That's how awesome it is that the Heat backup point-guard found a way to become the goofy Family Matters sidekick on the court Tuesday night. If Cole and Randolph ever stand together in the near future (which must be facilitated, but no one tell them why), I'm pretty sure all the world's wars will end. – Rembert Browne
Mario Chalmers Has a New Nickname
Listen for Dwyane Wade's affectionate moniker at the 24-second mark.
— Chris Ryan
Mike Miller Is Not a Chiropractor …
But he did stay at a Holiday Inn Express last night. I was a big fan of all the player involvement in Miami Heat on-court medical procedures. You had Mike Miller, Back Doctor, M.D., and Juwan Howard and Ronny Turiaf as stretcher-bearers when LeBron needed to be dragged. Way to crowd-source your physical therapy, Miami Heat training staff.
— Chris Ryan
Jose3030's GIF of the Night: Derek Fisher Side-Eye
Don't flop a flopper, man.
— Chris Ryan
Bosh Hogg Outlaw Moment of the Night
I feel bad for even saying this, but doesn't this celebration have the distinct odor of something practiced in a granite and marble bathroom in a Star Island mansion at one in the morning in front of a brass-framed mirror? "And this will be my 'LET'S GET IT ON' move."
— Chris Ryan
Walk With a Limp
I know this is getting old, but LeBron James did some more awesome stuff Tuesday, and I'd like to tell you about it. LeBron apparently decided that he was bored with all the rebounding and scoring he'd been doing lately and decided it might be fun to get his teammates in on some of the Finals glory. So after five straight games with five or fewer assists, James spent the second and third quarters getting the ball on the block and facilitating the entire Miami offense as the Heat clawed back from 17 points down.
Apologies for the matter-of-fact tone, but at this point, I'm not sure how else to say it. The cramps are going to play as TV fodder, and Mario Chalmers will get his love, but again it was James who was the most important player on the floor Tuesday night. (And yes, I saw what Russell Westbrook did.) The Thunder spent the entire first quarter jacking up the pace and using poor Miami offense to get into transition. The tempo led to the type of start OKC had been missing all series. All LeBron did was calmly respond with a type of game that people have clamored for since he got into the league. He got the ball on the block, overpowered his defender when they only brought one, and found wide-open shooters when a second came. It was simple, beautiful, efficient basketball — the type James has played for the past six games. These Finals have been a special run, and that's really all there is to it.
—Robert Mays
Did you miss any of Grantland's previous Shootaround coverage? Don't worry! You can find it all here.
Filed Under: Amos Barshad, Bill Simmons, Chris Ryan, Dwyane Wade, Kevin Durant, Miami Heat, NBA, NBA Playoffs, Oklahoma City Thunder, Robert Mays, Russell Westbrook