MLB 7-Day Warning: Checking In on the BARVES Story Lines
Getty Images
What's that? You were wondering exactly how many days remain until the start of the MLB season? Well, you're in luck! We at the Triangle are set to spend spring training giving you a daily reason to get excited about baseball's return.
The Atlanta Braves' 2013 season, in many ways, was predictable. It was the continuation of what fans of the team for the past two decades could describe as a trend: an above-average season (won the division) — during the peaks of which the phrase "World Series" began to slip out of people's mouths — and then an early exit out of the playoffs (lost in the NLDS to the Los Angeles Dodgers 3-1).
It's kind of what we do.
Last season's big wrinkle, however, beyond the win-loss-success-failure statistics, was the sheer number of narratives surrounding the Braves that were of interest to the wider baseball world, not just the beloved Southern baseball faithful and the TBS-molded Braves fans across the country.
After Chipper Jones's farewell, it was hard to imagine the Braves being … interesting. But, somehow, repeatedly, they were.
As the march to Opening Day 2014 comes to a close, let's check in on these story lines to see where they stand and how they may manifest themselves in the upcoming season.
Black Angels in the Outfield
It seemed too good to be true. Two brothers, B.J. and Justin Upton, on the same team, joining Jason Heyward as the Atlanta Braves outfield. It was impossible not to get excited by this. You couldn't ignore Up, Up, and J-Hey.
Or, as DMX kind of put it:
There were Braves-outfield-related memes before last season even began. It seemed too good to be true. It actually was. But throughout a season, even when the trio didn't produce enough to match the hype, they still found ways to grab headlines and attention. (Having the same last name as Upton, Kate did not hurt.)
"Can the Uptons Power Atlanta?" asked Sports Illustrated's Ben Reiter. Ultimately, they (especially B.J., with his .184 batting average) did not, and the Braves were quickly knocked out. But — impressively — the story line was something people followed for an entire season.
So what now? You have to assume 2013 was as bad for B.J. as it can get. Justin had some glimpses of greatness, but would swing (and, fortunately, miss) at a feral cat if it were thrown from a pitcher's mound. And Heyward is still the player you know can be great but hasn't figured it out yet. Hopefully, lowered expectations for the trio will create an atmosphere in which they can calm down and just worry about playing baseball. Hopefully.
Heaven Is a Place Called Waffle House With Hash Browns Scattered Covered Smothered Diced and Topped
In the middle of the 2013 season, the Braves went on a 14-game winning streak, one shy of their franchise record. The streak coincided with the opening of a Waffle House at Atlanta's Turner Field. Because of course it did. Because Waffle House is magic. But then it ended. Why?
The #WaffleBall song. This song is a perfect example of why Atlanta sports won't let itself be great. Because we can't just shut up and enjoy success. It's not in our nature. If we're killing it, we also have to tell you that we're killing it. If we're looking like we're headed to a Super Bowl, guess what's about to happen?
Is Lord Jamal Anderson's Dirty Bird dance incredible? Of course. Did we win that Super Bowl? No. And now look what happens.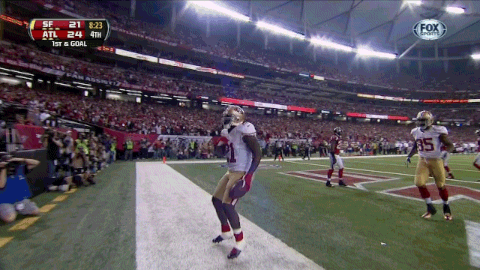 It still hurts. Every time.
#WaffleBall is a nice song, but we just have to learn to act as if we expect good things to come our way. We have to stop commissioning art to highlight success.
The Turner Field Waffle House is still there this season. Let's just accept that for what it is: an obvious home-field advantage, one that will assist in us winning most of our games. No more songs. No more Photoshopped Waffle House hats. Let's just enjoy what we have, the only legal PED in sports, a Waffle House hash brown.
THE BARVES
The popular misspelling of the Atlanta Braves has been a thing for years — a rallying cry if you will — but it really seemed to hit the mainstream last season. Yes, Major League Baseball shut down BARVES merchandising in 2012, but that couldn't stop the faithful from continuing to use the phrase. And that will continue this season. And should continue forever. Because it's such a versatile word. Sometimes it's used as an exclamation, representing all that is joy. And other times it's used to describe the Bizarro Braves, the ones who blow leads in the ninth or continue to employ Dan Uggla. Either way, the word drips with emotion.
[protected-iframe id="3cd63553cc840d9e2310e1a5f48a7476-60203239-3376534″ info="http://c.brightcove.com/services/viewer/federated_f9?isVid=1&isUI=1″ width="480″ height="270″]
GO BARVES GO.
Dan Uggla Is Not Very Good at Baseball
True in 2013.
Will probably be true in 2014.
Please prove me wrong, Dan Uggla.
Please.
EL OSO BLANCO, PART DEUX
As Grantland's Jonah Keri stated last April, the Evan Gattis janitor/valet parker/ski lift operator/pizza flipper/Yellowstone National Park worker–to–MLB rookie phenom story was the first feel-good story of the season. And, even with a midseason slump, Gattis continued to be one of the rocks of the team as a replacement for the injured Brian McCann. Aside from the Gattis the Nomad tales you can't help but be fascinated by, there was also this "Casey at the Bat" mythical nature to him, which is due to him looking like a guy on the Hardee's grill and then launching 400-foot home runs.
Wikipedia tells one of his stories the best:
On September 11, Gattis launched a home run off of Miami Marlins rookie sensation Jose Fernandez at Marlins Park, the ball traveled at a speed of 106 mph off the bat and into the left field stands before hitting a fan in the crotch 411 feet away. The fan winced over in pain and reportedly lost a shoe in the incident.
As for 2014, with McCann's departure, Evan Gattis is now the starting catcher. Who knows how it will go, because I'm not an oracle, only a Waffle House–eating fan and believer in miracles, but I have to assume this newfound stability in Gattis's life will result in a 40–home run season.
The Atlanta Braves Pitching Staff
2013 saw the hot start of Paul Maholm, the emergence of Julio Teheran, and the continued excellence of Craig Kimbrel. There was a lot to talk about, especially surrounding the mighty relief ace. So what's up now?
None of our pitchers have arms.
But that's OK. Because we all know the old saying: "Offense wins championships, pitching is secondary, Dan Uggla for Cooperstown."
We're fine.
The New Stadium
The biggest Braves story of 2013 was the proposed, and seemingly confirmed, relocation of the team to suburban Cobb County. This would also mean the demolition of the current home (and Olympic Stadium) Turner Field. And it's still happening. 2017 will be here in no time. So don't take these Atlanta Braves for granted. Go to home games. Get in your last rites. Because the end is near.
GO BARVES.
Filed Under: MLB, MLB Warning, MLB Preview, Atlanta Braves, B.J. Upton, Jason Heyward, Justin Upton, Rembert Browne