Metta's First 23 Days of Freedom
Athletes are at their best in the offseason. Let's celebrate their antics.
On May 21, the Los Angeles Lakers were knocked out of the NBA playoffs. Here's what Metta World Peace tweeted about the outcome the next morning:
Not the ending we wanted. The team that played together won! Congrats OKC.Laker fans thanks for your support:)

— Metta WorldPeace (@MettaWorldPeace) May 22, 2012
Disappointed, but classy. A great gesture to the better team. One would assume Metta would take a little time to get out of his funk, but that would be far from the truth. Lest we forget, the NBA season is Ron-Ron's offseason. The period of time not playing professional basketball is his true time to shine.

Here's what he tweeted later that day:
My buddy needs a dark skinned girl for his video I'm n.. Any dark skinned models??I can't believe I'm doing thisLol

— Metta WorldPeace (@MettaWorldPeace) May 22, 2012
He's back. The following day (mind you, less than 48 hours after being knocked out of the playoffs), an announcement:
I'm also doing my comedy tour again this year…. If yal liked my last comedy tour tell a friend and don't miss it… More juicy this year!!

— Metta WorldPeace (@MettaWorldPeace) May 23, 2012
Big news. He could have ended on that, but before falling asleep, he retweeted an even bigger announcement:
In Studio. A Queensbridge x Compton collabo….. @MettaWorldPeace x @TheGame.@ Wings & Big Tingz instagr.am/p/K_JLmqPNQG/

— DJ SynCity (@djsyncity) May 23, 2012
After a full night at Wings & Big Tingz, rapper Metta became reflective Metta and proceeded to pose the single headiest question in the history of Twitter.
Is is a word?What does is mean?

— Metta WorldPeace (@MettaWorldPeace) May 24, 2012
Wow. I dare you to try to come up with an answer. Nothing is deeper than this. Metta had a relaxing May 24 and 25, spending most of his time on the Internet, hyping up his website: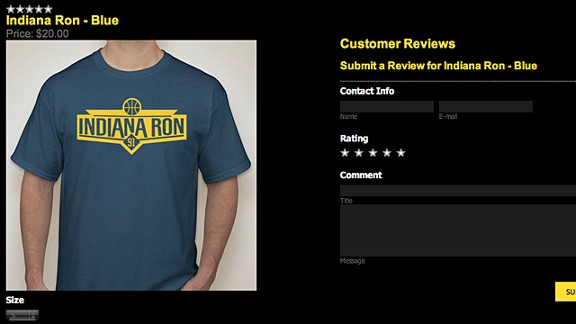 Or browsing on others:
— Metta WorldPeace (@MettaWorldPeace) May 25, 2012
On May 26, however, low-key Ron was no more, as he hit the Interwebs as METTA MAN.
Who is Metta Man, you ask?
"Armed with a 40-pound Curling Stone, Metta World Peace transforms into Metta Man™ to complete a backboard-shattering triple slam dunk after a wild free-fall skateboard ride through the skyline of New York to promote Mental Health Awareness."
Obviously.
On Sunday, May 27, Ron tells us about more guest stars on his upcoming project, The Passion Mixtape:
Watch out for that fire Jim jones recordCrazy verse.Passion mixtape.Lucky @regimerec next hot producer…He and @qmadethebeat killn it

— Metta WorldPeace (@MettaWorldPeace) May 28, 2012
And then the next day, he finally lets us know how he feels about Walter McCarty.
I also got a song with James jones from Miami heat… Really good on hooks. He can really sing….I gotta get a track with Walter McCarty

— Metta WorldPeace (@MettaWorldPeace) May 28, 2012
Later, after getting his holiday calendar slightly confused on Memorial Day, he responds by retweeting everyone that tells him a Memorial Day story, which he admits was very powerful:
I learned more about today about memorial day than I learned in school. Never listened in history class… Only Math and Science class..

— Metta WorldPeace (@MettaWorldPeace) May 28, 2012
The next few days are eventful for Metta, between mixtape hype, random question-asking, and even more thoughts about Memorial Day, but June 1 gave us one of Metta's greatest revelations to date. Sometime this summer, apparently, Metta and John are going to be on CNN for an interview. Who is John, you ask?
Did yal know me and John Green are friends.. The guy who thru beer at me in Detroit?? I reached out to him years ago to settle differences!

— Metta WorldPeace (@MettaWorldPeace) June 2, 2012
Calendar marked. I can't wait until it premieres this summer on Presidents' Day. The next few days are a basketball-obsessed Metta. He's glued to his television, not picking favorites but celebrating everyone:
It's good to see lebron hit that big three..Great player Plus his pops is super cool

— Metta WorldPeace (@MettaWorldPeace) June 4, 2012
While continuing to ask the hard-hitting questions:
Who has the better team surrounding out of lebron,durant,pierce,Duncan,Kobe,Carmelo and rose???

— Metta WorldPeace (@MettaWorldPeace) June 4, 2012
After a series of NBA tweets, though, it's becoming apparent that he misses his old life. Sure, mixtapes and hanging out are fun, but they're still not basketball.
I'm lonely.. Can TNT schedule a pick up game between the Lakers and the wizards..I'm bored

— Metta WorldPeace (@MettaWorldPeace) June 4, 2012
So, partly for business and partly to clear his head, Metta gets away from it all.
VANCOUVER is pretty cool… What should I do out here??What's the best food out here?

— Metta WorldPeace (@MettaWorldPeace) June 6, 2012
Going to British Columbia was exactly what Metta needed to get his mind off of not being in the NBA playoffs. He seemed so excited to be in this new city, and he claimed he was going to drop by a local TV station and do the weather:
I'm about to do weather on CTV channel 9 in Vancouver..How did this happen?I don't know how I got here I'm just here doing earthly things

— Metta WorldPeace (@MettaWorldPeace) June 7, 2012
And then he dropped by a local TV station and did the weather.
Amazing, especially when describing Victoria, the capital of British Columbia: "Victoria, she sounds like she's hot. But she's actually cold. 14 degrees."
Here's the title the station gave him: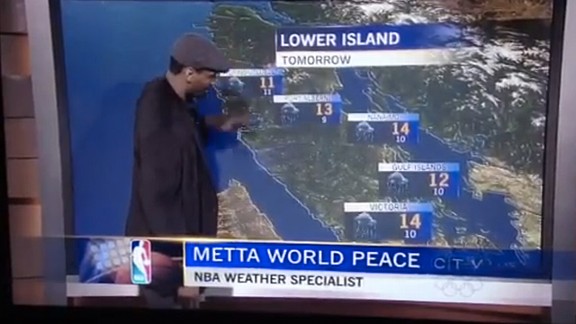 But now, he has another title: Metta World Peace, actor on the Lifetime Network.
Apparently, his Dancing With the Stars friend Nancy Grace suggested him for a part in the Lifetime adaptation of her first novel, The Eleventh Victim. Ron Ron will play Georgia detective Garlan Fincher, who works closely with 90210 alumnus Jennie Garth. (Dare I say, Dancing With the Stars Illuminati? Dare I?) Here's what Grace said on the casting of Metta:
"I wanted to cast someone for whom I have a true fondness. Metta World Peace was my first pick."
This big news, now on World Peace's IMDb page, alerts us to two other things. Ron has TWO OTHER FILMS IN 2012: 9 Full Moons and Waking.
9 Full Moons:
So Ron-Ron didn't exactly make the trailer, but he does play a character named Jason and there is proof that he actually is in the film.
Waking:
There's less information on this film, except for the fact that it co-stars one of my favorites, Jean Smart (Charlene from Designing Women, Martha Logan from 24), but we do know two things:
(1) Metta World Peace is playing a character named "World Peace."
(2) At some point, Jean Smart and Metta World Peace talked and he definitely asked her how Meshach Taylor was doing.
And then, if all of this news about Ron wasn't enough, he decided to extend his stay in Vancouver and do what anyone else would do on vacation: SUNDAY REGGAE NIGHT AT REPUBLIC NIGHTCLUB.
@MettaWorldPeace rolling into @RepublicYVR #ReggaeSunday #Goodlife @culu @ricouno @djseko @mattcoolen @MrTyJensen @PaulStoilen

— Brooksy™ (@steveb8) June 11, 2012
And not only did he hang out, but was dressed to the nines: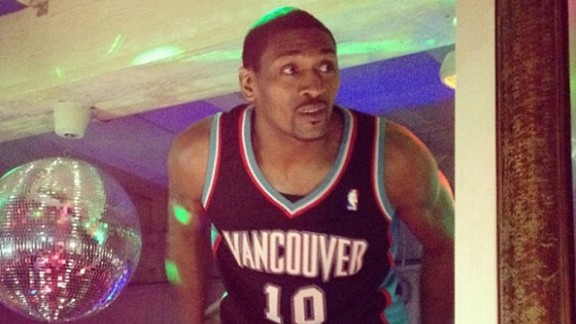 In a Grizzlies jersey. Of course.
Twenty-three days of freedom in the life of Metta World Peace. I hope you read this and are reminded that you don't live life to the fullest. Only Indiana Ron does. No one else.
Filed Under: Athletes In the offseason, Los Angeles Lakers, NBA, Rembert Browne