Rankonia: The Triangle Power Rankings
1. Brownish, Gingery Playoff Beards: Grow One
Just look at these bros, says Rembert Browne! Specifically, look at their beards! Writes Rembert:
The Los Angeles Kings won the Stanley Cup this week. After they won, they took off those helmet things and showed the world two things: (1) pure elation, and (2) brownish, gingery beards.
As someone who can only grow a horizontal Afro mustache, looking at these men and their crazy beards is quite emasculating, which is appropriate because hockey players have long made me feel like a little boy. I hope they resist the urge to shave for their trip to the White House and completely emasculate President Obama, causing him to sprout Cornel West face.


2. Andriy Shevchenko and the Ukrainian Kid: A Perfect Pair
Triangle blog editor Chris Ryan clearly understands that when I write Rankonia, the best way to make the list is to nominate an adorable child. And a cool soccer player. But mostly an adorable child. Says Chris:
You guys remember in the opening match of World Cup 2010 when South Africa's Siphiwe Tshabalala scored to put South Africa up, 1-0, over Mexico, in front of his home crowd?
Bonkers. Andriy Shevchenko did that twice this week against Sweden, heading in two goals to lead Ukraine to the top of Group D.
Host-nation goals in tournament football are pretty special on their own, but when they're scored by a washed-up, laughed-at striker who was forgotten by everyone in the world except his own countrymen and then he rewards that faith with two heart-lifting goals … nothing's better than that. Just ask this kid.
3. Alex Rodriguez: Man of Mystery?
Shane Ryan doesn't know quite what to make of Normal A-Rod:
The beloved (?) Yankees slugger just tied Lou Gehrig on the all-time list with his 23rd grand slam on Tuesday night against the Braves. Pretty cool, but it's hiding a darker reality. What's the deal with A-Rod over the last two years? I'm feeling like he's kept a low profile for too long, and I don't like it. He's practically … normal. I want some shirtless photos of him staring into a mirror, or rumors that he might buy the Cubs. I think we can all agree that A-Rod is at his best when he's infuriating someone, and the New York media needs to step up their game and ask him some leading questions. But maybe they are … in truth, I'm getting the sickening sense that he's become fully savvy. If that's the case, I guess it represents the latest step in his lifelong journey to literally become Derek Jeter, his primary object of envy. The sequel to The Talented Mr. Ripley should be about these two, with Mark Teixeira playing the creepy Philip Seymour Hoffman character. Get weird, A-Rod! That's your wheelhouse!
4. Bill Belichick: Supertroll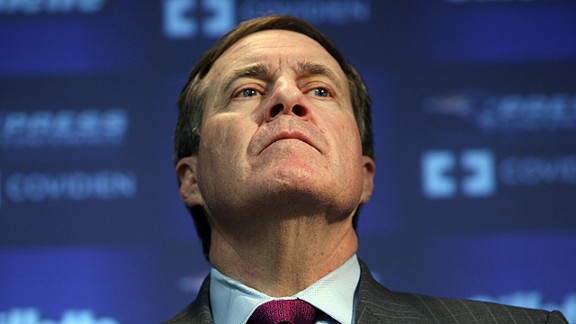 Bill Barnwell sees what you're doing here, Other Bill, and he likes it. Writes Barnwell:
When the Giants released tight end Jake Ballard with the injured designation Monday, it was a message to the rest of the league that Ballard wouldn't be able to go in 2012 after suffering a torn ACL and meniscus during the Super Bowl. Thirty teams passed on Ballard, but the last team that was able to place a waiver claim on Ballard — the New England Patriots — chose to do so. Ballard's almost surely going to miss the rest of the year, and by claiming him, the Patriots won't be able to use him until 2013 (after which he becomes a restricted free agent). And if Ballard ever does suit up for the Patriots, he's going to be the third tight end behind Rob Gronkowski and Aaron Hernandez. Is Belichick doing this just to be a dick? No. But when you consider the incredibly tiny amount that the Patriots have to gain by making the move, you could be excused for thinking otherwise.
5. Jake and Mason Brown: Princes of Los Angeles

That clip is cool and all, but I prefer this video of Jake and Mason Brown, sons of L.A. Kings captain Dustin Brown, drinking chocolate milk out of the Stanley Cup while wearing matching Spider-Man suits. Pretty great stuff, right? Your move, Madison Quick.
6. The Tampa Bay Rays: Not So Great With Dates
Jonah Keri nominates the Rays, who are "planning to wear '70s throwback uniforms later this summer, even though they didn't actually exist in the '70s." Bahahaha. OK, Rays. You do you. Says Keri:
There's a combination of chutzpah and Joe Maddon nostalgia obsession that's pretty adorable.
7. Cole vs. Cole: There Can Only Be One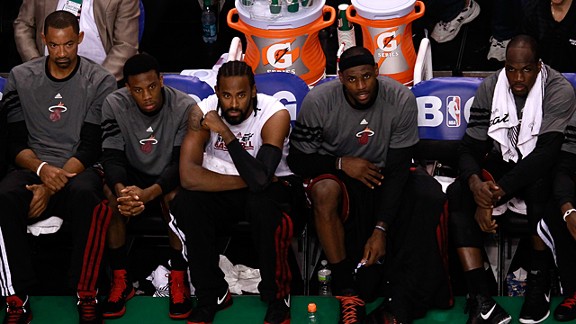 I know it's a first name–last name battle, which isn't exactly the right comparison, but whatever, I think it still counts. David Jacoby does too! He's keeping an eye on the Cole-Watch minutes matchup in the NBA Finals. Aldrich vs. Norris! Which Cole will be our champion?! Writes Jacoby:
[I nominate] the heated Cole vs. Cole "Who Will Get More Minutes" matchup in the Finals. Both caught DNPs on Tuesday night, but Aldrich looks poised for some garbage time tick while you expect to see Pat Riley on the Heat bench before Norris is off it.
8. Steve Bernier: Whoops

Our neighbor to the North, Sean McIndoe, feels pretty sorry for you, Steve Bernier.
I nominate Steve Bernier of the New Jersey Devils, whose ill-advised major penalty effectively cost his team three goals in their loss in Monday night's deciding Game 6 of the Stanley Cup final.
My reasons for wanting to say something nice about him, in increasing order of importance:
He's a hard-working player who has already bounced around five different NHL teams at the age of 27.

He's already taking a ton of heat, including a rash of Wikipedia vandalism, all for a semi-flukey play where many NHLers would have done the exact same thing.

His description of being unable to watch the L.A. power play in the dressing room after his ejection, but knowing that the Kings were scoring based on the crowd noise, is just heartbreaking.

I still plan to mercilessly beat "Steve Bernier boarding major" jokes into the ground over the next decade or two like I'm Homer on the Krusty Burglar, and being nice to him here preemptively makes me feel slightly better about that.
9. Charlie Villanueva: Super Size Me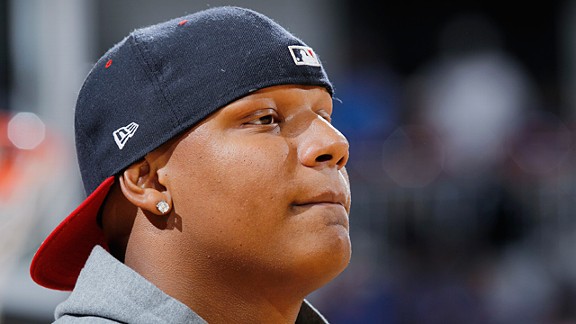 Grantland's newest bro, Sean Fennessey, chimes in with this nomination:
[I'm] nominating Charlie Villanueva, who I'm betting is plotting some sort of Boris Diaw–style transformation to get amnestied so he can get out of Detroit and sign with a contender for the minimum while also attacking a whole new slew of local Arby's franchises with vigor.
10. Ray Clay: 'At Groomsman, 6-foot-2 …'

Is Ray Clay super bored or just really awesome? Hard to say. Grantland's resident upstate Illinois expert, Robert Mays, explains:
Growing up, there were three men who had a bigger impact on my life than anyone else — my father, Mr. Feeny from Boy Meets World, and Ray Clay. For those who didn't grow up near Chicago in the '90s, Ray was the PA announcer for the Bulls for all six championships, and he's the reason that girls I grew up with can still tell you where Dennis Rodman went to college (Southeastern Oklahoma State).
Apparently, the groom at this wedding tracked Ray down and convinced him to introduce (via recording) the wedding party, Alan Parsons Project–style. Everything about this is awesome. There's a "man in the middle." A pregnant woman gets chest bumped. The only person who's pissed off about this, but doesn't know it yet, is my future wife. This is my one wedding demand. Except I want to be introduced like this.
Filed Under: Alex Rodriguez, Chris Ryan, Los Angeles Kings, Rankonia, Rembert Browne, Robert Mays, Sean Fennessey, Shane Ryan