March Madness Men of the Day
Rob Carr/Getty Images
For our final Man of the Hour, as the early games wind to a close, we turn to a mid-major hero whom I dismissed without cause in my Midwest Region picks, but who is currently putting me to shame with a great performance against Cincinnati. He is:

Doug McDermott
The Creighton junior has been a stud for three years, and has hovered on the periphery of the Player of the Year discussion this season, with 23.1 points per game and 7.5 rebounds. He shoots almost 50 percent from 3, 86 percent from the line, 56.1 percent from the field, and he carries a heavy load as the star of a mid-major. But his Creighton team has underachieved a bit this year, going 13-5 in the Missouri Valley Conference before recovering to win the conference tourney and receive an automatic bid into the dance.
When I saw the matchup with Cincinnati, I reverted to a BCS bias. Cincy's defense would be too tough, I said. Sure, McDermott is good, but he hasn't seen defensive athletes like this all season, and it'll be a cold reckoning for him and the rest of the Bluejays. So far, though, he's made me a fool, scoring 23 points on 7-of-11 shooting and going 7-for-7 from the line. Creighton leads 52-46 over Cincinnati right now, and based on Duke's struggles against Albany, I'm more than a little worried about what he might do to Mason Plumlee on Sunday. And I should've known better; this is the guy who put up 41 on Wichita State, a very good team that's already advanced to the Round of 32, to clinch the Missouri Valley Conference regular-season title earlier this month.
The game's not over, but McDermott has already stood out as the best player on the court and is a worthy recipient of the final Man of the Hour award. Enjoy the rest of the games today and over the weekend, and I'll leave you with the highlight video from one of his best games ever, a 44-point performance against Bradley:
Men of the Hour (4 p.m.): The Atlantic 10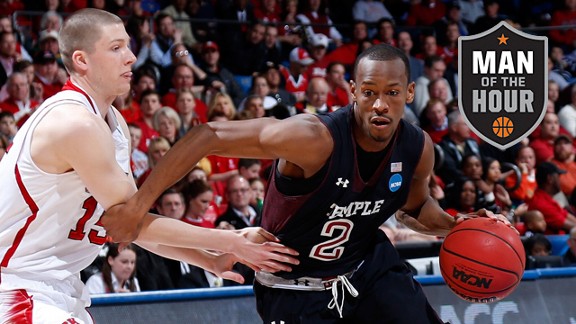 There is exactly one undefeated conference left in the NCAA tournament, and that conference is our next Man of the Hour: The Atlantic 10.
At this point, the Man of the Hour brand is taking a huge hit by my inability to select an actual man. But what the hell, the Atlantic 10 is great, and it deserves the praise. When I began writing this entry, 9-seed Temple was on the verge of closing out NC State (update: The Owls won), and 13-seed La Salle was off to an incredible start against 4-seed Kansas State. VCU and Saint Louis won without breaking a sweat Thursday, and Butler did its typical Brad Stevens slow bleed on Bucknell. If you count La Salle's win over Boise State in the First Four, the A-10 is now 4-0, and well on the way to 5-0, with all five teams surviving into the Round of 32. This should effectively end the "best mid-major" debate between the Mountain West and A-10.
A note on the C.J. Leslie Man of the Hour post below — with six seconds left, and State needing to foul, Leslie hesitated for a few critical seconds because he didn't want to foul out of the game. That time might have been important, but State lost by four, and Leslie's half-brilliant, half-maddening career at State is (probably) over. And now, to honor the A-10, here's the greatest end-of-game call ever (?), from VCU's win over Florida State in the 2011 Sweet 16:
BLOCKED BLOCKED BLOCKED BLOCKED! See you in an hour.
Men of the Hour (3 p.m.): 12-Seeds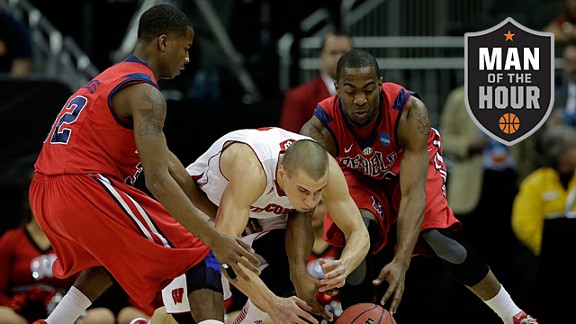 Coming into this tournament, 12-seeds were 41-91 overall against 5-seeds in the NCAA tournament. That's a success rate of 31.1 percent. Now that Marshall Henderson struck a blow for individual spirit everywhere by helping lift Ole Miss to a win over Wisconsin, 12-seeds are now 3-1 in 2013. Which means that the Man of the Hour is:12-Seeds.
(You may have noticed that the Man of the Hour has been an actual, lone man only once so far today. We are unconventional here.)
The 12-seed dominance began Thursday when Oregon topped Oklahoma State and Cal squeaked out a win over UNLV. Then VCU, the lone 5-seed winner, obliterated an Akron team that was missing one of its best players, absent following an arrest on drug charges, and a couple others because of illness. That was an impossible situation. But Loco Marshall beat Stodgy Bo, and now the 12-seeds have a winning record and three separate shots to end up in the Sweet 16.
I'm not sure what it means, but it is kinda exciting. And here's a list of famous pro basketball players who wore the number 12. Hello, Detlef Schrempf (at least for two years)! And also hello, Warren Jabali, one of the most hated and violent ABA players of all time, who once got punched in the middle of a game. Hurray for the number 12.
Man of the Hour (2 p.m.): C.J. Leslie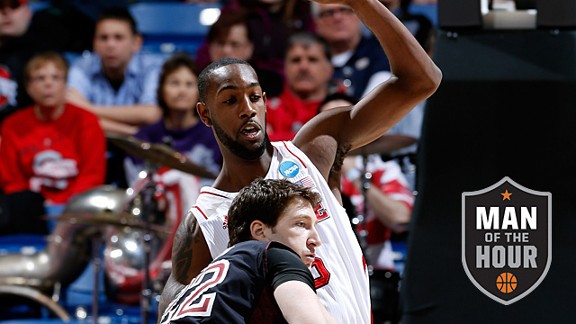 March Madness is a time for overachievers, when lower seeds upset the blue bloods and bring honor and glory to their programs. But every now and then, we should take a moment to recognize the underachievers, too. And no team has underachieved more dramatically this season than the NC State Wolfpack. After starting the season ranked no. 6, they quickly fell out of the Top 25 and even had a few moments when it looked uncertain whether they'd make the tournament. If you had told Wolfpack fans that their team would end up as an 8-seed … well, they might have believed you, because Wolfpack fans are trained to expect disaster. That's NC State shit. Just because it's expected, though, doesn't mean it's not frustrating. And no player is more vexing in Raleigh than our new Man of the Hour: C.J. Leslie.
Leslie is an outrageously athletic forward, and will probably play in the NBA. At the same time, he has a bad tendency to disappear in big games and pout when a call goes against him. Mark Gottfried, his coach, even tried calling him Calvin (that's what the "C" stands for) in an attempt to bring out some latent maturity. It didn't really work. And fair or not, Leslie's career will be judged negatively if State can't make a run this year. (He did save a kid who rushed the court in a wheelchair and fell over, though, so that's something.)
A season of disappointment is on the verge of being certified with a first-round loss to Temple (as I write this, the score is 12-6 in favor of the Owls), and Leslie might be the only one who can change that fate. For most Wolfpack fans, it's not exactly a comforting thought.
Men of the Hour (1 p.m.): Bo Ryan and Marshall Henderson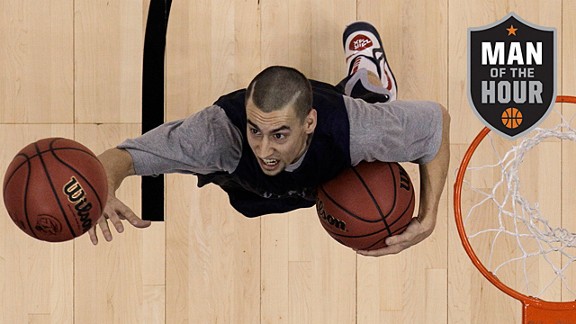 We're still in the early moments of the day, but it's never too early to recognize the Wisconsin–Ole Miss clash that just began in Kansas City. Your Co-Men of the Hour are: Bo Ryan and Marshall Henderson.
Henderson is the Ole Miss madman, the incorrigible individualist who shall not be tamed. He is both unwilling and unable to suppress whatever freak energy flows through his body, and he's been known to make enemies with some of his more outrageous displays. He is fast, he is electric, he hits big shots, and he's ready to burst all over the NCAA scene.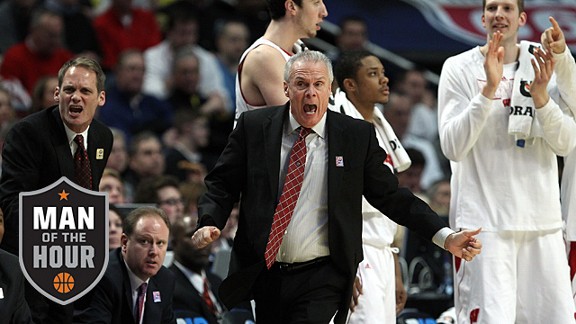 Wisconsin coach Bo Ryan is the man. And by "the man," I mean "the establishment." He is incredibly effective at taking lesser talent and winning games with a system based on discipline, slow play, and execution. His aim is to suppress individual desires and tendencies in favor of the team. If everyone buys in, and nobody's a star, then everybody wins.
Ryan and Henderson are ideological opposites. They are living refutations of each other's values. This is more than yin and yang. This is magnetic north and south. This is man vs. the machine. This is the plot of Brave New World, 1984, and Fahrenheit 451. This is Randle McMurphy vs. Nurse Ratched.
Marshall Henderson says, "You cannot contain me, for I am man in every weather, a symbol of love and joy and rage, and a creature of the elements."
Bo Ryan says, "I need not contain you, for I will break you. I am the thoughtless automaton, emotionless and efficient, which man must always become."
There's no doubt that this is the ultimate test of humanity in our new millennium, and a philosophical battle that could determine the future of our species. And the only thing that makes me think I might be wrong is that Bo Ryan does Crank That. And the Hambone:
Men of the Hour (Noon): The Mountain West Conference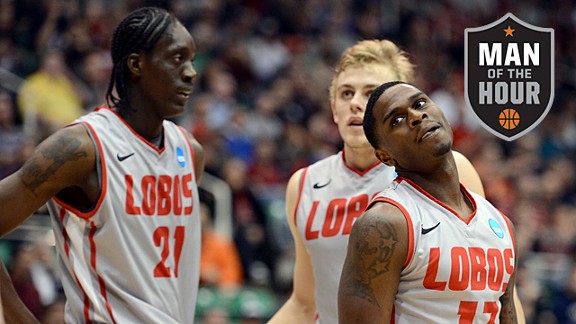 I'm not one to gloat. I prefer the sympathetic show of humility after victory, and I've been on the losing end enough times that I can appreciate it from that side, too. But I took so much flak for disrespecting the Mountain West during the tournament previews, both in the comments and on Twitter, that I'm going to allow myself a slightly modified quote from Miller's Crossing, the most underrated Coen Brothers movie of all time. I'm Tom, and the Mountain West lovers are Johnny:
Johnny Caspar: When you're right you're right, but you never say "I told you so."
Tom Reagan: So what am I right about?
Johnny Caspar: Well, I'll tell ya, but first you gotta promise not to say "I told you so."
Tom Reagan: I don't say that, and I don't like people who do.
Johnny Caspar: The Mountain West is a weak conference.
Tom Reagan: What convinced you of that?
Johnny Caspar: Well, Colorado State looked OK, but personally, I think you were right. New Mexico lost to a damn 14-seed, UNLV couldn't beat California, and Boise State looked miserable against La Salle, the lousy sonsabitches.
Tom Reagan: I told you so.
I'm choosing to treat Man of the Hour like Time magazine's Person of the Year, in the sense that it can go to someone positive or negative, or even an entity, so Friday's first honoree is: The Mountain West Conference.
(If you love the Mountain West and are feeling empty today, consider this fair warning: Don't read the rest of this post. It will be insufferable, salt-in-the-wounds material.)
Here's the thing about the Mountain West — other than Boise State facing a tough 13-seed in La Salle, every single team had cupcake draws! New Mexico had the Ivy League champion, UNLV had a Pac-12 team that just lost back-to-back games to Stanford and Utah, and Colorado State was up against a team coached by Frank Haith. Of those, only the Colorado State Rams showed up and looked decent. With a San Diego State team that hasn't notched a "quality win" since January 26 (I put that in quotes because the win in question was against the team that just lost to Harvard) facing Oklahoma today with a 7-seed it doesn't deserve, Colorado State will likely be carrying the tattered, bullet-ridden conference banner all by itself come Saturday. And who will the Rams be facing?
Oh, just Louisville. No big deal. What do you think of their chances, Bob Dylan?
Bob Dylan: The empty-handed painter from your streets is drawing crazy patterns on your sheets. This sky, too, is folding under you. And it's all over now, Baby Blue.
OK, well, I don't know what the stuff about painters and sheets means, but I think we're generally in agreement.
The question I probably have to answer, amid all this sore-winner boasting, is did I know something special? Was I privy to some secret knowledge that helped me spot the inherent weakness? The answer is an emphatic no. Neither was anybody else. And that is the point. That is the goldang point, y'all. Because the Mountain West isn't a BCS conference. The folks backing it couldn't seem to get that through their heads. All we really knew about the Mountain West was that the top four teams ran up some impressive stats against each other. Apparently nobody wanted to take that in context, or temper the hype with the fact that the conference imploded in last year's tournament. They just wanted to trust in the strength of the bubble world, right up until the bubble burst again.
This is the thing we should remember in the future: The college basketball season is still, statistically, a small sample size. Especially for mid-majors. We can get a pretty decent sense of a team like Minnesota or Michigan or Pittsburgh (not that watching Pitt taught me anything) from watching 18 challenging conference games, but New Mexico? No way. And before we go crazy because a team has a good adjusted defensive ranking, or a good RPI, or some top-100 wins, let's at least try to consider what they've done outside their mid-major conference. Here are the biggest wins for the top four Mountain West teams that didn't happen within the conference:
New Mexico: UConn, Davidson, Valparaiso, New Mexico State, Cincinnati
San Diego State: UCLA, USC
Colorado State: Denver, Washington
UNLV: Iowa State, California
Based on how the season played out, there was nothing in those results that told us any of those teams would be elite coming into the tournament. New Mexico's wins were pretty solid, but all of them were against other mid-majors or mid-level BCS teams. The Mountain West supporters wanted to overrate those results — and even argue that New Mexico deserved a 1-seed! — while ignoring a home loss to South Dakota State and a 14-point loss to Saint Louis. It's baffling. They beat nobody that you'd call elite.
Again, I didn't know these teams would have a disastrous first day. I suspected it, based on last year's Mountain West showing and the lack of other available evidence, but I didn't know. We couldn't know, because the results weren't in place to tell us. And the only reason I was right this time is because I copped to my ignorance. If everyone else had admitted theirs, we might have avoided the Mountain West hysteria. But I'm happy that sanity has been restored. I told you so.
Filed Under: College Basketball, March Madness, NCAA tournament, Shane Ryan