Know Your (Playoff-Bound!!!) Toronto Maple Leafs
AP Photo/The Canadian Press, Fred Chartrand
My name is Sean, and I'm a Toronto Maple Leafs fan.
This will no doubt come as a shock to anyone who's been reading my stuff over the years. As a respectable sportswriter, I have carefully hidden any team allegiances I may have so as not to appear biased. Especially observant readers might have picked up on some subtle hints, like the way I force at least one Leaf reference into everything I write, or that my Twitter avatar is a Maple Leaf punching a guy in the face, or that I named my first-born son "Dougie," or that I can't write a single word without first watching the Wendel Clark "All Heart" video a dozen times to get pumped up. But for the rest of you, this is probably a shock. The secrecy is over.
Also over: Toronto's playoff drought. On Saturday night in front of a raucous Ottawa crowd, the Leafs beat the Senators 4-1 and finally got that precious "x" next to their name in the standings. They're in. The Toronto Maple Leafs are going to the playoffs.
My editors asked if I'd like to write a few words about that. [The opening bars of "Hero of the Day" begin to play in the background.] Yes, yes I think I would.
Here are 20 things you need to know about the playoff-bound Maple Leafs.

1. It's their first trip to the playoffs in nine years
The Leafs haven't played a playoff game since May 4, 2004, when they were eliminated in the second round by the Philadelphia Flyers. The next year was lost to a lockout, and by the time the NHL returned in 2005, the Leafs were old, full of holes, and completely ill-suited for the faster style of post-lockout play.
They came legitimately close in 2007, when they were in eighth place until the season's final day, and close in that "let's have a late-season surge after we're already dead that screws up our draft position" way most other years. It was an era of incompetence and instability (in those nine years, the Leafs went through seven different coach-GM combos) that gave us the Muskoka Five, 197-foot slapshots, and an 18-wheeler going off a cliff. It's been a miserable time to be a Leafs fan.
2. Nine years ago, the world was very different than it is today
Did you know that? It's true! I wasn't aware, either, but luckily everyone in the hockey world has been kind enough to spend the last 48 hours telling us what's changed since the last time the Leafs were in the playoffs. There was no YouTube! Facebook was only for students! Games weren't broadcast in HD! You can look forward to seeing each one of those fascinating facts repeated on a constant loop for the next few weeks.
Also, feel free to tell everyone about how much your life has changed in the past nine years, since apparently that's mandatory now. This is working out better for some people than for others.
3. Nine years ago, everyone was younger than they are today
Related to the point above, enjoy the steady stream of updates on how old every member of the current Maple Leafs roster was the last time the Leafs made the playoffs.
(Spoiler alert: They were nine years younger.)
4. The comedy potential of Toronto Maple Leafs playoff beards is off the charts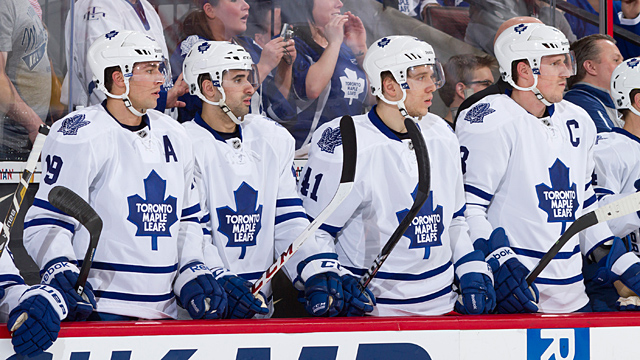 Seriously, look at this roster. Is there anybody on that list who won't look ridiculous trying to grow a beard? OK, Leo Komarov seems like the sort of guy who'll be sporting a mighty Russian beard by the end of the first day, but everyone else is going to be a train wreck.
Here's my early attempt at a Maple Leafs Playoff Beard Power Rankings:
10. Dion Phaneuf: the "Angry Caveman" beard
9. Colton Orr: the "Disturbingly Blood-Stained" beard
8. Nazem Kadri: the "Babyface" beard
7. James van Riemsdyk: the "Other Babyface" beard
6. Mikhail Grabovski: the "Babyface Who's Actually One of the Oldest Guys on the Team" beard
5. Jake Gardiner: The "Babyface in the Press Box" beard
4. James Reimer: the "He's Mennonite So I'm Not Actually Sure If He's Allowed to Grow a Beard" beard
3. Tyler Bozak: the "Probably Too Cool to Grow a Full Beard" Van Dyke
2. Joffrey Lupul: the "Grizzled Zoolander" beard
1. Phil Kessel: the "Phil Kessel With a Beard Oh My God Can You Even Imagine" beard
5. Leaf fans still want Toronto to play the Habs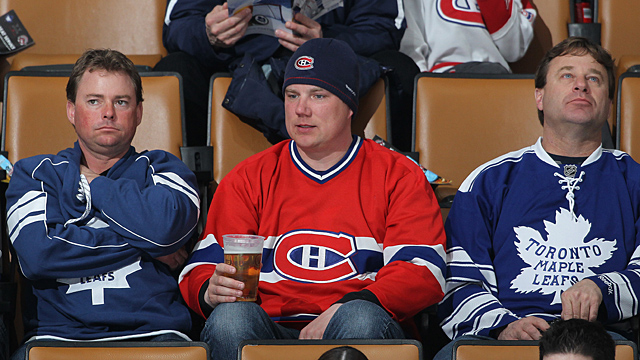 The likelihood of a Leafs-Habs first-round series is now up to 59 percent, according to Sports Club Stats. As we covered last week, this needs to happen.
6. Leaf fans would rather not see Toronto play the Bruins
7. All the fancy stats say the Leafs have no right to be where they are
The Leafs' team PDO, a #fancystat that basically boils down to "How lucky have they been?" is the highest in the entire league. Their Fenwick percentage, which measures their puck possession compared to their opponents, is dead last. They've been outshot more than any playoff team in a decade. One of their best players is having a season that's almost historically unsustainable.
Beyond wins and losses, basically every metric available is a giant flashing sign screaming "This team is a fluke and should come crashing back to earth any second now."
It's been a weird season. Do Leaf fans care? No. No, we do not.
8. They've been even worse lately
The Leafs have had more shots than their opponent just once in the last five weeks. That includes their most recent five games, when they've been outshot 37-28, 32-13 (!), 37-30, 38-21, and 50-22 (!!!).
And even if you fall into the "ignore the stats, trust your eyes" side of things, it's undeniable that the Leafs have spent most of the past two weeks hemmed into their own zone, facing a barrage of chances and often struggling just to get the puck over their own blueline long enough to change lines. They're getting absolutely dominated for long stretches of almost every game.
Has any of that mattered? Not really. That recent five-game stretch still resulted in three wins. The Leafs shouldn't be winning, but they are. And a big part of that can be explained in one sentence …
9. James Reimer has been kind of amazing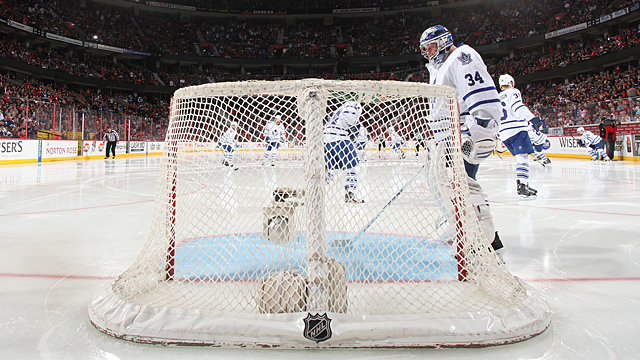 Lots of experts have tried to figure out Toronto's confounding success so far — with possible explanations including team toughness, coaching, or chemistry — but it's actually a lot simpler than that: They're a marginal team getting excellent goaltending. This season, James Reimer has been one of the best goalies in the league. End of story.
He's in the top 10 in wins, save percentage, and shutouts, and his six regulation losses is tied with Marc-Andre Fleury for the fewest among goalies who've played at least 30 games. And in April, when the other numbers say the Leafs' season should be falling apart, he's been even better: 5-2-1, with a 2.12 GAA and a .939 save percentage. After Saturday's 49-save performance in Ottawa, Senators coach Paul MacLean said Reimer should win the Vezina and the Hart.
Reimer is unquestionably the best homegrown Leafs goaltender since Felix Potvin, and has been the team's most valuable player this season, and it's not all that close.
All of which makes this seem like a good time to remind everyone that Leafs management was looking to replace him as recently as three weeks ago. Like I said, it's been a weird season.
10. Jose Canseco is on the bandwagon
stanley cup headed to toronto @mapleleafs reimer is a god

— Jose Canseco (@JoseCanseco) April 21, 2013
He's saving a spot for you, though. Good seats are still available.
11. The Leafs like to punch people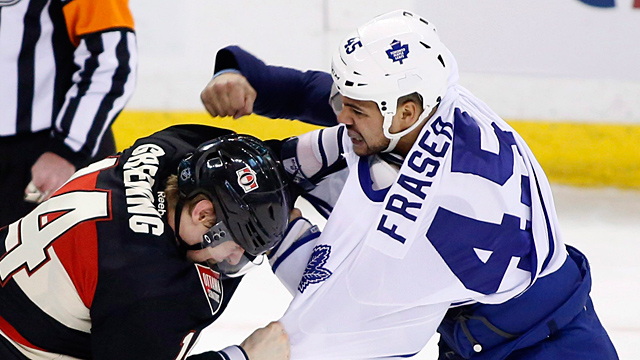 The Leafs lead the league in fighting majors by a mile. For most games, they dress two players — Orr and Frazer McLaren — who could charitably be described as filling a traditional enforcer role, and both are at the top of the league's leaders for fighting majors. Most of those bouts are of the "staged" variety that most of the hockey world has decided are meaningless wastes of time, but the Leafs insist that fighting is a big part of their team identity.
All of which will make things interesting in the playoffs, when fighting decreases sharply. Would the Leafs really use two lineup spots on enforcers during the playoffs, even though neither Orr nor McLaren is remotely good enough to take a regular shift in a close game (let alone in an extended overtime)?
There's a precedent here. The 2007 Anaheim Ducks also led the league in fighting, and they continued to dress their muscle in the postseason. They went on to win the Stanley Cup. That team was miles better than this year's Leafs, of course, but there is a connection: Those Ducks were coached by Randy Carlyle, who is now in Toronto.
Speaking of whom …
12. Randy Carlyle has had an … um … interesting year
You'd think that a new coach who broke a nine-year playoff drought in his first full season would be hailed as a hero in Toronto. And to many fans, he is. But to others, Carlyle's often-questionable lineup decisions have been a source of frustration.
Whether it's dressing Orr and McLaren, benching Gardiner, pairing Phaneuf with a steady stream of AHLers, or refusing to play Kadri more often, plenty of Leaf fans and members of the media seem convinced that the Leafs are winning in spite of Carlyle, not because of him. Some of them want him fired. And he might win the Jack Adams.
Call it one more weird subplot to Randy Carlyle's strange year.
13. We're well aware that this was a shortened season
We see you, fans of other teams, chuckling to yourselves about this year's condensed schedule. We know that when the Leafs inevitably miss the playoffs next year, one of you is going to try to break out a convoluted "longest playoff drought in 82-game seasons" stat. You're going to sound ridiculous, but go right ahead. You do you.
The rest of us will realize that it doesn't matter, because 48 games is more than enough to know how good a team is, right? What's that? Oh, right, that whole thing. You know what, let's just move on.
14. Brian Burke deserves some of the credit here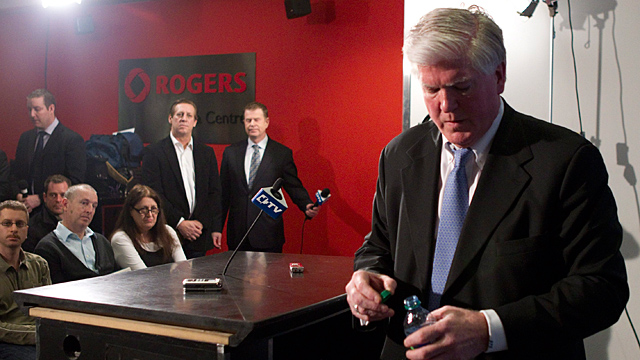 When the Leafs GM was fired before the season started, not many Leaf fans shed any tears. Sure, the timing was a surprise, but the Leafs had missed the playoffs for four straight seasons under Burke's management, and were about to enter the season with essentially the same roster that imploded in 2011-12. He hadn't gotten the job done, so the Leafs sent him packing and gave the wheel to Dave Nonis.
But then Nonis kept Burke's roster pretty much intact, and the team started to win. The goalie Burke said he believed in turned out to be great. The obvious bust he'd wasted a draft pick on turned out to be a star. The captain he'd defended relentlessly had his best season as a Maple Leaf.
So Burke deserves some praise. Firing him was probably still the right move, if only to prevent his over-the-top personality from being a constant sideshow. But for one season at least, it sure looks like he knew what he was doing after all.
And of course, you can't mention the legacy of Brian Burke without discussing one more name …
15. We need to talk about Phil Kessel for a little bit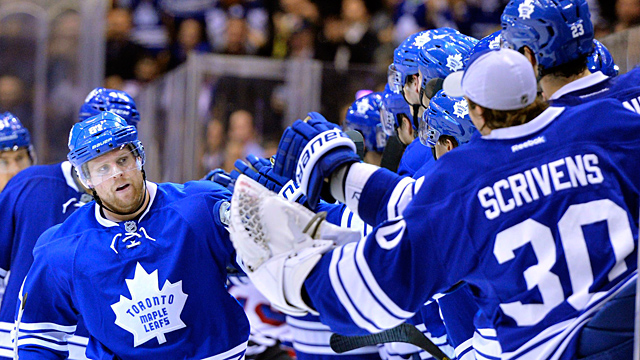 Kessel has been a lightning rod ever since he came to Toronto. Yes, Burke overpaid to get him. Yes, Tyler Seguin and Dougie Hamilton may be headed to superstardom. Yes, he disappears every time Zdeno Chara growls at him. Yes, he's streaky. Yes, he's a skill guy who never hits or fights or goes to the high-traffic areas. Yes, he's painfully awkward with the media.
He's also just put up two of the best offensive seasons the Toronto Maple Leafs have ever seen. Mats Sundin finished in the top 10 in league scoring twice in his entire career. Kessel is about to do it for the second year in a row, which would make him the first Maple Leaf to accomplish that since Doug Gilmour in 1993 and 1994. And while everyone considers him a one-dimensional sniper, he's quietly moved into the NHL's top five in assists.
He's done all of that despite never playing on a line with a center who was considered elite or even above-average, and despite a season-starting slump that had everyone lining up to ship him out of town. And he's still just 25.
Maybe, just maybe, it's time to stop droning on endlessly about the trade that brought him to Toronto, and start talking about Phil Kessel as being hands-down one of the very best players in the entire NHL.
[Looks around hopefully.]
No? We're all going to keep talking about the trade? OK, at least I tried.
16. The bottom line is, there's virtually no chance that the Leafs are making it out of the first round
If they face the Bruins, everyone agrees that the Leafs will be swept in three. They'd have a chance against the Habs or the Southeast winner, but it would be a slim one, and it would just mean getting stomped by one of the elite teams in the next round.
Just making the playoffs is a nice story, and it will have to do. The Leafs just aren't very good, and even in a short series the percentages are going to catch up with them. There will be no upset playoff run this year. It is, quite literally, impossible.
17. That last section was the most transparent reverse-jinx attempt in history
Hey, it's the playoffs. We all have to do our part.
18. Whatever happens, the Air Canada Centre is going to be a madhouse for that first game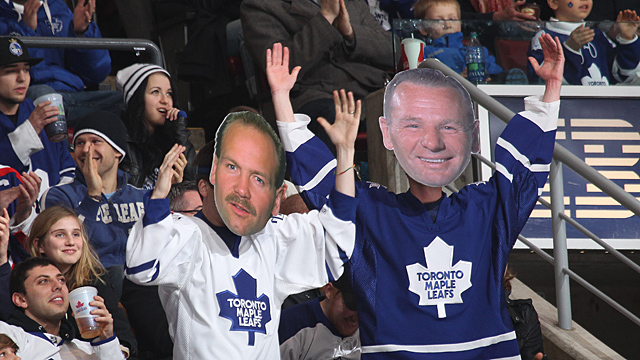 One of the great moments of my sports-fan life was seeing Maple Leaf Gardens explode for the first home game of the 1993 playoffs, when the Leafs started their comeback against the Wings and "The Boys Are Back in Town" became a short-lived franchise anthem. It was glorious. And that was just after a three-year absence from the playoffs. Imagine what it will be like after nine.
Will it be loud? It will. Will fans have to mortgage their homes for tickets? You bet. Will the rich guys in the lower bowl actually get back to their seats in time for the start of a period? Unlikely, but we can all pray for a playoff miracle.
19. You should really just let Leaf fans be happy about this for a few days
You can say a lot of things about Leaf fans. We're too quiet at home games, too obnoxious at road games, too overwhelming on Twitter or on your favorite hockey forum or at the office water cooler.
But you can't dispute that we're loyal — more loyal than the franchise has had any right to deserve — and despite what every cynical sportswriter wants you to believe, fan loyalty is still a good thing.
We're happy right now. Let us have this. You can go back to hating us next week, we promise.
Besides, if you look closely you'll notice that most Leaf fans are reacting to this playoff berth with a quiet mixture of pride and relief. Maybe a little bit of chest-puffing or even some occasional bombast, sure. But that's been the exception.
The truth is, most of us are realistic enough to recognize this for what it is. We made the playoffs, just like 15 other teams will do. We're in the top 53 percent. That's all. Nobody's getting all overdramatic about all this.
20. OK, maybe we're getting just a tiny bit overdramatic
Playoffs!
Filed Under: Hockey, NHL, NHL Playoffs, Toronto Maple Leafs