Hardcourt Shuffle: Looking Ahead to the Week's Top 10 Games
Nate Shron/Getty Images
Dear Shuffle-uffaguses,
First, I wanted to tell you that I'll be calling anyone who reads this column a "Shuffle-uffagus." It seemed like the coolest choice.
Second, I have to report that I've been on a golf course all weekend — watching and reporting on the action down in Arizona — so I watched exactly zero college games. I promise you this is the last time it will happen this year; the quick break from my season-long game face is over, and it's time to finish strong. But since I didn't watch any games, I won't be attempting any analysis. Instead, I'll count down the top 10 games happening this week. Please note that this is a Monday-Friday joint. Last week, people got upset that I didn't include Syracuse-Georgetown, even though that game was on a Saturday and I specifically said week, not weekend. So be forewarned, all right? We'll do the top 10 weekend games on Friday.

Before we count it down, I did want to update the Big 6 of the Big Ten rubric: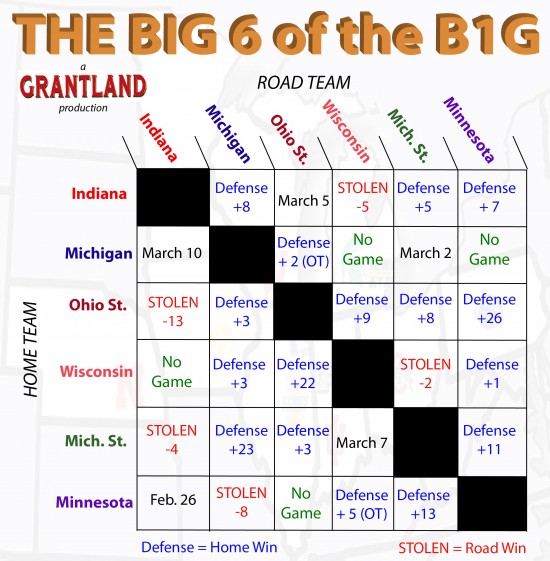 You'll notice that Minnesota is in the process of completely breaking down, as I predicted after witnessing Tubby's extreme delusion following the Wisconsin win. You'll also notice that Indiana is the first team to have stolen two road wins and will almost certainly steal a third at Minnesota on Tuesday. That's something I didn't predict.
OK, down to business. Here are the top 10 (all times Eastern):
10. No. 21 Memphis at Xavier, 7 p.m., Tuesday, ESPN2
As of this writing, there are five teams with perfect records in conference play. They are Gonzaga (WCC), Louisiana Tech (WAC), Norfolk State (MEAC), Akron (MAC), and Memphis (C-USA). Memphis is riding an 18-game winning streak and will be in the NCAA tournament even if they don't win the C-USA tourney, but it's worth noting that they still haven't beaten anybody that good. Xavier has struggled more than we thought in the A-10, but it'll be at least mildly interesting to see how the Tigers handle a road game outside their very weak conference.
9. Saint Joe's at Saint Louis, 8 p.m., Wednesday, CBS Sports Network
You heard it here last: Saint Louis is going to be a super-dangerous tournament team. My guess is that the Billikens will finally be ranked next week, and they're currently at the top of the Atlantic 10 standings. Over their current nine-game streak, they've beaten Butler twice, VCU, and most of the rest of the A-10. They also had a win over New Mexico earlier in the season that looks real good. If you're looking for the sleeper-type team that could make the Final Four, look no further. With Kwamain Mitchell healthy, these dudes are legit. Sudden thought: How great will the A-10 tournament be this year? And it's in Brooklyn!
8. Virginia Tech at no. 2 Miami, 7 p.m., Wednesday, ESPN3
After Miami lost at Wake Forest, Duke's ACC regular-season hopes are rekindled. To tie the Canes, the Blue Devils have to beat them at Cameron (will almost definitely happen) and hope Miami loses one of its three remaining games, all at home, to VT, Clemson, or Georgia Tech (will almost definitely not happen).
7. No. 5 Florida at Tennessee, 9 p.m., Tuesday, ESPN
I still feel Florida is the best team in the country, but they puzzle me by doing things like losing at Missouri. Before I pick them to win the title over Indiana, I'd like to see them post at least a few road wins of … marginal quality. At Tennessee would be an OK start, and at Kentucky on March 9 would make me feel a lot better.
6. No. 11 Georgetown at UConn, 7 p.m., Wednesday, ESPN2
Is anybody else sort of confused by the middle of the Big East pack? Between Georgetown, Notre Dame, Cincinnati, Marquette, and Pittsburgh, they're all kind of blending into one slow-paced, pretty good but not great team. Like, I know Georgetown beat Syracuse at the Dome, and I know that's very impressive, and I even really like Otto Porter, but I completely expect the Hoyas to lose at UConn. But I guess "middle of the pack" is a misnomer for G-town. That's how I perceive them, but in truth they've won nine straight and are a game up in the Big East. So why don't I trust them? I think it gets back to the idea of slow tempo, and how fewer possessions create more variance in the outcome of a single game. I'm impressed by what they've done, but I have low expectations for the future.
5. No. 1 Indiana at Minnesota, 7 p.m., Tuesday, ESPN
Indiana has made incredible leaps defensively, which is something I didn't expect. Things are getting really scary in Bloomington. As in, the Hoosiers are starting to creep in on Prohibitive Title Favorite status. It should go without saying that this game will be a barn burner, in the sense that Indiana will win by so much that the Barn might actually burn down.
4. San Diego State at no. 16 New Mexico, 10:15 p.m., Wednesday, CBS Sports Network
SDSU has to be in the top five of any Most Disappointing Teams list for 2012-13. Weirdly, though, most of their losses have been really close. If they can beat New Mexico on the road, I might start to believe in those crazy Aztecs again. Of course, that will never happen if Kendall Williams hits 10 3s like he did against CSU in one of the most insane performances of the season.
3. No. 9 Kansas at Iowa State, 9 p.m., Monday, ESPN
One of the few games I saw this week was Kansas's overtime win against Oklahoma State. And let me tell you, if there's ever been a single game that emphasized everything wrong with college basketball, it's that one. First, the referees were clueless. They were so bad that I honestly don't think they helped either side over the other. It was just pure guesswork from beginning to end. Second, the timeouts. Good God, the timeouts. In most high-profile games, coaches save all but four timeouts for the second half, meaning there are eight combined timeouts plus four media timeouts for a total of 12 in a span of 20 minutes. But that doesn't even tell the whole story, because more and more, we get to the end of a game and those eight team timeouts are still remaining. It's agonizing, and it's slow. At least ESPN stays with the game when it gets into those late situations; wait until March Madness, when CBS cuts away to the Spandau Ballet commercial every time. You will start to hate basketball. And I haven't even mentioned the video replays that somehow take 15 minutes … ASGL;KAHSG;LKASJFKL;ADSJFADKLS;F. It's maddening. That was my maddened series of keyboard keys. And then we give them an ADDITIONAL timeout in overtime. The worst is that coaches have become such control freaks with late-game timeouts that their teams can't even execute without one. It really, really sucks. I'm a college basketball diehard, but if I weren't, I think I might stop watching. The entertainment value has been sucked out of the game, and until we reduce the shot clock (yes, I'm convinced of that again) and lower the timeouts to two per half, it's going to get worse.
2. No. 6 Duke at Virginia, 9 p.m., Thursday, ESPN
Word on the street is that Ryan Kelly may be back for the Senior Night game on March 5 against Virginia Tech. It's interesting timing, since he'll miss Duke's two hardest remaining regular-season games, at Virginia and at Miami, but it's good news for a team that's been struggling on the road for most of ACC play. It's easy to predict that Thursday's game in Charlottesville will be a huge pain in the ass. Tony Bennett's Cavaliers are one of the 10 slowest and most godforsaken teams in America, and this game could end up as a race to 50. But it's the kind of game Duke needs to win if they plan to have any kind of impact in the tournament. And I'm glad they have to do it without Kelly, because there's no telling what sort of form he'll be in when he returns, and Duke needs to prove to themselves that they can win without him.
1. No. 8 Syracuse at no. 17 Marquette, 7 p.m., Monday, ESPN
It's been a rough eight games for Syracuse, with four losses on the docket, including its first in the Carrier Dome all year. The Orange are a team that need a signature win, and they don't have any more excuses now that James Southerland is back. But Marquette is unbeaten at home, and this could be the biggest statement yet for a Golden Eagles team that's already dispatched Georgetown and Pitt in Milwaukee. With both teams a game behind Georgetown in the conference, this has huge Big East implications.
Have a good week, and don't forget to DVR the last two minutes of a game. It'll save your sanity.
Filed Under: College Basketball, Duke, Georgetown, Indiana, Kansas, Shane Ryan, Syracuse