Finding the True Bright Spots in the Bucks' Recent Success
Ronald Martinez/Getty Images
It was just eight days ago that the Milwaukee Bucks were left for dead on the side of the NBA highway. Losers of three straight, the team clung to the final Eastern Conference playoff spot strictly by default. The trigger-happy duo of Monta Ellis and Brandon Jennings had seemingly shot the team out of any chance at relevance, and even the addition of the trade deadline's biggest name, J.J. Redick, couldn't inspire most NBA fans to care about the happenings in the frozen tundra of southeastern Wisconsin.
After a string of tight-knit and entertaining games, the Bucks have won four straight and are emerging as a potential playoff wild card in the East. Ellis and Jennings have been the catalysts for the most recent surge, but not in their usual fashion. Instead of shooting with reckless abandon, they've taken turns in the role of playmaker — with impressive results.
During their winning streak, Ellis and Jennings have combined for 78 assists, including 36 by Jennings in just the last two wins against Toronto and Utah. It is Jennings's sudden switch from unapologetic gunner to reserved floor-general that's seemingly sparked new possibilities for a franchise mired in mediocrity.

For the entirety of his career, Jennings — partly because of the lack of alternatives surrounding him — has seen himself as a first-option scorer. But playing the role of a star without the skill set of one often produces poor results. Jennings's career True Shooting Percentage is a ghastly 49.6. (This season's mark of 50.7 has him ranked 51st out of 77 point guards.) The fourth-year guard simply hasn't embraced a role that maximizes his skills in relation to team success — that is, until two games ago.
Jennings has recently shown a willingness, to borrow a football term, to be a game-manager rather than a scorer. Instead of trying find his shot in any given possession, he's more focused on executing the team's offense to find a shot. Here's a perfect example from their game against Utah Monday night:
Instead of attacking the rim or elbow off the initial ball screen from teammate Sam Dalembert, Jennings took a few dribbles toward the rim with the intention to flatten the defense for a throwback pass to forward Ekpe Udoh. Now anyone who's watched Udoh knows he's certainly not a threat 23 feet from the basket, but that's not the point of the pass. What it allows Udoh to do is catch and immediately go into a pass-and-follow pick-and-roll with Mike Dunleavy — one of the Bucks' most efficient scorers — on the right wing: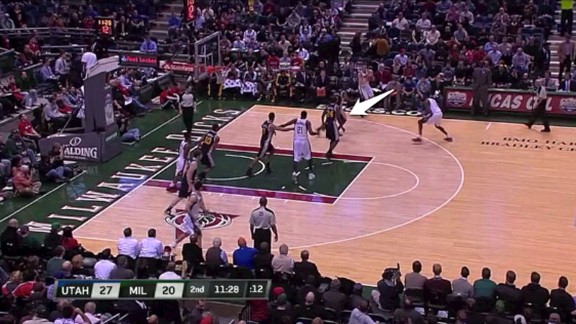 Udoh's defender, Paul Millsap, is sucked in by the initial Jennings-Dalembert pick-and-roll and is therefore out of position to properly help, should Dunleavy turn the corner off the screen. DeMarre Carroll senses this and overcompensates to beat Dunleavy to the screen. This frees up the Bucks forward to reject it and get a good look off a one-dribble, pull-up jumper toward the baseline. This whole chain reaction was set off by Jennings sacrificing his own possible jumper to run the action and get a better shooter a cleaner look.
Now, this isn't a new concept to Jennings. What is new, however, is the consistency with which Jennings has chosen to do it. It's made some wonder whether, for whatever reason, he's finally made the transformation to becoming more of a classic distributor. Though it's quite rare, some players — most notably Kevin Durant and Kyle Lowry — have managed to temper their score-first mentality with a more balanced approach.
If Jennings has really committed to this new approach, it could mean his partnership with Ellis is salvageable, and the Bucks as a whole are a far more interesting team for the rest of this year and beyond. But that's a big if.
The production from both Jennings and Ellis together is a pretty substantial anomaly. After sending the walking injury report known as Andrew Bogut to Golden State last February, the Bucks dreamed of an explosive backcourt capable of solving their scoring woes. Unfortunately, for Bucks fans, what was supposed to be explosive turned out to be erratic.
In 21 games last year, the duo was outscored by their opponents by 1.1 points per contest, nearly a full point below the Bucks' scoring margin of +0.3 as a team. This year has been a mild improvement, as the backcourt is four-tenths of a point better per game than the overall team mark (-0.3 to -0.7). Add the emerging, shot-swatting force of Larry Sanders to the mix, and the Bucks are actually outscoring their opponents +0.1 per game. These numbers certainly represent progress — and the possibility that Jennings has converted to the playmaking ways of Rajon Rondo and Steve Nash offers more hope — but in the grand scheme of things, the Bucks are still an afterthought.
Redick was added not only for his perimeter shooting but also to break up the Jennings-Ellis duo for stretches and to form a three-guard lineup that could pile up points in a hurry. But strangely enough, the team's recent winning streak has largely happened in spite of Redick, not because of him.
Though he has played exceptionally well (the former Duke product is shooting 50 percent from the field and 37 percent from 3) and helped Jennings pad his assist totals, Redick has posted negative point differentials with both of his new backcourt mates. The problem early on has stemmed from the decision to play all three together at once. The sample size is obviously minuscule — the trio is -8.5 in just 45 minutes — but subjectively, it's hard to see this ever being a productive idea.
Redick has turned himself into an above-average defender as a 2, but is completely overmatched against the personnel he'll face at the small forward position. Against nearly every team, Redick will face a serious disadvantage in size and strength guarding small forwards. The Bucks as a whole will also lose valuable defensive rebounding at the position — a major key in staying competitive defensively. Combine that with the shortcomings Ellis and Jennings have as defenders, and it's hard to imagine the group scoring enough to offset what they'll give back on the other end of the floor.
Perhaps even more concerning is that the Jennings-Redick pairing has been crushed by opponents to the tune of -11.9 per 48 in their 81 minutes together so far, despite the willingness of the incumbent point guard to share the ball. Again, the sample size is tiny, but there's also reason to believe these two will never find solid footing with the pieces currently around them. The duo should be passable defensively, but the problem is that neither guard can provide a consistent threat to attack the basket — or simply flatten the defense — to open up other options and/or create rotations that allow for offensive rebound opportunities.
According to Hoopdata.com, Jennings averages 4.3 shots at the rim per 40 minutes, but converts an embarrassingly low 53.1 percent of his attempts there, a number that ranks him near the bottom of all guards. Even if Jennings keeps up his dime-dropping ways, he might suffer from the same problems as Minnesota guard Ricky Rubio — a player whose noted inability to finish allows teams to play him to pass rather than to score. Redick finishes far better (72.1 percent), but ranks nearly dead last with just 2.3 attempts near the hoop. Redick and Jennings could likely prove a capable backcourt if Milwaukee had a frontcourt player capable of drawing attention through post-ups or a small forward capable of breaking down opposing defenses with the dribble, but a player like that doesn't currently inhabit the team's roster — at least at those positions.
This is where Ellis might have finally found a home as a winning player. Lost in all the positional talk of whether players are "point guards" or "shooting guards" is the idea of player type. Ellis has been given many labels over his career, but he can be objectively summed up as a high-volume scorer/slasher who finds his best matches defensively against players 6-4 and under. A player in that mold can typically contribute to a contending team in one of two ways: as an explosive sixth man or as a ball-dominant lead guard subsidized by the right personnel in the starting lineup.
The best personnel to surround Ellis? Low-usage shooters/defenders on the wing, a stretch big, and a defensive anchor. This is a combination that the Bucks, not coincidentally, can roll out. Redick (shooter) can join either Dunleavy (shooter) or Luc Mbah a Moute (defender) on the wing while Ersan Ilyasova is the stretch big (who helps open up the paint for a slasher's drives) and Sanders is the defensive anchor.
So far, the Ellis-Redick-Dunleavy-Ilyasova-Sanders combination is living up to its promise, having outscored its opponents by 28 points per 48 minutes in the first five games. The only problem is that the group has seen just 21 minutes so far because Jennings has been busy channeling his inner John Stockton. The irony is that this grouping could perhaps give Milwaukee its most competitive lineup since the early '00s — one that could also make them extremely interesting matchups against the Heat and Knicks this postseason, as well — but could be forever hidden behind the evolution of a franchise cornerstone into a more complete player, but not one that necessarily fits best with this team's personnel.
For a team struggling with relevance, navigating the fine line between the maturation of Jennings and the search for the optimal lineup is too positive a development to be labeled a problem. The key will be in finding how these two alternate paths can somehow combine to finally lead Milwaukee out of the doldrums of mediocrity.
Filed Under: Brett Koremenos, Milwaukee Bucks, NBA