Everything You Wanted to Know About That Incredible Day in the Premier League But Were Afraid to Ask
Andrew Powell/Liverpool FC via Getty Images
It was supposed to be a fairly dull round of midweek games. Sure, nine different matches were kicking off within 20 minutes of each other, but really, most of them were inconsequential. Only one truly pitched top-tier contenders against each other — Manchester United versus Everton — while the rest promised to be ho-hum affairs; they either didn't matter much or were foregone conclusions. Oops. Thirty-two goals, some incredible performances, and an unexpected result or two later, this sleepy Wednesday had turned into maybe the most gripping round of matches of the season to date. Unless you live somewhere with whatever the Queen's English equivalent of a man cave is, complete with multiple screens and feeds of questionable legitimacy, there's no way you watched it all. So, let's answer some questions about what you missed.
How Awesome Is Luis Suárez?
Luis Suárez is the awesomest. Luis Suárez did this.
(GIF via @KICKTV)
In case you were wondering, according to @Colinttrainor's expected goal model, that shot is worth just over .01 goals. Luis Suárez doesn't care about your numbers.
After that incredibly loud goal, Suárez quieted down. He only had a hat trick and an assist over the rest of the game, leaving the poor Norwich City Canaries with a whole heaping mess of PTSD (Post-Traumatic Suárez Disorder, obviously). This was his third hat trick against Norwich, making him the first player in Premier League history (which, it always pays to remember, is only since 1992) to have three hat tricks against a single team. Also, according to Bass Tuned to Red, Suárez has now scored more than a fifth of all his Premier League goals against the hapless Canaries. On the bright side, they have to play him only one more time this season.
If Suárez hadn't had the most dominant Premier League game of the season, we'd probably all be talking about Eden Hazard, who was only slightly less awesome. He put in two goals and added an assist to lead Chelsea to a tight 4-3 victory over Sunderland. Hazard is only 22, and everybody agrees he's a prodigious talent who hasn't quite put all his skills together. If this is the beginning of that, then the league is in real trouble. This version of José Mourinho's Chelsea depends on its wingers and attack midfielders to score goals (in a not unrelated note, Fernando Torres shanked another one last night), and if Hazard can develop into that type of performer week in and week out, it will go a long way toward stabilizing the club's attack.
What the Hell, Manchester United? Corollary: Is Southampton's Hot Start Over?
The two most unexpected winners of the night were road teams Everton and Aston Villa. Everton beat former boss David Moyes and Manchester United on a late goal from Leighton Baines backup Bryan Oviedo, while Aston Villa downed early-season darlings Southampton in a thrilling 3-2 slug fest. Both visitors absolutely had luck on their side. Aston Villa especially rode some epically strong finishing to outlast a Southampton team that outshot them 21-6.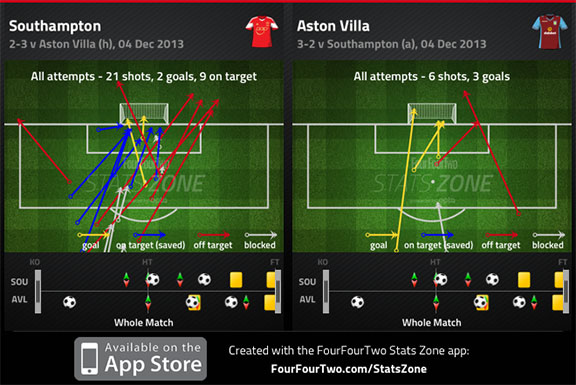 .
Everton certainly played United closer when it comes to total shots, but a slightly deeper examination shows that they too had a little luck on their side.
Everton were outshot 18-15, 12-7 on shots in the penalty area. Even more telling, of those penalty area shots, only one of Everton's was in a central location (within the width of the 6-yard box), while seven of United's were. That's not to say Everton didn't deserve to win, only that on another day they may not have. American hero and beard connoisseur Tim Howard played a fantastic game (as did his goal frame, which blocked two shots), and Everton's late goal was well deserved, as Oviedo made a fantastic back-post run to get on the end of a Romelu Lukaku shot/cross/deflected thing.
(GIF via @br_uk)
That run is a play that simply isn't in the tool kit of first-choice Everton left-back Leighton Baines. Oviedo has now scored in both games in which he's filled in for the Everton talisman. Moyes tried to buy Baines for United over the summer and is rumored to be lining up another offer for January. While it might have once been sacrilegious to consider selling him, the prospect of getting a huge fee for a 28-year-old defender on a relatively large contract seems increasingly palatable, especially if Oviedo's form continues.
The results mean that both United and Southampton have fallen further off the Champions League pace, now sitting five points off of fourth. If either of them narrowly miss out, they may look back on yesterday as a reason. At the same time, neither result is particularly a reflection on the losing team's underlying ability. They both remain top-four contenders, which is of course a fantastic place to be for Southampton, and an utter condemnation of United.
How Close Did AVB Come to Getting Fired?
It's impossible to know how much of the smoke around Tottenham Hotspur coach André Villas-Boas's job security is real and how much is generated to sell tabloids. However, if a 6-0 loss to Manchester City was enough to put him on the hot seat, anything other than a win against Fulham would have been devastating. According to a prediction model developed by @MC_of_A for the excellent Tottenham Hotspur blog Cartilage Free Captain, even a draw would cut Spurs's chances of finishing in the top four by 12 percent. That's enormous.
And there's really no way Spurs should have lost to Fulham, because Fulham are simply terrible. They consistently get outshot, and concede shots from dangerous locations while taking their own from relatively benign ones. Their midfield can't control games or maintain possession, which means their strikers, all of whom are finishers, none of whom are well-rounded players, are starved for decent opportunities. It's a mess, and it's why manager Martin Jol lost his job after Fulham dropped its fifth game in a row on Saturday.
So when Spurs defender Michael Dawson got caught in possession (again), and Jan Vertonghen, playing his second-best position of left-back got caught upfield (again), and Spurs conceded an easy chance that keeper Hugo Lloris was unable to stop (again) to go down 1-0 in the 57th minute, AVB could have been in serious trouble. It's not hard to imagine Spurs security packing up his possessions and changing the locks on his office door. He better thank his lucky stars that defender Vlad Chiriches equalized with a 40-yard worm-burner 13 minutes later, and Lewis Holtby gave them the lead with another long-distance strike in the 82nd minute.
But a win is a win, and Spurs remain only three points behind Liverpool and Everton for the all-important fourth place. And Villas-Boas remains employed.
Did Anybody That Looks Like Shrek Do Something of Note?
Indeed they did. Jonjo Shelvey, he of the much maligned £5 million transfer fee from Liverpool, scored two goals for Swansea. As always with Shelvey, his exploits were equal parts unexpected brilliance, for his second goal …
… and giraffe on roller skates for his first.
(GIF via @101greatgoals)
All Shelvey jokes aside (and that really is quite a lot of Shelvey jokes), his ability as a goal-scorer is about to become a whole lot more important. Swansea are a pretty talented team with very little depth. That's been particularly damaging to them this year, as they've coped with the rigors of the Europa League on top of their normal schedule. On Wednesday, the Swans were without their top two strikers, Michu and Wilfried Bony, and third-stringer Alvaro lasted only 29 minutes before coming off with an injury. When Alvaro left, it was Shelvey who slid into a kind of false nine, striker-ish position. With the games in December coming fast and furious, we may only be seeing the beginning of the Jonjo Shelvey experience. There's nothing else quite like it.
Anything Else?
Yeah. Arsenal won again. Yawn.
Filed Under: Arsenal, English Premier League, Liverpool, Manchester United, Premier League