Early-Season NBA Surprises Shootaround, A.K.A. SIXERS SHOOTAROUND
Jesse D. Garrabant/NBAE via Getty Images
Michael Carter-Williams is here to make basketball fun again.
What. Is. Happening!?
Zach Lowe: Here's how bad it was: My annual column of "bold" predictions hadn't been out even 30 minutes when an executive on a non-Sixers team emailed to challenge my call that the allegedly tanktastic Sixers would win at least 10 games, thus avoiding the infamy of tying the league's all-time worst record in an 82-game season. "I say under nine wins," the exec proclaimed. "Lunch on whoever loses the bet." That's right: Very smart rival executives were so pessimistic about Philly, so put off (in some corners, anyway) by perhaps the most naked tanking scheme in NBA history, they were willing to wager meals on it. And I'm not above ordering steak for lunch.
Not much changed, even after one feel-good win over Miami, which held Dwyane Wade out after insisting to anyone who'd ask that they wouldn't dial anything back in this regular season. The Wizards' announcers, generally a very good crew, could not hide that they had no clue who Philly's bench players were/are. Here's a tipoff that a team is really bad: If a bench player scores and the other team's League Pass announcing crew goes awkwardly silent for the next three to five seconds, followed by something like, "And that's Hollis Thompson [more silence], the rookie from [silence] Georgetown with the basket there."
But the Sixers are 3-0! Holy shit! Other terrible teams have started off hot, including last season's Bobcats (6-4) and Magic (12-13), and the Sixers will come back to earth and end up a lottery team. There just isn't enough talent here, and the front office has little interest in chasing the no. 7 or no. 8 seed. A few wins won't change the team's stance on dealing their core veterans the moment a good future asset becomes available. But beating Miami and Chicago at home earns you a closer look, even just three games in. (Their other win came against Washington, which must feel infuriated watching a franchise that doesn't really want to win sprinting its way to a 3-0 start. The Wiz dealt a first-round pick for Marcin Gortat because they badly want to win, and yet they're 0-3 for the third consecutive season, after starting the prior two 1-12 and 4-28, respectively. There will be panic in Wiz-ville if the losing continues. Their next game is against Philly, incidentally, on Wednesday.)
Here's the thing: There's nothing fancy about how Philly is doing this. They aren't doing anything wildly unconventional, on either end of the floor. They are just running the hell out of the ball on offense, a run-on-everything philosophy that both fits their NBA-capable personnel and has managed to surprise teams that haven't properly scouted them. Philly has become Denver East, with some Spursian stuff, including vigilant foul avoidance on defense, mixed in via Brett Brown. (R.I.P., Fun Nuggets, by the way.)
Philly is averaging 103 possessions per game, according to NBA.com. That is no. 1 overall, and nearly five more possessions than the go-go Rockets averaged last season in leading the league. No team has even cracked 100 since Don Nelson's batty Warriors did so in 2009-10. Philly's half-court offense is fairly standard NBA stuff, though they like to shoot early and attack the rim much more than they ever did under stodgy Doug Collins. They run a lot of pick-and-rolls, they fill the corner, they run guys off screens, and they even use dribble handoffs — the very symbol of Collins-era boredom. They do not post up, barring a huge mismatch. They appear to be using some George Karl–style spacing concepts that allow for cleaner dribble-drive lanes, but other teams have incorporated that kind of thing too.
Ditto for their defense. They force pick-and-rolls to the sideline, overload the strong side, and drop their big men back rather than have them jump out far and hard at opposing point guards darting around screens. Standard stuff, though Philly might exaggerate it a bit now and then in pursuit of turnovers.
It is the fast break that sets them apart so far. Last season, Denver and Houston inspired a sort of terror in opponents: Watch your own shot, or that of a teammate, for even a half-second, and your guy is gone the other way. That is a scary thing to deal with when you're on the road, playing your fourth game in five nights. That terror has migrated East. Oh, hey, Trevor Ariza, I see you are admiring that 3-pointer you just hoisted from the left wing. Great: Evan Turner just leaked out three steps ahead of you, and he's going to lay the ball in about three seconds from now. Thanks for coming out. The Sixers, so far, have the scariest collective first step in the league.
A little thing that helps: Almost anyone is free to push the ball off a defensive rebound. Take this sequence of three straight second-quarter possessions from the Sixers' win over Washington on Friday:
1. James Anderson, Philly's preposterous starting 2-guard, rebounds an Ariza corner 3, pushes the ball all the way up the court himself, and, seeing Bradley Beal back-pedaling, just launches a pull-up 3-pointer. It missed, but the shot was instructive. Anderson didn't look for Michael Carter-Williams, the Sixers' rookie sensation point guard, before sprinting up the floor, and he didn't hesitate before shooting. If you're open from deep, and you can shoot even just a little, Brown has given you the green light.
2. John Wall misses a layup, and Spencer Hawes grabs the rebound, takes one hard dribble up court, and then lofts an NFL-style bomb, at least 50 feet, to Thaddeus Young, who has Trevor Booker beat on the deep post. Young catches the ball over his shoulder just above the foul line and lays it in.
Brown has freed both Hawes and Young to push off rebounds. Hawes is an above-average ball handler for his position, and an excellent passer from all over the floor — a key reason the MCW-Hawes pick-and-pop has become such a weapon already. Young isn't a great dribbler in tight spaces, but he's fast, and he can push the ball fine in a straight line. He can also outrun just about every other starting power forward in the league. This isn't an All-Star big-man combo, and Hawes's quick fade in 2011-12 after a scorching start is a useful reminder today. But they're both skilled, and Brown is using them well.
3. Young rebounds a Wall miss and immediately pushes across half court without looking for Carter-Williams. He tosses a running cross-court pass to Anderson, which Beal intercepts. Oh well. The price of doing business.
This stuff is fun, and it will radically change Philly's shot selection. Only Chicago and San Antonio have averaged more shots from the restricted area, and Turner is getting to the line more than ever. (The team still isn't getting there much overall, though.)
Carter-Williams has been fabulous — heady, unpredictable, fast with his decision-making, and shockingly accurate from deep. The Sixers are seventh overall in points per possession, a shocking number.
This won't last. It can't, especially as the other 29 teams develop their books on Philly. But it's fun as hell.
The Sixers Might Drive Me to Murder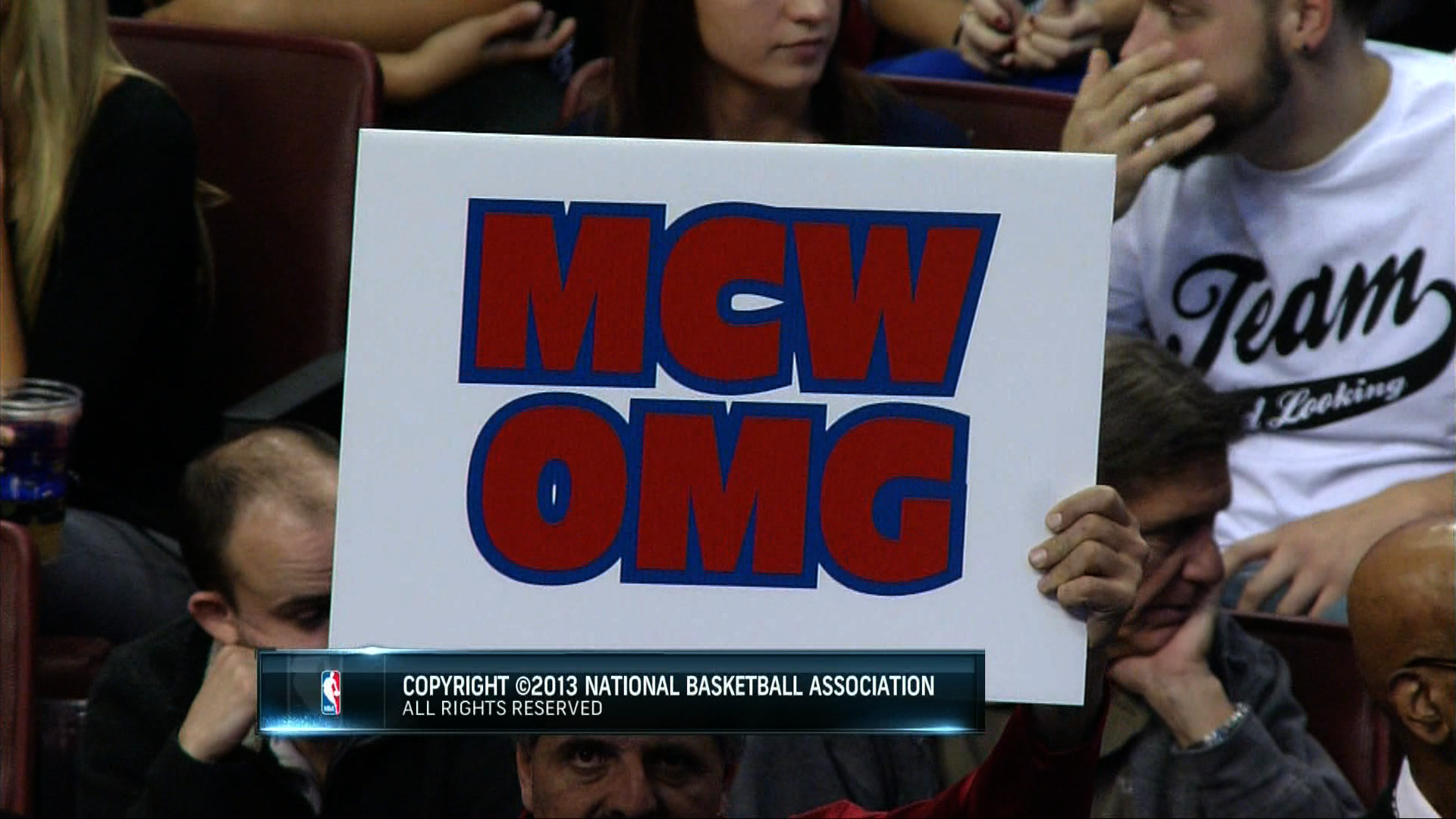 Andrew Sharp: Over the summer I moved to Los Angeles, and I knew pretty much no one when I got here, so I wound up living with someone I knew through the online NBA community. Thus, Basketball Apartment was born with me and Mike Levin. It's been a pretty good arrangement. I bought an off-brand Brita and provided a TV, he bought a recliner and some classy wooden mixing bowls. Things have been going great.
The start of the NBA season was like a holiday in Basketball Apartment.
But now things have taken a darker turn. This Sixers season really might tear us apart. My roommate runs the 76ers website LibertyBallers.com, and for the past week he's been walking around the apartment in ecstasy. You know how some people are crazy online and much quieter in person? Not Mike.
This is exactly how he's been in person for the past five days:
SIXERS WIN! AHAHAHAHAHAHAHAHAHAHAHAHHA

— Michael Levin (@Michael_Levin) November 3, 2013
THE SIXERS ARE UNDEFEATED. WATCH OUT 72 DOLPHINS.

— Michael Levin (@Michael_Levin) November 3, 2013
YOU ARE A SIXER I AM A SIXER WE ARE ALL SIXERS SIXERS SIXERS

— Michael Levin (@Michael_Levin) November 3, 2013
THE BELT STAYS IN PHILADELPHIA. BELT BELT BELT BELT BELT.

— Michael Levin (@Michael_Levin) November 3, 2013
This is going to kill me.
Or I am going to kill him.
It can be unbearable to live with someone who's constantly screaming optimism like a cult leader, sure, but that's not even the worst part. The problem is he's right.
Last Tuesday he was babbling about the Sixers' future, and I told him, "I'm going to give you exactly three weeks of pretending Michael Carter-Williams is a real building block, and then I'm gonna make fun of you for the rest of the year."
Now? I'm pretty sure Michael Carter-Williams is King of the Universe.
The Sixers are young, they play fast and make basketball fun, they have insane amounts of flexibility going forward, and there's absolutely no bad outcome from this season. If they keep winning? Great! If they start losing, that was always the plan. In the meantime, they have THE BELT, they have Spencer Hawes as the goofy white guy shooting flat-footed 3s, they have Tony Wroten and MCW going warp speed at all times, they have Thad Young and Evan Turner dunking on people and raining 3s. And again, if all this ends tomorrow, the Sixers and their fans will be perfectly happy. It's all so unfair.
My favorite team has John Wall, who hasn't looked that much different than Tony Wroten, except he makes $79 million more and the Wizards are committed to building around him for the next five years. Bradley Beal has looked as overwhelmed as the Sixers were supposed to look. Marcin Gortat and Trevor Ariza have been solid (I guess?), but everyone else on the Wizards has been a disappointment, and playoff guarantees from a week ago already look ridiculous. I'm not even emotionally prepared to go into more detail here.
More important: All that became crystal clear when the Wizards were falling apart in the fourth quarter against the Sixers on Friday night, right as Mike cackled and said, "No matter what happens, I'm gonna be happy!"
I spent 90 seconds fantasizing about smothering him with a pillow.
The next night we watched the Bulls game, and I was back onboard the Sixers bandwagon, because who wouldn't be? Jealousy aside, it's impossible to root against this team.
Even if they lose by 30 to the Warriors tonight — they're totally losing by 30 to the Warriors — they'll be fun all year and we'll always remember the week of rainmaking from Spencer Hawes and MCW. Then they have picks for the future, young players, a good young coach, Sam Hinkie, solid ownership, everything.
Every team that's not contending should want to be exactly what the Sixers are right now. And just know that all year long, I will quietly hate my roommate for how awesome this is, and if the Wizards don't start playing better, one night I might snap and tear apart Basketball Apartment forever. But, you know, go Sixers. Homicidal jealousy is the sincerest form of flattery.
Numbers Never Lie
netw3rk: From an article about Sam Hinkie's strategy from the Philadelphia Inquirer:
"Our fans want to play meaningful games in late April and mid-May and late May and someday June," Hinkie said. "It's what I want most, and a lot of life is about sacrificing what you want now for what you want most."
That sacrifice has entailed trading the team's All-Star point guard, Jrue Holiday, to the Pelicans for the rights to Nerlens Noel, who was promptly swathed in bubble wrap and placed gently on the highest shelf in Hinkie's office. Then Hinkie selected 6-foot-6-inch guard Michael Carter-Williams, a player who projected well to the NBA analytically, but would need time to develop his jumper — particularly the off-the-catch (28 percent while at Syracuse) and pull-up variety (26.2 percent) — and rein in his turnovers.
So, the Sixers traded their best player for a player who will not play this year, and picked another player whose developmental arc befits the open timeline and bountiful minutes that the aggressive rebuild strategy (derisively referred to by the haters as "tanking") provides.
So, of course, Carter-Williams has gone 45.5 percent FG/68.2 percent eFG off the catch, and 36 percent FG/43 percent eFG from pull-ups, with averages of 20 points, 9 assists, 4.7 rebounds, and 4 steals; the Sixers are 3-0; and Sam Hinkie is grimacing in his executive box while Major League 4: Trilladelphia unfolds on the court below him.
How Good Is MCW?
Kirk Goldsberry: SportVu, the league's newfangled player tracking system, provides a deeper glimpse into that energetic pace. So far, 32 players have traveled more than seven total miles during NBA games. Only three of these distance runners are averaging more than 4.5 mph in the process, and two of them play for the 76ers: Michael Carter-Williams and Thaddeus Young, who are joined by Tony Parker, one of the league's fastest players. Apparently, Brett Brown, who coached Parker in San Antonio for six seasons, has imported some of that Parker speed to Philadelphia, and he's using his rookie point guard as his main offensive character; Carter-Williams leads the team in touches per game, averaging just under 86. He's also among the league leaders in passes per game, averaging more than 63, which places him above established floor generals including Parker and Derrick Rose. He's sixth in the NBA in "potential assists" (passes leading to immediate shots) per game, with 15.3.
As a scorer, Carter-Williams has already shown versatility. He loves to both attack the basket and shoot 3s. Through three games, his shot chart reveals a tendency toward the left side (graphic right) both near the basket and beyond the arc.
Physically, the synthesis of his size, strength, and athleticism makes him a tough matchup for almost any NBA guard. His ability to knock down 3s at the top of the arc will force those defenders to stay honest, opening up attacking lanes, which he has already shown he can exploit. Mentally, he doesn't seem to be intimidated at all by his new elite cohort. Saturday night against Chicago he went toe-to-toe with Derrick Rose, leading a fierce comeback and coming out on top.
It's unclear whether these first three games have been a fluke or a revelation, but it's been a hell of a first week in the NBA for Michael Carter-Williams.
What Do You Want Me to Say!?
Chris Ryan: Honestly, I can't jinx this the way I did the Chip era. Go Sixers!
(Via WheresWeems.com and every Sixers blogger/site.)
And How About Boston?
Bill Simmons: If you thought it would take until January for me to start rooting against my beloved Celtics, think again! I didn't even last two games. That's my biggest surprise of Week 1 … I thought I'd hold out until Thanksgiving at least. Who knew? Who knew I'd be rooting against my own team for 80.1 out of 82 games????
Come back to Friday night with me: Milwaukee at Boston, 1:43 remaining, Boston calls a 20-second timeout up by one.
We were watching eight games at once in our NBA Countdown war room and reeling because (a) Doug Collins predicted his old team's comeback in Washington a good 20 minutes before it happened, and (b) Philly looked stunningly and exceedingly competent. Even with only four NBA-caliber players (Thad Young, Spencer Hawes, the Villain and MC-Dub) and the NBA's lowest payroll, the Sixers somehow stumbled onto an entertaining, athletic, attack-the-rim identity. Count me among the people who were blindsided here. I thought MC-Dub would be a bust. I thought the Sixers would win 15 games or fewer — also, I thought that's what they wanted. They're better than that. And actually, Phoenix is better than I expected, too.
You know who's worse than I expected? The No Rondo Celtics. Since they trot out a never-ending slew of seventh and eighth and ninth men, there's never a moment when you say to yourself, "Wow, that guy's out there?????" They're deceivingly putrid. Unlike 1997 and 2007, there's no Marty Conlon or Allen Ray logging crunch-time minutes. There's no Todd Day or Gerald Green jacking up 25 shots. There's no M.L. Carr butchering last-minute decisions, or Bassy Telfair, Delonte West and Rajon Rondo all playing at the same time. The 2013-14 Celtics field a bunch of likable guys who play hard, keep you semi-entertained, look half-decent for 43 minutes … and then become unhinged in the last five. It's actually kinda perfect. What's better than six straight months of hard-fought losses with the best draft in 29 years looming? WHO'S UP FOR SOME HARD-FOUGHT LOSSES?!?!?!?!????
On Friday, the Bucks rallied back from 22 behind Nate Wolters, Zaza Pachulia and Gary Neal (the new Big Three). No Celtic could derail Milwaukee's momentum because, I mean, who's doing that on THIS team? Gerald Wallace? Jeff Green? They scored just two field goals in the final nine and a half minutes, with the baby-faced Brad Stevens aging 10 days per terrible possession. (He's going to look like Saul in "Homeland" by the end of this season.) The last 1:43 dropped to another level: a missed Wallace 3, a missed Bass layup, a Wallace turnover, Gerald Wallace getting a technical for taking a shit at midcourt, then a blocked Courtney Lee 3. (Note: I made up only one of those moments.) It was one of those losses that could make the difference between picking a future franchise player and a future borderline All-Star in eight months. It was a means to an end.
And I was fine with it. Last night's "crushing" defeat in Detroit was equally (and weirdly) satisfying. With three minutes remaining, trailing by two, we pooped out four of the worst possessions you can imagine: Lee's "is he shaving points?"–level awful cross-court pass (turnover); Bradley's out-of-control drive that ended up with him somehow shooting the ball out of bounds (turnover); Bradley's own version of the "is he shaving points?"–level bad pass (turnover); and then, my personal favorite, Gerald Wallace getting his wide-open corner 3 blocked by KYLE SINGLER!!!! Game time. 0-and-3.
Kudos to Wallace, by the way. He's been amazing — he plays harder than anyone on the team, he makes loony comments after games, he's in total denial that the Celtics stink, and he's probably 283 percent worse than he thinks he is. I can't think of a better guy to help us finish 14-68. He's my LVP through three games. We just need to hold the fort until Rondo comes back — and by "hold the fort," I mean we have to explode a port-o-john on it. Any start better than 5-30 is an abject failure. Let's do this, Celtics. (Er, let's not do this.)
Filed Under: Andrew Sharp, Bill Simmons, Boston Celtics, Chris Ryan, Kirk Goldsberry, NBA, Philadelphia 76ers, Zach Lowe