CourtVision: When LeBron Attacks
Nathaniel S. Butler/Getty Images
With exactly five minutes left in the fourth quarter, LeBron James held the basketball about 30 feet from the rim. The Heat were beginning to "run clock" as they fought to close out the Bucks in Game 4 of their first-round series. James stood calmly atop the 'O' in the "NBA Playoffs" decal; the shot clock drained. His defender, Luc Richard Mbah a Moute, waited about four feet in front of him. In a scouting report from the summer of 2012, John Hollinger had described Mbah a Moute as a "potent defensive force" with freakish length, a high motor, and lateral quickness.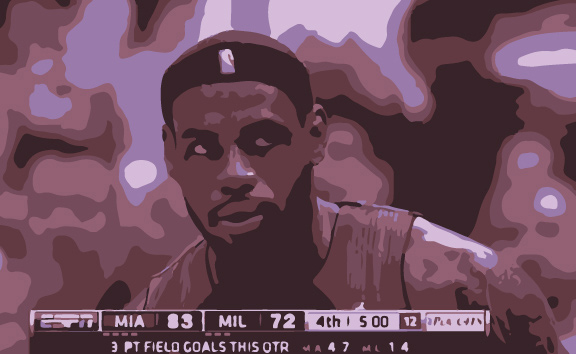 With 4:56 remaining and eight seconds left on the shot clock, Mbah a Moute engaged LeBron. James took a short step to his right but quickly changed his course, using a left-handed dribble to propel himself down the left wing and aggressively attack the left block. By the time James gathered up his second dribble he had surged past Mbah a Moute and arrived deep into scoring territory. He elevated and released a high-arcing teardrop that dropped through for two points.


That particular drive in Milwaukee showcased the astonishing blend of skill, smarts, power, speed, balance, and grace that makes James so special. Late in a playoff game, in a half-court scenario, James had traversed 30 feet of court space in just two dribbles and just two seconds; he'd beaten his man and scored a key basket all by himself.
When LeBron attacks, great things happen for his team. I like to argue that a LeBron James drive toward the basket is the most effective "move" in the entire NBA; I don't believe any other action by any other player in the league is as valuable. Using player-tracking data such as those collected by the famous SportVU cameras, we can measure, quantify, and compare basketball actions like never before. It's this data that is helping understand the value of things that previously went unmeasured, things like LeBron James drives.
On average, NBA teams generate about one point per possession. Depending on the nature of a given possession and its main characters, however, some yield more expected value than others. For example, Atlanta Hawks' possessions that end with a Josh Smith spot-up jumper yield 0.79 points on average, much lower than that one-point baseline. Conversely, Warriors' possessions that conclude with a Steph Curry spot-up generate an average of 1.3 points.
When LeBron drives, the Heat generate a staggering 1.6 points per possession.
James is the best player in the NBA. He absolutely crushes the Jalen Rose Test (can a guy shoot, pass, and dribble?). His jump shot is suddenly elite, his passing is top-notch, and his strengths as a ball handler seem unfair for a man his size. The combination of his size, athleticism, and skill manifests in a freakish ability to score the basketball close to the basket. Nobody is better. During the regular season, James not only led the NBA in points near the basket, he also was first in close-range field goal percentage. That's domination.
LeBron is the most dangerous offensive player within the NBA's most sacred space, which is why the entire Spurs' defensive scheme during the Finals has been designed to keep him away from the rim.
During the course of the regular season and the playoffs, SportVU cameras have recorded 126 LeBron drives. Because Miami has yet to adopt the system in its arena, James "plays under the cameras" during only about half of his road games. Out of those 126, James scored 115 points, collected 14 assists, and only turned the ball over nine times. The Heat scored a total of 202 points. Here's what all of these look like at once, a messy barrage of glowing noodles on the court.
That image might look kind of cool, but we don't really learn much from it. What we can do is break down LeBron's driving tendencies in several ways to help us better understand their nature. Out of his 126 SportVU drives, 62 of them originated in the center of the court, and 32 each originated on the left and right sides. His most effective attacks originate from the left, and when he attacks from one of the sides, he almost always enters the paint somewhere between the elbow and the low block.
The takeaways are simple: LeBron is a consistently great attacker who is only getting better. Since arriving in the league, he's worked hard to develop as a player. He's great with both hands and knows when to shoot versus pass. The reason people get so mad when LeBron appears passive is because he's so much more valuable when he's aggressive. LeBron is one of the few guys in the NBA who can single-handedly elevate the expected value of a possession via a fairly conventional action. Each time James uses his dribble to transport the basketball closer to the basket, he puts his team in a much more lucrative position.
As Game 7 unfolds tonight, LeBron will stir Miami's drink one more time. When he attacks, the Spurs' defense changes its shape. In general, it has done a stellar job by limiting James's ability to score on his own drives, instead forcing him to pass out and transfer the scoring burdens onto his teammates. The Spurs have bet the house on a basic proposition: spot-up jumpers are less dangerous than close-range LeBron. To this point, you'd have to say that's been a good wager; the Spurs should have won the series on Tuesday, and many of the Heat's biggest shots this series have been along the perimeter. The Spurs have prevented the kinds of blow-by drives like that one in Milwaukee.
Note: Thanks to Ryan Warkins at STATS for his help on this project.
Filed Under: Kirk Goldsberry, LeBron James, Miami Heat, NBA, NBA Finals, San Antonio Spurs