CourtVision: The Year in NBA Scoring Trends
Layne Murdoch/NBAE via Getty Images
It's been a wonderful season so far in the NBA. From a scoring perspective we are seeing some familiar patterns, but also witnessing some interesting new trends. So far this year, NBA players are shooting 44.6 percent from the field; collectively, they have made 26,705 of 59,927 shots. Field goal percentage efficiency is slightly down from last season, when the league as a whole made 44.8 percent of its field goal attempts, but this is only part of the story.

The NBA is becoming more of a 3-point shooting league. Twenty-four percent of the league's field goal attempts occur behind the arc, which is higher than ever before. But the league is also improving its 3-point shooting efficiency, especially in the corners. Last season the league shot 37.8 percent from the right corner, and 36.6 percent from the left corner; those numbers this year are 39.0 percent and 39.1 percent, respectively. More teams around the league are designing sets to get good shooters open looks in the corners, and it's showing: Away from the basket, the league's favorite shot has quickly become the corner 3, which is every stat geek's preferred field goal attempt.
At the same time, the league is turning away from mid-range shots. Last season, 38 percent of the league's field goal attempts were mid-range attempts; this season it's only 34 percent. Although these changes seem small, they indicate that the NBA is an increasingly inside-outside league. This is evident when we visualize the league's most popular shot locations. A vast majority of the league's 200 favorite shots occur either very close to the basket or beyond the arc.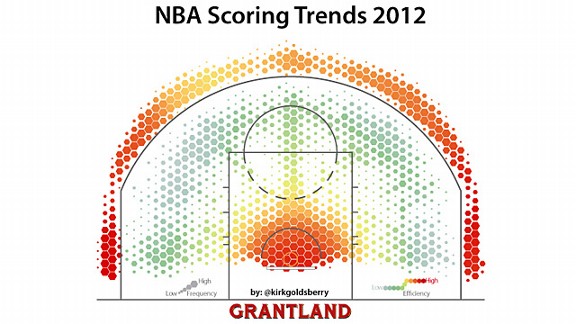 NBA shot selection has evolved to recognize that mid-range shots are generally the least efficient shots on the floor. They are only worth two points, they elicit shooting fouls and offensive rebounds at the lowest rates, and they only go in slightly more often than 3-point shots. That's not to say that all mid-range shots are bad ideas, but when we look at multiple months of shooting data, they definitely emerge as the poorest bargains on the floor.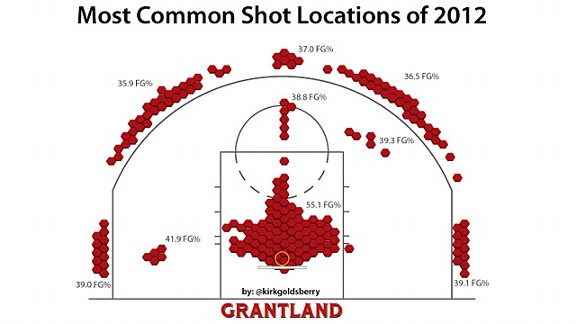 Filed Under: Courtvision, Kirk Goldsberry, NBA