College Football Final Exam Shootaround: The Men, Moments, and Memories That Defined 2013
AP Photo/Dave Martin
We made it. Championship Saturday is in the books, the BCS pairings are set, and the Heisman finalists are packing their bags for New York. There's plenty of bowl-season excitement ahead, but now that the 2013 regular season is in the books — with the notable exception of Saturday's Army-Navy clash! — it's time to take stock and reflect. Do we really need to say good-bye to Johnny Football? Should we just give Gus Malzahn his statue now? Did the entire world go mad and somehow forget about Notre Dame? Grantland's college football enthusiasts are here to share their thoughts on the best and worst this season had to offer. We're looking at you, Diesel.

Fare-Thee-Well, Johnny Football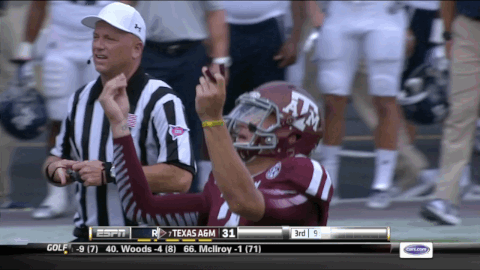 Holly Anderson: He hasn't played his last collegiate game. He has yet to officially declare for next spring's NFL draft. But lordamercy, do we already miss Jonathan Football-Manziel Esquire. Any creature storming his way into our hearts via shirtless mug shot was bound to burn out fast rather than fade away, but that doesn't lessen the pain of our impending separation.
And that separation is coming, make no mistake. Johnny Fuckin' Football is Schrödinger's quarterback, still here and already gone. This season, however unfairly, will go down as something of a disappointment, even though Manziel will nearly match his 2012 stats and is again a Heisman finalist. His body betrayed him repeatedly this season, and A&M's offense found itself unable on several occasions to shoot its way past A&M's abysmal defense. The Aggies will follow up last year's rollicking run to the Cotton Bowl by facing Duke in Atlanta on New Year's Eve. It ain't bad. But it ain't the stratosphere. And so we've already started missing him. Crank up your Week 3 classics playlist and remember the good times:
He's about to belong to the big leagues, and if you thought the pundit hand-wringing over this kid's insistence on living his life his way was unbearable at this echelon of the game, guard well your senses against the tidal wave of pearl-clutching to come. We'll love JFF forever because he didn't need us to love him. We'll love him because he never needed the NCAA and because of the way that reality so visibly terrified college football's power structure. We'll love him because he's a walking, breathing, you're-not-the-boss-of-me-based life form, and we'll not soon see his like again.
Nick Saban to Texas!
Bryan Curtis: I think it's OK for me to report this. My sources gave me the go-ahead, as long as I keep the news on this message board. We University of Texas fans are having a coaching search. It's absolutely glorious. It's my favorite thing about the 2013 season.
As of this writing, Mack Brown is still coaching the Longhorns. But he's been teetering on the edge of oblivion for the past two seasons. He's teetering more violently after Texas lost by 20 to Baylor on Saturday. Moreover, Mack has a new AD. He's meeting with said AD this week. But we're not waiting for the result. We're having a coaching search. We're trying to hire Nick Saban.
If you've ever been on the Internet during one of these things, you will recognize certain stock components. For instance, we use flight-tracking software to monitor suspicious planes. Today's mystery plane went from Memphis (home of Saban's agent, Jimmy Sexton) to Kentucky (where Saban was said to be recruiting) to Austin. It probably wasn't the right plane. But that's OK. This is a coaching search.
We spent an inordinate amount of time tracking an alleged housing purchase in a ritzy Austin neighborhood. Saban's wife, Terry, may have bought this home as the future dojo of the new head coach. Or she may have bought it as a vacation home. Or for the kids. Or there may be a bogus "Terry Saban" running around Austin in the way there was once a "Ron McKelvey." But that's OK. This is a coaching search.
We may have heard that Saban has a very good reason to come to UT, one that involves some investments he made at Alabama. We had a document today confirming this, but it seems to have been pulled off the Internet. But that's OK. This is a coaching search.
Our trusty guide on this vision quest is a reporter who goes by the name of "Jesus Shuttlesworth" and writes for a site called Inside Texas. Jesus, who's probably my favorite sportswriter on the Internet right now, is fond of quoting a powerful group of Texas donors. He refers to them as a single-voiced Borg collective called the "Big Cigar." We don't know who the Big Cigars are. We don't know who Jesus is. (Well, we sort of do, but we're keeping that secret.) But Jesus broke the news that Texas was courting Saban about a year before the Associated Press did. That's why we're rolling with him. This is a coaching search.
I wanted to make a big point here about the way college football has developed its own peculiar kind of journalism, one in which we message-board people ask Jesus for better, faster, and more definitive news than any human being could possibly deliver. A kind of journalism in which local connections trump national brands. A kind of journalism in which every article begins, "Here's what I'm hearing … " But that's the most boring thing I could possibly write. This is a coaching search. And I've never had so much fun.
Thank You for Not Coaching: College Edition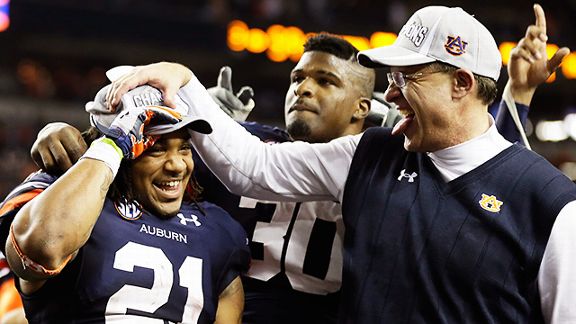 Bill Barnwell: Gus Malzahn is having a pretty good debut season as the head coach at Auburn, huh? Taking a team that went winless in the SEC a year ago to a 12-win season, a victory over Alabama, and a spot in the national title game seems like a pretty good start. Now, though, Malzahn can add a truly lofty distinction to his résumé: His decision to try an unexpected onside kick against Missouri in Saturday's 59-42 SEC championship shootout earns him a Thank You for Coaching nod.
In a vacuum, unexpected onside kicks are wildly successful decisions for coaches. At the professional level, they succeed right around 60 percent of the time. I don't have a success rate for college special teams units executing the same play, but there's little reason to think that it would be materially different; college kickers aren't as good as professional kickers at spinning the ball off a tee, but it would also stand to reason that the guys waiting to pick up the football might be a little sloppier, too. A team wouldn't want to execute an unexpected onside kick every game, of course, but a good coach would wait for the right moment to try to maximize the kick's meaningfulness and value while aiming to find a team that might be susceptible to the tactic on tape.
A high-scoring game like Auburn-Missouri is ripe for an unexpected onside kick. Why? Think about the nature of that contest. For most of the first three quarters, neither team could stop the other from marching down the field and scoring at will. The only way to stop the other team from scoring was to have the ball. A game like that makes possession more valuable. Meanwhile, because both teams could pick up first downs at their leisure, field position was less important than it would be in a low-scoring game; those teams were each unlikely to punt, and the odds that either squad would score on a drive that began at its own 20-yard line weren't all that different than for a drive that began at its own 40.
That plays right into the logic of the unexpected onside kick. It makes the upside of the kick — retaining possession while denying the other team a possession — even more valuable than normal. Meanwhile, the typical downside of an onside kick is giving the other team great field position if the recovery fails. Well, on Championship Saturday, Auburn and Missouri could have started a drive in the parking lot and it would have constituted great field position. Malzahn took a calculated risk by attempting the onside kick, and while it paid off when his team secured the recovery, the outcome doesn't even really matter: The logic was sound.
Bedlam Earns Its Name
Brian Phillips: Two years ago, casting around for a way to explain the tendency of Oklahoma State sports teams to lose in horrific, last-second, Rube Goldbergian ways, I posited the existence of a malevolent octopus-demon who dwelt beneath the plains. He was a creature of pure and smoldering evil whose sole purpose in the universe was to visit misery upon Oklahoma State fans. He was a force of such fiery wrath that the very clouds themselves quaked at his — well, you get the idea. I called him "Squinky."
During the Cowboys' magical run to the Big 12 title in 2011, which culminated in a 44-10 win over archrival Oklahoma, I chronicled Squinky's death throes. Within Oklahoma, the quest to destroy Squinky took on a life of its own and — like all the best exorcisms — spawned a minor fashion movement. That 2011 team finished in the top three in the BCS rankings, missed the title game by the thinnest margin in history, and made Brandon Weeden look like an NFL quarterback — surely, I reasoned, making existential calamari of the Cowboys' hellish tormentor.
But like the " … or is it?" that follows "THE END" in all the greatest movies, Squinky may simply have been toying with us. Last weekend, with Oklahoma State closing in on another win over Oklahoma and another Big 12 title, this happened.
And, IN THE MIDDLE OF THE GAME, this happened. That's right: An earthquake shook central Oklahoma just as Oklahoma State was contriving to lose in disturbingly familiar, i.e., improbable and excruciating, fashion. There's only one possible conclusion here.
He's back. Squinky is back.
Hold me.
Mizzou, That's Who
Robert Mays: There are two versions of the Henry Josey story, and they both start the same way. There's an image of Josey bursting 60-something yards for a touchdown in 2011, followed by a reminder that by the time Missouri played Texas, he was averaging more than eight yards per carry. The next shot is of Josey moving down the left sideline, where a Longhorn pulls him awkwardly to the ground. Josey's left leg gets caught underneath him, to the point that his heel actually digs into the top of his hamstring. The voice-over tells us that everything in Josey's knee — ACL, MCL, meniscus, and patellar tendon — is torn. Doctors didn't know how well he'd ever walk again. The thought of football was far away.
That's when the two stories start to splinter. Each features a clip of Josey blazing for a touchdown against Murray State in Missouri's opener this year, 21 months after he last played football, but the tone is different. The darker version goes on to be a metaphor for Missouri football over the past few decades, how the building of hope only worsens the crash. Visions of Flea Kickers and Fifth Downs are spliced with an image of Missouri's symbol of resurgence literally crashing at the end of the team's season of resurgence.
I don't care much for that version. I like the one where Henry Josey was the best part of a Missouri season in which the best part was hard to find. In that one, there's a moment every time Josey touched the ball when I held my breath. It's the one where every game, you could feel that big run coming just before it did. And it's the one that ends with Josey putting away Mizzou's SEC East title a year after the Tigers were almost laughed out of the conference.
This Missouri team has drawn inevitable comparisons to the 2007 version that also fell one win short of the national championship before accepting an empty bid to the Cotton Bowl, and eventually, with time, Mizzou fans will think of this team the same way they thought of that one. How close these Tigers were will matter less; how fun it was will matter more. When that time comes, visions of Henry Josey — ones many thought we'd never have again — will be my first.
Uncle Verne and the Greatest Show on Earth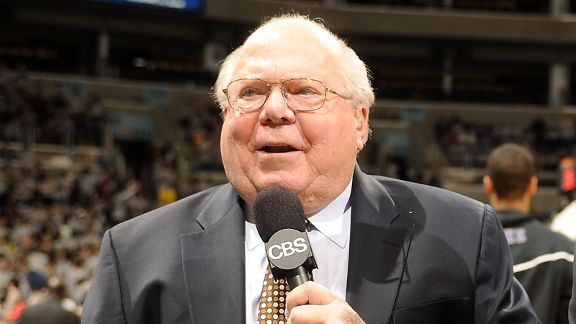 Andrew Sharp: The seven best college football games on CBS this year:
• LSU 31, Arkansas 27: It ended in the final minute, when a freshman quarterback led LSU 99 yards for the game-winning touchdown. (This was on Friday after Thanksgiving and there was no Uncle Verne, but still.)
• Auburn 45, Texas A&M 41: Malzahn's cracky genius against Johnny Football in a game that came down to the final drive.
• Georgia 44, LSU 41: A shootout between two title-quality teams ended on the final drive. Again.
• Auburn 59, Missouri 42: Malzahn's cracky genius, Missouri's power forward receivers, 100 points in the national championship play-in game.
• Alabama 49, Texas A&M 42: This was probably the game of the year. Or it would've been. But:
• Auburn 43, Georgia 38: Jesus.
• Auburn 34, Alabama 28: JESUS.
SEC football is a hell of a drug.
And Verne Lundquist is the best drug dealer.
The SEC Game of the Week on CBS is better than anything else in college. It's better than the NFL, better than everything. There is very little rhyme or reason to what happens on CBS every Saturday, which is to say it's the best possible version of sports, in which we can just turn off our brains and be entertained.
About halfway through this season, I realized there's nothing in sports I look forward to more than the SEC on CBS. The games just kept getting more insane every week.
Don't Be Fooled: The ACC Is Still the ACC
Shane Ryan: Halfway through the season, in Grantland's Midterm Shootaround, I wrote about how the ACC found itself in the midst of a football resurgence that was beginning to redefine the conference. Florida State and Clemson, both undefeated at the time, were about to face off in what should have been one of the best games of the year. Instead, it was one part gaudy publicity stunt (for Clemson), one part vicious beatdown (I guess the beatdown was also "for" Clemson). Since then, the ACC has unraveled into a league with one successful team shrouded in scandal, and a bunch of pretenders.
The leader of the pretenders is Duke, a team that barely beat Wake Forest and North Carolina but won the Coastal Division. As a Duke fan, this has been amazing, but it came about because Clemson and Florida State weren't on the regular-season schedule, and luck was with the Blue Devils all year long. Wins are wins, and it was a delightful year, but the comeuppance last weekend in Charlotte was extreme and remorseless and profound and ugly. Still, the season was good enough to produce a Chick-fil-A Bowl berth against Johnny Football and the Aggies, and I suppose there's a chance that Coach Cutcliffe and his boys will finish the dream season with a stunner. But here's the thing: Merely considering that possibility requires believing certain things about the ACC that I no longer believe.
For instance, that Clemson is a good team. After the FSU loss, Clemson had one chance to prove it was something more than a decent team beating up on some really bad ones. That chance came against South Carolina two weekends ago, and the Gamecocks proved SEC superiority with an emphatic win. Now, Clemson draws Ohio State in the Orange Bowl, and while the national perception that the Buckeyes were pretenders was somewhat borne out against Michigan State in the Big Ten title game, this still feels like a game that will embarrass the ACC. Urban Meyer against Dabo Swinney is a terrifying draw, and Clemson can't win the big game. Why should we expect anything different from the Tigers' last BCS disaster?
And then there's Florida State. On the face of it, the fact that the ACC produced an undefeated team that will play for the national championship would seem to belie my argument. And people even think the Noles are a legitimate contender. But what looked like the feel-good story of the year has turned into something far more complicated. People will believe what they want to believe, and I'm no different. So, for the record: I believe it's impossible to enjoy Florida State on behalf of the ACC, and I think if there's any karmic justice in the world, Auburn will beat the Noles. And god, I hate Auburn. On a practical football level, do we even really know what to expect from the Seminoles? Have they played an "elite" team yet? The answer is only "yes" if we give Clemson too much credit. Life for FSU will be significantly more difficult against Auburn, and my gut tells me it will lead to an appropriate finish for a conference that still knows better than to believe in itself. #goacc
Sparty!
Craig Gaines: It's fairly terrifying that only an infinitesimal percentage of today's Michigan State undergraduate student population was alive the last time the football team earned a Rose Bowl berth. Their forebears back in 1988 might have thought the Spartans' 20-17 win over USC presaged a new era for the program, and this year's cohort is obviously riding high on MSU's out-of-nowhere Big Ten championship. But in between those two poles was a quarter-century of mediocrity and heartbreak. Today's Spartan, buoyed by his basketball team's year-to-year elite status and newly hopeful with this winter's football trip to Pasadena, will never know the crushing cruelty of a ho-hum Division I athletic experience.
After that golden win over Rodney Peete's Trojans, MSU coach George Perles's reign never again reached such heights. Three bowl trips immediately followed the 1988 win, but the four seasons after that saw only a Liberty Bowl loss. Perles was replaced by a talented defensive coordinator named Nick Saban, who produced three straight bowl losses before walking out on the team right before its first bowl win in nine seasons so he could take the Louisiana State job. (It was a shrewd decision, but try telling that to anyone with a memory in East Lansing.) The decade or so after that brought more of the same.
Mark Dantonio is the most popular coach the program has seen since Perles (or, hell, maybe since Duffy Daugherty), and he has led the Spartans to a bowl appearance every year of his tenure. But no one in mid-Michigan had any plans to expose their sun-starved flesh to Los Angeles's wide-open skies at the start of this season (heads-up, kids, it does get chilly out here this time of year). That said, this team — with its no. 1 defense in the nation, competent if unflashy quarterback, and punishing running attack — contains echoes of the past. The last time Michigan State graced Pasadena with its presence, its head coach was famous as the architect of the Steel Curtain, the quarterback was ultimate "game manager" Bobby McAllister, and the star was heroic runner Lorenzo White.
Today's denizens of East Lansing are blissfully ignorant of a time when MSU was a Division I backwater, but maybe this latest Rose Bowl appearance will secure the long-term success a past generation sought. The fans from 1988 have moved on, but they'll be watching, too.
Long Live Coach O
Matt Borcas: Roughly two months have passed since Lane Kiffin's ouster, and it's now safe to say that Kiffin's USC legacy boils down to two things: University of Spoiled Children jokes and getting shitcanned in legendary fashion.
Lane Kiffin got pulled off the team bus at Los Angeles International Airport by Pat Haden when he was fired #USC

— InsideUSC (@InsideUSC) September 29, 2013
I'm told Lane Kiffin told the bus to wait but then #USC administrators told it to go back to campus without him

— InsideUSC (@InsideUSC) September 29, 2013
I heard Lane Kiffin left his bag on team bus because he thought his meeting with Pat Haden would be brief and routine matter #USC

— InsideUSC (@InsideUSC) September 29, 2013
The image of Kiffin getting his comeuppance in the wee hours of the morning, at an airport, just after suffering a beatdown at the hands of Todd Graham, delighted me to no end. It was too hilarious to be true; the only thing missing was a stealth Twitpic of Kiffin on a golf cart consuming some 4 a.m. Cinnabon. But it really happened, and it left Ed Freaking Orgeron in charge.
As a Notre Dame fan, the prospect of Orgeron serving as USC's interim coach was tantalizing. I hoped and prayed that he'd win enough games to retain his post, because his disastrous tenure at Ole Miss proved he held the power to sink the Trojans' program further into the depths of mediocrity than even Kiffin could. Of course, at the time, this seemed like a terribly unrealistic hope to have, and I was all but sure my prayers would go unanswered. After all, the only thing worse than Orgeron's track record as a head coach was USC's offense. Orgeron may have been able to charm Sandra Bullock in The Blind Side, but there was no way he'd convince AD Pat Haden to remove the interim tag from his title.
Then a funny/strange/completely absurd thing happened: The Trojans began pummeling opponents under Orgeron's rule. The offense came alive. The defense stopped sucking. By Week 12, the Trojans were Pac-12 South contenders, back in the AP Poll's somewhat prestigious "others receiving votes" category, and hosting the College GameDay crew in advance of their matchup with no. 4 Stanford. Lee Corso picked USC, and he was actually right. The night ended with Orgeron victoriously wielding a sword and symbolically exorcising the Kiffin era from USC fans' memories. Impossibly, he'd emerged as a legitimate threat to coach the Trojans beyond 2013. This was such an unexpected turn of events that it was enjoyable and thrilling and glorious to watch, even for a fan of a rival program like me.
Good morning. Ed Orgeron might still have that sword. pic.twitter.com/1irBKVZKDU

— SB Nation CFB (@SBNationCFB) November 17, 2013
Haden eventually delivered the ultimate buzzkill, choosing another Pete Carroll disciple to lead USC into 2014 (wisely, I might add). But that shouldn't diminish what Orgeron accomplished this season. In addition to winning, he turned USC into the University of Speakin' Cajun, an eminently more lovable bunch than Kiffin's Spoiled Children. I assure you, Steve Sarkisian won't duplicate that feat.
Don't Forget About Notre Dame!
Ian Cohen: Blame the curious religious clash on the Hanukkah hangover, but I can't help but liken Notre Dame's swift acceptance of a Pinstripe Bowl bid to the manner in which I bear a seventh-night pair of socks or a Borders gift certificate that was bought in 2010 and snatched from the coupon drawer at the last minute: dutifully and respectfully, because, hey, it might come in handy. Obviously, a clash against a 6-6 Rutgers team in Yankee Stadium will do wonders for Notre Dame's media presence in New York City, a market in which it is clearly lagging. And shouldn't Notre Dame be happy to play in a midtier bowl after an 8-4 season? After all, the Fighting Irish's future coupling with the ACC may be a "friends with benefits" thing clearly tilted in their favor, but every now and again, you have to do something to make the lesser party feel like the relationship is "real"; being a mostly unranked, 8-4 team in the Pinstripe Bowl is about comparable to a movie/dinner date.
In any other year, this would be a huge capitulation, but it came and went with less fanfare than Wyoming hiring a coach from a state less populous than itself. Which leads to one of the most sneaky-weird stories of the 2013 season: I don't get to say this very often about Notre Dame, so I'll relish this: The Irish deserve better. This goes against the past two decades of Notre Dame bowl performance, which includes an approximate 296-13 scoring deficit in BCS bowls. But this 8-4 team somehow brings a stronger annual sales pitch than any of the 10-2 Notre Dame squads have: This team's schedule means more.
The Irish are the only squad in the country that beat Michigan State. They lost a close one to Stanford, but beat the Cardinal's Pac-12 title game opponent, Arizona State. BYU is a quality win. USC and Navy are nice résumé boosters. Aside from losing to an especially nondescript Pitt team, respectable defeats against Oklahoma and a still-motivated Michigan team are the Fighting Irish's lone pockmarks.
This might be the only underrated Notre Dame team ever.
No less than five days ago, we were dealing with the distinct possibility of Central Florida and Northern Illinois or Fresno State occupying the spot usually earmarked for Notre Dame: that of a suspect squad with an inflated record about to get blown out in the biggest BCS mismatch. But more than in most years, Notre Dame deserves Notre Dame's spot this year. That's not to say the Irish should have taken Alabama's place or could avoid surrendering 60 points to Baylor. Check out the Pinstripe Bowl, though, and you'll be watching something similar to the newly "vegan" Jay Z showing up to a restaurant with Beyoncé draped in head-to-toe leather: It's an attempt to lose some of the unsightly baggage and connect with the common man, but we know damn well this is only a temporary phase they're enduring through gritted teeth.
Here's to the Little Guys
Mallory Rubin: It didn't feel like it for much of the way, with dynastic Alabama stubbornly clutching the no. 1 spot in every poll known to man. It's hard to remember it now, with a blue-blooded Florida State–Auburn title game clash staring us in the face. It's strange to even say it in the year when Chris Petersen finally traded in Boise's blue turf for the highest salary in the Pac-12. But: The little guys really owned this season. Maybe not in a way that mattered in the end, but in a way worth remembering and celebrating nonetheless.
We don't even need to start with the non-AQs. We can start smack-dab in the middle of the BCS, where Baylor and Central Florida will meet in the Fiesta Bowl. Don't make the mistake of letting Robert Griffin III's 2011 Heisman or Baylor's 2013 stumble against Oklahoma State distract you from the truth: Baylor hadn't yet broken through, and Baylor didn't fail. Art Briles's Bears claimed their first Big 12 title and earned their first BCS berth, and they did it while stabbing big brother Texas right in the chest. Baylor's Fiesta opponent, UCF, has flown totally under the radar thanks to a level of AAC irrelevance stronger than any stealth carbon fibers, but the Knights still deserve props for making it to Glendale in a year in which Louisville was as close to a sure thing as any team was to win its conference.
Fresno State and Northern Illinois looked like BCS-busting darlings until Weeks 14 and 15, respectively, but their late stumbles shouldn't totally undo the dominant campaigns these teams delivered. Those hiccups certainly shouldn't undo what quarterbacks Derek Carr and Jordan Lynch did this season. Lynch earned a Heisman invite on the strength of two consecutively mind-bending seasons, and in a world with less prejudice and more justice, Carr would have gotten the nod as well. He threw 48 touchdowns. FORTY-EIGHT! But the Bulldogs lost to San Jose State (in a game in which Carr threw six TDs, no big deal), so we're all going to forget Carr exists until he starts popping up atop mock draft boards. We are the worst.
But college football is the best. And that's due largely in part to guys like Carr and Lynch and teams like Baylor and UCF. It's hard to be anything but giddy about the prospect of watching the Noles and Tigers do battle in Pasadena on January 6, and I appreciated Alabama's run of unrivaled excellence as much as anyone this side of Jimmy Sexton, but I also know this: One of the genuinely defining moments of the 2013 season was watching NIU mascot Diesel high-five a cheerleader on the sideline, and we'll all be happier and better off if we remember that until the end of our days.
Filed Under: CBS, College Football, Nick Saban, The Shootaround