Black Out: Roger Federer's Uncharacteristically Ugly Wimbledon Style
Everybody had a reason to be nervous about Sunday's Wimbledon Gentlemen's singles final. The long-suffering British were nervous they'd have to go yet another year without a local champion. Andy Murray, the unenviable object of their stress, had to be nervous that his opponent, Roger Federer, would find a way to vanquish him in a third major championship match and make more history. And Federer was worried that his back would act up as it had begun to do during his quarterfinal match against Xavier Malisse.
To that end, Federer had taken to wearing a black V-neck shirt beneath his white tennis polo. Which, in turn, had begun to worry me. Obviously, the undershirt was there for support, to keep him loose and warm and confident enough to go for his shots. It seemed to work. Down went Mikhail Youzhny in the quarterfinals, then the defending champion, Novak Djokovic, in the semis, then Murray and, with him, all of Great Britain.

But the undershirt was a shock. The most self-consciously fashionable man in any sport — a man who, three years ago, wore a military jacket to his epic championship battle against Andy Roddick; who often has Anna Wintour seated in his friends box; who epitomizes a certain creamy, crypto-aristocratic haute-leisure luxury — that man was forced to dress stylelessly, like a mortal, like a junior programmer, like a mook. Even if, by the second and third set of Sunday's final, Federer's tennis had begun to fire and flow and astonish, that undershirt was worrisome. Did he know what a mistake wearing that combination tends to be? Did he know it had cramped his grand, ludicrous, ludicrously grand style? As it bunched and gathered and bulked beneath his white shirt, it appeared to deprive him of the elegance of his otherwise-pristine RF brand.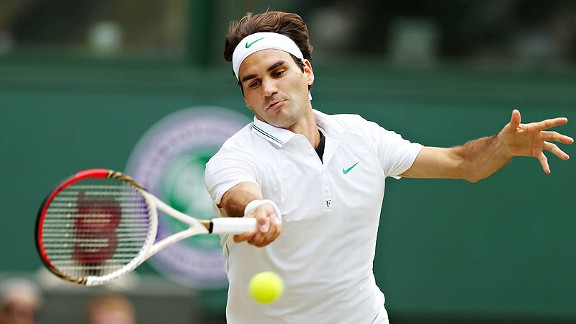 The dark T-Shirt under a light collared shirt is among the lamest things a man can wear. He thinks it's classy. He thinks it dresses up an boring outfit. He thinks black is a color the way maize, vermillion, periwinkle, and spearmint are colors. He thinks it provides a little splash, when it's actually a splotch. You can tell him it's a bad idea, that there's nothing wrong with a white T-shirt or no T-shirt at all, that you're never not seeing something black happening beneath the white shirt and that looks weird and he'll say, "Really?," "It's easier to sweat in it," "I think it looks cool," or "Women don't care." A few years ago, I wrote about our national dark undershirt crisis and spoke to a lot of women: They do care, and they want you to stop.
By virtue of the All England Lawn Tennis and Croquet Club's request that players wear white, Wimbledon ensures limited apparel options at least in the minds of the players themselves. This year's tournament was particularly uneventful. Adidas came up with a series of strawberry-on-cream getups that — on Ana Ivanovic, Angelique Kerber, Tamira Paszek, Rafael Nadal, Fernando Verdasco, Jo-Wilfried Tsonga, and Murray — dominated the tournament. Not until Federer's back trouble did anything interesting happen on the style front. (There was, of course, the sight of Murray's coach, Ivan Lendl, wearing a pair of sun goggles and a single intimidating facial expression. If you've never seen Fritz Lang's silent-era masterpiece Metropolis, you should. But a fortnight of cutaways to Lendl might save you several hours. He was dressed as the whole movie — the 1984 version, edited by the disco impresario Giorgio Moroder.)
Otherwise, it was just Federer's forced fashion error. It barely matters that he virtually wore it with a doctor's note, that he did it under duress, that he did it for his safety. Roger Federer in a black undershirt licenses a man to also say, "Dude, if it's good enough for a guy who just won his seventeenth major title, it's good enough for me." But it wasn't good enough for Federer. He knew that shirt was an eyesore. By the fourth (and final) set it was gone. That is when Murray and the rest of Britain really should have begun to worry. By then Federer was brutally loose. His removing the undershirt signaled as much. It also signaled that he knew he was going to win and that when he did, he didn't want to be photographed hoisting a trophy wearing something like that.
Filed Under: Roger Federer, Wimbledon