Big Ten Road Trip: Minnesota Out-Uglies Wisconsin
AP Photo/Genevieve Ross
There have been signs, here at the tail end of my weeklong swing through the Midwest, that the tenuous grip on sanity I've maintained for three decades might be careening into the abyss. I woke up in a fog in Madison, Wisconsin, for instance, to read a story about a kangaroo delaying the Australian Open, and wondered if maybe Rafa Nadal was involved. But it was a women's golf tournament, and I was left wonder, in a daze, why I thought Rafa would be conspiring with kangaroos in the first place …
But mainly, there's this whole pillow episode, which I'm not even sure I should mention. My sleep has been iffy for most of the week, and after the first restless nights, I thought I'd diagnosed the problem. I was accustomed to sleeping next to my wife, and the absence of another human being was throwing off my circadian mojo. In desperation, I decided to place the extra hotel pillows vertically, creating a vaguely person-shaped companion by my side. I swear this was not an emotional crutch. I didn't spoon with this new pillow-person (or worse, you sickos), I didn't give it a name, and I didn't make further attempts to humanize the thing. I would just sort of pat it, once or twice, to trick my brain into believing things were back to normal. It maybe worked, a little. It wasn't until Thursday, driving northwest on I-94 through western Wisconsin when I began to consider that constructing a pillow wife might have been an odd maneuver.
But the ultimate sign of impending hysteria — and the simplest, I think — was the mere fact that I was going to a basketball game between Minnesota and Wisconsin. That's Minnesota, the team in a perilous free fall whose season might be kaput if it lost, and Wisconsin, the brutally efficient, molasses-paced team that brings out the ugly in even the prettiest teams. I was bound for Williams Arena, a.k.a. "The Barn." And I got exactly what you'd expect. But, craziest of all, I enjoyed it.

I crossed the St. Croix River two hours before game time Thursday and came face-to-face with the St. Paul Cathedral. My host in the Twin Cities was Mike, a groomsman in my wedding and a Minnesota alumnus. As a seasoned UW hater, Mike is able to dispense quick bits of pro-Gophers propaganda, such as the fact that Wisconsin's fight song ("On, Wisconsin!") was originally written for Minnesota, and that it was stolen at the last minute by subversive elements in Madison. He also admitted, a little grudgingly, that the Wisconsin game was the biggest of the year for the Gophers.
---
Williams Arena is known as "The Barn" because it looks, believe it or not, a little like a barn. A brick facade gives way to a barrel roof, so it's not like the bucolic gambrel-roofed barn you'd imagine, but more like the kind you'd see at a state fair. It's a gorgeous venue inside — steel-blue air vents wending through what must be the nicest rafters in all Division I, two levels of seating, and a raised court with its interplay of maroon and gold.
The students had filled their section behind the visitors' basket well ahead of tip-off, but the rest of the seats wouldn't fill up until about the 10-minute mark. To their credit, the students kept the energy burning all game. Most wore yellow, but I also spotted a pig, an angry bird, several cows, and a dude with a jester's cap and a clock necklace featuring Trevor Mbakwe's face on the front. The Fatheads used to distract the Badgers had the usual absurd variety, but my favorite mismatch came in front, where a stoic Abraham Lincoln looked on next to a chicken. I noticed three signs:
1. "Wisconsin is a sub-par team"
2. "Bo Ryan Likes Nickelback"
3. "Bo, do you even lift?"
Their energy all game was strong.
---
In that, they were alone. When Tubby Smith was introduced, a few of the students gave him the "we're not worthy" bow, but the applause from the rest of the arena was tepid, and I heard a few scattered boos. The Gophers had lost six of their last eight, and hadn't scored a truly big win since beating Michigan State on December 31. Since that game, the fate of each school had diverged wildly, and the Gophers stood at 5-6 in conference. Among the conference's Big 6 teams, they were the most precarious, and after a loss to Illinois on Sunday, they were on the verge of falling out for good.
By Ken Pomeroy's metrics, Minnesota is a top 15 team, with the 11th-most efficient offense in the country. But among those top 15, only the Gophers are unranked nationally. It's hard to understand exactly why. I thought their prodigious offensive rebounding ability — first in the nation — might have explained it, in a roundabout way. If the team rebounds nearly half their own missed shots, that means they have roughly 1.5 attempts per possession, which will elevate their efficiency. And that all makes sense; it's an accurate measure of how often they score. But maybe, I thought, the good teams keep them off the glass, and suddenly they have more like 1.1 attempts per possession, and the efficiency sinks.
I was about 20 percent right. It's happened a few times, notably in losses to Wisconsin and Michigan State, but Minnesota has been at or near the average in all five other losses and come away empty-handed. If there's a unifying factor among the losses, it looks like it might be free throw rate (the Gophers can't get to the line against good defenses) or poor shooting. Whatever the case, Minnesota's points per 100 possessions have dipped below 100 in five of the last seven games. This is a legitimate slump.
And you rarely break slumps against Wisconsin. As many predicted, this turned out to be one of the ugliest games of the Big Ten season. The Badgers finished the game 18-for-59 from the field (30.5 percent), their second-worst performance of the season. Minnesota wasn't much better at 18-for-49 (36.7 percent) from the field and 4-for-17 from 3-point range. Regulation finished with both teams tied at 49, and I can imagine the groans from those watching at home, realizing they'd have to commit more of their time to a game that amounted to aesthetic terrorism.
But in a weird way, I sort of enjoyed it. Or at least I was fascinated by Wisconsin. What people tend to forget is that the Badgers' offense, although methodical and painstaking, can sometimes be elegant. Take this possession from early in the first half:
In that sequence, here's the list of how many times each Badger touched the ball:
Ryan Evans: 1
Traevon Jackson: 4
Mike Bruesewitz: 3
Jared Berggren: 3
Ben Brust: 3
And that's in about 30 seconds. More than the movement, though, everything had a purpose. The perimeter passing, the half-drives, the post-entry passes, the screens … they poked and prodded the Minnesota defense, waiting for a mistake, for someone to be slightly out of place, and they produced a good shot that happened to miss. Here are two more examples — the first is just a short sequence, showcasing the sort of discipline Bo Ryan teams are known for, with Brust passing up two chances at a 3 to create an even better look for a teammate. The second sequence combines the two — patience, discipline, and the ball movement that eventually results in a Minnesota defender being out of place, producing an open 3:
Longtime readers will know that this sort of praise for Wisconsin is abnormal. So, time for the other shoe to drop — it can all disappear. It's based on a very intricate system that can be beautiful in its own stilted way, but when things go bad, it falls apart in a hurry. It happened at the end of the game Thursday night, when the Badgers went the final 6:13 of regulation, and the first 4:50 of overtime, without a field goal. That's more than 11 minutes without a basket, and I don't think it's a coincidence that it happened when the pressure was at its highest.
And so we get back to the nagging fact that Bo Ryan's style, combined with his recruiting, will never produce a national title. I don't think it will even produce a Final Four berth, unless things get really strange. And yet, he came into the game with a 71 percent career winning percentage in the Big Ten, which ranks first all-time among coaches with at least five years of experience. He lost his best guard and one of the country's best perimeter defenders (Josh Gasser) at the start of the season, and he still has his guys competing for a Big Ten title. Almost without exception, his players improve throughout their careers, and his teams improve as the year goes along. Miami's Jim Larranaga will probably win Coach of the Year for 2013, but Ryan has a great, great case.
So, the old annoying question — is it worth it?
---
Despite the eventual win, Minnesota's offense is in serious trouble. Andre Hollins made some big shots, and Rodney Williams had some tough moments underneath, but for the most part, they seemed utterly lost. Unlike Wisconsin's, Tubby Smith's game plan seemed to revolve around attempting a single pick-and-roll and, when that failed, taking a wild 3-pointer or forcing a drive into the lane. The Badgers stifled the home team over and over, to the extent that it began looking like every pass was pointless, and the only ambition was to ride out the possession and hope to get lucky. It was the same against Illinois, another home loss, and also against Michigan State, and it wasn't much different in the last Wisconsin game or against Northwestern either.
Right up until the unbelievable drought, Wisconsin controlled the pace. This is exactly the kind of game Bo Ryan always wins, except this time the shots wouldn't fall, the Gophers' defense rose to the occasion, and things got exciting. Ryan Evans was the main culprit for Wisconsin, finishing 2-of-8 from the floor and 2-of-8 from the line, and leading Bo Ryan to admit in the postgame presser that he'd lost his inside touch. "What am I gonna do with the guy?" he asked.
Mike Bruesewitz, he of the famous ginger locks, missed a 3 that could've won the game. The crowd gasped in unison as he released the shot, and I got the sense that of all the players to beat them, Bruesewitz would be their least favorite. Then he took a charge — one of the most ridiculous calls of the game — and then, with a chance to inbound the ball and seal a win, he ran the baseline illegally and gave Minnesota one last chance. Joe Coleman got to the line, hit both, and Wisconsin's last possession … well, it hasn't been a great year for last possessions:
After the game, Jared Berggren told me they had hoped to run a rub screen and find something off the roll, but clearly nothing materialized. My stepfather's ensuing text — "Next shot wins OT" — turned out to be true.
---
There were three sentiments I thought Tubby might express after the game:
1. Ugly game, but we really needed a win, and we'll take it.
2. Our defense really stepped up and shut them down at the end.
3. We got a little lucky to come out of this one on top.
Instead, he talked about his offensive success. "Tonight we executed well, and that was the difference," he said. "Our offense was more fluid in the second half."
(He also described Rodney Williams as having "lightning in his pants," which I thought you'd like to know.)
I guess he's technically right, in the sense that Minnesota's really awful offensive execution was slightly better than Wisconsin's completely miserable execution, but I don't think that's what he meant. In fact, the whole celebratory air struck me as somewhat delusional. The team's efficiency was the fourth-lowest it's been all season. They scored a grand total of six points in the final eight minutes, and just 49 in regulation. Any way you look at it, it was an abysmal showing on the offensive end. I would be extremely worried as a Gophers fan if my coach thought any different.
"I didn't think the season was in dire straits to begin with," Smith told one reporter, "but since you mention it, I think this will be a boost."
(Another Tubby-ism: "Sometimes when the sky is falling, you land under a ceiling, and it looks like it might collapse.")
It's true that they needed the win, but that sentiment is almost dangerously misguided. The season was in dire straits, and remains so. With so much talent, Minnesota shouldn't almost lose at home to a team that barely shoots 30 percent from the floor, and my guess is that the next three games — at Iowa, at Ohio State, vs. Indiana — will sink the ship for good.
---
There was an air of murky depression among the media in the tiny press room. It seemed like they couldn't shake what they'd just witnessed, but I was in a different place. Strangely enough, I'd had fun among the offensive ruins. Big Ten basketball is its own special phenomenon, and the occasional frigid dud is part of the deal. You could throw me into any gym, sleepless and freezing, and I'd be happy where I landed. It would be embarrassing to get too emotional here at the bitter end, but I think it's safe to say that after my Midwest swing, the conference is in my blood, and my blood runs cold.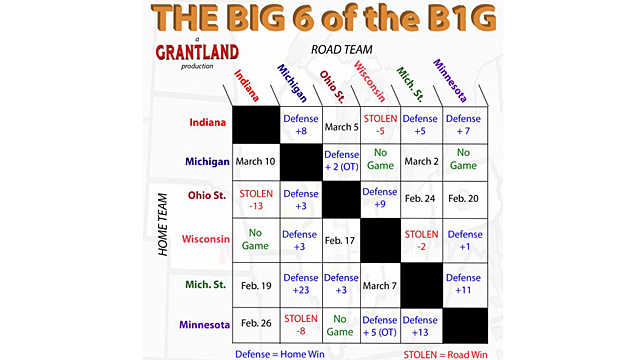 Filed Under: College Basketball, Shane Ryan