Bad Quarterback League, Week 5: The Matt Schaub Machine Cannot Be Stopped
Thearon W. Henderson/Getty Images
We're keeping it quick with BQBL this week, and we begin in Houston. It's damn near impossible for a bad quarterback to top a game in which he was beating the best team in the league only to have the lead slowly slip away, putting an exclamation point on it all with a pick-six to finally give away the game. But Matt Schaub did it against the 49ers. There was only one option for the encore, and he pulled it off.
HE CRACKED TRIPLE DIGITS.
Thirty five points for getting benched in the second half, 35 points for three interceptions and a pick-six, and 38 more bonus points for some other miscellaneous achievements in awful.
His total of 108 may not be topped the rest of the year.
We have no idea what's happening with Matt Schaub this year — it's a lot of fun watching Barnwell try to explain it — but he has now thrown a pick-six in four straight games, and there's no sign that this is gonna slow down anytime soon. We're watching a shell of a quarterback and it's not clear how this could get better. The Texans have no second option, the receivers are helpless, the defense can only do so much, and Slim Thug is openly pining for Johnny Manziel.
We need u kid @JManziel2 u will be treated like a king here

— IG:HOGGLIFE101 (@slimthugga) October 7, 2013
And Case Keenum.
Case Keenum deserves Atleast a shot now this is embarrassing now he taking the energy from the whole team

— IG:HOGGLIFE101 (@slimthugga) October 7, 2013
"Pining for Case Keenum" is the dictionary definition of rock bottom.
This is some next-level suffering.
Pray for Houston, pray for Schaub, pray for Slim Thug.
Elsewhere: I was driving home Sunday afternoon and listening to the NFL on the radio, and the Jags were in the red zone. It was fourth down. They'd just gotten another shot thanks to a play on which the refs called interference on both the offense and the defense, which I didn't even know was possible. Then Blaine Gabbert dropped back to pass and you knew what was coming next. Everyone knew.
And sure enough!
Picked off in the end zone.
A perfect bookend to Blaine's work earlier in the day, when he threw a deep ball to the middle of field and I swear to God there wasn't a Jaguar within 25 yards. That became a pick-six, because of course it did. King stay the king.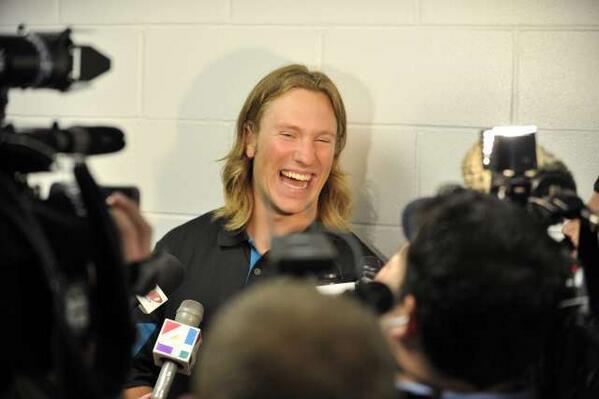 (photo via Alfie Crow)
And: Cam Newton. Is it Cam Newton's fault? Carolina has surrounded him with a murderer's row of mediocrity for his entire career, Steve Smith is finally showing signs of being human, and they still haven't fired Ron Rivera. Then on Sunday, Cam threw three picks, lost a fumble, didn't throw a touchdown, and took a sack for a safety. Whatever's happening in Carolina is probably not Cam Newton's fault. The Panthers are a mess for all kinds of reasons. But against the Cardinals, it sure seems like it was Cam's fault.
And: Tom Brady makes a BQBL appearance! He failed to throw a touchdown for the first time in 52 games, had his game-tying drive end with an awful interception, got his metrosexual drone swag on in the postgame press conference, and produced this statistic on Tuesday morning.
Tony Romo has a higher QBR in 3 losses (77.5) than Tom Brady has in 4 wins (60.8)

— Numbers Never Lie (@ESPN_Numbers) October 8, 2013
Finally: Eli Manning had another three interceptions Sunday, continuing his quest to match every one of his brother's touchdowns with an interception of his own. He didn't place in the top five this week, but this screenshot might be the most impressive Bad QB achievement of all.
That photo is what this league is all about.
That comes courtesy of Erik Malinowski, and it's the best reminder yet that we should all hope Eli never stops struggling. The late-game reaction shots are just gonna get better and better until one day we look over and he is passed out under the bench next to a half-empty bottle of Vicodin. This is what the Giants' offensive line will do to a man.
And that's it for this week. Check out all of Sunday's stats below, thanks again to Danny Savitzky for organizing everything, and SOMEONE FIND JACOBY.
Filed Under: Bqbl, Cam Newton, Eli Manning, Houston Texans