Athletes in the Offseason: Playing Basketball With He-Who-Shall-Not-Be-Named
Hip-hop artists want to be basketball players and basketball players want to be hip-hop artists. This isn't a theory; this is a fact. A law, even. While the past two decades have given us prime examples of this, there has been a considerable lean toward the crew of basketball players convinced that, in the offseason, they have the green light to pick up a microphone and record a track that — every now and then — has lyrics that rhyme.
Although there aren't as many of them, musicians who want to ball have undoubtedly left their mark on athletics and/or my lifelong commitment to laugh at people. There are the cute ones, from father and son Percy Miller and Bow Wow's flashes of hardwood brilliance in Like Mike, to the actual hoopers like the greatest high school basketball teammates of all time, Cam'ron and Ma$e. The latest installment in the saga is an interesting one, part Rock N Jock, part And1 mixtape, as this past weekend the two demographics of entertainers joined forces on the same court to completely embarrass five really bad basketball players. Who are they, you ask?

Team Money Gang
(I didn't even make that up. Look at their jerseys.)
Game: Rapper, proud owner of tattoos and serious waves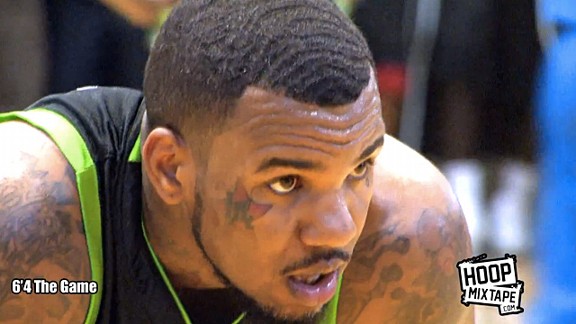 Paul George: Indiana Pacer, dunker of things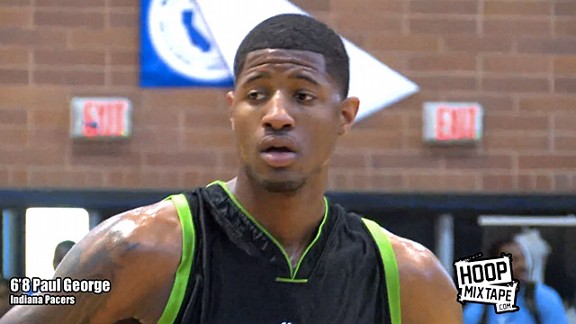 He-Who-Shall-Not-Be-Named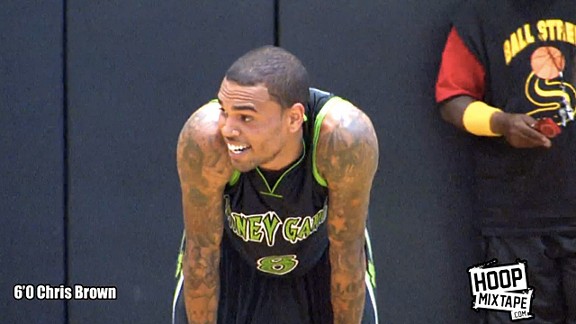 DeMar DeRozan: Toronto Raptor, dunker of things, no face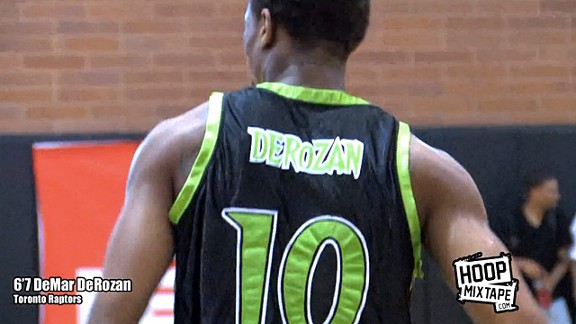 John Wall: Washington Wizard, professional dancer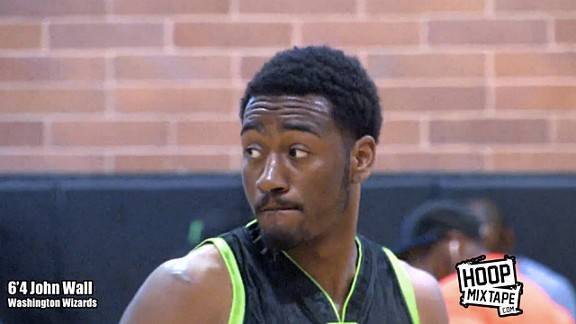 The game took place in the Drew League, and while the three pros seem to have not lost a step since their seasons came to a close ages ago, it's unfortunately difficult to ignore the shockingly good performance put on by He-Who-Shall-Not-Be-Named. He's holding his own with these guys who get paid millions to play a sport I assume he treats as simply a hobby. Between some flashes of handles, a Hot Sauce–esque between-the-legs pass, and the perfectly timed alley-oop to John Wall, I can't even really hate on the skills exhibited by HWSNBN.
But before I give off too much of an illusion that I'm completely fawning over these five individuals, especially you know who, a few things to keep in mind:
The ease at which they are dunking is suspect. Is this an elementary school gym?
Who are these guys they are playing? Everything is moving so fast, it's hard make out anyone else's face, but I there's a decent chance it's Master P, Lil' Romeo, the No Limit accountant, lawyer, and a tank driver.
Does He-Who-Shall-Not-Be-Named have a jump shot? Does he? There's no proof from this video that he does. Am I simply looking for something to hate on him about? Absolutely.
Does DeMar DeRozan prefer offseason basketball to real-season basketball? My guess is yes. He seems to be having the time of his life, isn't trapped in the cold, and probably put down a verse on Game's next mixtape afterward.
And finally:
Chris Brown is good at basketball. There, I said it. It makes me so mad, because with every passing month, something else happens that makes him ever-so-slightly cool again. It's not fair. It's just not fair. Because he's the worst. This is bad.
Filed Under: Chris Brown, John Wall, NBA, Rembert Browne