A Semi-Insane, Semi-Logical Classification of All 68 Tournament Teams
Cal Sport Media via AP Images
Later this week, we'll get down to actual science and go through every bracket pick by pick. (And don't worry — the rage I feel toward the committee for putting four of the tournament's best teams in the Midwest Region, a.k.a. "The Group of Death," will still be strong. They will have to answer to Shane Ryan.)
But today, I'm speaking more generally. Rather than look at the bracket or obsess about matchups, this is about identifying the essential core trait of all 68 tournament teams. Could they win the title? Are they tragically flawed? Are they doomed from the get-go? Are they Wisconsin? All will be revealed, and when the 68 are properly grouped, we'll be ready to take the next step.
Let's start with the worst of the worst, and make our way up. Each team's seed is in parentheses.

The Untouchables
In honor of the lowest stratum of social life, from which no upward mobility is possible, these are teams you literally shouldn't touch with your pen when you fill out your bracket. If you have Wite-Out, a quick swipe of the brush can make it seem like nobody's even there. Because unlike last season, the 2-seeds are strong, and the huge upset is off the table. This bracket will not tolerate dreamers or idealists.
68. North Carolina A&T (16) — The "A&T" stands for "Aerobics & Tetherball," sports in which the school has won the last 75 national championships.
67. Liberty (16) — Ironically for a school named Liberty, couples are not allowed to sit on each other's laps or give back rubs. Seriously.
66. LIU-Brooklyn (16) — Total hipster team. You've probably never heard of them.
65. James Madison (16) — Thank god James Madison and Liberty don't play each other … James Madison loved the concept of liberty, and it would break his heart.
64. Western Kentucky (16) — When you think about it, "Hilltoppers" is a sad nickname. Hey, what are you known for in western Kentucky? We, um … we walk to the top of hills. Not mountains, but hills.
63. Southern (16) — "Southern what?" is a question I've often thought of asking. We may never know.
62. Iona (15) — Classic pun material here. Anytime someone says, "Iona," you should go, "You own a what?" And if they don't laugh, kick them right out of your house, because life is about laughter.
61. Pacific (15) — Fast Facts: An ocean has never won an NCAA tournament game.
60. Florida Gulf Coast (15) — Fast Facts: A gulf has won an NCAA tournament game only once, in 1926, when the Gulf of Panama defeated Kansas in the Elite Eight before falling to the Erie Canal in the Final Four.
59. Albany (15) — Did you know Albany is the capital of New York state? A common reaction among newly elected congressmen in the state is, "Wait, we don't get to live in New York City?"
The Simply Miserables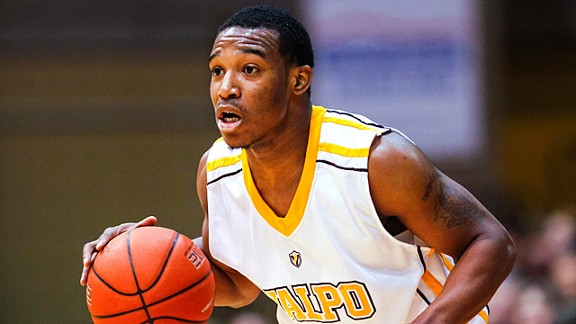 Famous Woody Allen quote time: "I feel that life is divided into the horrible and the miserable. That's the two categories. The horrible are like, I don't know, terminal cases, you know, and blind people, crippled. I don't know how they get through life. It's amazing to me. And the miserable is everyone else. So you should be thankful that you're miserable, because that's very lucky, to be miserable."
These are the teams with essentially no shot. But there's the faintest glimmer of hope, distinguishing them from the horror of the Untouchables:
58. Harvard (14) — Do Yale kids gather to cheer against Harvard for events like this? Yale kids, please chime in. (I'm obviously kidding; Yale kids don't talk to anyone making less than $500K per year.) (Kidding again — Grantland pays me $1 million per year. I talk with so many Yale people.)
57. Valparaiso (14) — Conversation between me and Valparaiso. Me: Hey, is Bryce Drew still on your team? Valparaiso: No, that was like 15 years ago. Now he actually coaches at — Me: [LOUD SNORING NOISE.]
56. Northwestern State (14) — Does it annoy fans of Northwestern — the only BCS team never to make the tournament — when Northwestern State gets in?
55. Boise State (13) — Fucking blue court!
54. Montana (13) — As recently as 2010, Montana was still in the process of making drinking and driving illegal. That's fascinating to me.
53. New Mexico State (13) — Fucking sandy court!
52. Akron (12) — The Zips have the bad luck of facing VCU in the first round, so they can be crossed off the list. Also, the biggest celebrity to ever come from Akron is LeBron James, who's famous for never having won an NCAA title.
51. St. Mary's (11) — Hey, we're from the West and we don't play defense! But check out that one dude's mouth guard!
Teams That Make You Go Hmmm …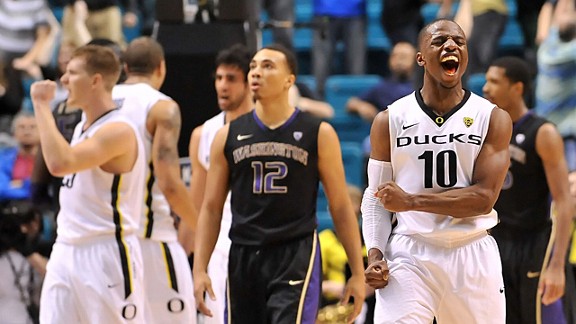 That's right, I just referenced a C+C Music Factory song. And I don't even know that band. I just remember the song from a Coke commercial or something. But I will not apologize.
Anyway, these are low seeds that can potentially spring an early round upset.
50. Davidson (14) — I can't ignore 17 straight wins. They make a sort of weird bleating noise.
49. South Dakota State (13) — I know the name Nate Wolters, I know he once scored 53 points in a game, and I know Michigan is vulnerable.
47. La Salle (13) — This might be mostly because I wrote an article about them. And I might have an A-10 bias. And I was once drowning in the ocean when a beautiful woman named La Salle rescued me in a submersible.
47. Oregon (12) — Remember that time Oregon finished a single game behind UCLA for the regular-season Pac-12 title, then went on to beat the Bruins in the Pac-12 tournament final? And how Oregon had a better early-season record with a more impressive quality win? And then UCLA got a 6-seed, and Oregon got a 12? Remember that? Yeah, this team could beat Oklahoma State.
46. Cal (12) — If the Bears were playing any team other than UNLV, which has won exactly one decent game on the road, they would not make me go hmmm … But they are playing UNLV, and my wife is annoyed at my hmmming.
45. Middle Tennessee State University (11) — What an exotic team to be an 11-seed! I shall prepare a picnic basket and settle in for an afternoon of amusement! [Creepy-excited British laugh.]
44. Belmont (11) — See above.
43. Bucknell (11) — See above.
The Karma Casualty
42. Ole Miss (12) — Seriously, have you seen Marshall Henderson carrying on? Did you see him do the Gator chomp en route to beating Florida? He's hilarious, but he's also an out-of-control punk. So how did the karma gods repay him? With BO RYAN'S WISCONSIN TEAM! Bo Ryan designs his systems to eat free spirits alive. It's too perfect. Henderson can't win.
Hey, Are These Mid-Tier Big 12 Teams Any Good?
41. Oklahoma (10) — Hey, is this mid-tier Big 12 team any good?
40. Iowa State (10) — Hey, is this mid-tier Big 12 team any good?
Annoying Buzzkills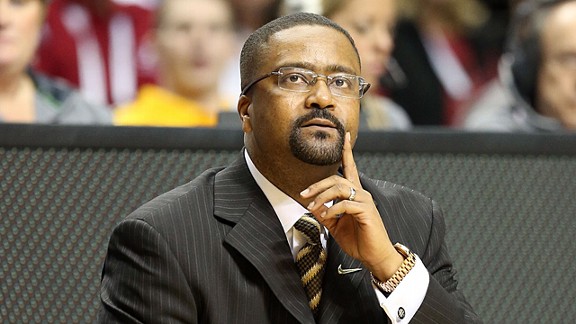 These middling teams deserve to be in the field, because of their records and their talent and etc., but at the same time, they are hopelessly inept in key ways, and it's going to kill them. Having them around is like inviting your boss to a party. I get why he has to be there, but really, it would be way better if he didn't come. These teams are one-and-done at best.
39. Minnesota (11) — Weakness: Tubby Smith being allowed to coach.
38. Colorado (10) — Weakness: Playing in the stupid Pac-12. It's stupid. Also, losing to a ton of bad teams, to the point that the idea of Colorado winning two games in a row is laughable.
37. Cincinnati (10) — Great at defense, tragically cannot score. Just like me, in high school.
36. Wichita State (9) — Hey, look at all those great wins! Oh wait, it just beat Creighton once in three tries, barely, at home? That's it? I have no idea how this team got a 9-seed. It will score 37 points against Pittsburgh.
35. Missouri (9) — Weakness: Frank Haith being allowed to do anything but recruit.
34. Villanova (9) — Hold on, before I commit to this, let me just make sure that none of the games are being played at Villanova, at the magical mystery dome where they can't lose. No? None? OK, thanks.
33. North Carolina State (8) — Other than having poor defense, no discipline, and a star player who pouts whenever things start to go slightly bad, the Pack should be fine.
32. San Diego State (7) — The worst single-digit team in the field from the most overrated conference in the country. Had exactly one good win since mid-January, and it was probably a fluke.
31. Arizona (6) — The 'Cats have held on to their AP ranking by virtue of playing in the Pac-12, but at 5-5 in their last 10 games, with losses to Colorado, UCLA, Cal, and USC, it's apparent they've been overrated all along.
30. Memphis (6) — Seriously, what do you do with Memphis? The Tigers lost every biggish game they played at the start of the season, ran through Conference USA like it didn't exist — and it barely does — and lost to Xavier when they happened to play a decent (but non-tournament) team from out of conference. They stink, but you can't really prove it.
Victim of the Cruel Cosmos
29. UCLA (6) — Jordan Adams breaks his foot right as the Bruins start to look like a serious contender? That is some dirty mojo, universe. Also, if you didn't notice Shabazz Muhammad's "I can't wait to get out of here" body language against Oregon in the title game, look out for it.
Wait, Can You Repeat That Seed Again?
28. UNLV (5) — Wait, can you repeat that seed again? That's a joke, right? I'm a joke-man, and I can recognize a joke when I see one, and that, sirs, is clearly a joke.
The Specialists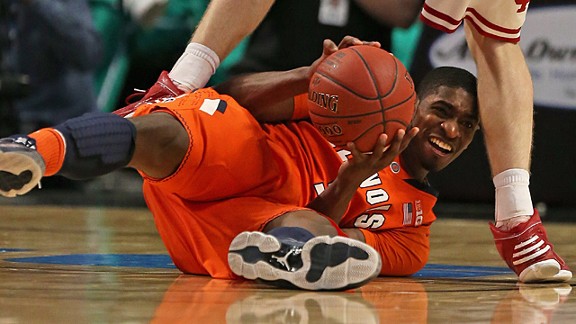 These teams do one thing, but they do it so well that they might actually be able to win a game or two. But probably not two.
27. UNC (8) — Running and gunning (that's one thing; screw you).
26. Colorado State (8) — Rebounding.
25. Temple (9) — Wild-carding. They randomly beat times like Syracuse, Villanova, VCU, Saint Louis, and almost-Kansas but lost to St. Bonnies, Duquesne, Canisius. Never trust a wild card, but never turn your back.
24. Illinois (7) — Brandon Paul-ing. It's a verb now. But seriously, the dude can beat teams (like Minnesota and Gonzaga) all by himself.
23. Creighton (7) — Shooting. (Sorry, though; you have to do better than 13-5 in the Missouri Valley Conference to scare Duke in the second round.)
The Grinders
These are the teams that aren't incredibly skilled, but have good coaches and slow, grinding styles that can wear teams down. Elite Eight runs are a real possibility.
22. Pittsburgh (8) — Will be a very sexy pick to take down Gonzaga in the Round of 32. And when you look at the metrics, and the fact that Pitt cut its teeth in the tough Big East … well, it makes a lot of sense.
21. Notre Dame (7) — Slow, offensively efficient, and riding that new-pope high. Could be a difficult Round of 32 matchup for Ohio State.
20. Butler (6) — It's Brad Stevens, who is both great and lucky. Seriously, look at that draw. You're telling me his guys can't grind Marquette and Miami to death? Please. He's ground teeth tougher than that in a single night. Brad Stevens goes through a lot of teeth.
19. Oklahoma State (5) — Marcus Smart is the best freshman in the country, and his team plays excellent defense.
Wisconsin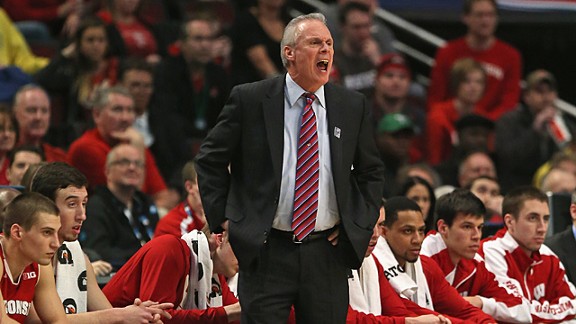 This category is reserved for teams with very smart coaches who succeed beyond their means but cannot possibly hope to last in the tournament for very long.
18. Wisconsin (5) — Still, it'll be awesome seeing them destroy Henderson's soul.
Oh, God, Real Defense Is Terrifying
This category goes to two teams that have looked great all season, but will wither under the harsh light of great defense, the likes of which they haven't seen.
17. New Mexico (3) — Well, I shouldn't say that. New Mexico faced a great defense against Saint Louis back in December, and lost 60-46. A rude awakening is coming in the Sweet 16.
16. Gonzaga (1) — The Zags haven't faced an elite defense all season. (Correction: They played at Oklahoma State, and won by a point.) The closest they came (after Oklahoma State) was Butler, in a one-point loss on the road. Unlucky for them, they'll potentially face a great defense right away in Pittsburgh.
Please Don't Make Us Play Kansas
15. Kansas State (4) — This team is actually pretty great when they don't have to play Kansas. In happy news, they don't have to play Kansas at least until the title game.
The Hamartians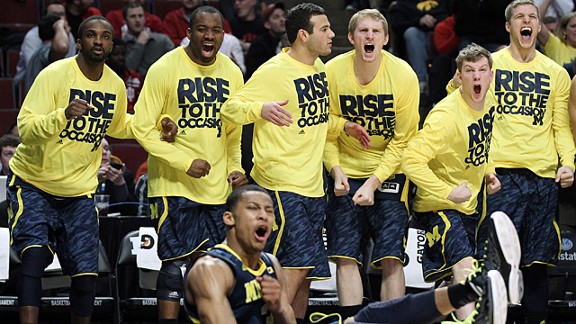 I was proud of myself when I remembered a tidbit from my 11th grade English class — that "Hamartia" meant "fatal flaw" in ancient Greek (or something). I see now that it's not exactly true, but it'll serve our purpose here. These are otherwise great teams — virtual Julius Caesars — who have one tragic flaw (or maybe 1.5) that will doom them.
14. Michigan (4) — No inside presence. They were bullied on the interior by Michigan State and Indiana, and an otherwise efficient offense became Trey Burke trying to shoulder a heavy load and praying that Tim Hardaway Jr. wasn't useless.
13. Florida (3) — Choking. The Gators are 26-1 in games decided by 10 points or more, and 0-6 in games decided by single digits. In some of those losses, including Sunday's against Ole Miss, they held double-digit leads before blowing them in the end. They also choked away their last two Elite Eight appearances. It's what this team does.
12. Marquette (3) — They give up too many second-chance points and have no shooters.
11. Kansas (1) — Point guard play. Elijah Johnson has put together a few good games, but even in the wins he sometimes looks bad — as in the three-assist, six-turnover, nine-point effort against Kansas State on Saturday.
10. Duke (2) — Mason Plumlee. The most frustrating basketball player in the history of the world, who will look absolutely terrible the first time he meets a competent big man. (Also, Duke can't guard the perimeter at all.)
9. Indiana (1) — Tom Crean. Whether it's horribly timed substitutions, stubborn adherence to bad game plans, or mysteriously failing to insist on letting the offense run through Cody Zeller, Crean will absolutely cost his team a game it could win.
The A-10 Holy Terrors
Both of these teams have Final Four potential … and yes, I know Saint Louis is in the Group of Death.
8. VCU (5) — It's Havoc You Fear. The defense that destroys tournament teams, and is perfectly set up in an easy bracket to make a deep run.
7. Saint Louis (4) — An unbelievably dangerous team with no obvious flaws except maybe team height.
Wild, Wild Jim
6. Syracuse (4) — Jim Boeheim's teams will always do the last thing you expect. After appearing to implode at the end of the season, the Orange beat Georgetown and had a huge lead on Louisville. Then they realized that you were expecting them to beat Louisville, so they lost. Now they know you've lost faith again. Hold on tight.
Muscular Elites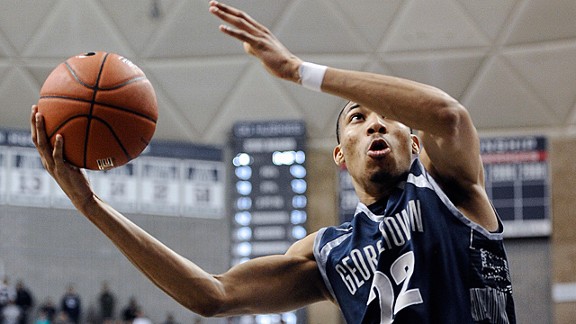 5. Miami (2) — Forget the late-season fade. This is a team of upperclassmen with a dynamic point guard, a great shooter, and two strong big men. Someone will beat them, but it won't be easy.
4. Georgetown (2) — Slow, steady, frustrating. And they have the great Otto Porter. The bracket doesn't hurt either; Sweet 16 is virtually guaranteed, and then the Hoyas might get a shrinking violet like Florida or Minnesota.
3. Michigan State (3) — A quintessential Izzo Final Four team. Strong point guard, a great shooter, and multiple big men who make the interior hell on earth for opponents.
The Surging Champs
2. Ohio State (2) — The Buckeyes won the Big Ten tournament, out-muscling Michigan State and Wisconsin along the way. They're coming in on an eight-game streak. They boast Aaron Craft as a leader, and they have Final Four experience. Yeah, I'm convinced.
The Best
1. Louisville (1) — This is the team that rose above the others in a year when that kind of thing wasn't supposed to happen. The title is the Cardinals' to lose.
Filed Under: College Basketball, Georgetown, Louisville, March Madness, Miami, Michigan State, Ohio State, Shane Ryan