10 Veteran Players Looking for Their First Stanley Cup
Brian Babineau/NHLI via Getty Images
Over the course of its history, the NHL has developed a long list of playoff traditions that hockey fans now hold dear: the playoff beard, the post-series handshake, the color-coordinated fans, and most important of all, booing Gary Bettman.
Recent years have seen another playoff staple emerge: the sympathetic old guy who hasn't yet won a Cup.
That's a veteran player who's had a long and well-respected career, but is nearing the end of the road without ever having won a ring. As the playoffs drag on and the player gets closer to finally achieving his ultimate goal, it becomes almost impossible not to root for him. (Unless he's playing against your favorite team, in which case you're still allowed to hope he breaks his hip.)
As an added bonus, when one of these guys is on the roster of the eventual champion, he immediately becomes the favorite to earn one of hockey's greatest honors — being the first guy the captain hands the Cup to.
The most famous example of this was in 2001, when 40-year-old Ray Bourque finally won his first Stanley Cup in his 22nd season. That led to this scene, which still ranks as one of the best feel-good moments in sports history:
More recently, an emotional Teemu Selanne earned his first Cup in his 15th season in the league, which in hindsight, we will apparently refer to as the halfway point of his career. But this isn't just a club for the superstars; grinders can earn the honor, too — like veteran fourth-liner Dallas Drake, who won his first Cup in his final NHL game at age 39.
Who'll get to play the role this year? There's no shortage of candidates. Here are 10 veteran players vying to be this year's sympathetic old guy who finally gets a ring.

Jarome Iginla, Pittsburgh Penguins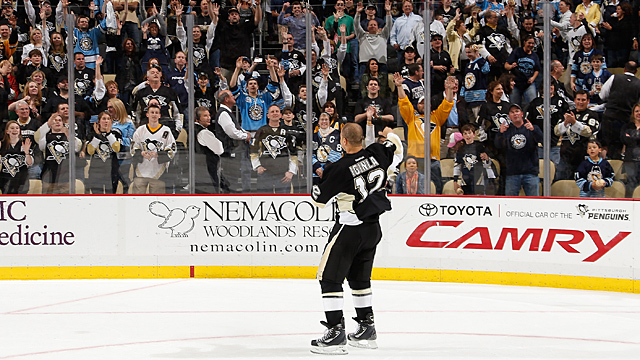 Iginla will be poster child for the Cupless Old Guy movement this year, and rightfully so. Although he's probably not nearing the end of the line quite yet, he's in his 16th season and has only made it out of the first round once in his entire career.
Iginla did come close to a Cup once, when the 2004 Flames went on a surprising run to get within one game of a championship. In fact, you could argue that no team has ever come as close to a Cup without winning it as that Flames team did. Needless to say, it's been all downhill for the franchise ever since.
This season, Iginla finally followed the Bourque plan and allowed himself to be dealt to a powerhouse. The Penguins enter the playoffs as the Cup favorite, so Iginla's in an excellent position to finally get his ring. When it comes time to pass him the Cup, I just hope Sidney Crosby can think of something to yell to get his attention.
Roman Hamrlik, New York Rangers
Hamrlik is 39 years old and in the 20th season of a career spent playing for … well, everybody. It's not often you can place the journeyman tag on a former first-overall pick, but in Hamrlik's case, it seems to fit.
Despite spending most of his career with also-ran teams like the (mid-'90s) Lightning, Oilers, and Islanders, Hamrlik is making his 15th playoff appearance this year. He's seen his team eliminated in the first round 10 times, and has never made it as far as the finals. His closest call came in 2010, when he helped the Canadiens make a surprising trip to the conference finals.
Hamrlik helped the Capitals take the Rangers to a Game 7 last year, and he'll be on the other side for this year's rematch after New York claimed him on waivers in early March. He's unlikely to play much of a role — he's only dressed for one game in April — but after 1,395 career games, it would be nice to see him make a deep run.
Daniel Alfredsson, Ottawa Senators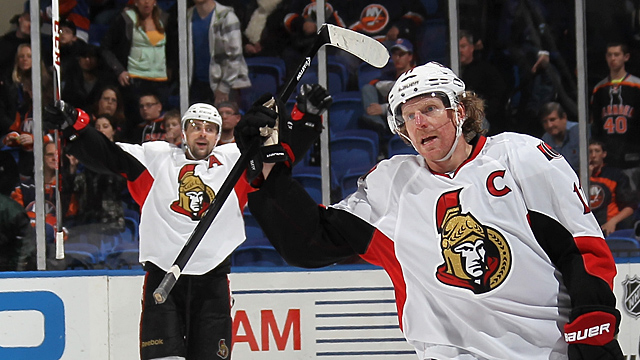 With apologies to Patrik Elias, there might not be an active player in the NHL more closely associated with one team than Alfredsson. The 40-year-old winger has spent his entire 17-year career with Ottawa, and has made it clear that he intends to retire as a Senator.
Whether that retirement comes this summer is still an open question. Alfredsson thought about hanging it up after last season, before deciding to return for the final year of his current contract. It's been widely assumed that this year would be his last, but so far he's refused to confirm that.
The Senators made the Finals in 2007 but haven't come close since (despite certain guarantees to the contrary), and would have to be considered long shots this year. But if they do manage to win it all, Alfredsson would have the sort of storybook ending to his career that few stars manage to get.
Alfredsson's only downside in this category is that he doesn't qualify for the "first guy to get the Cup from the captain" honor, since he's the Senators' captain and finding a way to dramatically pass the Cup to himself would be awkward. But we checked with the judges, and they'll let him stay on the list under the Dave Andreychuk exception. Besides, the Senators already have another slam-dunk, first-pass candidate on their roster …
Chris Phillips, Ottawa Senators
The 35-year-old Phillips is another Senators lifer, suiting up for his 15th season. The former first-overall pick never did develop much of an offensive game, but he has a well-earned reputation as a steady defensive workhorse.
Like Alfredsson, Phillips came close to a Cup in 2007 (even somehow managing to score the Ducks' series-winning goal) but has watched Ottawa's window slowly close over the years. Unlike Alfredsson, he probably has at least a few more years left if the Senators can't make a surprise run this season.
It's worth noting that Phillips has also shown a willingness to take an occasional hometown discount to stay in Ottawa, rather than chase potentially bigger money as a free agent. It's possible he learned his lesson from a former teammate …
Wade Redden, Boston Bruins
Redden broke in with the Senators a year before Phillips did, and was the face of the franchise as it transitioned from laughingstock to contender. But his popularity dropped quickly in the post-lockout era, especially after the Senators famously chose to re-sign him instead of Zdeno Chara. By the time he became a free agent in 2008, it seemed clear that Redden's best days were behind him.
The New York Rangers apparently missed that memo, and signed him to a ludicrous six-year, $39 million deal. After two disappointing years in New York, the Rangers exiled Redden in the AHL to avoid his cap hit. He spent two full years in the minors, riding buses while earning $13 million to not play NHL hockey.
All of which sets up the possibility of a nice little redemption story. This year's new CBA included a loophole that allowed the Rangers to buy Redden out, and he signed a one-year deal with the Blues before being dealt to the Bruins at the deadline. These days he's far from an impact player. He might not even suit up regularly for Boston, but you can't help but root for the guy after the way the last few seasons played out.
Michal Handzus, Chicago Blackhawks
The Blackhawks' roster doesn't feature many Cupless players, because of the franchise's championship win in 2010. But some of the team's oldest players happen to be recent additions looking for their first ring. For example, Jamal Mayers would be a good candidate for the list, except that he probably won't see much ice time.
The same can't be said of Handzus, who seems set to center Chicago's second line. That's a big role for a guy who managed just two goals and eight points on the year, but it's one the 35-year-old veteran will likely have to fill until Dave Bolland returns from injury. With the Hawks entering the playoffs as the Western Conference favorite, Handzus has a shot at winning the Cup he narrowly missed last season, when he saw his former team, the Kings, win it all.
Todd Bertuzzi, Detroit Red Wings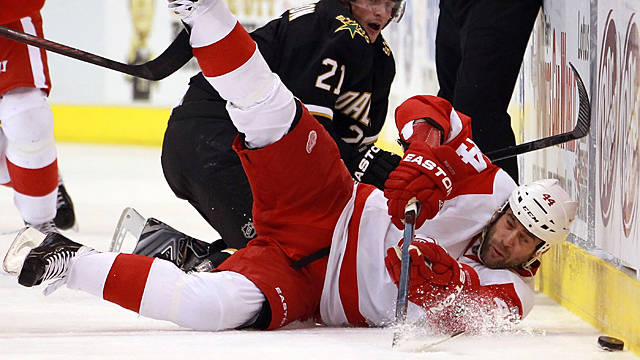 Wouldn't you love to see Bertuzzi finally win a Stanley Cup after 17 long years in the league?
Yeah, me neither. Moving on …
Scott Nichol, St. Louis Blues
Nichol might not seem like a classic pick, especially because there's a decent chance you're not even sure who he is. But what Nichol lacks in star power, he makes up for with a great underdog story.
Nichol was drafted in the 11th round of the 1993 draft by the Sabres, a round that no longer exists because nobody who got drafted that low ever made it. He managed to play all of five games in Buffalo over eight years, before finally playing his first full NHL season with the Flames in 2001 at age 27.
Since then, he's bounced around from the Blackhawks to the Predators to the Sharks, and last year, he joined the Blues. He's never been traded, because nobody ever trades for players like Scott Nichol. He just keeps signing free-agent deals, never coming close to cracking the $1 million mark, looking for a team where he can fit it long enough to earn a few more paychecks. Twenty years after he was drafted, Nichols is now a 38-year-old veteran defensive center who managed to record a grand total of one point with the Blues in 2013.
The "11th-round draft pick who wins his first Stanley Cup 20 years later" club is pretty thin these days. It would be fun to see it add a member.
Evgeni Nabokov, New York Islanders
I wanted to include Patrick Marleau on the list since I figured it needed someone to represent the San Jose Sharks' record of playoff futility. But it turns out he's only 33, so I'll save him for a future post on guys who are way younger than you think.
Nabokov fits the Sharks' theme, too, even though he became an Islander (against his will) two years ago. Despite not coming to the NHL until he was 24, he had a very solid run in San Jose that included a Calder Trophy and a pair of All-Star appearances.
He's never played in a Cup final, so it might surprise you to learn that the 37-year-old Nabokov is actually the most experienced postseason goalie in this year's playoffs. Unfortunately for him, no. 2 on that list is Marc-Andre Fleury of the powerhouse Penguins, who happen to be the Islanders' first-round opponent. So … better luck next year, Evgeni!
Jaromir Jagr, Boston Bruins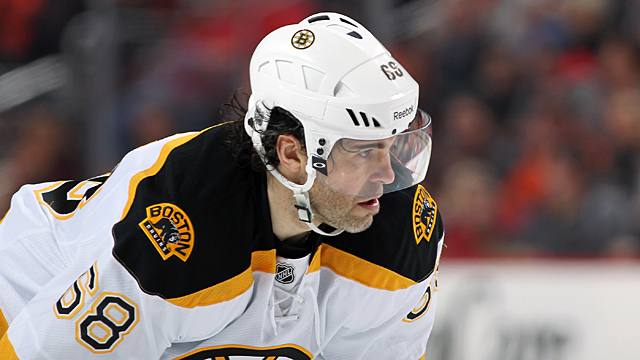 OK, sure, I suppose some people could object to this pick, based on the whole "Jagr already has a Cup ring, you idiot" technicality. He has two, in fact, earned in his first two seasons in the league.
But that was in 1991 and 1992. Dougie Hamilton hadn't even been born yet. Tyler Seguin was a few months old. And in the 20-plus years (and 17 NHL seasons) since, Jagr's never even made it back to the finals.
I mean, doesn't it seem like we need a special category for Jagr here? I'm not sure how long it should take for a player to hit the reset button on his Cupless Old Man status, but I feel like "more than two decades" is a reasonable line to draw.
Put it this way: This was Billboard's no. 1 single the last time Jaromir Jagr won a Stanley Cup. If we can all agree to pretend that song never existed, surely we can do the same for Jagr's ring.
So let's make that a rule: If you're still an active NHL player, any Stanley Cup that wasn't presented by a smirking Gary Bettman ducking beer bottles doesn't count.
Everyone agreed? Cool, Jagr's on the list.
Saku Koivu, Anaheim Ducks
If Selanne was a great Cup story for the Ducks in 2007, Koivu might be even better this year. His 17 seasons have featured plenty of twists and turns, none more dramatic than the 2001 cancer diagnosis. He made a dramatic return at the end of the season, leading to one of the most emotional ovations in NHL history.
If that wasn't enough, he suffered a serious eye injury during the 2006 playoffs that required multiple surgeries. And the year after that, he found himself in the middle of a national controversy when he was criticized for serving as the Canadiens' captain while being unable to speak French.
He eventually left the Canadiens in 2009 to join the Ducks. At 38, he's solidly into the "role player" phase of his career, and his contract is just a one-year deal because he wasn't willing to commit to playing beyond this year. This could be his last shot.
If so, it would be great to see Koivu be this year's old guy who finally gets his Cup. Maybe Selanne could even give him a few tips.
Filed Under: Hockey, NHL, NHL Playoffs, Stanley Cup