Woody Allen Invades Germany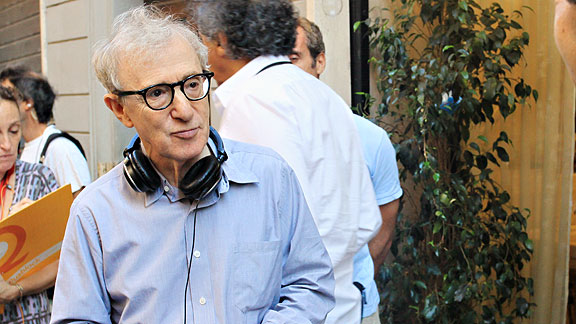 There was a time when the artistically minded couldn't wait to get out of Germany. (With very good reason!) But for the last few years, the country has transformed itself into a magnet for the creative underclass. Drawn by cheap rent, an abundance of atmospheric graffiti, and a liberal attitude towards ketchup, these broke bohemians have revitalized Germany's international cred not to mention its GNDJP (Gross National DJ Product). The latest struggling artist to take advantage of Germany's cultural open door policy is no hipster, however. Hip replacement, maybe: European nomad Woody Allen has chosen Munich as the site for his next neurotic opus.
While we're sure he'll have no trouble locating a good-looking, tennis-playing, café-haunting overclass who still call sex "making love" — as he's done in every city he's filmed in over the past decade — we're hopeful Woody will find a different sort of inspiration in Bavaria. Not even the spectre of a common cold or a Knicks losing season should fill Allen with existential dread like being in Germany — and this is a man whose body is 60 percent water, 40 percent existential dread! If Midnight in Paris was a goyish fantasy of the best the old world has to offer, this new film should be the dark, semitic flipside: a Kafka-esque beerstein brimming with paranoia, panic and, worst of all, women who look like Mariel Hemingway yet manage to find Allen entirely resistable. Woody should take a cue from his newfound penniless, much-younger peers and say something big to the world, or at least refuse to pay for his room at the Ritz and claim to be squatting.
But who are we kidding: it'll be about Chris Evans falling in love with Scarlett Johansson while listening to Wagner. Deutschland uber alles — alles except an elderly filmmaker who is decidedly set in his ways, that is.
Andy Greenwald is an author and screenwriter in New York. He covers pop culture for Grantland.
---
Previously: Dear Pittsburgh: Leave Batman Alone
Why Can't Jesse Eisenberg Play Dumb?
Bomb Shelter: Why Did Cowboys & Aliens Fail?
What Does Hollywood Have Against Humans?
Rise of the Mo-Cap Actors: Andy Serkis' Oscar Campaign Begins!
To comment on this story on Facebook, click here. Read more Hollywood Prospectus.
Filed Under: Movies, Woody Allen