Unpopular Opinion Alert: Jared Leto Is Cool
Robb Harskamp/Getty Images
"He's so cool!" she yelped. "He's so cool, he's so cool, he's sooooo coooool."
The girl was no older than 17, wearing a zebra-stripe skirt, a black T-shirt covered in daisy decals, and her hair in a severe swoop. She was vibrating with excitement. Her voice rose above the crowd in our section, somewhere between a bleat and a squeal. She was watching a man in a silk tank top twirl onstage at the Hollywood Bowl on a Saturday night in October, leading his band in a version of their song "This Is War." She was not alone in her enthusiasm. In fact, I can't recall a more invested crowd — one stage beyond preteen boy-band mania but well before Boomer-style veneration. It was all-in fandom writ large, the kind that makes you quake and shiver with the opening chords of every song, that has you buying albums 10 years into a band's career, that makes you scream and sing along and maybe tear up a little.

The Hollywood Bowl is one of America's great venues, a palm tree–lined open-air space as comfortable hosting families for a Sunday afternoon John Williams orchestral extravaganza as it is welcoming hordes of chambray-clad haircuts for Vampire Weekend. But it is an ideal space for a pop event. Last Saturday, the Bowl and its 18,000 occupants almost tipped on its side at just such event. For Jared Leto. And 15 years after its inception, for his band, 30 Seconds to Mars.
I'd never considered 30 Seconds To Mars before this concert. The accepted critical line is straightforward: pretty boy actor's vainglorious side project; not smart enough for credibility; not interesting enough for study. And yet, when another fan in another section screamed, "I just pissed my pants!" during the 2006 song "The Kill," I didn't laugh or groan. When Leto did five consecutive 360s and whipped off a sleeveless mink coat, I didn't scoff. When Leto snuck into the belly of the pit between songs, acoustic guitar strapped over his shoulder, Jesus hair billowing in the night wind, I didn't sigh. The triangulated video boards behind him began to flash images of Mandela and King and Gandhi overlaid with lyrics: "I do believe in the light / Raise your hands into the sky / The fight is done, the war is won / Lift your hands toward the sun." Eighteen thousand strong sang every word. Jared Leto — the guileless, Jesus Christ–posing, method-acting, blue-eyed angel of Melrose Avenue — is 41 years old. And he is cool.
How did this happen?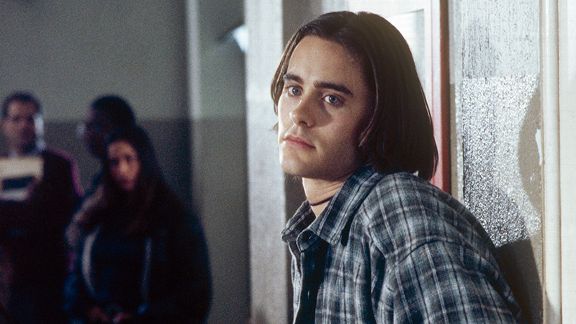 The Uncomfortable TV Heartthrob
Like so many bracingly handsome actors of a particular generation, Leto got his start on a TV series. But unlike Ryan Gosling or Bradley Cooper or Jamie Foxx, whose TV work is largely lost to the sands of YouTube, Leto's legacy lives on in the hearts of every single woman I have ever known. And that is because Leto was Jordan Catalano, the iconic set of blue eyes and rumpled flannel that haunted Angela Chase's soul for 19 episodes of My So-Called Life in 1994 and '95. Leto came to Hollywood at 21 in search of a career as an actor after growing up in what he has described as dirt-poor in northern Louisiana. Within two years, he was cast in Winnie Holzman's drama of precise awkwardness. Jordan Catalano is more than a television character — he is a totem for soulful dim bulbs, a vector for alt rock, a stand-in for every artistic wayward boy from school. The sleeves were just a little too long, that hair always slipping in front of his eyes. Jordan Catalano was a mess and needed fixing. He was also very dumb, and Leto was magnificent at playing dumb. With his puppyish gaze and What me? demeanor, he was like a mischievous dachshund with a learning disability. Think of this pointed moment at the four-minute mark.

"What's 'ironic'?"
My So-Called Life's time was brief but resonant. And while Claire Danes has become an almost dogmatically celebrated and worried-over performer — from Shakespeare's Juliet to Homeland's ever-fraying Carrie Mathison — Leto has hardly escaped from the memory of a particular generation of fans. He is their first TV crush, and everything he has done since is refracted by that fact. But Leto never seemed comfortable as merely a pretty face, a notion that would clarify as soon as his feature film career began.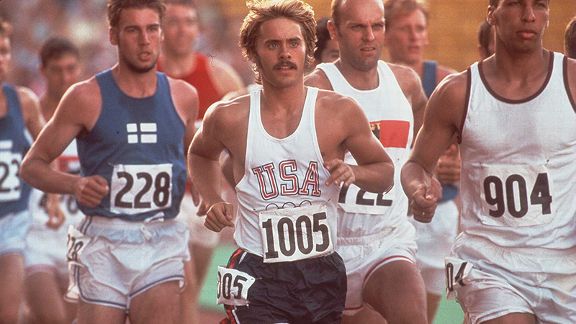 The Reluctant Movie Star
After the cancellation of MS-CL, Leto set apace to become a film actor, falling too quickly into the lead of dreck like The Last of the High Kings (alternately known as Summer Fling), the lumpy period piece Basil, and the plastic teen horror flick Urban Legend. These are staggeringly dated movies, caked in that weird '90s sheen, too bright and exposed, like a sustained Saturn commercial or a rare pog. Nestled between them are two important signposts: a role as a suspicious hitchhiker in the sneaky-good thriller Switchback and the lead in 1997's Prefontaine, an overly serious look at Oregon track star Steve Prefontaine. It was the first and last fictional feature film directed by Hoop Dreams auteur Steve James, and its faux-doc structure betrays a tentativeness. But Leto! The guy is good, channeling Pre's sniveling confidence and flowing blond bob, and his presence is ghostly; it's not really a movie star turn, even if it's a movie star part. Prefontaine is not a great movie — it was rushed into production and theaters, in competition with Robert Towne's long-gestating Without Limits, another movie about Prefontaine's life starring Billy Crudup. (These were the Volcano–Dante's Peak of track and field biopics — Hollywood is a silly place.)
But what these two roles indicate is clear: Leto's not a leading man, not in the traditional sense. And he knows it. There's something untrustworthy in those eyes, something askew. Blank at times, but corruptible. What follows for him is a fascinating heartthrob subversion.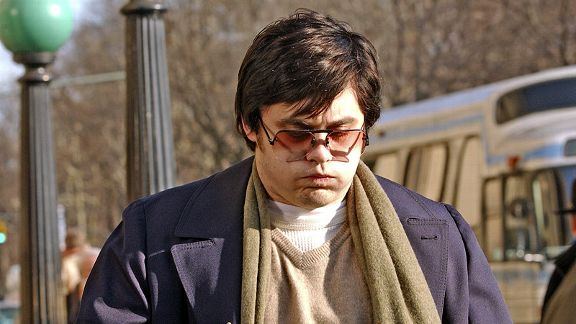 The Intermittent Character Actor
The auteur hound arrives. In the ensuing decade, Leto will work exclusively in smaller films or with rising filmmakers of a certain pedigree, including James Toback, Terrence Malick, David Fincher (twice), Mary Harron, Darren Aronofsky, Oliver Stone, and Andrew Niccol. How did this teen soap star become the Swiss Army knife of indie cinema? Easy, Leto let them smudge his prettiness, none more than Fincher, who had the actor's face beaten to rotting hamburger in Fight Club and forced him into cornrows and pissy affectations as a trust-fund thug in Panic Room. Leto is incredibly obnoxious in these movies, by design. He's also exacting and well-cast — an avatar for beauty's meaninglessness. The same is true for his turn as Paul Allen, Patrick Bateman's one-upping professional rival in American Psycho. Allen meets a grisly end, but at least his business card has a watermark.
Leto's lone leading role in this stretch is as smack-addicted Harry Goldfarb in Aronofsky's adaptation of Hubert Selby Jr.'s Requiem for a Dream. Like the Fincher movies and American Psycho, Requiem has a slightly unnerving cult fan base, one that sort of misunderstands the movie as an exploitation story and not a cautionary tale or a satire. But Leto — hair dyed jet-black and assuming a honking Brooklyn accent — is suitably dead-eyed and wandering. He lost lots of weight and shot himself with a syringe full of water to prepare, the early stages of the kind of immersive preparation he'd become known for in service of a role. For his next lead nearly a decade later, 2007's Chapter 27, a grim portrait of Mark David Chapman, he gained 67 pounds (and was later stricken with gout) by covering everything he ate in olive oil and soy sauce. For Fight Club, he trained mercilessly. For Stone's disastrous Alexander, he seduced Colin Farrell. What sacrifices for his art. Leto is lampooned for his overcommitment, like a lightweight De Niro aping the sacrifices of his heroes to establish credibility. But these choices, while showy, are not simple things. He could have continued down the Urban Legend path, insisting on leads in low-grade genre crap. Instead, he ignored the most commodifiable thing about himself and sought interesting movies. I'm tempted to use the word "brave."
It has been six years since Leto has appeared in a movie (2009's Mr. Nobody is only now receiving a release), but he returns next week in Dallas Buyers Club, the true-life story of Ron Woodroof, a Texas man diagnosed with HIV in the late '80s who by tangled circumstances became a supplier of unapproved drugs to hundreds suffering from HIV and AIDS. The movie is enthralling and well-made, if problematic for the reasons outlined by Wesley Morris here. Leto is typically immersed here as Rayon, Woodroof's junkie transsexual aide-de-camp. It is as flashy as supporting roles come — Leto lost one-third of his body weight for the role and waxed all manner of body hair, including his eyebrows. He is a ghoulish-looking but sweet-mannered presence in a corroded story. Obsessed with T. Rex's Marc Bolan and inexplicably aligned with Matthew McConaughey's hateful character, Rayon is the kind of role that is both built for critical adulation and probably deserving, too. Leto has been saying that he fell in love with Rayon, which is what brought him back to the movies. There's no reason not to believe him. He could be off doing better things. Like being a world-famous rock star.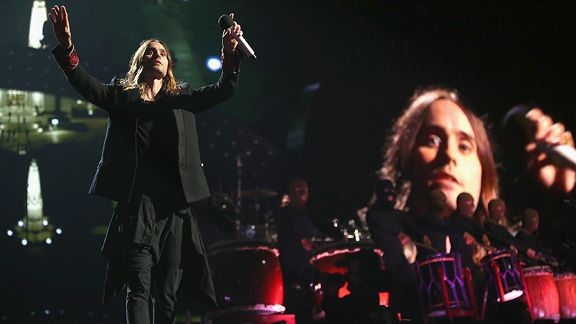 The Willing Rock Star
Concurrent with Leto's downshifting into character actor work, he started a band in a garage on Melrose with his brother Shannon on drums. This band practiced five nights a week in said garage, chugging out lunkhead arena rock simulacra. Leto honed his twirls, his mic-stand grip, and his arms-spread posture. Leto is prone to showy performances, but he often takes them on in small movies with subtle ambitions. There is nothing subtle about 30 Seconds to Mars. The band's early records, especially its Bob Ezrin–produced self-titled debut, recall post-alternative aggro-man bands of a different time — bands like Puddle of Mudd, Incubus, and Filter, bands that most people agree are not very artful. Leto is a light-voiced actor, airy and distant, but he growls as a singer. 30 Seconds to Mars has seemingly always wanted to be a massive, dick-swinging hard-rock band, even several years after that very idea was impossible to imagine in pop music. But it stuck to it, transforming its sound into spacey hard rock, electro-infused hard rock, Kanye West–assisted hard rock, but always hard rock at a time when the genre was anathema to cool culture.
Somehow, this fortitude worked. Leto got better as a front man. At last week's show he emerged onstage before a seated nine-piece orchestra, a dozen taiko drummers, and a gaggle of falling primary-colored balloons. When the doldrums of a typical L.A. audience at the show's outset bummed him out, he pushed back, not unlike an arena PA at an NBA game. "Let me hear you in the back!" "I can't hear you!" "Sing along!" There's something really old world about the way 30 Seconds to Mars operates. But it works. It cannily enforces an us-against-them culture — Leto calls his fans "The Echelon" — even as it has become one of the few notable bands of its generation still releasing platinum albums. Are those albums significant works? I don't think so. But I was cowed by the scene at the Bowl, by the often crazed commitment that it is inspiring one and a half decades into its run. It is rock unencumbered by shame or irony, like Jordan Catalano once upon a time. And Leto and the band are still doing stunt-y, hilarious things. Like having '90s studio godheads Flood and Steve Lilylwhite produce an album or using the pseudonym Bartholomew Cubbins for directing videos or enlisting outré artist Damien Hirst to design album art. Or debuting its new single … in space. On March 18, the band first played "Up in the Air" from its fourth album, Love Lust Faith + Dreams (actual title) on the International Space Station. This is my favorite thing the band has ever done. Here's Leto talking to astronaut Tom Marshburn about what it's like in space.
"What are your dreams like up there?" Great question, Jared. "Does it feel spacious up there?" They're in space, Jared.
In 2009, Leto turned down a chance to star in Clint Eastwood's Flags of Our Fathers to tour in support of 30 Seconds to Mars' new album, This Is War. This is the kind of decision that gets an actor crossed off casting directors' short lists. But Leto made the right choice. His film career is intact, if he wants it, though he has no future films planned. Instead, he endeavors to straight-faced rock. Who's going to tell him not to?
The Famous Person
There is one final factor in the Leto equation: everything else he does. This guy is awesome at being famous. It ought to be celebrated.
The Flirt King

"I just noticed how perfect your hair is." Wow. Jared Leto is seated in some nice girl's basement conducting an interview and stealing her heart. He does this all the time, with fans, with filmmakers, with the press. (Choice quote: "That ear is not the craziest thing [I received in the mail]. I got a FedEx box full of pubic hair one time.") Flirting is a lost art, much like chugging hard rock, and Leto sees nothing smarmy or ill-considered about it. He charms with deadly force.
The Talk Show Secret Weapon

Here is a fanciful clip from an Australian TV show wherein Leto seduces every single person, man and woman, on this four-person panel. Why? I don't know. This is standard practice when Leto is on the press tour for a project.
The Physical Specimen

Above you'll find some important notes on how he maintains his physique from a man who is too interested in this. Also, this important quote from Leto on losing weight for roles: "It's really about calories and math. There were some days where I had maybe like half a cucumber."
The Lord of Haircuts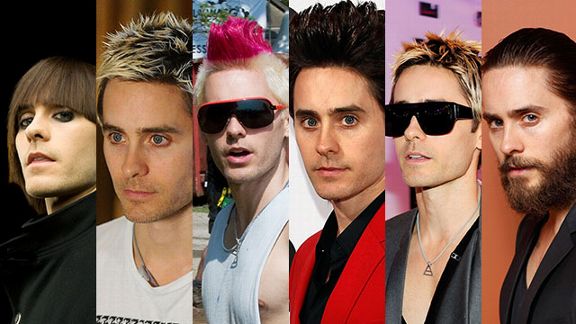 There are so many.
---
Last Thursday, at the premiere of Dallas Buyers Club at the Samuel Goldwyn Theater in Beverly Hills, Leto sauntered onstage to join the producers and his castmates McConaughey and Jennifer Garner — he clutched Garner by her left arm and whispered into her ear as she giggled. The producers noted that they had only just met Leto — he was in character as Rayon for the duration of the shoot. Before the screening began, Leto snuck out. He hasn't seen the movie and isn't ready to do so yet. He was too close to it, he said. After the screening ended, I quickly ducked out and exited onto Wilshire Boulevard. Coming from the opposite direction, after finishing a Dallas Buyers Club–length dinner, was Jared Leto in a black trench coat, with a beautiful woman on each arm. He walked confidently, but in his own unique daze, not a care in the world. It was the same look he wore throughout the show at the Hollywood Bowl. He looked glorious.
Filed Under: David Fincher, Fight Club, Movies, Music, Sean Fennessey, TV