This Is an Emotional Heat Check: Lil Wayne
ohnny Nunez/Getty Images
Lil Wayne is suing Cash Money Records for $51 million. This is not that great of a turn of events. Wayne is responsible, at least in part, for the label becoming an irrepressible part of rap history, through his own discography and through Drake and Nicki Minaj's discography. (But not through Tyga's discography — definitely not through Tyga's.) So Wayne suing the company feels very heavy and sad and low and like a big, bright signifier that Cash Money will never be the same again. He's trying to wiggle out of his contract — he has openly berated Cash Money since last year, and maybe that's because the label started housing acts like Limp Bizkit and Bow Wow, but probably it's because his album, Tha Carter V, has been repeatedly delayed. I don't know. Who knows. Not you. Not me. I do know this, though: It's an emotional response to the situation. So this is Emotional Heat Check: Lil Wayne.
A heat check is (mostly) a basketball term. It's used to reference a shot attempt, specifically a difficult one attempted after a handful of easier, wiser shots have been made. Think on it like this: You make a layup, then you make a wide-open midrange jumper, then you make a wide-open 3-pointer. That's great. Those are smart shots. You're feeling very good about yourself and all the decisions you've made in life that have led you to that point, so the next time downcourt you receive the ball and then chuck up a 29-foot fadeaway. That's the heat check. You are literally checking to see if you are figuratively hot. If you make it, you shoot again. If that goes in, then you do it again. And again. And again. Until you miss. Each make becomes exponentially more exciting and intriguing and more of an accelerant.
That's what this is, except it's an emotional heat check instead of a basketball one, and instead of a basketball player it's Wayne, and instead of shot attempts it's a response to a situation. Here's his chart:
He's not that great at emotional heat checks. He's the Josh Smith of emotional heat checks, probably.
At the Rim: 0/1, 0 percent
This is the time he rapped, "I got a knife in my pocket if there's a fork in the road," but really it's for all the goofy, nonsensical Lil Wayne lines we've all had to absorb since he rapped his brain into mush during his superheroic 2006–08 run. If he was the greatest during that time frame (and it's very likely he was), then he's in the same stage in his career right now as Muhammad Ali. It's all very sad to watch.
Straightaway 3: 0/2, 0 percent
1. This is the time he wore those leggings. He wore them to the 2011 MTV VMAs. I thought it was cool. He looked like Carrie from Sex and the City. But then I remembered it's probably not so hot of an idea to dress like someone from Sex and the City if you're not actually on Sex and the City. This was a miss, though I certainly appreciated the shot attempt. Nobody gets 'em up like Wayne.
Note: Miley Cyrus wore a similar pair of leggings the year before. There's maybe a connection between her and Wayne wearing the same clothes and then Wayne slowly morphing into an SATC character and Miley slowly morphing into whatever it is she's morphing into.1 It's like one of those Freaky Friday switches, except more racist, probably.
2. This is also the time he put Cory Gunz on the remix to "A Milli." Wayne was the biggest rapper in the world when this happened. He still couldn't turn Gunz into anything.
Right Corner 3: 0/1, 0 percent
This is the time he shot himself in the chest as a child. You should not be able to look inside your own torso if you're not one of those see-through minnows and if you're not Iron Man. That's it. That's the list. So this was a miss, both literally (he was about a fingernail away from hitting his heart) and figuratively (because don't shoot yourself).
Free Throw Line Jumper: 0/1, 0 percent
This was the time he pretended to like Mountain Dew. This was a miss. Mountain Dew is the worst. It's barely even a soda. I remember this one time I drank, like, nearly a whole six-pack of Mountain Dew before I realized I wasn't drinking Mountain Dew, I was actually licking a trash can lid.
https://www.youtube.com/watch?v=ceoSsfF20cc?t=2m27s
Right Elbow Jumper: 0/1, 0 percent
This was the time he released that song with Lil B on the first Sorry 4 the Wait mixtape, and I don't know if I'll ever be able to forgive him.
Left Corner 3: 2/2, 100 percent
1. This is the time he was being deposed for his lawsuit against Quincy Jones III. It's the realest thing of all. He called himself psychic. He croaked threats at the lawyer interviewing him. He pretended not to remember anything about anything about anything. He was on some true I-Forgot-to-Delete-the-Browser-History-on-My-Phone-and-My-Chick-Saw-the-Last-Five-Sites-I-Visited-So-I-Gotta-Shut-My-Whole-Everything-Down-Until-She-Gets-So-Frustrated-She-Just-Goes-Away stuff, only he did it in a legal proceeding. What a hero.
2. The time he kissed Birdman on the mouth. This was also a make. It's never wrong to show affection, even if it's to a guy who looks like Warwick Davis as the Leprechaun.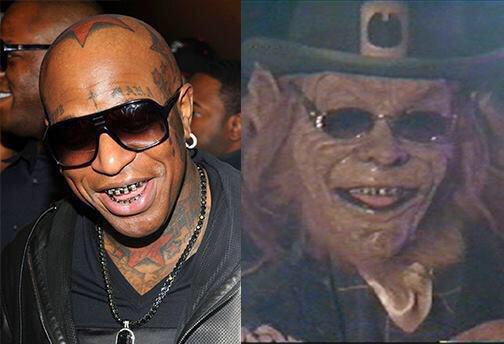 (Sorry, Birdman.)
https://www.youtube.com/watch?v=qJ6V_9CnrMI
Right Wing 3: 0/2, 0 percent
1. This is the time he tried to pretend like he knew how to play the guitar. This was a miss. This was a miss in the biggest way anyone could ever miss. When my sons were 5, they played in this YMCA basketball league. The rims are lowered in a league like that so the kids actually have a chance to make it. During one game, one of my boys grabbed a loose ball, sprinted down the floor (without dribbling, FYI), built up his speed to his greatest mph, and then rocketed the ball at the front of the rim. The ball hit the rim, ricocheted backward, then absolutely obliterated some tiny girl's adorable little nose. It hit her clean right TF in the face. It couldn't have been any more forceful than if she'd been hit with a cannonball. There was this terrible noise, then red mist, then horror. That's the kind of miss Wayne's guitar was.
2. The time he pretended to know how to play the double-neck guitar. TWO GUITARS AT ONCE. Imagine if you had two wieners and he kicked you in both of them. That's what this was.
Filed Under: Music, Lil Wayne, emotional heat check, Cash Money Records, birdman, tyga