The Men Who Camped Out for Twilight: A Photo Essay
Lane Brown/ESPN.com
Last week, in anticipation of tonight's premiere of The Twilight Saga: Breaking Dawn – Part 1, fans of the franchise erected a tent city outside of Los Angeles' Nokia Theatre, just across the street from Grantland HQ. Who would give up a week's worth of work or school, sleep, and indoor plumbing just to watch a few pale actors walk a red carpet? Yesterday, armed with a camera and a tape recorder, we decided to find out. Unfortunately, Twilight stars Peter Facinelli and Jackson Rathbone were visiting at the same time, so many of the female fans were preoccupied. Luckily, there were plenty of men around to answer our questions.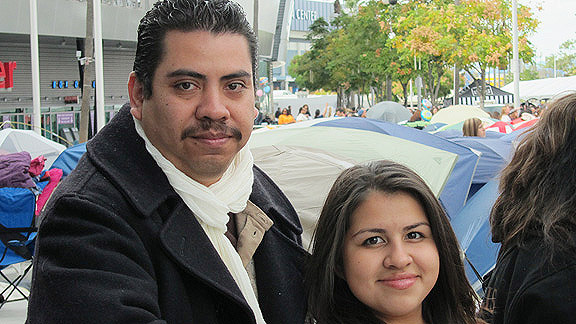 Mario: "I've been here since Thursday morning. I'm with my daughter, but I'm a Twilight fan, too. Well, more of an Ashley Greene fan. What part of the movie am I most looking forward to? Definitely the wedding."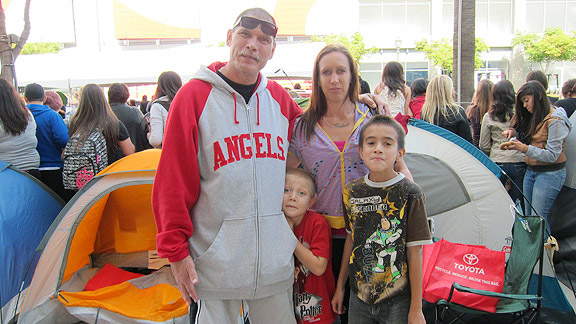 Richard (left): "We live right across the street, so this was really convenient. I'm a big Twilight fan. I've seen the movies, but not read the books. The books are too graphic. But I'm really excited to see all the stars. They're all such wonderful actors. I got some great signatures already."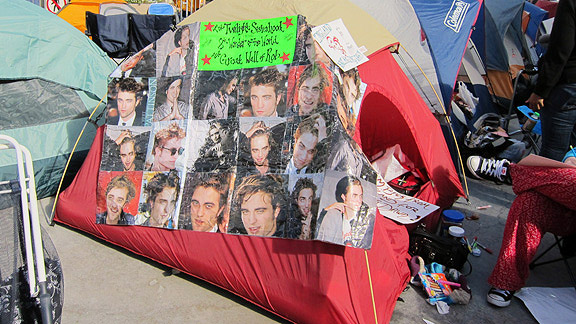 In case you were wondering who's been buying all those copies of Entertainment Weekly.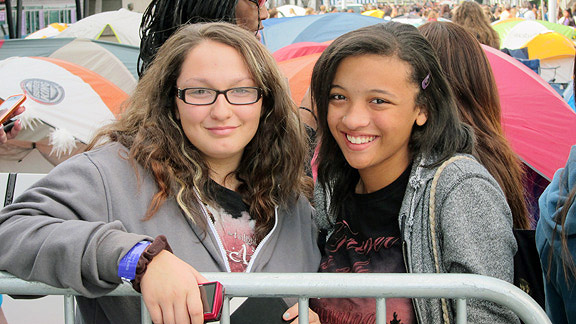 Natalie (left): "This is our third Twilight premiere. We got here on Wednesday at 3 a.m. We skipped school this week. We were in the first 300 people. There are a lot more men this year. That was a surprise."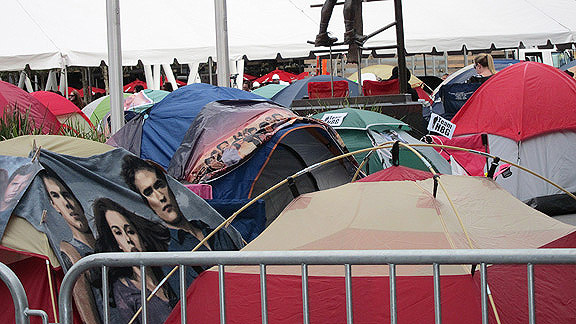 Stock tip: Breaking Dawn – Part 2 comes out next August, which would be a good time to invest in tents.

Billy: "This is my first Twilight premiere. I'm here with my wife, Meredith. We came from Texas for our 22nd anniversary. I've seen all the Twilight movies. I listened to the books — I'm not a big reader. We're here with Jasper's Army, a group of Twilight fans who send care packages to the troops."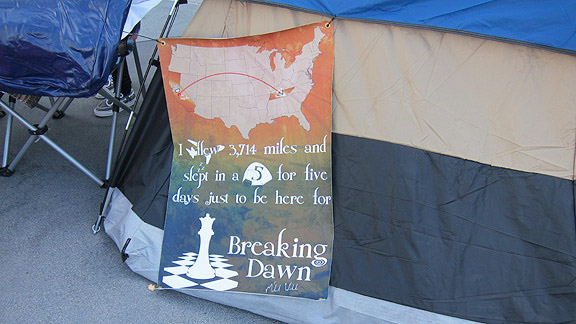 Totally reasonable.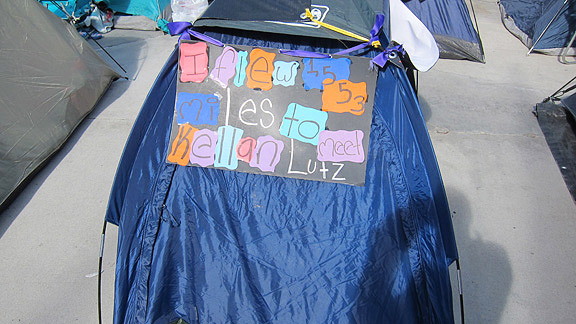 A little less reasonable.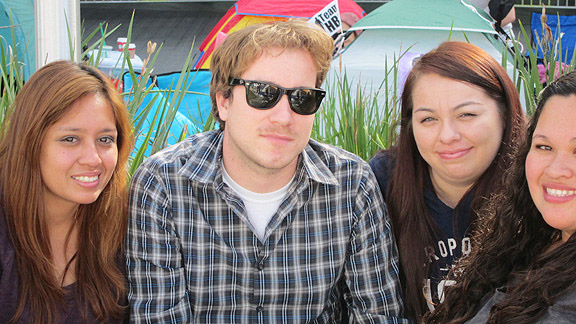 Adam: "I went to the first Twilight premiere in 2008, which was before Twilight was Twilight. One time, I met Robert Pattinson at Taco Bell."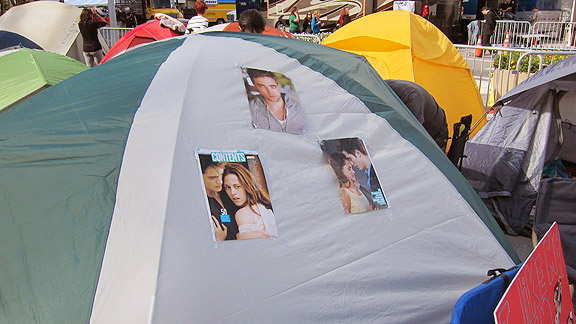 As you can see, some fans put less care than others into decorating their tents. A disgrace.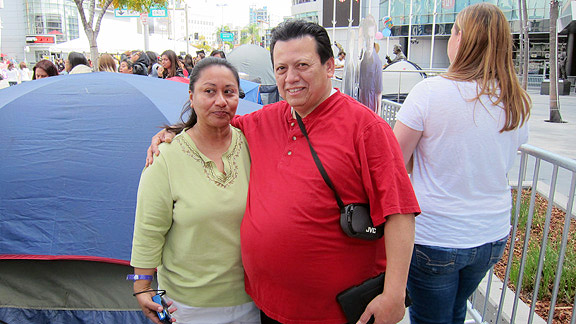 Manuel: "I just talked to Ashley Greene. I think she's fresh, funny, a great actress, and friendly, too. This is my third Twilight premiere. I became a fan because of my daughter. I like her to be with friends doing a common thing, instead of drugs or something. We've been camping since Thursday. It's hard to sleep out here, but it's possible, between 2 and 5 a.m."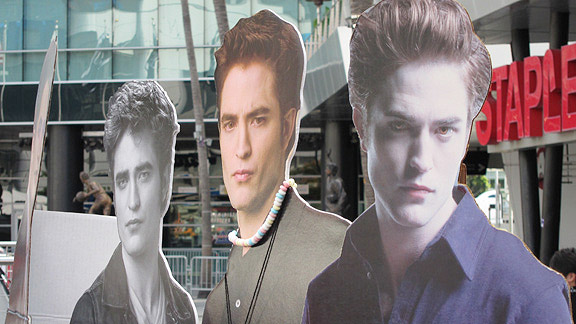 All three of Robert Pattinson's facial expressions, immortalized in cardboard.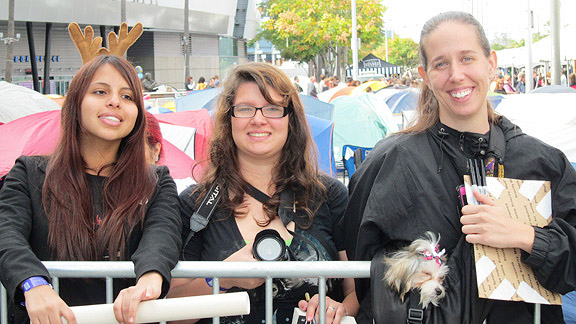 Kim (right): "My dog's name is Bella. She's our tent city mascot. I got here on Wednesday at noon. I made it a vacation. I'm a nurse. A year and a half ago, I found out when the premiere was going to be, so I asked for the time off."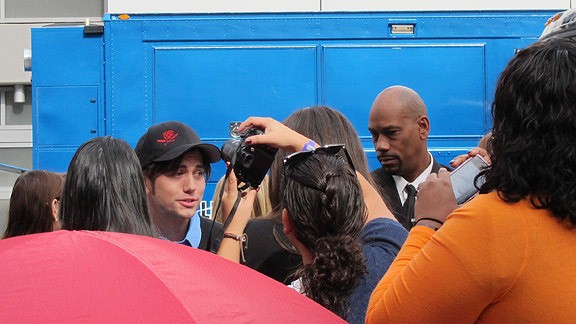 A bodyguard briefly considers shoving Jackson Rathbone over a barricade.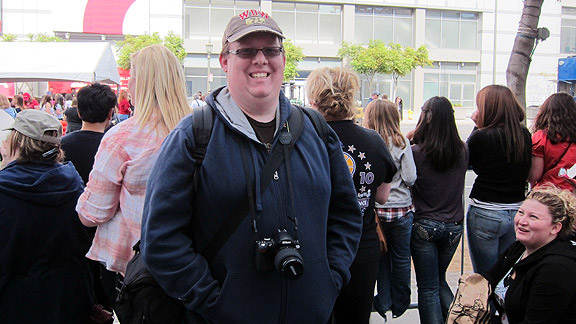 Don: "I've see the movies but never read the books. I'm not a Twilight fan. I'm here for my daughter. I work at a hospital, so I had to take three days off. We got a hotel room, but we've been camping out for the past four nights. They had a hockey game last night and it was a little crazy. The Kings fans were out here yelling 'Twilight fans suck!'"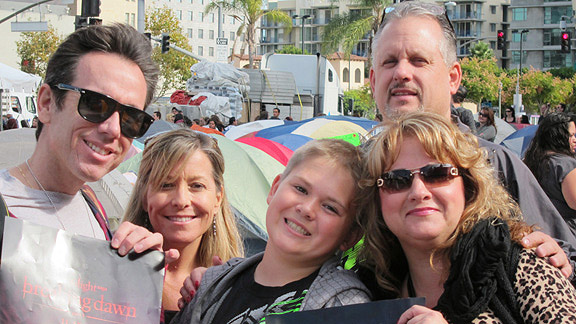 Janine (right): "There are a lot of men this year. We've got two right here! I took two weeks off from work. I work at a hospital, in the operating room." [Grantland: There are a lot of medical workers here. It seems like this would be a bad weekend to get sick.] "It is — one of my bosses is over there. Camping here has been okay, but there are no porta-potties. If you wake up in the middle of the night, you have to trek all the way to that hotel to go to the bathroom. Also, hockey fans are obnoxious."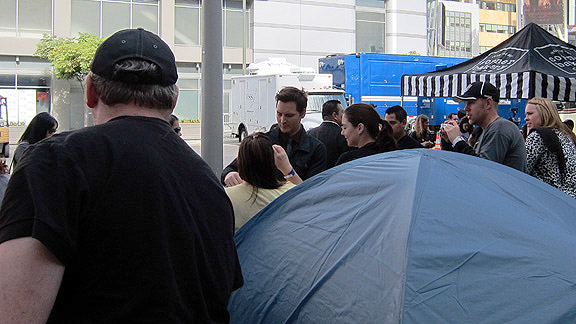 Peter Facinelli shows a fan his Vulcan nerve pinch.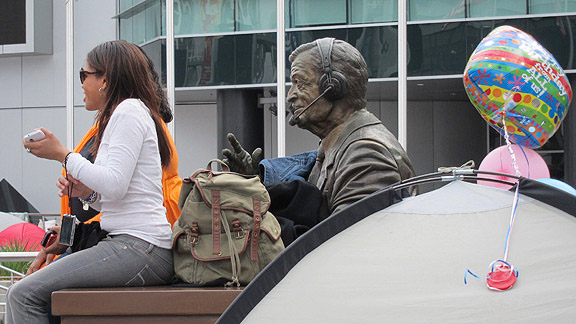 Legendary Lakers announcer Chick Hearn is on Team Jacob.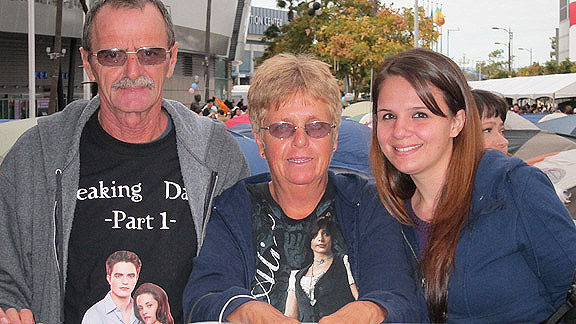 Eddie (left): "I came from Florida. I've been here since Wednesday. We're a Twilight family — a Twi-fam. This is our third premiere. We're here for the honeymoon scene. But I don't think they'll show it — at least not the way I want to see it. My daughter made our shirts, and for a specific reason: We're on Team Kristen. Here, look at the back …"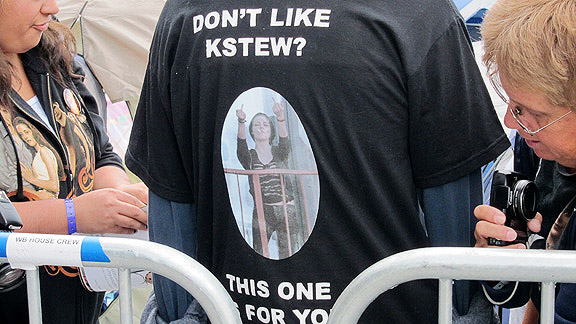 Filed Under: Movies, The Twilight Saga: Breaking Dawn Part 1, Twilight, Vampires