Rembert Explains America: In Search of John Wall, A$AP Ferg, and the New Washington, D.C., at Trillectro Music Festival
Rembert Browne/Grantland
Deciding to return to a music festival is always a risky move. Rational decision-making tells you good times were had the first time, so why not relive that magic? But in your gut you know that without the adrenaline that comes with the new experience, it'll never quite be the same.
Unsure of which would define my upcoming experience, I boarded a plane in Portland, Oregon. The destination was Washington, D.C.'s second-annual hip-hop and EDM bonanza, the Trillectro Music Festival. For a second straight year, I was not making the journey for the music. But unlike last year, my reasons for attending were purely selfish.

My presence at the inaugural fest was highly sociological. My interest was in D.C. and the people who live there and whether or not they would come together to make this event work. Could this hyper-diverse quasi-subculture of twentysomethings that I'd seen pack a variety of dimly lit bars and clubs for the past two years fill the grounds of an event labeled a "music festival"? Would it feel like a festival, or simply a party on a grander scale? Would this prove that D.C. deserved something like this, or would it only intensify the belief that the Capital is still a one-industry town?
Leaving Trillectro 2012, it was clear to me that they pulled it off. People showed up and showed out, in the best way imaginable. Every pocket of D.C. seemed to be represented, and the result was a fun day, with music as the backdrop, all in the name of slowly making this city cool.
A music festival, however, it was not.
It felt like a barbecue. Or a family reunion. Or, more accurately, a homecoming.
And that lack of typical music festival-ness — the unusual familiarity among those in attendance — is why I came for Round 2.
Because I wanted to see my people.
---
Arriving at the festival, located in Washington, D.C.'s Southeast quadrant, in the shadow of Nationals Park, only two hours after my red-eye landed, I could instantly tell things had changed. The entire operation felt more professional. Being friends with the organizers seemed to carry less capital than before, a fact I acknowledged as a net positive, even as an one-time abuser of that privilege. There seemed to be more vendors and volunteers ready to make the event run smoothly.
This wasn't just D.C. celebrating D.C. People were coming in from all over, seeing what exactly it was the District had to offer. Perhaps the "friends and family" vibe of the previous year, the majority of the reason I'd shown up, was a thing of the past. Perhaps this face-lift was about the organizers taking ownership of that word "festival." I was curious to find out.
Equipped with two stages, the initial trickle of attendees was slow but steady. Those present, however, were appropriately out of control from the beginning.
While taking a few loops to get a feel for the space, I ran into one of the organizers, Marty. He looked at me with a grin.
"You want to know a leak?"
"Um, yes. What kind of question is that?" I responded. "Actually, no. Wait, give me a hint." I assumed he was talking about special guests, so I followed him until we were away from crowds. Eventually we stopped, he pointed to a back entrance, and said "The Wiz."
I gave him what I assume was a weird look, and then said "Y'all got John Wall to come?"
He smiled, shrugged his shoulders, and then walked off. I followed. "When John Wall comes, I can talk to him, right?"
"Yeah, man, come with me," he said and we walked into the artists' lounge. At this point, it was established that once he showed up, I would be first in line to talk. Knowing that "once he showed up" could mean anything, I took a seat on a bench and got comfortable.
Joining me was Washington Post writer and D.C. native Clinton Yates and D.C. radio host Jamie Benson. Sure, neither Clinton nor Jamie was a Dougie-first, basketball-second guard for the Wizards, but I knew they both had thoughts on the festival and how it was affecting the District. So I turned on the recorder.
Browne: Have you noticed that the city has changed, socially or culturally, over the past year since the first Trillectro?
Yates: Yes and no. When I first met these guys years ago, they were just DCtoBC. They were doing that party over at Recess Lounge. I knew Modi from the Internet. He was a private-school kid, Sidwell cat. I went to private school in D.C. So I reached out. And they told me about this idea they had, Trillectro, and I knew they were on to something. It was like that Venn diagram. That part in the middle. And the fact that they could recognize that alone, and early, was an indicator that there was already something changing. That EDM and hip-hop were even remotely going to work at all. So when you look at how that was created with the first Trillectro, versus now, people now are like "Oh yeah, of course, it makes complete sense." So when you put Tittsworth on the same bill as a Casey Veggies or a Phil Ade, who's local, people are like, "Oh yeah, that makes sense." They think about it not only in the context of Trillectro, but also in the context of D.C.
Browne: I know D.C., but I don't know D.C. like you, Yates. You're from here and write about here. Does the success of the mash-up nature of the festival surprise you?
Yates: D.C. has always been a place where there was an inferiority complex, entertainmentwise. There was the go-go issue, which a lot of, frankly, black people could never fully grow out of. But that's changed as more of the young people that grow up here stay here, and more continue to flock here. There's also a group of young people that want to define themselves in a certain way, and that's what Trillectro has been able to capture in a bottle.
D.C.'s been doing this, though. Go-go and punk existed in the same cipher in different lanes for years. For two decades. Did they always coincide? No. But punk-funk jams existed. They were major. And if you're of a certain age, you didn't have to pick one. You did both.
You've always had these blending lanes, but it wasn't happening on this level, nothing more than the subcultural level. Now it's mainstream, in the sense that you don't have to be part of a subculture to participate. It's not exclusive. Inclusive is what they've done.
Browne: That "friends and family" vibe that we've both acknowledged as very much the feel last year still exists, but it seems different. How do you compare the two years?
Yates: Last year, the friends-and-family vibe was buttressed by the cool-kid vibe. You kinda had to be "in the know" to be like, "Yo, you going to Trillectro too?" This year, it's Atlanta and New York and Philly, too. You know, that black private school diaspora.
Browne: True, I could tell very large segments of D.C. had no idea this was happening. Throwing an event in Southeast D.C. will do that.
As I said this, two other people walked over: a woman named Guns Garcia, a DJ in Philly who, as I quickly learned from a story Clinton told about her Catholic confirmation, was a classmate from third grade; and Cory Townes, a writer covering the event for Vibe, in town from Philly and a spitting image of his father, DJ Jazzy Jeff.
Yates: Guns, tell them about the D.C. private school thing. It's a thing, right?
Garcia: It's definitely a thing. There's nothing like this in Philly. Not like it is in D.C.
Browne: I went to one of those high schools like Sidwell, in Atlanta, so I get it.
Yates: That Sidwell factor, where you're allowed to be yourself. And allowed to blend, without people looking at you funny. That's the foundation for this entire event.
Browne: Within all of this, however, D.C. is still a pretty segregated city.
Yates: Don't let the view of gentrification, the so-called death of Chocolate City, fool you. The young folks here don't care about that. Because the job our parents did to gain some level of equality, it worked. So, when I go to school with a girl like Regina [Guns] who may look different than me, it's like, "Yo, we're friends. We're friends because we're friends." And this place is a culmination of this.
Browne: Jamie, how is this event for you? You look super-comfortable in this environment.
Benson: I'm used to clam festivals in Maine, with a bunch of people I went to high school with. That's how I grew up. So this atmosphere is so unique. Being able to be yourself, without anyone looking at you. There's no "Why are you here?" That's a very real thing. Someone making you feel like you don't belong.
Browne: That's very true. And I think it exists in most social spaces. A little suspicion. Why Person X has decided to join this collection of Y's. That's probably my biggest takeaway. If you are here, you came here for a reason, and it's a good reason. A legit reason. That's why I got on that plane last night. I can't miss that.
I took a brief moment before I said anything else. I realized how perfect this conversation was. We'd gotten off track from the festival, but we had landed on a tangent that was essentially the foundation of why gatherings like this are rare, and why, when they do happen, they need to be celebrated.
Here I was, sitting with a Washington Post columnist; his third-grade classmate, now a Philly DJ; a writer from Vibe who happened to be DJ Jazzy Jeff's son; and a white guy from Maine who was now a respected D.C. radio host and seemed to know every person who walked past our table.
And it was all under the guise of hopefully interviewing John Wall, an event I quickly realized was not going to happen. I mean, I could have if I'd waited, but it's not really in my nature to wait for hours on someone born in the '90s. So I turned off the recorder and went back into the crowd. Because, even with two hours to spare, it was time to start assembling the troops and finding a spot.
For A$AP Ferg.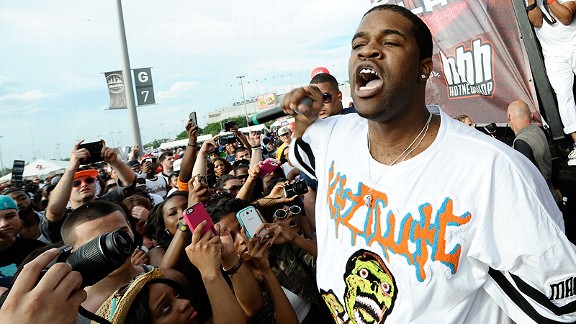 ---
The A$AP Mob's second rapper in line behind Rocky, has, shockingly, become the rapper of the moment. Ferg has long had a sprinkle of mythical weirdness to him, since his crooned rap verse on A$AP Rocky's "Kissin' Pink," but the level of adoration that's developed in 2013 has to be a shock to everyone.
The crowds over the course of the day were increasingly excitable, as young rappers Travi$ Scott and Casey Veggies hit the stage. But it was all a warm-up to Fergenstein. Even the day's true headliner, Wale, didn't have the day-long buzz that Ferg generated.
After a few hours, at long last, the man of the hour hit the stage.
After the buildup to Ferg came yet another buildup. Yes, his newest song, "Shabba," is quite popular, and he has a song called "Hood Pope" that is simply phenomenal, but the track that put him on the map, "Work," and the accompanying remix were set to make the place explode.
And then he played it. And the place exploded.
And then he cut it off. And did the remix. And again, the place exploded.
Trillectro finally had something in common with other festivals: the moment. It's the thing that separates a great festival from simply a large gathering of like-minded, fun people. That musical moment that people will be talking about for weeks.
That didn't exist the previous year. But in Year 2, Trillectro finally got its moment.
Trust me. I have the knot on the back of my head to prove it.