Poster Decoder: The Secret Messages in the One-Sheets for Carnage, Being Flynn, and Goon
Each week, marketers release new movie posters, many for films whose releases are still months away. But for those who know where to look, one-sheets can reveal studios' hopes and insecurities about their products. In this space, we will attempt to decode the hidden meanings of the week's new posters.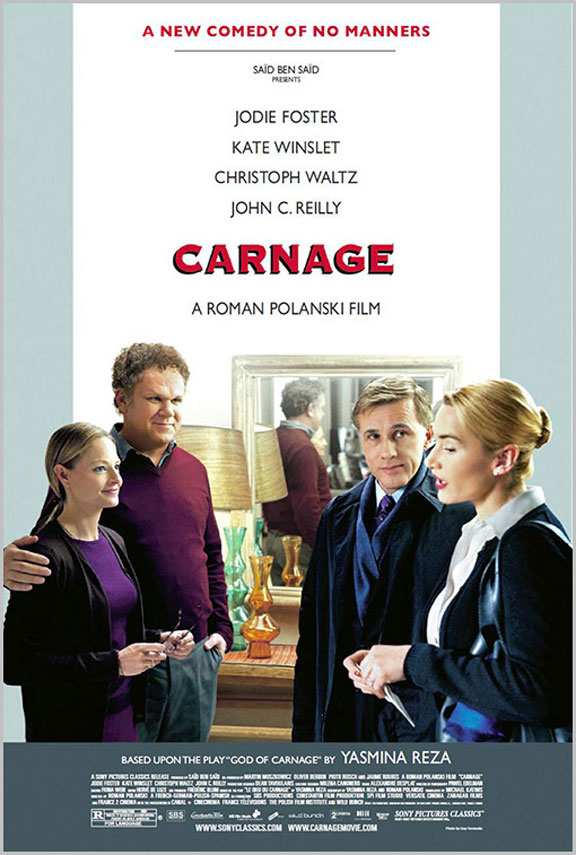 Carnage
What the art says: There's no action in this movie, but there sure are actors. Roman Polanski's latest is an adaptation of a Yasmina Reza play, and like the play itself Carnage takes place almost entirely in one room. With nothing exciting from the movie to show in the poster, they opt for something very boring — on the American poster, at least. The French get this. Maybe Sony just didn't want us to get distracted from…
What the text says: OK, so the first thing we notice is that the number of Oscars on one's mantle directly corresponds to billing order. Foster (two Oscars) first, Winslet (one Oscar, but another five nominations) second, Waltz (one Oscar) third, and Reilly (one nomination) last. And that's the way it should be. Also, naturally we noticed the title font, which may look familiar to you if you've ever been to our website. Legal action may be in the works, Mr. Polanski. We hear you have some experience with that.
Tagline: "A new comedy of no manners." Watch the trailer and you'll see that this tagline is totally accurate. Look at the poster, with all those damn manners, and you'll just be confused.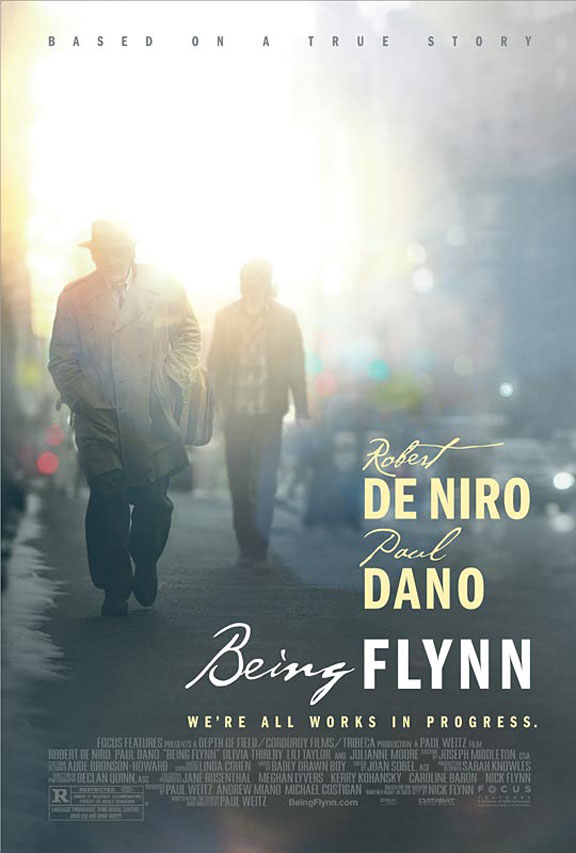 Being Flynn
What the art says: Not much at all. We're only picking up three things here. First, there's a young guy and old guy in this movie. Second, it's set somewhere cold. And third, the sunlight is obscuring the faces in the poster because it's not De Niro and Dano in the photo.
What the text says: Again, not a whole lot. De Niro would get top billing over damn near any living actor, so even though Dano is working on an Oscar-baiting career he should be glad he even scored the same font size as Bobby. There's also "Based on a True Story" up top, but who really cares? The only time "based on a true story" is worth a damn is when severed limbs are involved.
Tagline: "We're all works in progress." Double meaning alert! But only if you know the movie is about a father and son who are both writers. Otherwise it just sounds like a line from your therapist.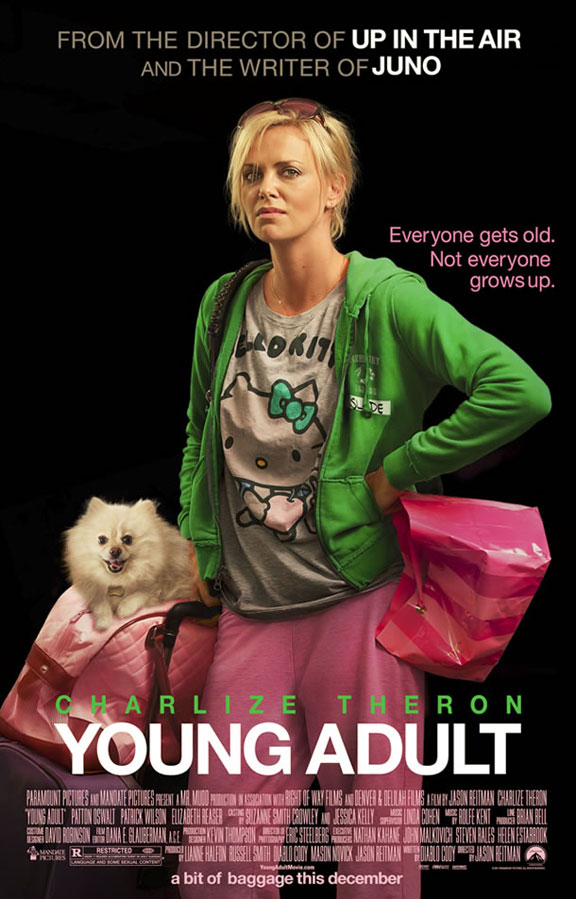 Young Adult
What the art says: Finally, a movie about a WOMAN who just won't grow up! In Young Adult Theron plays a divorced writer who, as this poster makes clear, still dresses like a 14-year-old when she travels.
What the text says: Paramount knows how clueless audiences are. Unlike the Goon poster below, this one doesn't bother with Jason Reitman or Diablo Cody's names. Sure, you know them, but the titles of their movies are far more recognizable to the movie going masses.
Tagline: "Everyone get old. Not everyone grows up." Just like Apatow for the ladies.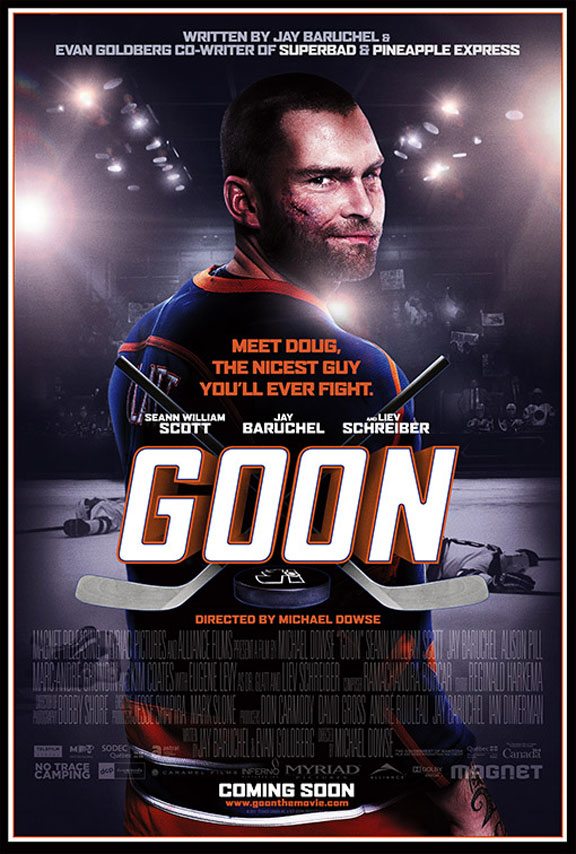 Goon
What the art says: Even with that vagina on the side of his face, Seann William Scott is devilishly handsome. And happy too! Just look at that smirk — a few facial lacerations can't dull Stifler's buoyant spirit. To no one's surprise, this poster is all blue and orange, just like thousands before it. But this one actually ratchets things up a bit more. We're not just talking tints; Scott's actual jersey is blue and orange. That's serious dedication to the color combo.
What the text says: Jay Baruchel is the star. Scott might get his face on the poster, but Baruchel's name is on this thing four times — twice for acting and twice for writing. And about those writing credits up top. Huh? Name-dropping Superbad and Pineapple Express makes sense, but tacking on Evan Goldberg's name is meaningless. It would be more effective to call him "Seth Rogen's friend."
Tagline: "Meet Doug, the nicest guy you'll ever fight." This makes us uncomfortable. We don't want to fight anyone. Also, we're never in favor of breaking the fourth wall with a tagline. On the other hand, we're always in favor of naming characters Doug. So we're a bit torn on where we come down on this one. Since we're afraid Doug might punch us though, we'll go ahead and say we love it.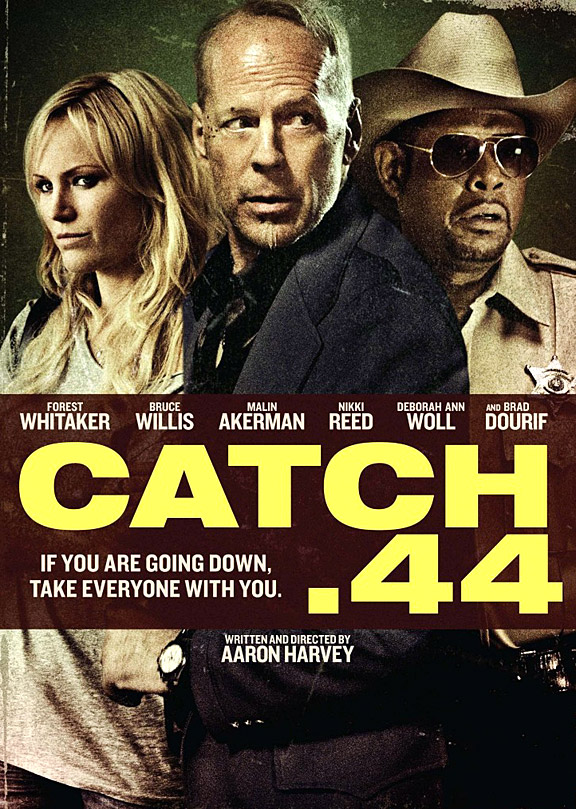 Catch .44
What the art says: We couldn't get everyone to pose so we slapped this thing together in Illustrator, put a grimy filter on it and hit print. The lackluster effort on this poster should come as no surprise. This movie is only getting a limited release before coming out on DVD. That said, props for having Bruce Willis stare off to the side. He does it on the posters for all his best movies (see: Die Hard, Die Hard 2, Die Hard 3, and Die Hard 4).
What the text says: We've got a coup here! Even though Willis is the clear centerpiece, Whitaker snatches top billing. That's what an Oscar will get you. Brad Dourif, the amazing Doc Cochran from Deadwood, scores a bit of coup himself with last billing. A character actor with a face more recognizable than his name rarely lands that spot. But if anyone ever deserved it, it's Dourif. Lastly, there's "Written and directed by Aaron Harvey," the man whose only other IMDb credit is a by-the-numbers horror movie called The Evil Woods. They maybe could have left that off.
Tagline: "If you are going down, take everyone with you." It works both as a bland action-movie tagline, and a rule for anyone in an office building who's going outside for ice cream.
---
Previously: Poster Decoder: The Secret Messages in the One-Sheets for Hugo, Dragon Tattoo, and Mission Impossible 4
Poster Decoder: Deciphering the Hidden Meanings of the One-Sheets for Tintin, J. Edgar, and New Year's Eve
Filed Under: Movies, Poster Decoder, Young Adult