Hyden Defends the '90s: The Black Crowes
Jim Steinfeldt/Crowes
Steven Hyden has been known to stick up for underrated, overlooked, or plain old maligned institutions of '90s pop culture. Because we know he can't help himself sometimes, we decided to give him a space to get it out of his system.
The Black Crowes performed 121 shows in 2013. They haven't put out a new studio album in four years, or gone platinum in more than two decades, but they sold out clubs and theaters in pretty much every major market in the country. This alone means the Black Crowes were more successful this year than 99.6 percent of active bands. Also, having personally witnessed two of those 121 gigs, I can testify to the group's undiminished live prowess. It's not exactly the band you might remember from the "Remedy" video — the core of Chris and Rich Robinson and drummer Steve Gorman is intact after the departure of "classic" lineup members Johnny Colt (in 1997), Marc Ford (in 2006), and Eddie Harsch (also in '06) — but this is still an incredibly efficient old-school rock-show delivery device. If you crave a concert experience centered on riffs, swagger, riffs, funny-smelling smoke, a million and one beers, and riffs, the Black Crowes remain one of the safest bets for a smashingly successful evening.
So I'm not sure if the Black Crowes are an appropriate first subject for this column, since (1) the group's career extends well beyond the '90s, and (2) they don't really need "defending." What (I guess) is at issue is the band's (perceived) poor standing with music critics. This perception stems mostly from a 2008 incident when a writer for Maxim wrote a two-and-a-half-star review of the Black Crowes' (pretty good) comeback record, Warpaint, without actually listening to the record. (This is similar to how people typically subscribe to Maxim without ever actually reading it.) Maxim was widely disparaged for this ethical lapse, though the magazine's self-described "educated guess preview" essentially parroted the stock critical line on the band. "They sound pretty much like they always have: boozy, competent, and in slavish debt to the Stones, the Allmans, and the Faces," David Peisner wrote, echoing the familiar rock-crit sentiment that the Crowes are a derivative retro act. To be fair to the Maxim guy, rock writers have long auto-analyzed this band, even after doing the listen-through due diligence.
It's funny how the passage of time tends to render these kinds of judgments moot. From the beginning, the Black Crowes positioned themselves as interpreters of American roots music, and this type of band always starts out as derivative, because consciously underlining the source material from which your act originates (or, more accurately, picks up from) is sort of the point of the whole enterprise. Before you can subvert tradition, you must become its master. When the Black Crowes emerged in the early '90s, they were accused of ripping off the Rolling Stones and Led Zeppelin, apparently because people had forgotten that the first several Stones records drew liberally from the Chess Records catalogue, and that Zeppelin had literally been found guilty of plagiarizing Willie Dixon. And so it goes throughout music history, whether it's Brits ripping off American music forms, or Americans ripping off Brits ripping off Americans. (The latter is the starting point for the Crowes' 1990 debut, Shake Your Money Maker.)
They don't call American music a tapestry because each square is an autonomous piece of wholly original cloth. The pieces are constructed of the same raw materials and connected with irregular stitching. What ultimately matters most is durability. The Black Crowes are nothing if not durable.
But, again, I'm not positive a defense is in order, since even music writers seem to have come around on the Black Crowes. This is purely anecdotal, but I'm submitting it as evidence anyway: Before attending a Black Crowes concert last month in Milwaukee, I tweeted my assertion that the band belongs on the Mount Rushmore of Southern rock with the Allman Brothers, Lynyrd Skynyrd, and Drive-By Truckers. To my surprise, several prominent rock critics agreed with me, and not just with mindless favorites and retweets, but with shout-outs to specific albums (particularly the twin peaks of the Crowes' catalogue, '92's The Southern Harmony and Musical Companion and '94's Amorica) and treasured deep cuts.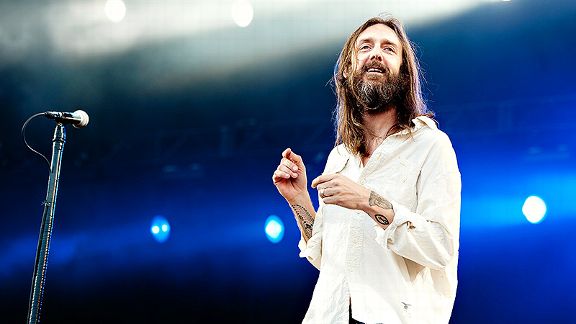 All the writers were around my age, which means they grew up at a time when a group like the Black Crowes could actually be considered a pop band. For about three years, that's exactly what the Black Crowes were: "She Talks to Angels" and the Otis Redding cover "Hard to Handle" from Money Maker hit the Top 30 and were all over MTV. The Crowes even played at the 1992 MTV Video Music Awards — the one at which Axl Rose and Kurt Cobain almost came to blows, and hands down my favorite awards show of all time. The Crowes were so big that I bought Money Maker on cassette at a Kmart when I was 12. Trust me: If a kid like me bought your cassette in 1990, you were as mainstream as it got. I was just beginning my rock and roll education. Next to Money Maker, the next loudest tape in my collection was Janet Jackson's Rhythm Nation 1814. (Don't sleep on "Black Cat," a rare example of new jack metal.)
So, the Black Crowes don't need a defense, but they could use a spirited articulation of what makes them great, a long-overdue affirmation roared at an inappropriate volume. So I will affirm. And I will roar.
---
Let's go back to the "Mount Rushmore of Southern rock" argument. My point is that the Black Crowes represent a vital link in a chain that had basically been broken in the '80s. You can't get from the Allmans and Skynyrd (the archetypes) to Drive-By Truckers (the thoughtful deconstruction of the archetype) without going through the Crowes. Southern rock was strictly feathered hair and back-pocket plastic-comb stuff when
Money Maker
was released. (All due respect to .38 Special's "Hold On Loosely," but it was the opposite of hip in the Duran Duran era.) When the Robinson brothers teamed up with Gorman in the late '80s, the trio was informed not by the signature regional music of the '70s, but by R.E.M. and
Let's Active
, products of a different, more bohemian Southern culture rooted in a new brand of outlaw guitar rock. On early records like
Murmur
and
Reckoning
, R.E.M. purposefully differentiated itself from the synth-pop that dominated the radio, emphasizing Byrdsian jangle and live-sounding drums. While the records were tuneful, they didn't pander. The onus was on the listener to accept the idiosyncrasies.
The Black Crowes are never grouped with R.E.M. in the minds of pop historians — R.E.M. ranks among the least bluesy rock bands ever — but they share a certain stubborn contrarianism and ingrained provincialism. The Replacements are another, more obvious antecedent — it could be argued that the Crowes did more with Stones and Faces worship on their first two records (creatively and certainly commercially) than Paul Westerberg managed on the last two slicked-up 'Mats LPs. (If you toss in Pleased to Meet Me in the 'Mats column, it becomes a fairer fight.)
Even as the Black Crowes assumed the mantle of jammy, bare-knuckled, Dixon-leaning rock, they resisted the stars-and-bars minstrelsy associated with Skynyrd and its many offspring. There's an old story about how Rick Rubin, whose label Def American Recordings signed the Black Crowes and released their first five albums, tried to talk them into renaming themselves the Kobb Kounty Krows and dressing in Hee Haw overalls onstage. The idea (I'm speculating) was to turn the Black Crowes into a jokey, Black Oak Arkansas–style caricature, similar to how the Beastie Boys goofed on hip-hop tropes during their Rubin-shepherded Licensed to Ill period. To put it mildly, the band didn't see itself that way. Southernness was an intrinsic and organic (rather than extrinsic and calculated) part of the Black Crowes' identity, just as it was for R.E.M.
Like those late-'80s Replacements records, the Black Crowes' '90s output sounds much straighter now than it did at the time, because the context of what was going on in rock music around those albums has been lost. Though, really, the Black Crowes never had a context. As one of the only bands of the period not to be associated with a specific style or scene, they've always been an island. Money Maker came out as L.A. metal started to fade and grunge inched toward commercial dominance. If you were accustomed to associating rock music with Poison and Warrant, the Black Crowes instantly seemed different. But they weren't as different as Nirvana. The Black Crowes sounded like the band Poison and Warrant weren't smart enough to become. Once grunge turned trendy, the Black Crowes stood out as an unapologetically "rock" rock-and-roll band in a conspicuously self-conscious field. No matter how '90s rock evolved, the Black Crowes remained oddballs. From the beginning, they didn't fit in, and they never attempted to do so.
---
After going several times platinum with their first two albums, the Black Crowes spent $1 million in 1993 recording a drugged-out fever dream boxed in by pitch-black walls called
Tall
that the record label rejected. The Crowes regrouped and countered with
Amorica
, a musically brilliant and lyrically acidic left turn that swiftly ended their career as MTV darlings. By the time of 1996's even leftier left-turn
Three Snakes and One Charm
, the reductive media portrait had been set in stone — this was a weed-and-bell-bottoms band in an Adderall-and-Adidas-jumpsuit world. Then they made another record, the fantastic and kaleidoscopic
Band
, also rejected by their label, which instead wanted a "rock" record like
Money Maker
. The Crowes acquiesced by delivering the just OK
By Your Side
, and the label promptly dropped them.
In 2001, there was another record — the "great songs poorly produced" mishmash Lions — followed by the popular midcareer hiatus and inevitable reunion in 2005. After rebounding with Warpaint, the Crowes quickly returned in 2009 with one of their finest albums, Before the Frost … Until the Freeze, recorded live in front of an audience at Levon Helm's barn studio in Woodstock, another sign that the Crowes had been absorbed into the classic-rock world the band had started out emulating.
Because the Black Crowes exist outside of so much '90s music, they're an easy band to lose in the rush of nostalgic retrospectives that have taken place for that era in recent years. They don't fit in with discussions about grunge or indie or pop-punk or gangsta rap or even the jam-band scene. The Black Crowes have one of the best discographies for a rock band in the '90s, but it wasn't especially influential. You can't point to a thousand terrible groups that wouldn't have existed without them, like you can with Nirvana or Pavement. The Black Crowes just wrote really kickass rock songs, packaged them together into really kickass rock albums, and performed them during really kickass rock shows. And they're still doing it. Their stitching might be weird, but it's also strong.