'Girls': Tyler Perry Presents a Horvath Family Reunion
Rembert Browne is a 26-year-old Grantland staff writer living in New York City. Emily Yoshida is a 28-year-old Grantland editor living in Los Angeles. With their combined millennial thought-leader Gen Y/Project X coastal powers, they're going to watch the third season of the HBO series Girls and email each other about it.
Emily Yoshida: This week, Girls decided to spend more time on the "family" part of the Framily Plan that is life by giving Hannah Horvath a dying grandmother and some crazy aunts and a cousin to tangle with for a half-hour. This was a very topical episode, tackling such hot-button issues as texting-and-driving and June Squibb. I was very proud of our girl June, though it seems like the downside to having your big break as an actress at 83 is that all of the roles you get are old people. I wonder what it's like to be an old person playing an old person in a script written by young people? Is that like the ageist version of being the first guy to die in a shark movie?
Rembert Browne: JUNE SQUIBB GOT ROBBED AT THE OSCARS AND AT THE END OF THIS EPISODE OF GIRLS. (Just kidding. Both Lupita and cheese sandwich–induced heart attacks are nearly impossible to defeat.)
Beyond the Squibb factor, this was an enjoyable episode. Because families. And more specifically, moms and aunts and cousins. What's better than that? For me, absolutely nothing. Actually, wait, something is. Moms and aunts and cousins and Adam and only one-fourth of the Girls. That's my perfect episode. What if the rest of the season/series were a new fearless foursome of women, figuring out their way through the world: Hannah, her cousin Rebecca, and their moms? Yes. I would very much be into that show.
Did you like this episode, Emily? Do you have bickering relatives? Do you have cousins who hate you? Have you ever driven into a parked car while trying to pick a filter on Instagram?
Yoshida: I'm gonna go with a "No" for three out of four on that last part, but I agree that I'd be interested in Girls turning into a Little Women/A Thousand Acres modern-day female family drama, especially if Sarah Steele (who was on Gossip Girl for a couple episodes; I am face-blind except when it comes to bit players on Gossip Girl) came back as Rebecca. I could hang with Rebecca and her bitchy med school pinafore vibe for a few more episodes. Can Rebecca replace Marnie? Are pinafores normcore?
I was really ready for Hannah to cry in this episode, or at least show some sign of being something more than a quirky dialogue dispenser. Now I am convinced this season will end with her crying. Do you think the message of the third season of Girls is that antidepressants make you a nightmare robot person? Do you think this season was secretly funded by the Church of Scientology? Sorry I have so many questions. You don't really have to answer them all, Rem. (But, y'know. You should try.)
Browne: I know for a fact that we did not fund this season of Girls.
…
Moving on, I did not expect her to cry. But now that Grandma Squibb has passed, I expect her inability to cry to be a major aspect of the next episode. I'm sure Rebecca will notice Hannah as the only non-cryer. And say something. And then the tears will flow. Or something. Do you think Adam's coming back for the funeral? Do you think Hannah's dad and Adam will have a bonding experience, since Mama Horvath has designated them as "odd men"?
Also, Hannah's mom: out of line in pretty much every sense. You really can't ask your daughter to lie about getting married and then insult the man who volunteered himself to be fake married, all in the name of his girlfriend's grandmother's pre-death happiness.
You still haven't admitted that you like this episode, Yoshida. Or this show. So I'm still waiting on that. When you do, I will reward you with this: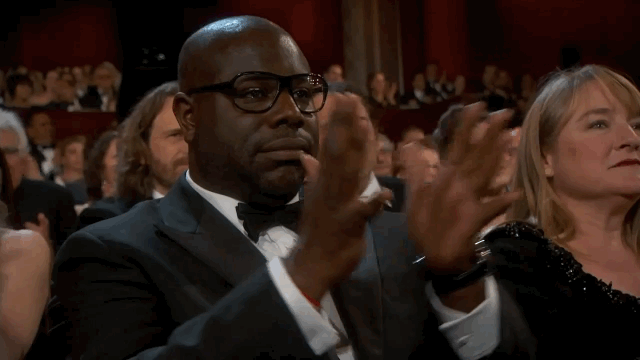 But until then:
Yoshida: Surprise! I don't think next week's episode is going to address dead Grandma Flo. It appears we're returning to the more pressing issue of what kind of sex Adam and Hannah are having. I wonder if she even gets back on the train.
Speaking of this show's pick-and-choose continuity, I owe you that Whole Foods gift certificate — Adam's Broadway career was indeed referenced on this week's episode. I can admit when I'm wrong! (Still not wrong about my overall opinion about this show — Tommy Lee for me forever.) I'm also not so mad at Hannah's mom; she was being a little neurotic, and probably transferring her anxiety over the impending death of her mother to her daughter's relationship status, but moms worry when you bring home a weird boyfriend. That's just what they do. Sometimes you get to prove them wrong, and sometimes you call them at midnight and tell them they can say "I told you so." Nice moms (and, to be fair, Hannah's mom seems like a nice mom) usually don't have any interest in saying "I told you so" at that point.
But I'm sorry, I'm still thinking about the Horvath family spin-off. It should be a prequel, so June can participate. Maybe it can center on that insider-trading scandal? I'm envisioning a lot of thrown tumblers of bourbon and hotly contested tracts of land. Maybe this is my brain's way of telling me that I actually just want to see August: Osage County, just as a nice little post-Oscars digestif.
Browne: Tyler Perry Presents a Horvath Family Hanukkah. Just throwing it out there. You're welcome, Tyler.
We could write that spin-off in seven days. Do you want to write that spin-off in seven days? In my mind, it's half dinner scene from The Nutty Professor and half The Swiss Family Robinson.
Back to the episode: Perhaps I was too hard on Hannah's mom. Moms typically mean well, even when they're wrong, so I'm sure she's just being hyper-protective of her only child. BUT ADAM'S GREAT, MAMA HORVATH.
OK, back to the spin-off. The dialogue between Hannah and Rebecca was some of the best in the show's history. And it was really only three scenes (house, bar, car). But it left me wanting much more, which means one of two things: (1) Hannah gets back on that train and goes right back to her family, or (2) we write this prequel right now.
And before I forget, which filter were you picking when you drove your car into Staples Center? Or am I thinking about someone else? Or did I make up that story? Or was that me?
Yoshida: Every decision in the human experience can be summed up by the difference between Nashville and X-Pro. Not to say that was me, though in high school I did once drive my car into a ditch while switching between tracks on Belle & Sebastian's twee masterpiece If You're Feeling Sinister. So, you know, I get it. 
Can't wait for our first writing meeting. I'll bring the gravy.
Filed Under: Recaps, Recap, Girls, HBO, Lena Dunham, June Squibb